Market Intro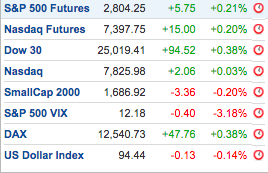 Investing.com, Friday Close
Both the NASDAQ (QQQ) and the Russell 2000 (IWM) hit all-time highs on Friday, while the S&P (SPY) trails its January peak by a mere 3%. Renewed animal spirits on the back of a positive second-quarter earnings backdrop gave all but the most rate-sensitive sectors (XLU, XLRE) a boost over the course of the past week.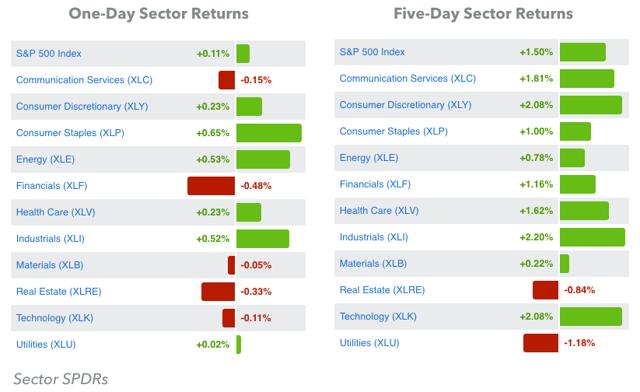 CNBC: ACWX Five-Day Returns
The Trump Administration's pronouncement of more potential tariffs rattled international exchanges after Monday's close (ACWX); since that time, however, foreign stocks are mounting a recovery.

CNBC: Friday Close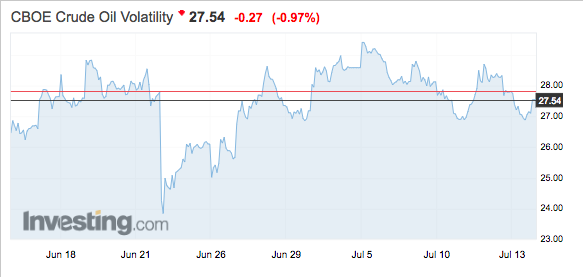 Crude oil (USO) remains near highs going back to around May 2015; oil volatility has been curiously range-bound this year, refusing to decline the way that virtually every other asset class has done over the past five months.
Thoughts on Volatility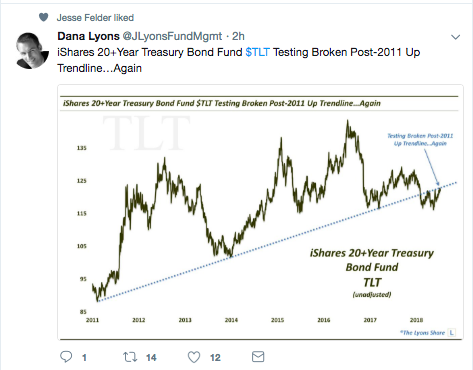 While short-term interest rates have been on the rise, long-dated Treasuries (TLT) have been far more comfortable lately to trade in a reasonably narrow range. This should be an input into one's strategy and/or risk management as it concerns the direction of volatility and risk assets. One could easily argue that the Treasury market was the instigator for the intense rise in vol earlier this year. Likewise, a dramatic reduction in this market's volatility has arguably done much to assuage even distantly related asset classes.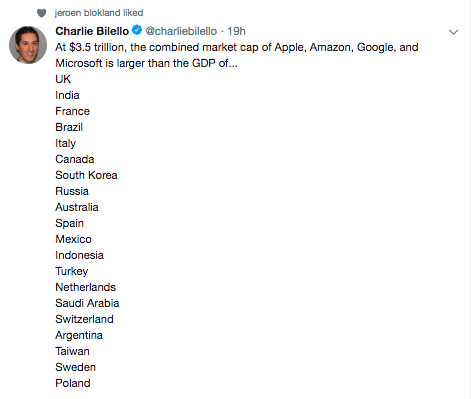 Such comparisons as those made by Mr. Bilello above are quite interesting. For instance, how many employees do these four companies have in comparison to the working populations of the countries listed above? We do want to bear in mind, however, that GDP is not a valuation, but more akin to EPS for each nation. A more compelling question would be what kind of "multiple" would one give to each country?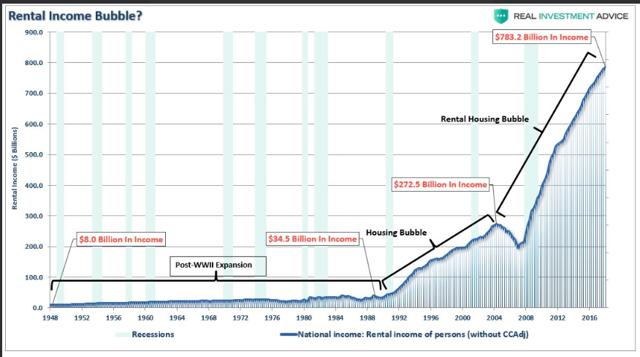 I would love reader feedback here. The graphic above (from Lance Roberts, whose work I frequently enjoy) looks scary; on the other hand, the data go back to 1948: this is just an exponential growth curve! In and of itself, this graph looks just as we might expect: we have a growing population (I believe the US population has approximately tripled since 1948) and rising productivity, which raises the value of factors of production including land and housing. Is there a "rental house bubble"? I've heard as much, and I understand the basic premise. I welcome reader responses to this question.
Term Structure

Interactive Brokers: VVIX
The VIX of VIX as measured by the VVIX index leaped higher during the after-hours dump in stock futures immediately following the announcement for additional tariffs. While both US equities and spot VIX itself seem to have shrugged off the news, the same cannot be said of the VVIX. This suggests a gap between how equities traders view risk (SVXY) and how traders of VX options are seeing the potential for higher volatility (VXX, UVXY).

The CBOE Index for the EFA VIX is quite low, especially given the macro backdrop. If one were looking for a place to go long vol, I might suggest that this is a better set-up than US equities for the time being. We all know that vol can seemingly ignore news and always surprise in terms of pressing limits, but I must say that this print does not look right to me.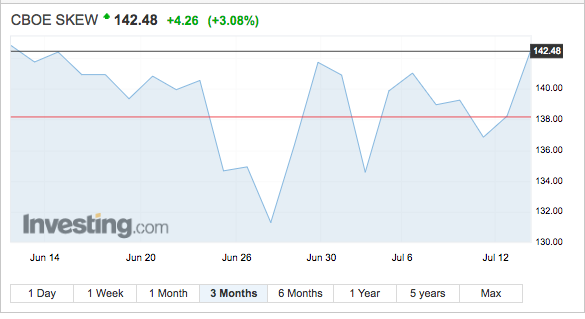 Going back to late February, the SKEW index has done a fairly remarkable job of predicting both drawdowns and recoveries for the S&P 500 a few days in advance. The 52-week high (which I believe was an all-time high) was 150 and change; we are a stone's throw from that same level. This reading suggests that while the S&P has hurdled the 2,800 mark, there may in fact be more proving out yet to do, as SKEW sees another (perhaps minor) pullback as highly likely.
Conclusion
If this is your first time reading Market Volatility Bulletin, thanks for giving it a try. If you're a regular, we thank you for your ongoing contributions in the comments section.
Thank you for reading.
Please consider following us.
Disclosure: I/we have no positions in any stocks mentioned, and no plans to initiate any positions within the next 72 hours. I wrote this article myself, and it expresses my own opinions. I am not receiving compensation for it (other than from Seeking Alpha). I have no business relationship with any company whose stock is mentioned in this article.
Additional disclosure: I actively trade the futures and options markets, potentially taking multiple positions on any given day, both long and short. I also hold a more traditional portfolio of stocks and bonds that I do not "trade". I do believe the S&P 500 is priced for poor forward-looking returns over a long timeframe, and so my trading activity centers around a negative delta for hedging purposes.