Reduced phone bills for elderly to reduce telcos' annual revenue by KRW187.9bn
The Ministry of Science and ICT and the Ministry of Health and Welfare announced that as of July 13, basic pension recipients (ages 65 or older falling within the lowest 70% of income earners) qualify for a KRW11,000 monthly discount off their mobile telecom bills. If their monthly telecom bills are KRW22,000 or less, they will receive a 50% discount instead. The government estimates about 1.74mn people qualify for the benefit. If all 1.74mn register for the benefit, Korea's three major telcos' combined annual revenue would be reduced by KRW187.9bn; assuming only 50% of basic pension recipients register, the estimated drop in annual revenue would be about KRW94bn. By company, SK Telecom (NYSE:SKM) will see its operating profit fall by 5.05%, KT (NYSE:KT) 3.19%, and LG Uplus 3.47% assuming all basic pension recipients register for the benefit; if 50% register, the estimated operating profit loss for SKT is about 2.52%, KT 1.6%, and LG Uplus 1.74%.
Focus on positive momentum such as 5G, dividends, pay TV consolidations
This is the government's third and last of its steps to reduce mobile phone bills; previous measures include an increase in cell plan discounts (Sep 2017) and introduction of cell plans for low-income earners (Dec 2017). However, we do not believe it will greatly affect telcos' price performance, since the issue has been widely known since last year and is thus mostly priced in. Because of this, it is likely to have only a limited impact on telcos (a large portion of the 1.74mn would not know or be diligent enough to apply). The universal cell plan is a lingering concern but the chances of it becoming a reality are pretty slim, in our view. As such, we are looking toward the arrival of 5G rather than focusing on regulatory issues. Strong dividend yields as well as the possible consolidations of the pay TV market also offer positive momentum.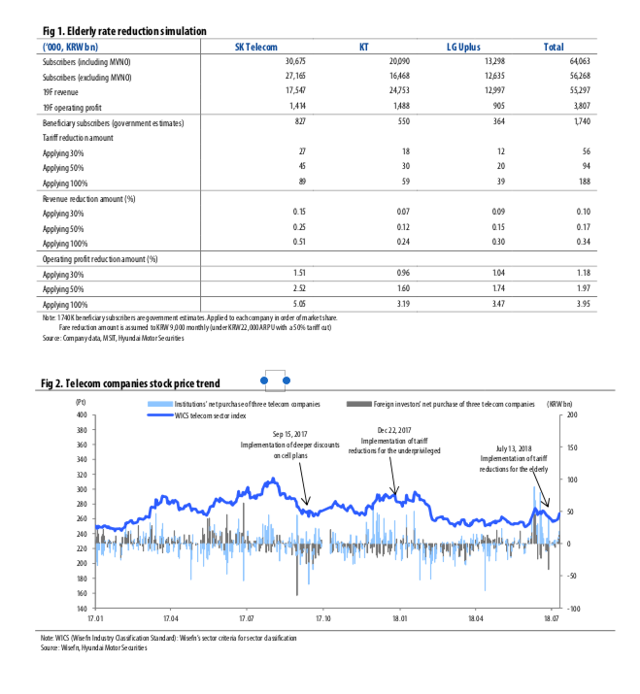 Disclosure: I/we have no positions in any stocks mentioned, and no plans to initiate any positions within the next 72 hours. I wrote this article myself, and it expresses my own opinions. I am not receiving compensation for it (other than from Seeking Alpha). I have no business relationship with any company whose stock is mentioned in this article.