Midstream had a decent week, highlighted by the MLP Index outperforming U.S. and Canadian midstream corporations and breaking back into positive total return territory year to date. MLPs traded up despite weakness in commodity prices and in utilities. On Monday, in particular, MLP action was encouraging when the UTY was drubbed for a 3% loss and the MLP Index was positive.
With midstream earnings kicking off this week, some of the action may have been shifting positioning (corps to MLPs), short-covering in advance of company reporting season, mixed with legit new fund flows on a fresh quarter and building interest in the space. On both Thursday and Friday, it was noticeable that major underperformers (i.e. successful shorts) outperformed other midstream and MLP stocks.
The setup into earnings is cautious optimism with a few weeks of lower volatility and slight gains. With another solid reporting season, the recent treading water could shift to a breakout, assuming relative calm in global trade war chatter and steady commodity prices. For now, we're still waiting on the fireworks.
Winners & Losers
TLP joined the growing list of zombie MLPs with a buyout offer from sponsor ArcLight at a healthy (by MLP standards) premium, and traded up as a result. Noticeable positive performance by the two remaining FERC-impacted pure gas pipeline MLPs (SEP, WPZ are being bought out) and two other big underperformers BPL and EQM. Short-covering ahead of earnings might explain it, but there is likely some bottom fishing and seekers of value starting to get involved.
The bottom 5 included 3 shipping MLPs, probably down with oil prices. ENLK continues to sputter following its GP switch, down 4.6% this week.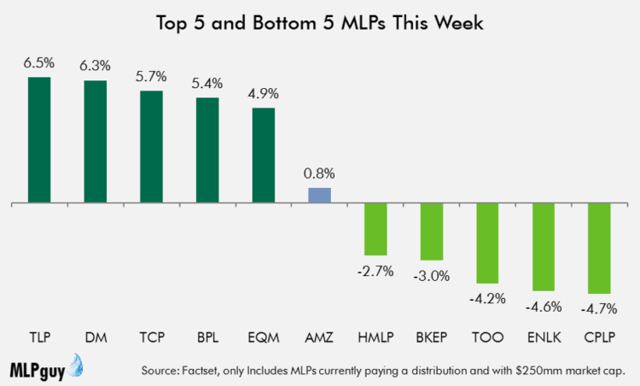 TLP has been in this position before: almost 3 years ago to the day, NGL Energy (NGL) (TLP's sponsor at the time) offered to buy out TLP units in a 1:1 unit exchange when NGL traded at $43.55/unit. As noted earlier this week on Twitter, given how NGL's stock has performed since, TLP's board should be applauded for holding out back then. Most MLPs would be happy to get valued at anywhere close to their 2014 prices, but TLP has held up remarkable well in the downturn.
This week, the market bid-up TLP beyond the $38/unit takeout price offered this go around, on the expectation that TLP may again drive a hard bargain or attract another bidder. While a very old MLP, TLP is not a large or significant MLP, with a small float and smaller daily trading volume. But it does continue the almost-weekly trend of MLPs disappearing.
BPL was the worst performer last week and rebounded, BKEP was in the bottom 5 in both weeks. On the YTD leaderboard, DCP popped into the top 5 this week, making it 3 gathering & processing MLPs in the top 5.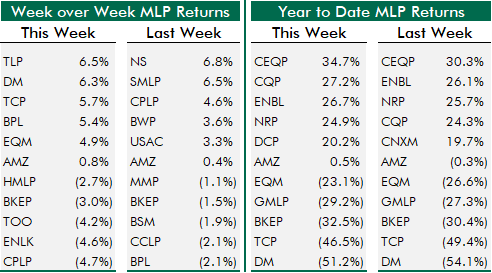 General Partners & Midstream Corporations
GPs and midstream corporations as a group underperformed MLPs this week. The recent trade to buy corporations and sell MLPs reversed a bit. EQGP rallied with its subsidiary's rally this week, leading the group. TRGP rallied despite weaker commodity prices in perhaps another example of short covering. LNG was the worst performer in the group on negative sentiment around trade and lower commodity prices.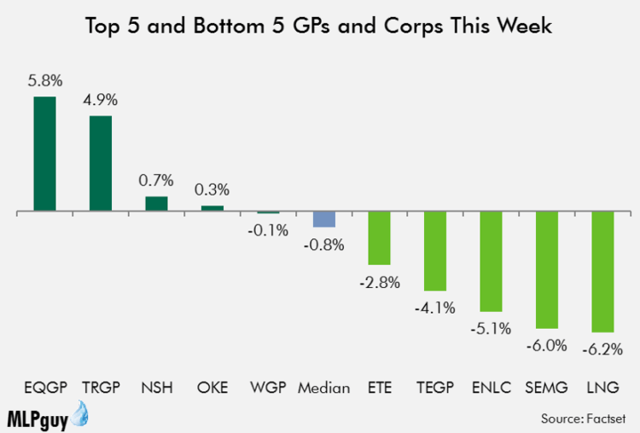 OKE stands alone at the top of the YTD leaderboard, but second place is tighter after LNG's weakness and TRGP's strength.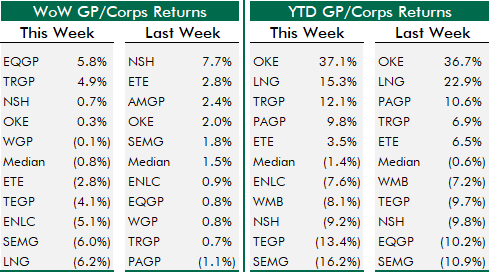 Canadian Midstream Corporations
No news in Canada and almost no range of performance within the group, just a tight 200 basis points separated the top and bottom performers. Canadian midstream underperformed MLPs, but bested GPs and U.S. corporations this week.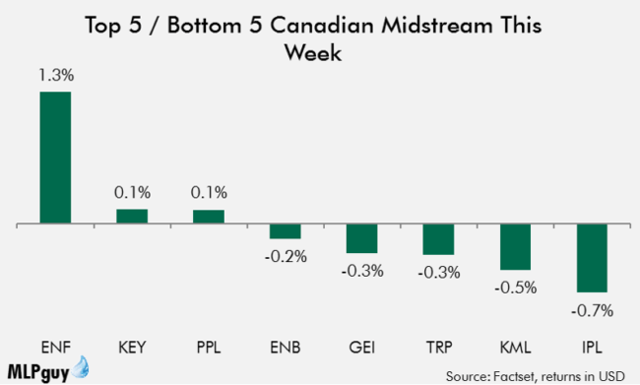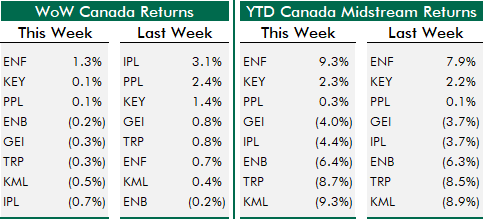 News of the Midstream World
Quiet week of news ahead of earnings season. Many scheduling filings setting up quarterly earnings dates. Next week, we'll get distribution announcements en masse, KMI earnings and hopefully some strategic announcements we've been waiting for. Announced deals are nearing completion: NS/NSH vote is 7/20 (next Friday), BWP is gone after 7/18, and WMB/WPZ announced 8/9 merger vote date.
Capital Markets
DCP Midstream priced public offering of $500mm of 5.375% senior notes due 2025 at par (press release)

Proceeds from the notes issuance will be used to redeem all of its outstanding 9.75% senior notes due 3/15/2019

Rising interest rates not yet a headwind for legacy high yield issuance
M&A / Growth Projects
ArcLight Energy subsidiary offered to acquire all outstanding TransMontaigne units not held by ArcLight for $38/unit in cash (press release)

ArcLight and its subsidiaries currently hold 19.2% of TLP

Offer price is a 5.2% premium to prior day close
Publicly-traded Mexican midstream company IEnova announced 20-year contract with the Topolobampo Port Administration in Mexico to build and operate a liquid fuels marine terminal in Sinaloa, Mexico (press release)

The project is expected to cost $150mm and the first phase of the terminal will have a storage capacity of 1mm barrels

Operations are expected to begin in Q4 2020
Tallgrass (TGE) and Silver Creak Midstream announced binding open season for Niobrara crude oil transportation service on the Iron Horse Pipeline (press release)

Iron Horse is expected to begin operations by February 2019 with initial capacity of 100,000 bpd that is expandable to 200,000 bpd
Enterprise Products (EPD) announced open season for an Indiana to Chicago pipeline for expanded refined product services (press release)

FGP buys Diamond Propane, an independent propane retailer based in Potsdam, New York (press release)

Williams and Williams Partners announced August 9th as the date for the merger vote (filing)
Other
Alerian announced changes to the Alerian Midstream Energy Select Index (AMEI) which will add 15 names, mostly MLPs, and will remove five names, including the only three utilities (D, CNP, OGE) (press release)

Benchmarking midstream performance is an ongoing and evolving challenge

By year end, less than 50% of the North American midstream universe will be eligible for the MLP benchmarks that are followed and referenced everywhere (including here)

Alerian missed an opportunity a year or two ago when it decided to cap individual positions at 10% for the AMZ, but did not go that extra step and add corporations

The decision instead has been to launch new indices, each of which have little cache or history or chance of broad adoption

More thoughts on all of this as the situation continues to evolve, but it is important to have an objective and standard measure of how the sector is performing and has performed, and we don't have that today
Cheniere Energy and CME Group announced agreement to develop the first-ever physically deliverable LNG futures contract at Sabine Pass (press release)
Distributions
Distribution announcements are trickling in, with no surprises so far, but the spigot really gets turned on next week and the week after.