Saratoga Investment Corporation's (NYSE: NYSE:SAR) exceptional track record and proven business strategy, solid growth prospects and safe dividend make it one of the best investment choices for dividend investors in the market today. Investors in SAR can expect high dividends backed by an incredibly conservatively managed company with an outstanding management team.
Author note: Investors are well advised to read the company's latest Investor Presentation; it's incredibly well-detailed and one of the best I've read.
Business Overview and Strategy
Saratoga Investment Corporation is a business development company ('BDC') providing financing, mostly loans, to enterprises across the United States. The company almost went bankrupt between 2008-2010 due to the financial crisis and a large debt load. During 2010, new management came in and executed a successful turnaround strategy with two key focuses:
SMEs financing: leading to high yields, margins and earnings.
High quality loan portfolio: leading to fewer defaults and lower credit losses.
SME Financing
SAR focuses on small loans ($10 to $20 million) to SME companies across the United States. SAR's relatively small size, less than $350 million in AUM, allows it to capitalize on this higher-yielding market without needing to expand into lower-yielding ones. As these companies generally have lower access to credit, their interest rates are generally higher, leading to higher earnings for SAR and larger dividends for its shareholders.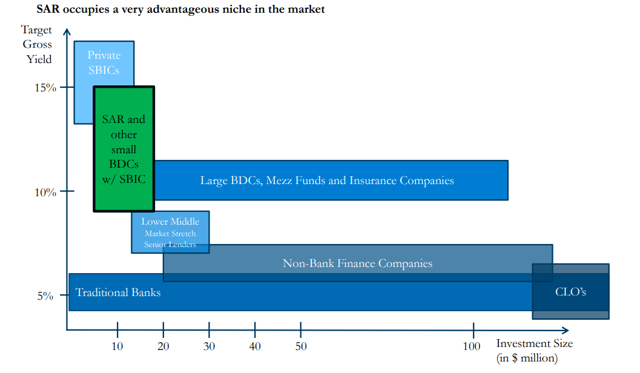 (Source: Saratoga Investment Presentation)
High Quality Loan Portfolio
Within the SME market, SAR concentrates on high-quality companies. Although the improved credit profile of these companies mostly erases the increased yield, the lower default rate more than makes up for this - currently more than 99% of the company's loans are "strong" according to internal company metrics.
By concentrating on high-quality smaller companies, SAR has managed to achieve slightly higher yields than its competitors and dramatically lower default rates, leading to significantly higher income and LTM yields: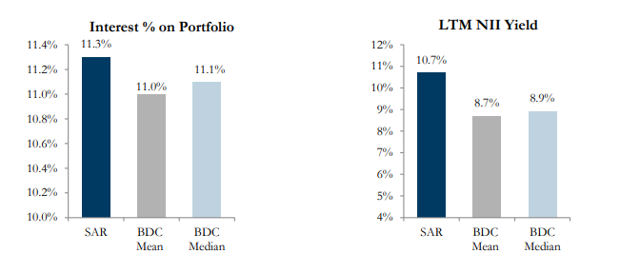 (Source: Saratoga Investment Presentation)
SAR's strategy has resulted in stellar results for the company and shareholders alike. Returns have averaged 16% since 2010, outperforming the competition by significant margins: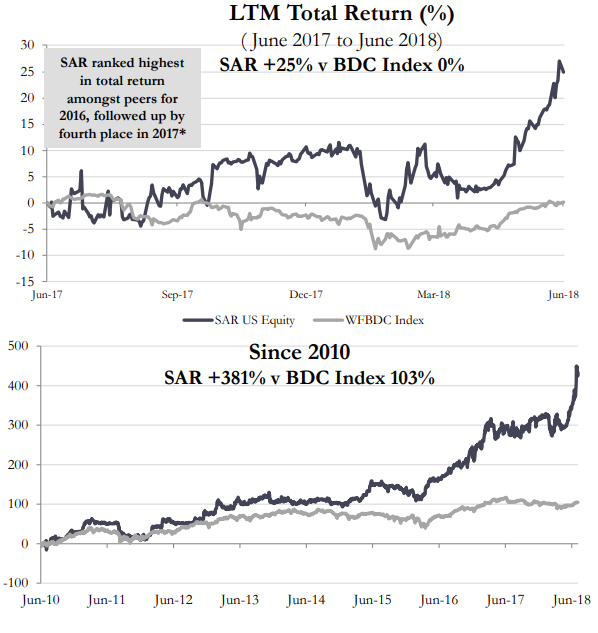 (Source: Saratoga Investment Presentation)
These greater returns were backed by equally strong income and earnings growth throughout the years, with the company outperforming most of its peers in these metrics as well:

(Source: Saratoga Investment Presentation)
Most importantly, its dividend has grown at a 25% CAGR since late 2014 (figures from before aren't comparable):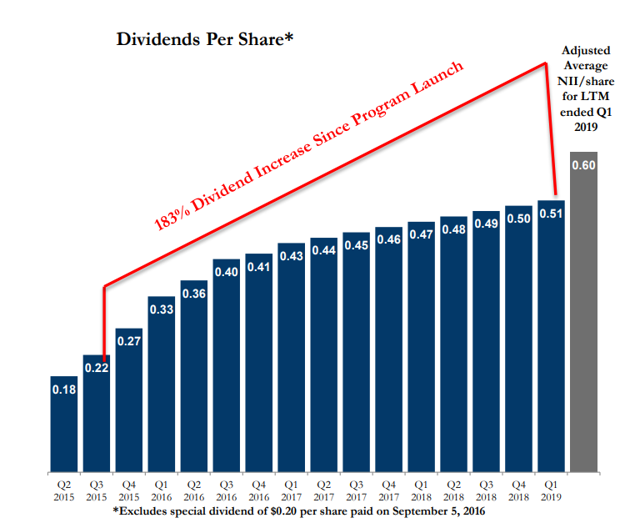 (Source: Saratoga Investment Presentation)
It seems to me that SAR has found a winning strategy and is executing it quite well. Although past performance isn't a guarantee of future results, as long as management stays the course, I expect these results to continue.
Growth Potential
I believe SAR will continue to deliver strong results in the future, fueling investor returns and dividend growth. Besides continuing its proven business strategy, I believe this to be the case for two key reasons:
Expanding loan portfolio, leading to greater interest income.
Rising interest rates, leading to greater margins across its loan portfolio.
Expanding Loan Portfolio
SAR has steadily increased its AUM during the last few years, fueling a significant portion of its growth. Management expects further growth for the rest of the year, and has delivered so far:
With 11 originations through the second calendar quarter, including four new portfolio companies and seven follow-ons, we have established an origination level that is ahead of last year's record pace, while applying consistent investment criteria.

(Source: SAR 1Q 2018 Earnings Call)
Just this week the company completed a $27.2 million stock offering at $25 a share, quite large considering the company's current $155.4 million market cap. Management mentioned it plans to use most of the proceeds to finance new loans, so investors can expect to see accelerating AUM growth in the near term.
Although the stock offering wiped some capital gains for investors, as the stock was trading between $27-$28 before the announcement, as it was done at an 8.4% premium to NAV, it was also accretive to investors. Investors can be confident that management will ensure rising AUM leads to greater shareholder returns.
Rising Interest Rates
SAR is uniquely well positioned to take advantage of rising interest rates across the United States. All of its current funding comes from long-term fixed-rate loans, with an unused variable-rate credit facility, while 81% of the company's asset are variable rate. The company estimates its income would increase by 6.1% for every 1% interest rate increase, a massive amount. Although I'm not going to speculate on the Fed's tightening, I think it's fair to say SAR should see some increase in earnings as interest rates continue to increase.
Low-Risk Investment
SAR is not only a fast-growing company with a solid history, but an incredibly low-risk investment as well. Besides the company's aforementioned strong loan portfolio quality, its strong balance sheet and dividend coverage ensure the company is well-positioned to weather deteriorating economic or financial conditions.
Strong Balance Sheet
SAR's balance sheet is very conservative, with leverage ratios significantly below its peers: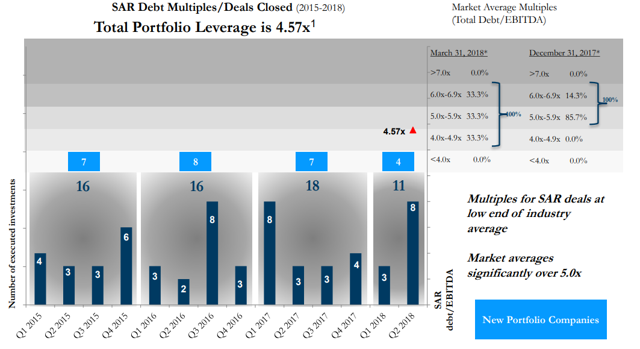 (Source: Saratoga Investment Presentation)
Not only is the company's balance sheet quite strong, but it has ample liquidity and financing opportunities.
A strong balance sheet significantly reduces risks as the company has more room for default rates to increase without jeopardizing its overall financial position, especially when compared to the competition. Management has indicated that a strong balance sheet is a key goal, and the latest stock offering is proof that they have no desire to weaken it. Investors have solid proof that their dividend is safe, and that the company has no plans to jeopardize it.
Dividend Coverage
SAR's current dividend coverage of 117.6%, high for industry standards, ensures the dividend is relatively safe even if earnings decrease: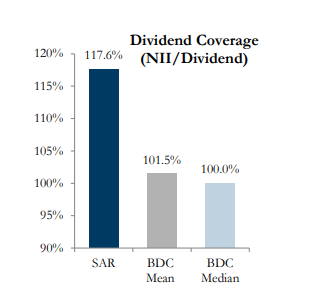 (Source: Saratoga Investment Presentation)
Coverage is so high that the company could afford to cover the dividends from their latest stock offering even if earnings remain flat, a solid accomplishment.
The high dividend coverage also basically ensures the company's dividend has ample room to grow. SAR has the capacity, and management's track record clearly shows the inclination, for further quarterly dividend increases.
Risks
Although I believe SAR to be an attractive investment choice, it still carries some risks.
The company's focus on SMEs increases risks in two key ways. First, it forces investors to trust management's judgement in assessing credit risk. SAR itself is telling us that 99.3% of their loans are credit-worthy, and although management's track record is stellar and there is little reason to doubt them, it's not unheard of for internal credit assessments to go wrong. Second, this is a difficult market in which to grow, as most deals are small and many require building long-lasting relationships between SAR and its business partners. Management has mentioned how closing new deals has been more difficult as of late, although results are still quite good.
Although these risks are real, I believe the company's track record speaks for itself. Management has been successful in delivering outstanding results despite the above, and I see no reason to believe it will be different in the future.
Conclusion
SAR's successful business and dividend track record, its future growth potential and its strong balance sheet and high-quality loan portfolio will ensure future earnings and dividend growth. The company would make an excellent addition to any dividend investor's portfolio.
Thanks for reading! If you liked this article, please scroll up and click "Follow" next to my name to receive future updates.