The cloud has fundamentally changed the way businesses operate. Similar to ground-breaking models like Uber (UBER) and Airbnb (AIRB), the cloud allows you to do more with less; less physical inventory, that is. Rather than pay a whole bunch for mainframe hardware, what if you could press a button for storage and computing power?
But I don't need to rehash old news, you know the cloud is a big deal. In fact, Gartner (NYSE:IT) estimates the worldwide public cloud market could near $200 billion by the end of this year. The top three players taking on this behemoth of a market are none other than Amazon AMZN), Microsoft (NASDAQ:MSFT) and Alphabet (NASDAQ:GOOGL). Since cloud computing is becoming an increasingly important piece of each of these business's operations, I thought it would be a good idea to see where each stands in this battle.
Investment Thesis
Though Microsoft and Alphabet are catching up, Amazon is still far and away the leader in cloud services.
The Platforms
Amazon's cloud platform is called AWS. Microsoft's is Azure. And Alphabet's, unsurprisingly, is named Google Cloud Platform. If you're interested in all the details of each provider, I've linked to a good synopsis. We could go crazy trying to analyze all the different features that make one platform superior to another, but it would likely be more trouble than it's worth.
What you do need to know is which platform is generally the best. Below are diagrams of the product set each company offers. To sum it up, Jeff Bezos, CEO of Amazon, recently noted:
"AWS had the unusual advantage of a seven-year head start before facing like-minded competition, and the team has never slowed down. As a result, the AWS services are by far the most evolved and most functionality-rich."
Amazon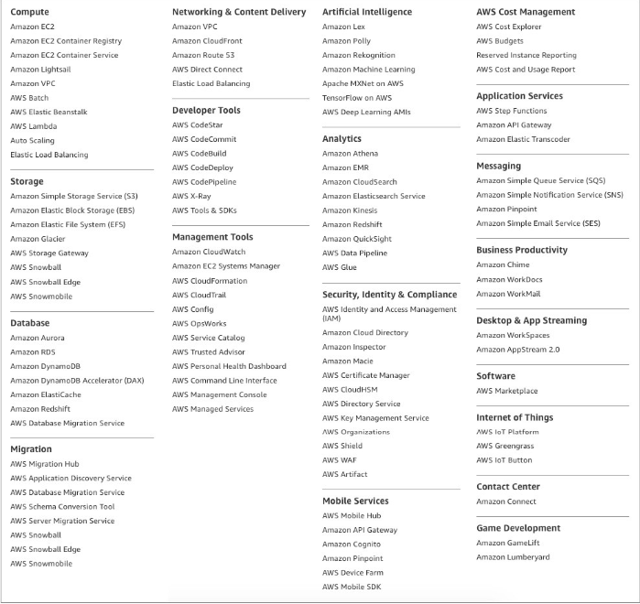 (Source: AWS.Amazon.com)
Microsoft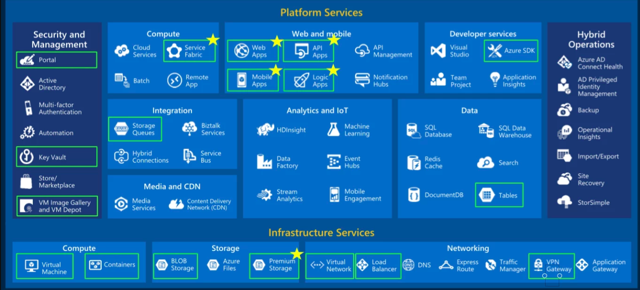 (Source: VentureBeat)
Google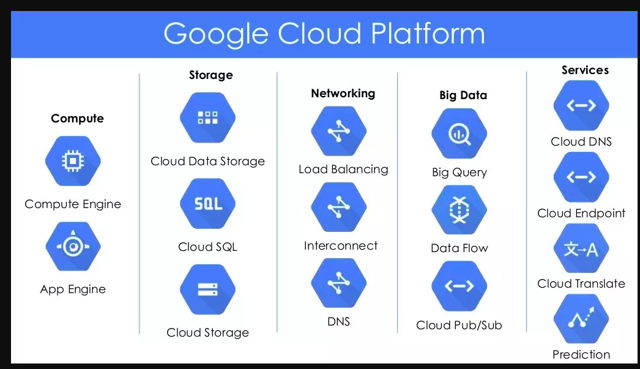 (Source: MarkoInsights)
While it is hard to tell from these diagrams, AWS does seem to be the most functionally rich, true to Bezos' words.
But Bezos is not quite correct in his assertion that it had a seven-year head start. Apparently, AWS started in 2006 but Microsoft's Azure came four years later in February 2010. Maybe Bezos doesn't think Microsoft is "like-minded?" A "like-minded" competitor like Alphabet, on the other hand, did start more than seven years later, when it launched its cloud platform in 2014. So Amazon really did have a solid four-year head start, therefore it makes sense that it offers the most features.
With all of that said, the financials really give us a clearer picture of which company is winning the fierce cloud battle.
Financial Picture
Interestingly enough, Amazon is the only company that directly breaks out cloud platform revenues. This is probably a dead giveaway regarding which cloud platform is leading. For instance, when a company stops breaking out a slow-growing operating segment, you can assume that specific business is doing worse than competitors.
Furthermore, Microsoft outlines an operating segment named "Intelligent Cloud," but this includes other cloud-based products rather than Azure specifically, though Azure's growth rate is mentioned. Additionally, Alphabet has yet to break out its cloud's operating metrics, but the CEO noted a general range, to analysts' surprise.
From what I can gather, here are the revenue numbers for each platform. AWS's most recent revenue number was $5.44 billion, Azure was estimated by analysts to be in the $1.7-2 billion range, and from the Alphabet hint, we can conclude its platform hauled in somewhere around $1 billion two quarters ago.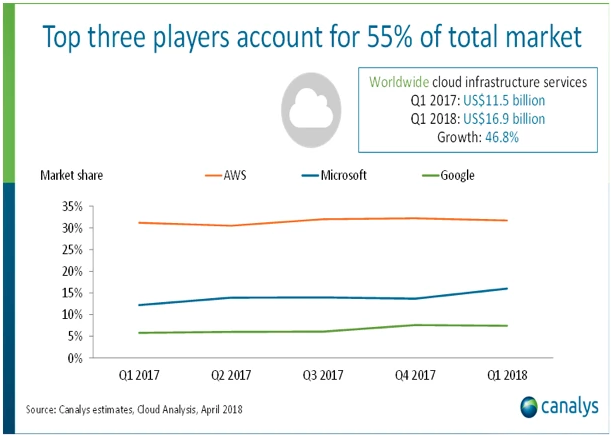 (Source: ParkMyCloud)
To make it clear, the $200 billion number that was quoted earlier includes all cloud segments like SaaS as well. The graph above isolates the market to IaaS (infrastructure-as-a-service), which is why the overall number is much smaller. If the worldwide IaaS market was almost $17 billion in Q1, assuming no sequential growth, the annual market is expected to be $68 billion; lower than $200 billion, but still a sizable market, to say the least.
| | | | | |
| --- | --- | --- | --- | --- |
| Company | Platform | Quarterly Revenue | Growth Rate | Market Share |
| Amazon | AWS | $5.44 billion | 49% | 32% |
| Microsoft | Azure | $1.9 billion* | 93% | 12% |
| Alphabet | GCP | < $1 billion* | 50%+* | 6% |
*- Author's estimates
As you can see, Azure is growing the fastest. Though it was handicapped by a late start, it has been growing nicely due to efforts by Microsoft's CEO, Satya Nadella. The graph below shows the cloud market, including PaaS and hosted private cloud, which is why IBM Corp. (NYSE:IBM) has more market share than Google. As you can see, Microsoft took the most market share in the past year. But Amazon still has a solid margin of safety.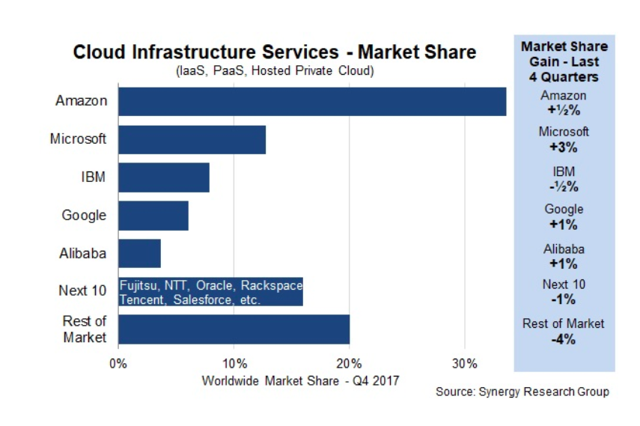 (Source: Synergy Research)
As stated, Amazon did have a four-year head start on the competition and an eight-year head start on "like-minded" foes. In the latest quarter, Azure was estimated to have done almost $2 billion in revenues. To put that in perspective, AWS posted a number similar to that in Q2 2015, almost three years ago. That means that it took Amazon about nine years to reach $2 billion and Microsoft a year less.
In the grand scheme, that probably doesn't mean much, since the cloud was not really a big deal in 2006, when Amazon engineers started toying with the idea. But if Google has nearly $1 billion in cloud revenues (though a considerable amount is probably due to G Suite), we can infer it took the company about 4 years to reach that scale. AWS reached $1 billion in Q2 2014, meaning it took about 8 years. Presumably, Google's platform is growing quite quickly then. When put in this context, it makes me second-guess how much of that $1 billion is purely from GCP rather than other cloud-based products.
But let's not discount AWS at all. In the past three quarters, growth rates actually accelerated from 31% to 39%, to 49% in the latest quarter. If we see a number any higher than that in Q2, expect Amazon stock price to drift even higher than it is now.
To End
The purpose of this article was to get a better picture of where the leading public cloud providers stand. This is worthwhile because this operating segment is becoming increasingly important for each of these companies.
In summary, Amazon's four-year head start has led to a functionally richer platform which has contributed to materially higher market share. Though Microsoft and Google are catching up, they still have a long way to go.
Author's Note: Hey you! Yes, you. Scroll up and hit the big, orange "Follow" button so you can get these articles before they hit the paywall. Thanks so much for your time, it will never be taken for granted. Have yourself a fantastic day and happy investing! Woo-hoo!
Disclosure: I am/we are long AMZN. I wrote this article myself, and it expresses my own opinions. I am not receiving compensation for it (other than from Seeking Alpha). I have no business relationship with any company whose stock is mentioned in this article.