This week it's the US dollar and quantitative tightening. Quantitative tightening (aka the US Federal Reserve's balance sheet normalization program) is something that's well known to the market as a feature, but I would argue poorly understood, or at least underappreciated, as driver of risk and opportunity.
The chart comes from a report on the US dollar and emerging market currencies (with a particular emphasis on the risks and opportunities).
Basically the chart shows the potential for the Fed's planned quantitative tightening program to put even more upward pressure on the US dollar. So the price action on the DXY so far this year could be a taste of what's to come.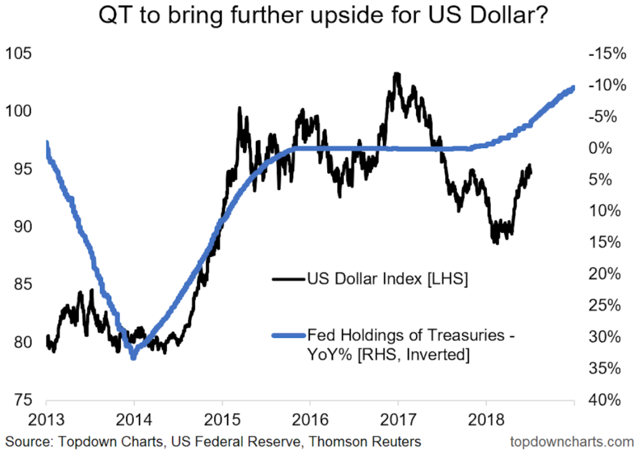 On the detail, the chart shows the US dollar index (or DXY) versus the year over year percent change in the Fed's holdings of US treasuries (which is displayed inverted). The projection period is based on the Fed's publicly announced plans for Quantitative Tightening (or QT).
The economic logic behind this relationship is that QT effectively reduces the supply of US dollars, and also puts upward pressure on interest rates. This along with interest rate hikes is likely to be supportive for the US dollar, particularly as the ECB and BOJ continue to run quantitative easing programs.
Indeed, by our indicators, the US dollar is currently seeing compelling yield support against G10 currencies. Furthermore, the macro pulse (growth and inflation) is looking consistently better in America vs. Europe and emerging markets, where there has been a flare up in risk pricing and softening of economic confidence. There is also the possibility that Fed tightening leads to tighter global financial conditions and drives a cycle of risk aversion in Emerging Markets, further supporting the US dollar.
So it's important to be mindful of the risks and opportunities that quantitative tightening is creating, particularly with regards to the US dollar - where the rebound this year may be a sign of things to come.