Retirees need to plan their cash flows and build a steady portfolio with reasonable expectations. It is heartbreaking to hear from retirees who say they need a 14% return per year.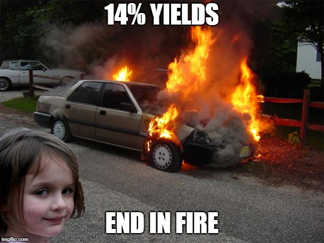 Sustaining 14% per year is an insanely aggressive goal and it certainly wouldn't be likely to come in a smooth pattern.
Ted and Mary
This couple faces situations that my readers on Seeking Alpha may face. They don't have an enormous amount of money and they aren't professional investors. If Ted and Mary had $5 million instead of $1 million, this would be simple.
Ted and Mary are already 62. They have a few years left before they can claim the maximum benefit for social security. He wants to wait until they can claim a larger benefit for a few reasons. After assessing their health risks, they both believe they could live to see 100. With the current market being at all-time highs, Ted and Mary do not want to take Social Security early and take on additional risk in the market at today's prices.
Instead, they decide to have a smaller portfolio and invest some of their capital in bank CDs.
Ted and Mary agree that at least one of them should have a part-time job that offers a generous employer-sponsored health plan. The purpose of the job is for a health insurance plan, so they aren't expecting high wages. This is just to cancel out any health insurance bills until they are eligible for Medicare in a few years.
Building the plan
For simplicity's sake, assume the increase in CPI matches the actual rate of inflation experienced by the retirees. Just to make a more bearish case, I'll assume it runs 2.4% per year indefinitely. Between increases in social security and dividend boosts from dividend champions, they should be able to handle that just fine.
House values have been soaring almost everywhere. Ted and Mary did their research on where they'd like to live. They both agreed on Colorado Springs because of the outdoorsy atmosphere. The cost of living was another deciding factor and they were able to purchase a home they were happy with for $200,000.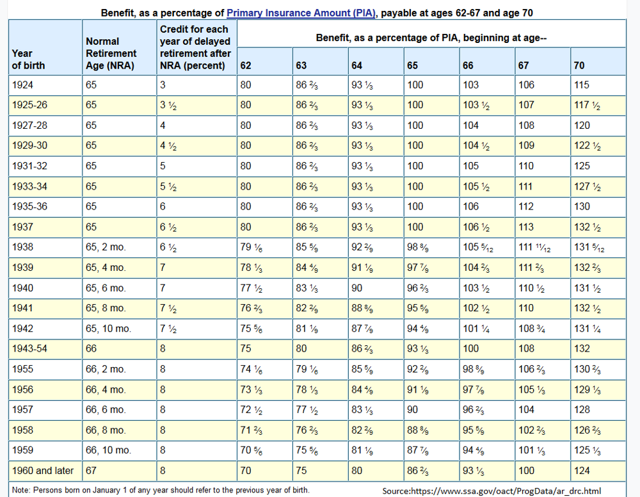 After looking at the above chart, Ted and Mary decide the growth rate in the payments will make it worthwhile to wait until 70 to file. Except for a very high effective interest rate, if Ted and Mary expect to live to be around 100, choosing to wait is an intelligent choice.
If they expected a more normal lifespan, then this would be a much more difficult choice.
Allocation of Retirement
After purchasing the house, Ted and Mary are left with $800,000 to invest. Their Social Security payments starting at 70 will create a substantial source of income for the couple.
To keep some cash on hand, the company decides to keep $50,000 in their checking/savings account. This gives them some liquidity for handling any emergencies that come up.
The couple decides to put $250,000 of its nest egg into bank CDs. In some cases, the rate on the bank CDs will be better than the rate on Treasuries with a similar maturity. We could simply use Treasuries instead and it wouldn't change the numbers much. However, today the rate on CDs is better than the rate on Treasuries by a large enough margin that we would favor them.
The remaining $500,000 will go into a combination of stocks and ETFs.
The chart below shows the allocation of capital:

Part 1: the dividend champions
The couple decides to invest $300,000 in the best dividend stocks. They wanted a large portion of the portfolio to be invested in dividend champions. The following group of companies represents their choices for this portion of the portfolio:
| | | |
| --- | --- | --- |
| Company | Ticker | Yield |
| Northwest Natural Gas | (NWN) | 2.94% |
| Procter & Gamble Co. | (PG) | 3.62% |
| Emerson Electric | (EMR) | 2.75% |
| 3M Company | (MMM) | 2.70% |
| Vectren Corp. | (VVC) | 2.52% |
| Cincinnati Financial | (CINF) | 3.05% |
| Coca-Cola Company | (KO) | 3.49% |
| Johnson & Johnson | (JNJ) | 2.86% |
| California Water Service | (CWT) | 1.83% |
| Target Corp. | (TGT) | 3.29% |
| Stanley Black & Decker | (SWK) | 1.86% |
| Altria Group Inc. | (MO) | 4.79% |
| Sysco Corp. | (SYY) | 2.04% |
| Black Hills Corp. | (BKH) | 3.10% |
| Universal Corp. | (UVV) | 4.39% |
| Wal-Mart Stores Inc. | (WMT) | 2.37% |
| PepsiCo Inc. | (PEP) | 3.29% |
| ExxonMobil Corp. | (XOM) | 3.94% |
| McDonald's Corp. | (MCD) | 2.55% |
| National Retail Properties | (NNN) | 4.28% |
| Realty Income Corp. | (O) | 4.79% |
| Federal Realty Income | (FRT) | 3.20% |
| Averages | | 3.17% |
Here are the dividend champions put into a portfolio tracker: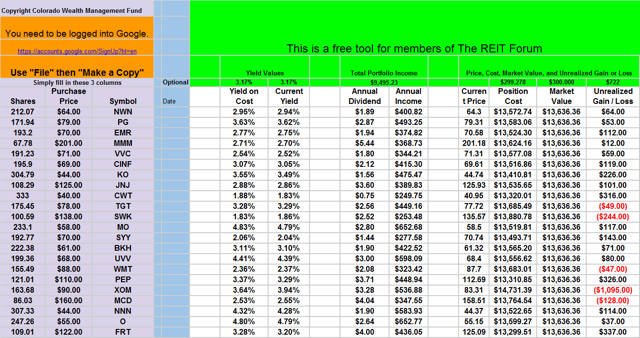 Source: The REIT Forum, CWMF
So far the portfolio only yields 3.17% on their balance of $300,000. That yield isn't terrible, but it could be much higher. Ted and Mary are planning to invest $500,000 and aiming for a portfolio yield of 4%.
To increase their diversification, they'll move on to ETFs before picking a few additional stocks for higher yields.
Some investors prefer to use ETFs for the vast majority of their portfolio. There is nothing wrong with that. It is a fine investment strategy. However, each investor is different and there is nothing wrong with combining ETFs with positions in individual stocks.
Part 2: ETFs
The couple wanted to get more diversification, so they decided to invest $100,000 in the following 10 ETFs:
| | | | |
| --- | --- | --- | --- |
| | Ticker | Name | Div. Yield |
| VIG | (VIG) | Vanguard Dividend Appreciation ETF | 1.85% |
| VYM | (VYM) | Vanguard High Dividend Yield ETF | 2.91% |
| DVY | (DVY) | iShares Select Dividend ETF | 3.14% |
| HDV | (HDV) | iShares Core High Dividend ETF | 3.55% |
| PFF | (PFF) | iShares U.S. Preferred Stock ETF | 5.59% |
| SDOG | (SDOG) | ALPS Sector Dividend Dogs ETF | 3.46% |
| VCLT | (VCLT) | Vanguard Long-Term Corporate Bond Index ETF | 4.32% |
| TLT | (TLT) | iShares 20+ Year Treasury Bond ETF | 2.55% |
| HYG | (HYG) | iShares iBoxx $ High Yield Corporate Bond ETF | 5.14% |
| SPHD | (SPHD) | PowerShares S&P 500 High Dividend Portfolio ETF | 3.58% |
These ETFs include bonds and preferred shares, which will lower the growth rate of dividends in the portfolio.
Part 3: boosting the portfolio's yield
The couple wanted to raise the overall dividend yield of the portfolio, so they decided to spend the remaining $100,000 on preferred shares and a higher yielding REIT.
For investors interested in The REIT Forum's preferred share ratings, see my guide to preferred shares. I also have a guide for preferred share dividend captures.
The couple decided to invest in a few baby bonds and preferred shares.

Source: CWMF's subscriber spreadsheet (subscription required for 50+ preferred shares and baby bonds with comparing prices)
Preferred shares from Global Indemnity (NASDAQ:GBLI) carry a low risk rating of "2" and have a relatively high yield for a baby bond.
Ted and Mary also wanted to invest in a preferred share. They chose to invest in a preferred share from Annaly Capital Management (NYSE:NLY).

Their choice was NLY-G. Even though it carries the lowest stripped yield, NLY-G has call protection until 2023. That means that the company cannot call preferred shares until 2023. Further, shares are trading at a material discount to the call value of $25. On one final note, NLY-G has an FTF (fixed-to-floating) rate after call protection ends. This offers investors a hedge against inflation.
A share of preferred stock is a share of a company that is a cross between a bond and a common stock.
Preferred shares are called "preferred" because these shares have dividend preference over common shares.

Because preferred shares have a dividend preference over the common and because the price of the shares tends to be stable, many people think of preferred shares as having minimal risk.

Preferred shares of stock are issued with a prospectus, like common shares. A prospectus is a contract between the company and the investors. In the prospectus you will find the issue price, the call price, the date the shares are eligible to be called, and, of course, the dividend amount. These elements form the basic contract between you and the issuing company.
Compared to a stock
Like a common stock, a preferred share moves up and down in price with the market forces.

Unlike a common stock, a preferred share can be called back by the issuing company at a fixed price (after call protection ends) - normally $25.

Like many common stocks, a preferred stock pays a dividend, fixed by a contract known as a prospectus. Most preferred stocks pay a fixed dividend. This causes many people to compare them to bonds which also pay a fixed dividend.

Unlike a common stock, the dividend usually remains constant throughout the life of the preferred share. Because the dividend is fixed, they are compared to bonds, which also are fixed.

Note: Some preferred shares have an FTF (fixed-to-floating) feature. This means after call protection ends they cease having a fixed dividend rate and go to a floating rate.
Compared to a bond
Like some bonds, a preferred share has a "call date". The issuing company may or may not call the preferred shares on the call date. If the share is called, the company gives the agreed amount (usually $25) to the investors and then retires the shares.

After the call date, the company can call the preferred shares at any point with a 30-day notice.

Unlike a bond, the preferred shares do not have a maturity date.
A Higher-Yielding REIT
Ted and Mary decided to invest in Brixmor Property Group (NYSE:BRX).
BRX was chosen for its high yield over 6.5%, but the company does carry a material amount of risk. Leverage is one of the more difficult areas for BRX. I'd like to see a modest reduction in leverage: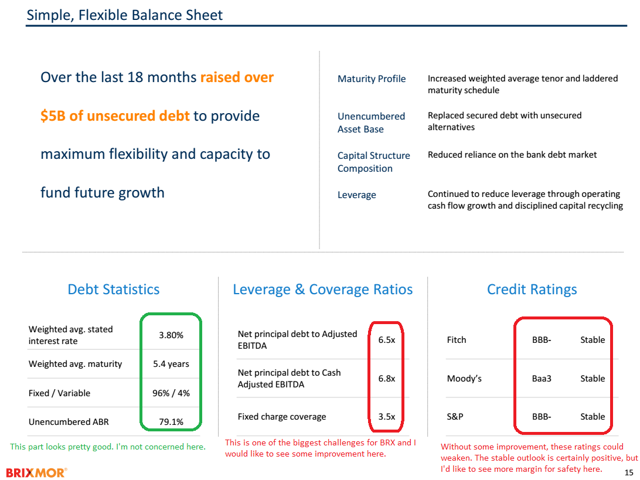 Source: BRX
The debt statistics look pretty good. It is a reasonable interest rate and a long maturity. Most of the debt is fixed rate, so increases interest rates won't impact AFFO much.
However, the leverage ratios are pretty high. At 6.5x net debt to adjusted EBITDA and 6.8x when using cash adjusted EBITDA, this is a bit higher than I would like to see things. The result of higher leverage is pressure on the credit rating. Maintaining a solid credit rating is very important for the REIT because it makes the cost of debt capital materially lower. Cheaper debt capital means a larger portion of EBITDA will reach AFFO rather than being devoured in interest.
Full analysis on Brixmor (subscription to The REIT Forum required)
A dividend champion REIT
FRT was one of the dividend champions among her initial picks, but it deserves some further discussion.
FRT was chosen for its strong dividend history and projected future growth. FRT has 50 consecutive years of dividend increases with solid growth projected into the future and an excellent dividend coverage ratio.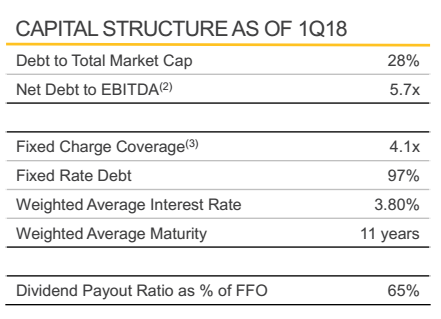 Source: FRT investor presentation
The dividend payout ratio is only 65%. That is an excellent level of dividend coverage.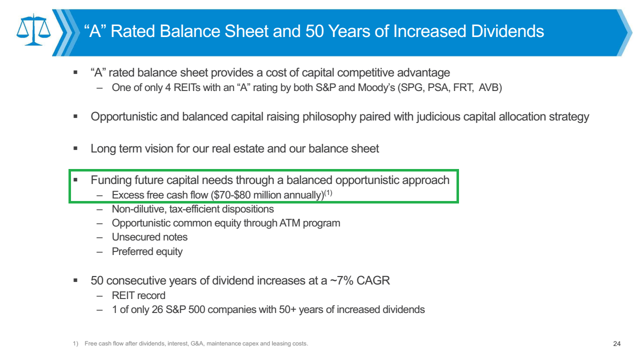 Source: FRT investor presentation
The low payout ratio allows FRT to have a substantial amount of excess free cash flow. That free cash flow is reinvested into the portfolio to grow FFO for future years. It also provides a significant cushion for safety in dividend coverage if we enter another recession.
FRT is being very conservative with its dividend because it never wants to put its 50-year track record in jeopardy.
Full analysis on FRT (subscription to The REIT Forum required)
Real Estate is Still America's Favorite Investment
Do you like real estate?
Most investors do: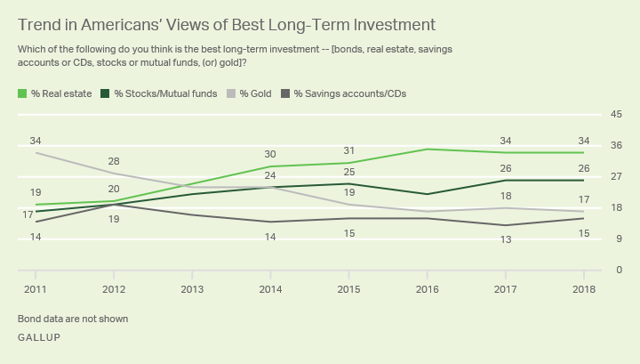 Source: GALLUP
Real estate is the most popular investment for long-term wealth creation. It has won each year since 2013. That makes sense. Many investors have earned a fortune off real estate. Investing in real estate can be a very simple method to build wealth and many investors are familiar with the concept if they've purchased their own home.
The biggest difference between buying a home and purchasing real estate for investment is the rental income. Buying a home is useful because it allows the investor to avoid paying rent. Owning rental property is great because it allows the investor to receive rent. When investors are looking for consistent cash flow to give them greater financial freedom, real estate is a natural choice.
There are a few key challenges to buying real estate directly. These barriers can prevent many potential landlords from achieving their dreams of financial freedom through real estate.
The 3 biggest barriers to investing in real estate are:
Enormous minimum amount to invest.

The high transaction costs in both time and money.

The difficulty of having enough time to manage your properties properly.
Now, let's consider how investing in REITs allows an investor to get around those 3 major barriers.
For investors interested in real estate, see my guide on investing in real estate.
Total Stock Portfolio
The total portfolio ends up looking like this: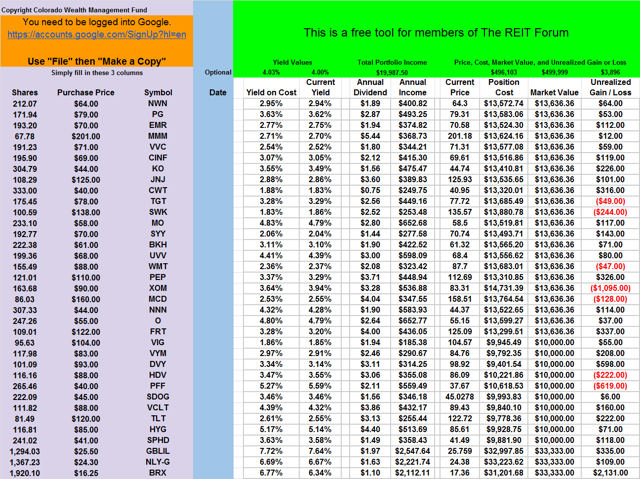 They allocated $500,000 and the portfolio is expected to produce $19,987.50 in annual income. The yield on the portfolio is roughly 4.00%, which is substantially higher than it was before. Only using common shares of dividend champions resulted in a much lower yield on the overall portfolio. However, the inclusion of a higher yield REIT and some preferred shares was able to push the income materially higher.
That wouldn't be enough by itself, but remember that the couple will also expect a significantly elevated social security payment. Further, they maintained both cash on hand and investments in CDs.
The Investments in CDs
The following table shows the rates I used for the CDs, the amount invested, and the amount harvested.
The first year is shown at 0% because this is simply cash placed into the checking account. The couple may get some growth through interest paid, but we're being careful. If they need $51,200 for year 2, it goes into a bank as a one-year CD. This way they always have the cash on hand when the year begins.

You can check rates on certificates of deposit here.
If they choose to spend the cash and their dividend income, they have about $70,000 per year for the first 6 years. If they are able to reinvest a portion of their dividends, the portfolio will grow more and they will have more cash for future years.
Diversification
Some investors will be concerned that the portfolio doesn't include bonds. That concern isn't necessary. This portfolio includes an allocation to bonds through some of the ETFs. The CDs also function in a manner that is very similar to Treasuries. We've selected the CDs instead here because the rate on CDs is notably higher than the yield on a Treasury for the same period.
However, the portfolio could use a little better concentration. When Ted and Mary looked for higher yields, they really should've picked more than 3 total choices for that part of the portfolio.
The following table shows the percentage of the portfolio allocated to each ticker on the right and the percentage of total portfolio income attributable to that position on the left: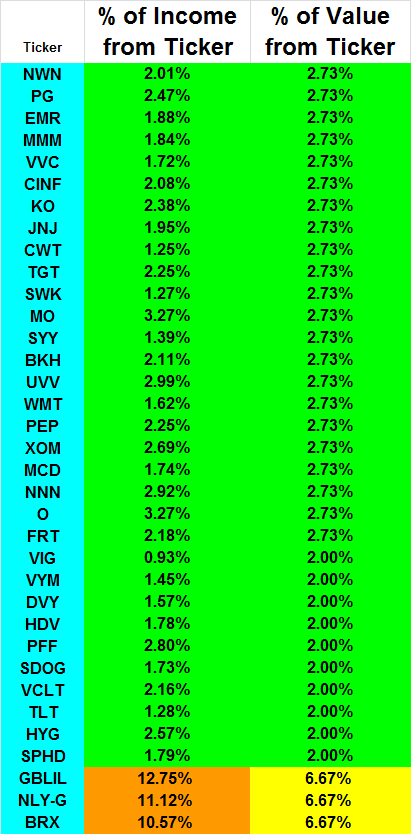 We can see that 6.67% of the portfolio value is in each of those high yield position. That's a bit heavy. On the other hand, we can see that each of those positions individually is accounting for over 10% of the portfolio income. That's a sign that Ted and Mary should be looking to diversify their choices a bit more.
Fortunately, there are several high-quality preferred shares they could choose from and a few good REITs with high dividend yields as well. We cover preferred shares every week as we hunt for opportunities. The preferred share ETFs carry much higher expense ratios and don't have the benefit of watching the prices week after week to spot a failure in liquidity that lets shareholders get in at a better price.
Consequently, if investors can choose individual preferred shares, it is one of the easier areas to outperform the ETFs. As a simple rule of thumb, when the ETFs have higher expense ratios, it is easier to outperform them. For the ETF to offer the same yield while paying out the expense ratio, the ETF would need to take on additional credit risk. The ETFs should consistently underperform their own benchmarks due to the higher expenses.
Additional Options
Some retirees might decide to continue working for a few more years to grow their portfolio further. Is that a good decision? It depends entirely on their goals. For some people it would work well, for others it would not.
Some retirees might opt to gamble on stocks with double-digit yields and sell at a substantial loss each time the dividend is cut. Is that a good decision? Usually not. That's one of the easiest ways to have retirement cut short. Some high-yield stocks perform well, but many plunge. Advisors often suggest planning based on a 3% to 4% withdrawal rate for the portfolio because that level appears to be sustainable. Simply picking higher yielding stocks doesn't guarantee higher returns. We focus on finding strong companies at attractive valuations so we won't be faced with dividend cuts.
Some retirees will opt to take social security benefits at 62. Is that a good decision? It depends entirely on the individual investor. If they are comfortable with filing for the benefits early, then it can be a great choice. This could be because they have debts they need to pay off, or because they think it is highly unlikely they will live past 85. On a monetary basis, to simply break even on delaying social security, the retiree needs to live into their low 80s.
Please share
If you appreciated this work, it would be a great kindness if you decided to share it. Posting it to Facebook, Google, LinkedIn, or linking to it from your blog will help other retirees find it.
I would love to hear your experiences in the comments as well, so feel free to include your story or any questions you might have. Do you like Ted and Mary's portfolio? Do you think it needed a larger bond allocation? Would you prefer to have seen them taking social security at a younger age?