Introduction
This article is being submitted pari passu with one suggesting that some technical and fundamental signs that long term interest rates could be headed lower, not higher, despite a healthy US economy. If so, that would support a Goldilocks scenario in which, as in 2014 and other years such as 2004-5 and 1997-8, both stocks and bonds can give healthy total returns to investors.
The US economy has healed
The Great Recession is almost ancient history now. It began nearly 11 years ago and ended more than 9 years ago. A prior Great Recession (1973-5), with a similar time lapse, leads to 1984, a year that saw the end of the ultra-high long term interest rate era and the acceleration of an immense economic and stock market boom.
Perhaps the US will be fortunate enough to experience such a situation once again. There is some evidence that this could be happening, and at least one sage observer, Mohamed El-Erian, is hinting at that (see below).
Consistent with a rosy scenario and the analogy to 1984, just as the Volcker Fed undid excess inflation, the unnecessary QE 3 - which so distorted asset prices - is being reversed, and GDP is rising at a faster rate than what appeared to be a 2% ceiling for years after the Great Recession.
Dodd-Frank has worked, along with the usual conservatism most banks have after a financial crisis. More broadly, the usual historical time frame for a financial system to heal after a banking crisis, 5-6 years, has long ago been passed.
Thus there are no structural reasons to expect other than a good US economy.
The economy may be getting better, not worse, even as the Fed tightens policy
Current conditions as assessed by numerous consumer surveys are strong. For example, Bloomberg's Consumer Comfort Index was reported Thursday at 57.6, much higher than at any time in the Obama years and near its April high just over 58. Prior highs were set around 2000, when Bill Clinton was president. Last week, the NFIB reported that Small Business Optimism Remains Historically High as Sales and Profits Maintain Strength. And so on.
More than one CEO has noted more strength in business than official statistics reflect. This suggests to me that upward revisions to some economic statistics may be coming (typically it takes years, though, for them to arrive). If so, this would bring allegedly "hard" data to where the allegedly "soft" data already are.
For example, JPMorgan Chase had this to say in its Q1 press release Friday:
We see good global economic growth, particularly in the U.S., where consumer and business sentiment is high. Because of this broad growth and the strong underlying performance across each of our businesses, the company delivered record results this quarter...
The breadth of the growth is also seen in the diffusion indices in the latest BLS Employment Situation Survey, both for all industries and for manufacturing.
Other reports support this.
For example, Cass Information Systems (CASS) tracks the US transportation system. This year, shipments are booming: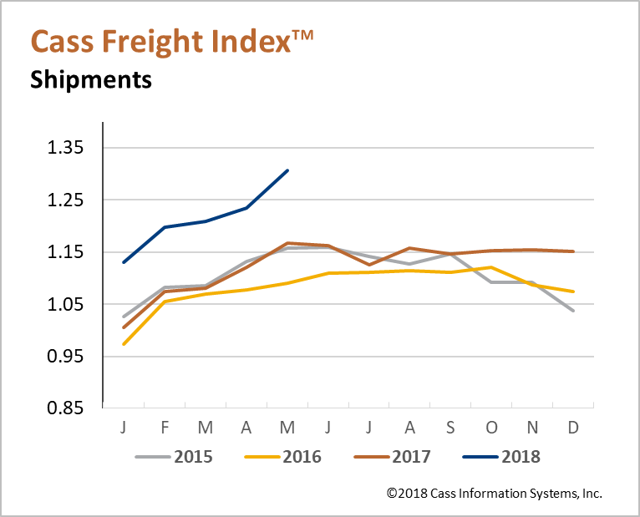 That's impressive, just like what we were used to from 1983-2000 with only a few interruptions.
Other more recent CASS data, from June (the above shows data through May) which I receive by email shows a boom. The CASS Truckload Linehaul index "continued the increasing rate of acceleration... by posting... the largest YoY percentage increase in this index to date." The CASS Intermodal Price Index shows an 11% YoY increase in June, and CASS commented that "Tight truckload capacity and higher diesel prices are creating incremental demand and pricing power for domestic intermodal."
This outlook is supported by data from the Department of Transportation of the US government: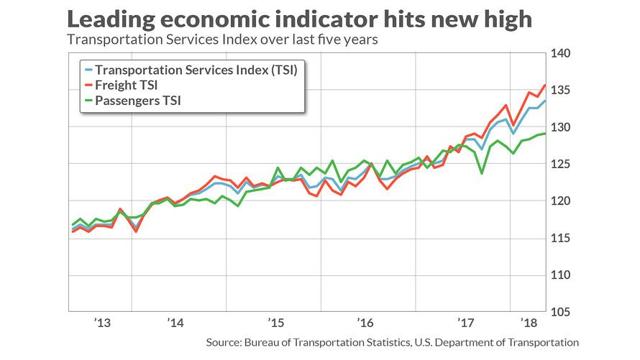 All this is happening while GLD is in a downtrend and crude oil and gasoline have stopped, or at least paused in, their uptrends.
Moving to a different part of the economy, broad strength is reflected in the report from Fastenal (FAST), an industrial middleman. FAST is a bit of a canary in the coal mine due to its first-out-of-the-box reporting status each quarter. Business here appears to be booming as well. As the CEO said in his prepared remarks in the conference call:
... our non-residential construction business is accelerating. In June, we hit 17%. In all honesty, I don't understand the strength behind it.
My thought to help him understand the strength: it could be real.
The CEO went on to say:
Our manufacturing demand is stable at very healthy levels... National accounts, our daily sales grew 19% in the second quarter. In June, we broke 20%.
And so in throughout the prepared remarks and Q&A.
Traders sent FAST up sharply (I went long on the open, dipping into cash reserves to do so). The stock is close to a break-out from a long-term trading range. If so, technical analysis suggests that it may then resume its prior long term growth story: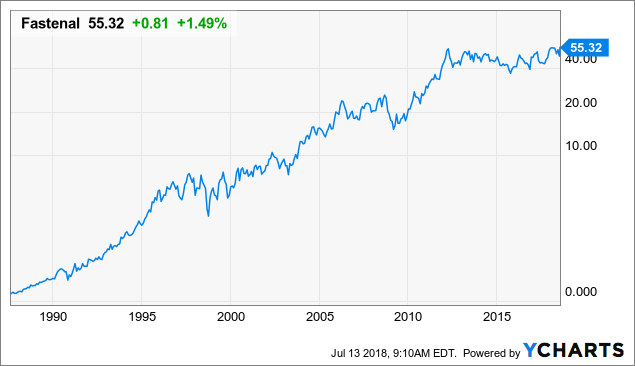 What might this mean for strategy going forward?
There are a few interlocking thoughts, all relevant to a top-down posture that could then guide a bottom-up set of investment decisions.
First, note that there is a lot of skepticism about the boom-type conditions described by the three different observers mentioned above. This can be seen by looking at perhaps the best truck manufacturer, Paccar (PCAR). The stock is trading around 11X forward EPS, with a high though variable projected dividend yield (which is largely determined in December and paid as a 5th, special dividend). Another strong company in the industry, Cummins (CMI) is around 10X forward EPS. FedEx (FDX), a dominant global player, is at 13-14X forward non-GAAP EPS. These are low numbers compared to the S&P (SPY) forward P/E of about 17X (GAAP), and I think it leaves upside if the economy is indeed accelerating.
Second, what makes this an interesting time to think of cyclicals and less cyclical GARP (growth at a reasonable price) stocks is that weakness in commodity prices and in emerging markets (EEM) are allowing US long term interest rates to hold stable despite domestic economic strength.
This sort of process went on through the 1980s after the US emerged from the 1981-2 recession, with interest rates and inflation not taking off as the mainstream expected given the high deficit, growth-friendly set of policies out of Washington. Past may be prologue here as much of the Trump agenda looks like Reagan 2.0.
The combination of a lower for longer interest rate backdrop means that a forward 10-11X P/E, equating to a 9-10% yield on earnings, is very interesting to me. All the companies have to do is show no earnings growth at all, just keep on keeping on, and the owners of the company will constructively own a junk bond at yields far above those of actual junk bonds. But over time, I expect that growth is likely, either real growth and/or inflation pass-through-type growth. And if current growth is truly strong, I think that earnings could grow more rapidly than expected; perhaps much more rapidly. After all, that's how cyclicals move.
Third, several factors argue to focus on US stocks, especially ones with operations solely or largely in the US. One is that just as fighting the Fed is discouraged, so is fighting the priorities administration in power, especially when it has been in power less than two years. So, if the administration is an "America first" one, investors need to take heed. The prior administration focused on health care, and health care stocks led the market.
Two other factors within this third point were described by a financial guru, Mohammed El-Erian, last Monday in a CNBC interview. First, he not only said that the US would likely win a trade war with China, but:
"One of the upside risks, is that you may end up changing, the global landscape in a way that favors the U.S.," he says.
He went on to explain that an upside surprise to the economy and markets could occur, and could be as major to investors as the Reagan military build-up was in bringing down the Soviet Union. Second, per El-Erian, a different bullish thesis for US stocks (and bonds) was his expectation that weakness ex-US would force the Fed to only do one more rate hike this year rather than the two that markets expect.
Moving on to the fourth and final point, the history of the last tech-driven bull market was demonstrated by a study done in or around 2001. It looked at something like the prior 10 year of returns from mutual fund investors, meaning the amazing decade of the '90s. My recollection is that the average investor had not made a dime. The reason? Rebalancing annually into the prior year's winner. So I hate to chase performance when tech (QQQ) has been flying for quite some time.
Thus I start fresh in these articles without relying on past performance to make a case for your consideration.
If the fundamentals are still good at a higher stock price, that's one thing. But you could have bought Cisco (CSCO) at $27 in January 1999, watched it triple after it had risen from 10 cents a share in 1990, but long term, the stock became an under-performer. One just never knows how long and strong a run-up of a hot stock not trading on traditional fundamentals can be.
My preference is to think, Buffett-style, like an owner. And the valuations of Amazon (AMZN) and Netflix (NFLX) are at bubble levels.
In the next section, I propose some themes.
Focusing on US-centric GARP stocks with some deep value
As was the case in many broad economic advances, there are now many strong growth-at-a-reasonable-price, or GARP, stocks to choose from. These stocks and sectors are similar to the many Old Economy stocks that languished from January 1998 to March 2000 as the Cisco's (CSCO), Webvan's, Global Crossing's, Sun Micro's, and VerticalNets of the world went wild. (Substitute AMZN and you may have today's CSCO, though precisely what year of CSCO's run AMZN is at is undetermined.)
With GARP stocks at attractive levels relative both to competing interest rates and to valuations of many glamour stocks, a leadership change may be coming; again, one cannot time these things.
A recent analogy could be the seemingly unending surge of biotech stocks (IBB) into a first 2014 top and then a more major 2015 top. Now, while in many cases sales and EPS are (much) higher than in 2014, strong leading biotechs such as Celgene (NASDAQ:CELG) and Regeneron (REGN) are unchanged from about 4 years ago.
Who could have guessed that when CELG was running from $80 to $88 in June-July 2014, on its way to $140 in 2015, that 4 years later, Consolidated Edison (ED), a no-growth utility that trades as a bond substitute, would have produced double-digit annual returns while CELG ultimately went down below $88?
I am mostly making that sort of bet on laggards today. I will name just a few, beginning with:
Financials
Most financial stocks are good-time plays. Everything that goes on in the commercial world involves financial intermediaries, sometimes several of them. It's easy to ignore the stocks, because seemingly one bank is like another. But just look at Friday's news and trading. JPM had a solid quarter; the stock ended down a little bit. But both Citi (C) and Wells (WFC) had more challenged quarters, and their stocks were down more. Over the past 3 years, quality is showing: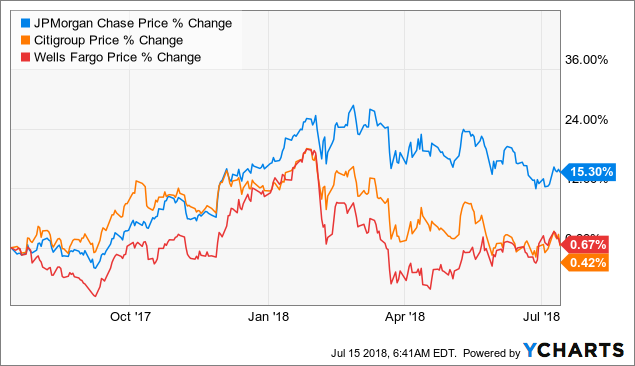 With JPM emphasizing how competitive conditions are in its businesses, I expect the weaker players to feel the pain more than JPM will. JPM strikes me now as a core holding for the economy and Fed policy we have today.
A different sort of bank that I think has surprising upside potential is a custodian bank, namely the Bank of New York Mellon (BK), the nation's oldest bank. BK was founded by Alexander Hamilton in 1784. At $53, it is trading around 13X projected 2018 EPS. It is the world's leading custodian of financial assets, with well over $30 T in assets under custody. It has several other sources of income, and a new CEO. It is the CEO change that attracted me to BK. One year ago, Charles Scharf took over as both chairman and CEO; he was credited with leading Visa (V) to greater success in his tenure there. Among his foci at V were greater use of and cooperation with high-tech firms; note that V is based in San Fran. I believe that he may lead BK to up its game with a similar strategy.
I am willing to do the same thing with BK and Mr. Scharf that I am doing with Palo Alto Networks (PANW), namely bet on a star CEO who steps into a strong company and plans to take it to the next level.
Many other seemingly strong, well-known names in the financial sector (XLF) such as Morgan Stanley (MS) and money-manager Invesco (IVZ) have seen their stocks sink reciprocally with the flattening of the yield curve and the ramps in AMZN and NFLX. Both MS and IVZ have forward P/E's below 10X and both are only at about 20% premia to book value.
I think this is a sector that has some good values now, often with 3%+ or even 4%+ dividend yields.
Using earnings yields and growth potential to decide if value is getting timely
Now, it's one thing if just one sector appears cheap, say financials or energy. It could easily be a value trap. But my observation is that a large and growing number of stocks of leading companies in many industries have become reasonably valued on conventional metrics. Relative both to the bonds of those same companies, or P/E's on the many speculatively-valued companies, these stocks are in my view strong absolute values. It becomes a judgment call as to whether the accumulating weight of these values will break through the unending hype over AMZN disrupting this or that new industry, or NFLX catalyzing changes in the media landscape. Without saying that the timing is correct (and the whole thesis could be wrong, of course), I have mostly moved on from momentum and glamour stocks to value/GARP stocks.
The same names may well not keep leading forever.
And a broad-based economic expansion provides a good backdrop for new leadership to replace extended leadership. Maybe it will be FAST once again. Coming back to that name, look how this almost-unknown stock has fared versus Apple (AAPL):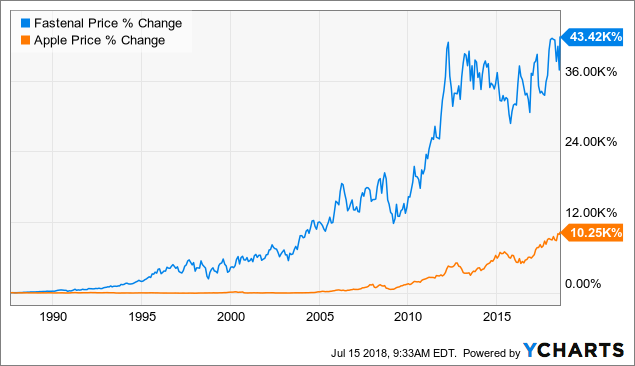 FAST has clobbered AAPL.
Perhaps it will be trucks. PCAR's total return for the 15 years through 2017 were 15% versus 10% for the SPY. So, maybe PCAR will snap out of its funk, have a beat-and-raise quarter, and maybe the stock will then move to a higher P/E based on increased forward EPS expectations.
Or maybe it will be financial services as suggested above; after all, the existing companies I mentioned have all survived the Great Recession.
Or, consumer-facing companies, ranging from the floating hotels called cruise lines, such as Carnival (CCL) and Royal Caribbean (NYSE:RCL) to restaurants.
Et cetera.
After all:
1. A dollar is a dollar is a dollar. It doesn't matter to the owner of a business if the buck is earned by selling a financial service, a truck part or cab, a floating hotel room, a meal or a dress; versus Internet advertising, software code. If it can pay the bills, it's a good thing.
2. Much of tech is a B2B service to other businesses, so it's difficult for techs to get "too" far ahead of their business customers.
3. Major tech stocks sell their products globally, and right now, the strongest global economy is the US; this favors companies with a domestic orientation.
4. Tech stocks sold off in Q4 last year when it was clear that the tax bill was going to pass; domestic stocks rose. I bought more tech on that dip, but the sell-off made sense. Few tech stocks are seeing benefit from the tax bill, but essentially every profitable domestic-oriented company is.
Note, there are glamour or speculative stocks in the market that are not techs, so I'm using that sector for ease of discussion.
Summary and concluding points
As a retiree, I look carefully at the macro picture before risking capital in equities. Right now, as we enter into another reporting season for earnings, it appears to me as the leading companies in diverse industries are doing well, and that many shares in these leaders are priced with good relative values when compared to cash, to their own debt instruments, and to a number of glamour or speculative stocks. Good dividend yields and sound finances meeting up with quiet or neglected stocks have always attracted me and are doing so once again.
Thanks for reading and sharing any comments you wish to contribute.
Submitted Sunday evening, S&P 500 futures 2807.50, NASDAQ 100 futures 7409.25.
Disclosure: I am/we are long JPM,FAST,REGN,CELG,AAPL,PANW,FDX,PCAR,CMI,BK,CCL,IVZ,MS,ED. I wrote this article myself, and it expresses my own opinions. I am not receiving compensation for it (other than from Seeking Alpha). I have no business relationship with any company whose stock is mentioned in this article.
Additional disclosure: Not investment advice. I am not an investment adviser.