The following is a review of global stock markets in the first half of 2018, with a focus on contrasting Foreign (i.e. non-US) to US. Most of the time, Foreign market sectors and styles behave like US sectors and styles, but this is not the case for the first half of 2018.
Here's an overview of country performance in the first half. The US has outperformed every country, so diversification outside the US has not paid off in 2018.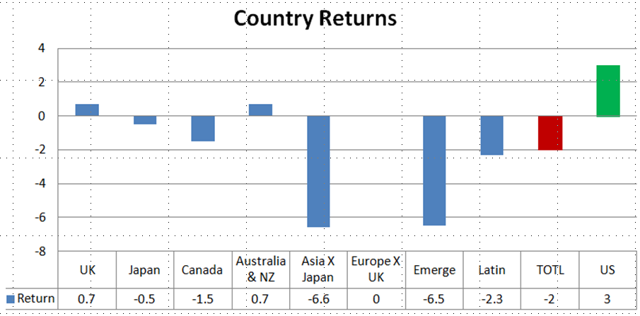 Styles
As shown in the following chart, large company growth stocks have performed well in the US and abroad, although smaller growth companies have thrived in the US but suffered in Foreign markets. We use Surz Style Pure definitions throughout this article.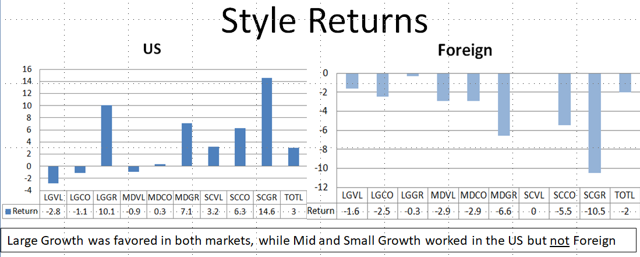 Sectors
As shown in the following graph, US Tech & Consumer Discretionary have performed well, but these Foreign sectors lost money. However, two sectors have similar performance – Healthcare and Energy.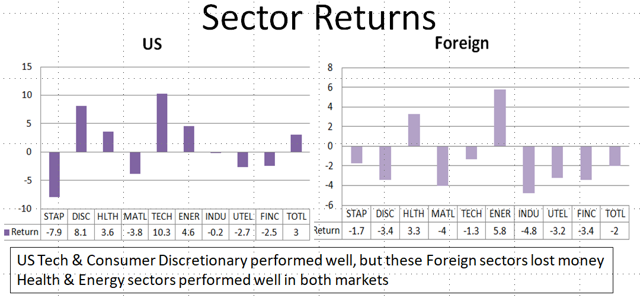 Closer Looks
The following Heat Maps drill down deeper into sector-styles for the US and sector-style-countries for Foreign. Heat Maps can be used for Momentum and Contrarian investing . Look for your favorites.
In the US, the Large Cap Growth Consumer Discretionary segment has performed best with a 32.3% return, while Large Cap Value Consumer Staple stocks have lost the most, losing 16.7%

In Foreign markets, Large Cap Growth stocks in Australia & New Zealand ("AUST") have performed best with a 19.5% return, while Healthcare companies in Latin America have lost 26.9%.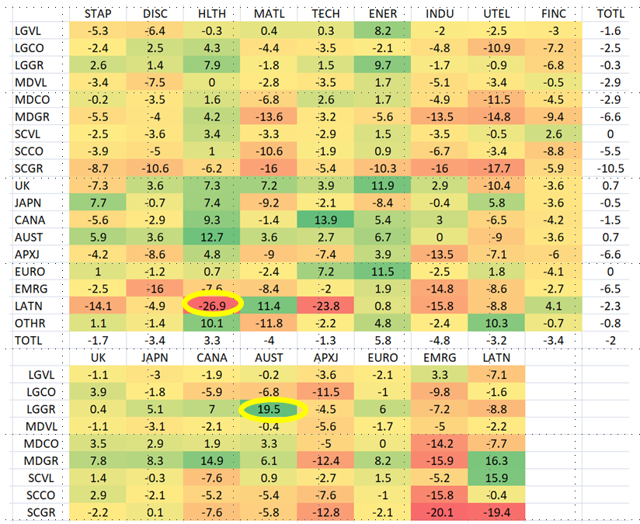 Conclusion
The US stock market is leading the world as it has for most of the past decade, but there have been opportunities abroad to add value, as shown in the green cells of the Foreign Heat Map..
Disclosure: I/we have no positions in any stocks mentioned, and no plans to initiate any positions within the next 72 hours.
I wrote this article myself, and it expresses my own opinions. I am not receiving compensation for it. I have no business relationship with any company whose stock is mentioned in this article.
Additional disclosure: I am a sub-advisor of the SMART TDF Index and the originator of the 1st and only Robo Analyst that integrates Age with Risk. Please visit my Blog at seekingalpha.com/...

Age Sage builds better asset allocation models that help Baby Boomers transition through the Risk Zone that spans the 5-10 years before and after retirement. Implementation of these models can be done for less than 6 basis points. Boomers are poised for a sucker punch that they'll never shake off.