The world is accelerating into an energy crisis, and in this article, I explore the country that has played a leading role: Venezuela.
Venezuela Oil Production
The following graph illustrates that the oil production in the distressed country has rapidly declined since late 2015, and has fallen off the cliff two years later: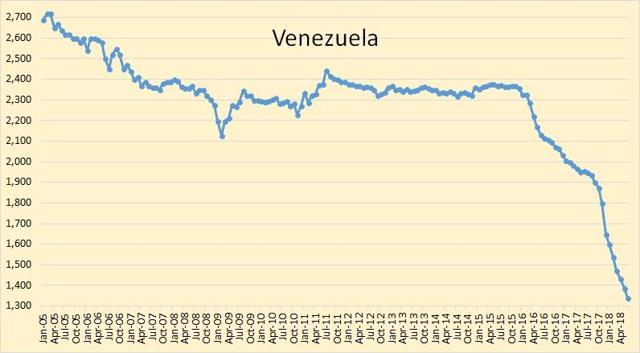 In the last nine months, Venezuela's oil production has dropped from 1.9 mb/d to 1.3 mb/d, and initial reports indicate that it dipped even further in June:
Venezuela's crude production dropped below 1.3 mb/d in June, its lowest monthly production level in 69 years except for a two-month oil strike in December 2002-January 2003 when output briefly dipped below 1 mb/d, according to two upstream executives assigned to state-owned PdV's western and eastern divisions.
Since late 2015, the drop in Venezuela oil production has exceeded 1.0 mb/d, in part offsetting the surge in U.S. crude oil production in the same period:
The data shows that the precipitous drop in Venezuela's oil production has played a key role in the oil price surge, which started around the same time in early 2016: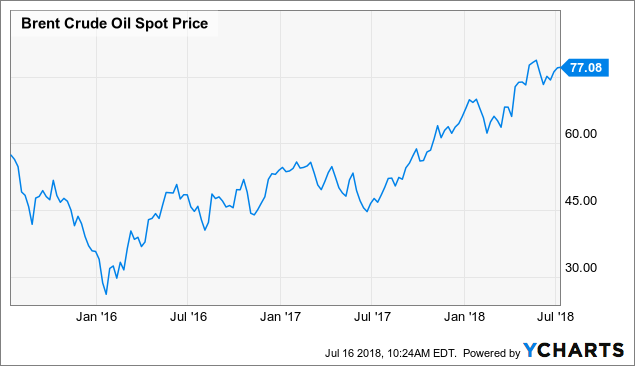 Further, if Venezuela's oil production had continued at the 2.3 mb/d level throughout the 30-month period from late 2015 to May 2018, with all else equal, then the closely watched OECD commercial oil inventories would be 350 million barrels to 400 million barrels higher than where they are today: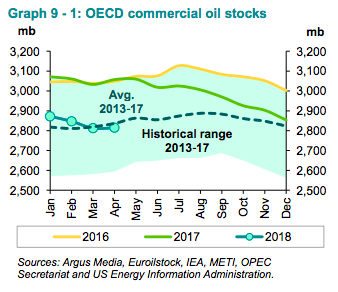 Interestingly, that is the exact difference between where OECD commercial oil inventories are today versus where they peaked in 2016. Cool stuff, huh?
What's Next?
The following graph illustrates the continued decline in Venezuela's oil rig count: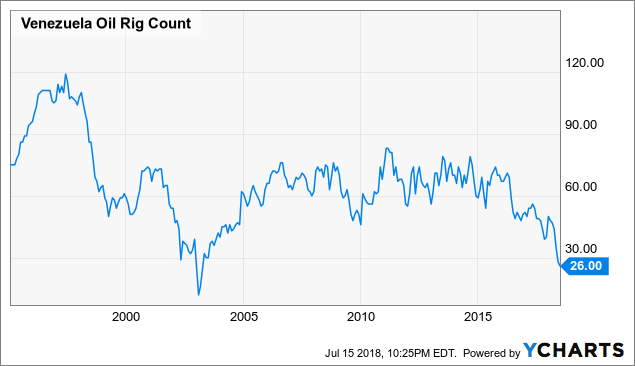 Readers should note that the oil rig count in Venezuela peaked in late 2014, and preceded the decline in oil production by several months, as is usually the case. Less drilling now naturally means less oil production shortly after, all else equal.
Given that the oil rig count remains near multi-decade lows, and has significantly dipped in recent months, I expect the country's oil production to remain muted, and potentially decline even further in the coming months, which is in line with early reports from the field:
"More production wells are being shut down, the skilled oilfield labor force declined in all upstream divisions by at least a combined 1,000 workers in June, and scheduled maintenance continues to be postponed," the western division official said. Earlier discussions with PdV officials suggest that the same trends are eroding production in the Orinoco heavy oil belt.

Venezuela's crude output continued falling in the first 11 days of July as more drilling rigs and production wells are shut down, the eastern division executive said.
What Would Reverse This Trend?
Higher oil prices. Significantly higher oil prices.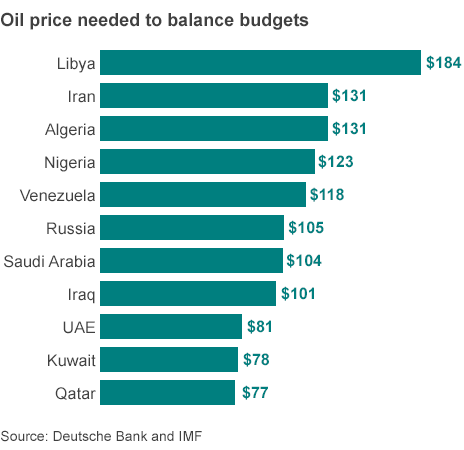 The above graph illustrates that many key oil producing countries need significantly higher oil prices in order to balance their budgets, and Venezuela is up there on that list with $118 per barrel.
If oil prices surge in the coming months, as I expect, then maybe Venezuela and a few other oil producing countries can be pull themselves off the cliff. Until then, however, we will likely to continue to see headlines like this one:
Hungry Venezuelan Workers Are Collapsing. So Is the Oil Industry
I don't expect Venezuela's oil production to stabilize anytime soon, and at least two PdV officials agree with me:
If the downward trend is sustained, Venezuela's crude output could reach 1mn b/d before the end of 2018, the western and eastern division executives added.
Bottom Line
The primary culprit of surging oil prices is Venezuela. Without the persistent declines in its oil production, the oil market fundamentals would be entirely different today. The reality we are left with today, however, points to higher oil prices. It's going to be a hot summer!