U.S. Environmental Protection Agency (EPA) Administrator Scott Pruitt resigned a week ago after losing the support of President Donald Trump following numerous ethics scandals. The turning point likely was Supreme Court Justice Anthony Kennedy's recent decision to retire, paving the way for a new justice to be nominated by Mr. Trump. Senator Chuck Grassley (R-IA), a noted supporter of the biofuels industry, is chairing the Senate's confirmation hearings for Mr. Kennedy's replacement, making Mr. Trump particularly reliant on Mr. Grassley. Mr. Grassley in turn has been sharply critical of Mr. Pruitt's efforts to weaken the U.S. biofuels mandate, to the point of suggesting earlier this year that Mr. Pruitt would need to resign if he continued those efforts (as he subsequently did).
Not surprisingly given this dynamic, the news of Mr. Pruitt's resignation was greeted with cheers from U.S. ethanol producers. The price of the mandate's blending credits, Renewable Identification Numbers (RINs), jumped by 14% on a weighted average basis over the two days following the announcement. Mr. Pruitt's record as an opponent of the blending mandate dates back to his previous job as Oklahoma's attorney general and he was rightly viewed as an ally of the U.S. refining sector, which is also opposed to the blending mandate, during his time with the EPA. The 18 months since Mr. Pruitt was named to the administrator position have not been kind to ethanol producers and logistics firms such as Green Plains, Inc. (GPRE), Green Plains Partners (GPP), Pacific Ethanol (PEIX), REX American Resources (REX), and The Andersons (ANDE) despite the fact that the S&P 500 and WTI crude price have increased by 27% and 45% over the same period, respectively (see figure). By comparison, the weighted average RIN price lost 74% of its value during that time (see second figure).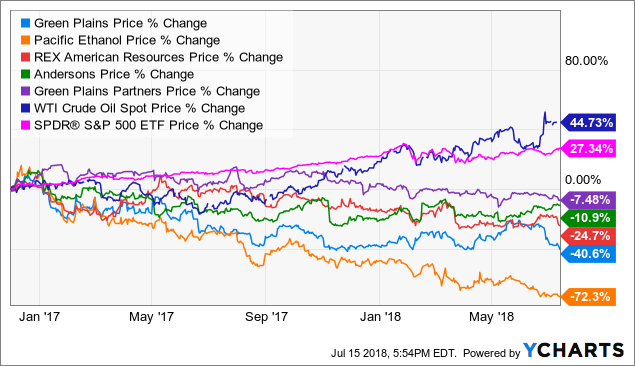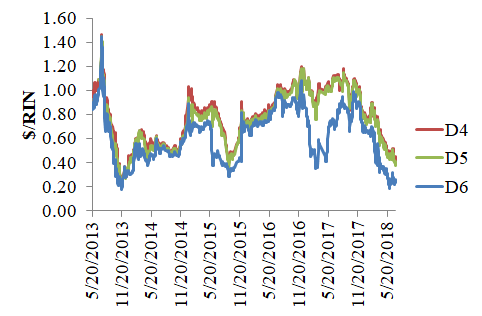 Source: EcoEngineers (2018)
Several recent releases from the EPA in the days since Mr. Pruitt's resignation show that he did not depart before making one last effort to weaken the blending mandate. Late last month the EPA released its proposed blending volumes for 2019 and, in the process of doing so, indicated that it had opted to reduce the total number by waiving the requirement that many small refineries participate. As reported by DTN, the EPA's subsequently-released documents show both the impact of these waivers and how they were decided, and the implications for U.S. ethanol producers are daunting.
First, consider the overall impact of the waivers, which are notionally awarded to small refiners experiencing economic hardship under the mandate. While reports earlier this year indicated that they were being distributed by the EPA to small refiners (with an especially loose definition of "small" being used) on an unprecedented scale, the new EPA documents show by just how much. For example, researchers at the University of Illinois Urbana-Champaign calculate that 1.42 billion gallons were waived in 2017, reducing the overall mandate for that year from 19.3 billion gallons to 17.9 billion gallons, or 7.4%. They further calculate based on the EPA documents that the waived volume will reach 1.64 billion gallons in 2019 out of 19.9 billion gallons total, or a reduction of 8.2%.
The reductions do not appear to be arbitrary. The volume of ethanol that was effectively blended in 2017 was, at 15.1 billion gallons, equal to 10.6% of gasoline consumption for that year. Given that around 600 million gallons of ethanol is consumed in the form of higher-ratio blends such as E85, this means that all other ethanol consumption was equal to roughly 10 vol% of gasoline consumption. In other words, the waivers ensured that the so-called E10 blend wall, the surmounting of which refiners had blamed past high RIN prices on, was not surpassed in 2017. Likewise, the effect of the expected waivers in 2019 will be to limit ethanol consumption to 10.7% of projected gasoline consumption for the year.
Second, the EPA's documents indicate that the decision to continue to use the waivers to reduce the total blending volume to an amount equal to the 10 vol% blend wall came only shortly before Mr. Pruitt announced his resignation. As recently as June 19, shortly after Mr. Pruitt toured several Midwestern states and met with senior U.S. Department of Agriculture officials, the agency was moving forward with an internal proposal to increase the amount of ethanol blended with gasoline to almost 12 vol% in 2019. On June 20, the EPA determined via an internal review that such an increase would be legal. On that same day, however, Mr. Pruitt met with two important opponents of the mandate, Senators Ted Cruz (R-TX) and Pat Toomey (R-PA). On June 22 the proposed blending volume was dropped to its current level and a few days later that volume was announced in the EPA's formal public proposal.
One of the bigger questions in the U.S. ethanol sector since 2017 has been the collapse of the ethanol price premium over gasoline (see figure). The weakening and ultimate disappearance of this premium contributed to poor margins in 2017 and 2018 while also preventing ethanol producers from benefiting from 2018's rising petroleum prices. The EPA's new documents provide a plausible explanation for this discrepancy: the premium has disappeared because the EPA has effectively (if opaquely via the hardship waivers) reduced the blending mandate to the volume of the blend wall, thereby reducing demand for ethanol and hampering operating margins in the process.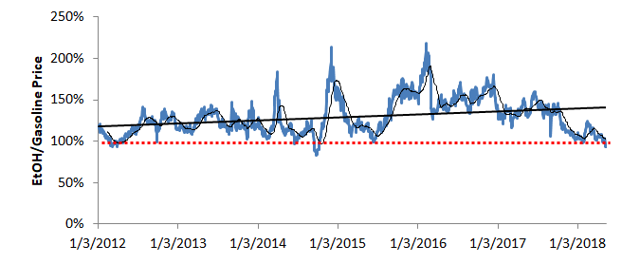 Sources: EIA, CARD (2018)
Mr. Pruitt's resignation does provide U.S. ethanol producers with a bit of hope. Whereas Mr. Pruitt spent much of his career prior to joining the EPA attacking the blending mandate, his interim replacement, Andrew Wheeler, worked in the thermal power sector and has had little interaction with either ethanol producers or refiners. That is a slim hope, though, unless the EPA's proposed volumes (including waivers) undergo a major modification before they are finalized in Q4. The last time that the EPA attempted to set the total blending volume at a level equal to the 10 vol% blend wall, in late 2013, it was ultimately overruled by a federal court. That decision took almost four years to be settled, however. A similar wait would not bode well for ethanol producers given current operating margins. The U.S. ethanol industry produced 15.8 billion gallons in 2017; combined with the EPA's de facto reduction to the mandate, any weakening of export volumes due, say, to a trade war will further hurt margins. Mr. Pruitt has departed but his legacy will continue to affect ethanol producers for the time being.
Disclosure: I/we have no positions in any stocks mentioned, and no plans to initiate any positions within the next 72 hours. I wrote this article myself, and it expresses my own opinions. I am not receiving compensation for it (other than from Seeking Alpha). I have no business relationship with any company whose stock is mentioned in this article.