The gold price continues to face stiff headwinds from a strong dollar and the liquidation of all assets perceived as risky by emerging market investors. Right now gold is included in that list despite its perception by many as a "safe haven." In today's report we'll look at various measures of how investors currently view gold, which will help put into perspective why its fortunes are diminished. This "big picture" perspective also will help establish the conclusion that gold's intermediate-term trend is still down and that an optimistic investment stance isn't yet warranted.
As if to highlight this point, gold and silver prices fell to seven-month lows on Friday while the dollar rose to a two-week high thanks to safe-haven purchases resulting from ongoing emerging market weakness and a U.S.-China trade war. Investors' expectations of higher U.S. interest rates also partly accounted for the diminished demand for gold. Spot gold shed 0.5 percent to finish the latest week at $1,240 after previously falling to $1,236, its lowest level since last December.
Since mid-April, gold prices have lost nearly nine percent as the emerging market sell-off accelerated. Highlighting just how much investors have fallen out of love with the precious metal can be seen in a couple of statistics. For one, speculators have cut their net long position in COMEX gold to the weakest position since January 2016. Holdings for the largest gold-backed exchange-traded-fund, the SPDR Gold Trust (GLD), also have fallen more than 8 percent since late April to below 26 million ounces.
Some analysts, taking a contrarian approach, see the above as a sign that the metal may be approaching an important price low. They see the widespread distaste for the metal as evidence that a potentially important "shake-out" has occurred and that the last of the weak-handed investors have sold their gold holdings, in turn paving the way for a rebound. While there may be some merit to this view, the problem is that it can only be proven in retrospect that investors have capitulated on gold. Until an initial price low is established by means of a high-volume rally and a break of gold's downtrend line, all such talk is idle speculation. Present reality is that gold remains subject to selling pressure and is currently under the control of the bears. Until this dynamic has definitely changed, as verified by the market itself, gold investors aren't yet justified in assuming a bullish posture.
One of the most important indicators which I've referred to throughout the gold decline of recent weeks is shown here. It's the dollar/gold ratio which is one way of viewing gold's relative price strength as measured against its U.S. currency component. As displayed here, the dollar remains in a relative strength position vs. gold and is above a well-established rising trend line. Until this trend line has been decisively broken, investors would do well to continue avoiding gold in favor of cash.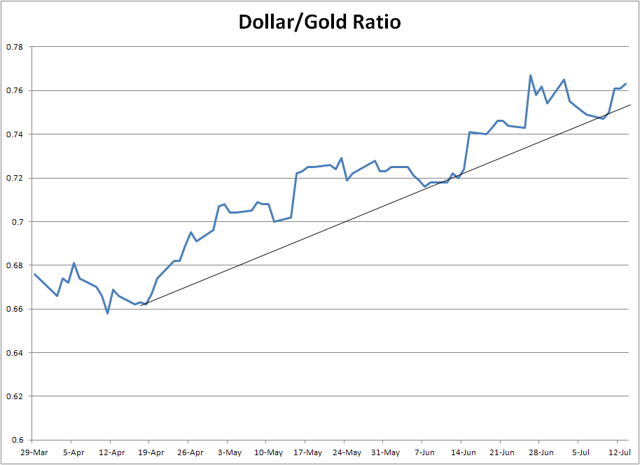 Source: Barchart
Meanwhile another very important indicator which provides a clue as to where investors' affections lie regarding the traditional safe havens is shown below. This chart is a measure of the U.S. dollar's strength compared against the Japanese yen currency. The yen has historically been an important safe haven for investors on much the same level as gold. Whenever investors' faith in the foreseeable future of the economy or the geopolitical system has been sufficiently shaken, to gold and the yen they've often turned.
The exception to this historical tendency occurs when there's a pressing need among investors to raise cash while liquidating risk assets. This has clearly been the situation in recent weeks and explains why both the yen and gold haven't benefited from the climate of fear. As with the dollar/gold ratio shown above, the dollar/yen ratio shown below should ideally break its uptrend line before we have the next confirmed buy signal for gold.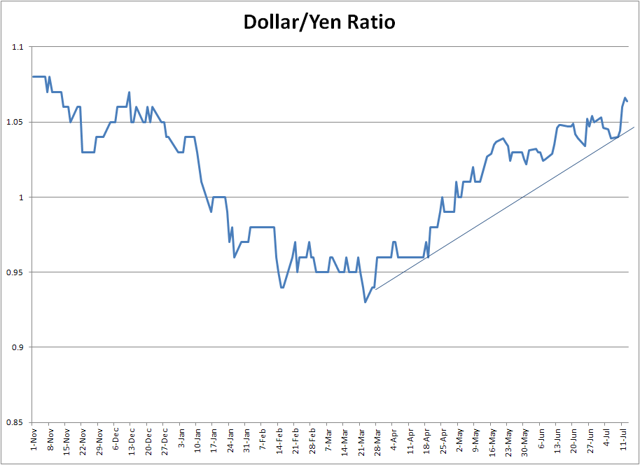 Source: Barchart
Another way of measuring the lack of demand for gold compared to other assets is to compare gold with the stock market. Fund managers, after all, are far more likely to increase their holdings of the metal when the gold price is outperforming the equity market. Shown here is the gold price measured against the benchmark S&P 500 Index (SPX). While this indicator doesn't always have short-term predictive value, it's troubling nonetheless that the gold/SPX ratio has fallen to a new multi-year low. This indicator explains why fund managers and individual investors alike have reason to favor holding stocks over gold.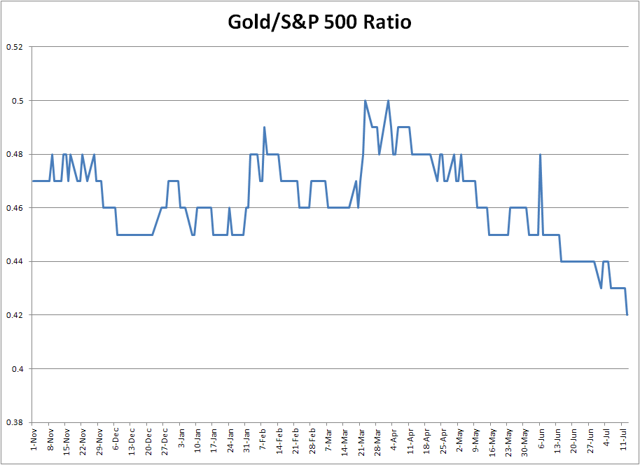 Source: Barchart
Returning to gold's immediate-term (one-four week) prospects, the price of my gold proxy, the iShares Gold Trust (IAU), finished last week at $11.90. I mentioned last week that this was a pivotal price level based on the fact that it was the yearly low established by IAU on July 2. I wrote, "If IAU closes below the $11.90 level from here the rally window which opened up last week will have all but slammed shut as the bears would then be in a position of immediate strength."
Expanding on this theme, the bears would almost certainly take advantage of an increased position of strength should they succeed in pushing the IAU price below $11.90 early this week. At this point every day matters for IAU as the price remains within a hair's breadth of breaking a critical and widely-watched benchmark level. Until IAU successfully closes above its 15-day moving average, moreover, its immediate-term downtrend will remain intact.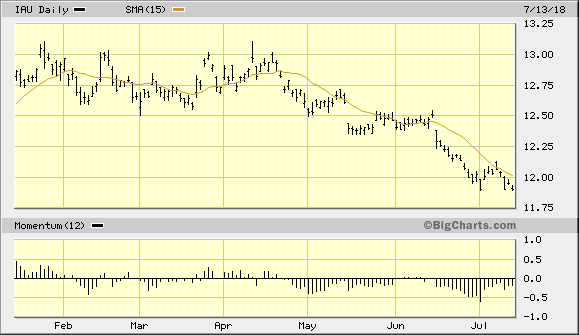 Source: BigCharts
On a strategic note, I continue to recommend that investors avoid new commitments to the iShares Gold Trust (NYSEARCA:IAU). As previously mentioned, the burden remains on the gold bulls to prove the metal's immediate overhead supply problem has been resolved and that they are serious about regaining control of gold's short-term trend. Until they do, remain in cash.
Disclosure: I/we have no positions in any stocks mentioned, and no plans to initiate any positions within the next 72 hours. I wrote this article myself, and it expresses my own opinions. I am not receiving compensation for it (other than from Seeking Alpha). I have no business relationship with any company whose stock is mentioned in this article.