Trade Wars
Due to the continually worsening international trade conflict, questions regarding the health of New Zealand's economy and the recent strength in the NZD, concerns have surfaced, especially due to New Zealand's reliance on exports to both China and the US, and its vulnerability to any slowdown in China's economy. Since China announced retaliations to Trump's tariffs, New Zealand business confidence (and subsequently investment) has tanked, resulting in New Zealand's already sluggish growth rate looking increasingly vulnerable:
| | | | | |
| --- | --- | --- | --- | --- |
| New Zealand Exports | | | | |
| Country | Goods NZ$ million | Services NZ$ million | Total NZ$ million | Year end |
| Australia | 8,277 | 4,580 | 12,857 | Dec -16 |
| China, People's Republic of | 9,432 | 2,893 | 12,325 | Dec -16 |
| United States of America | 5,299 | 2,779 | 8,078 | Dec -16 |
| Japan | 2,975 | 886 | 3,861 | Dec -16 |
(Source: New Zealand Trade and Enterprise)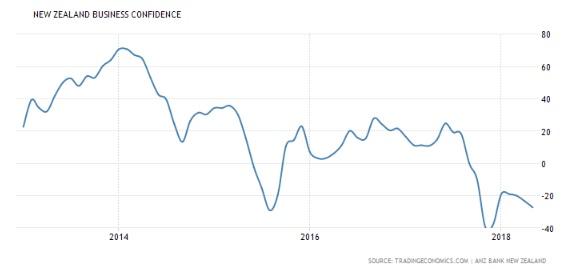 (Source: Trading Economics)
With business confidence sitting near multi-year lows (and in a strong negative territory), the poor outlook NZ businesses have for the future has begun to filter through into domestic wages and investment data. This poor data is in stark contrast to rapidly improving business confidence in the EU: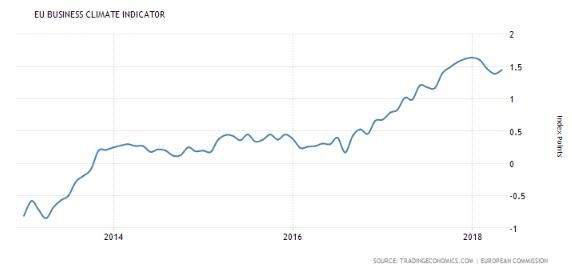 (Source: Trading Economics)
While a trade war will certainly impact the EU to some extent, New Zealand left far worse off, and its highly leveraged housing sector will be left exposed, forcing the RBNZ into cutting rates (which would be a shock to the market, which currently forecasts a neutral RBNZ for the foreseeable future).
Diverging Policies
Mario Draghi recently reinforced his dovish message on the European Central Bank's retreat from ultra-loose monetary policy at the ECB's last meeting, saying interest rates would only rise at a slow pace from September next year. As it called time on three years of quantitative easing during which it bought €2.4tn of bonds to prop up the economy, the ECB last week shifted its focus to a more conventional tool — interest rates. The bank said last Thursday that it expected rates to remain at record lows "at least through the summer" of 2019, leading most investors to bet on early autumn for the first rate increase. This is in contrast to the latest releases from the RBNZ, which are turning dovish from their previously neutral/positive stance. According to the Reserve Bank of New Zealand, GDP growth in NZ eased over the second half of 2017 and early 2018, and the RBNZ believe the outlook for growth has weakened for the near future:
The Reserve Bank today left the Official Cash Rate unchanged at 1.75 percent.

Global economic growth continues to improve. While global inflation remains subdued, there are some signs of emerging pressures. Commodity prices have increased, although agricultural prices are relatively soft. International bond yields have increased since November but remain relatively low. Equity markets have been strong, although volatility has increased recently. Monetary policy remains easy in the advanced economies but is gradually becoming less stimulatory. The exchange rate has firmed since the November Statement, due in large part to a weak US dollar. We assume the trade weighted exchange rate will ease over the projection period. Annual CPI inflation in December was lower than expected at 1.6 percent, due to weakness in manufactured goods prices. While oil and food prices have recently increased, traded goods inflation is projected to remain subdued through the forecast period. Non-tradable inflation is moderate but expected to increase in line with increasing capacity pressures. Overall, CPI inflation is forecast to trend upwards towards the midpoint of the target range. Longer-term inflation expectations are well anchored at 2 percent. Monetary policy will remain accommodative for a considerable period. Numerous uncertainties remain and policy may need to adjust accordingly. (Source: RBNZ Monetary Policy Statement - Full Report)

This addition of uncertain policy adjustment leaves the door open for rate cuts in the future, which I believe are a much more likely scenario than the market is forecasting: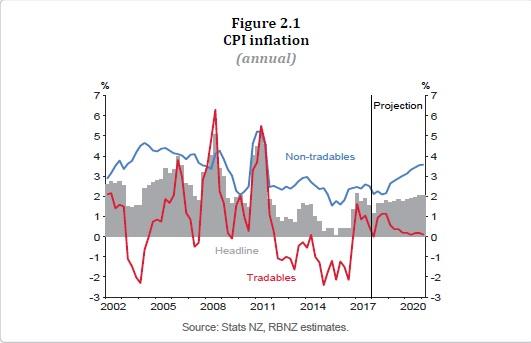 (Source: RBNZ Monetary Policy Statement - Full Report)
There has been little sign of domestic inflation picking up, even though spare capacity has been absorbed over a number of years. Domestic price setting has remained subdued, in part as a consequence of low CPI inflation between 2012 and 2016. Businesses appear to be placing more weight on past inflation outcomes than on their expectations of future inflation when making pricing decisions. This price-setting behavior is assumed to continue to weigh on domestic inflation. Other factors – such as technological developments and the globalization of labor markets – may also be acting to suppress prices. (Source: RBNZ Monetary Policy Statement - Full Report)
Changes to loan-to-value ratio (LVR) requirements, a tightening in lending standards, and higher mortgage rates through the end of 2016 have moderated demand for housing. Weaker investor and overseas demand, pressure on affordability, and reduced expectations of future capital gains also have contributed to the slowdown:
While monthly house price inflation has increased since July, we expect this to moderate over the projection - housing credit growth continues to moderate. Population growth is expected to slow and government policies are expected to dampen demand. (Source: RBNZ Monetary Policy Statement - Full Report)
Due to the relationship between NZ banks and US cash rates, the US Federal Reserve's increased hawkishness (and subsequent rate rises) has caused the RBNZ to essentially lose control of its ability to govern mortgage rates, adding to the credit crunch (note the uptrend in mortgage rates since 2016 since the Fed began tightening credit in the US):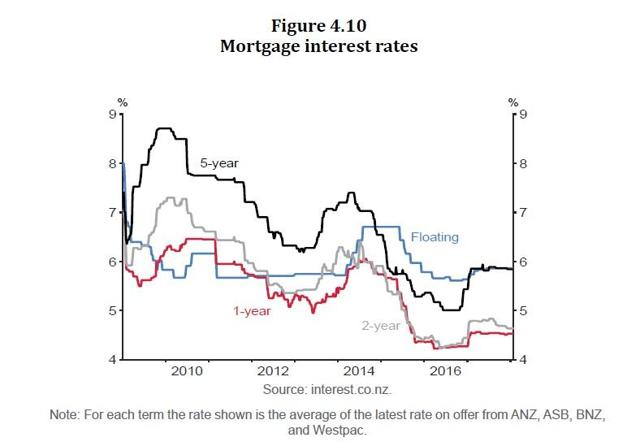 (Source: RBNZ Monetary Policy Statement - Full Report)
If the impact on the housing market of global tightening causes the fall in house prices that I believe it will, the RBNZ has stated in no uncertain terms they will cut rates in response:
Weaker residential investment: Residential investment is assumed to remain flat as a share of the economy before increasing in 2019, reflecting higher activity from the KiwiBuild programme. However, if capacity constraints continue to bind over that time, residential investment could remain subdued and be lower than assumed in the projection. This would imply weaker domestic demand and capacity pressure than assumed, resulting in lower non-tradables inflation. This would require a lower OCR. (Source: RBNZ Monetary Policy Statement - Full Report)
As such, the NZD is highly vulnerable to any downside in the housing sector, which already is showing in the early stages of a slowdown.
Technical Analysis/Charting
The selling pressure at 1.7400 is providing temporary resistance to the pair's strong uptrend. However, the nearby resistance-turned-support level of 1.6800 combined with the convergence of the 100 and 200 hour moving averages has created a confluence of strong buying pressure. This combination of technical buying and fundamental support from the unfolding central bank divergence will likely cause a strong upward breakout from the current range-bound trading.
Conclusion
As both the ECB and the RBNZ are in the early stages of diverging policy paths, with the ECB slowly moving toward tightening policy and the RBNZ turning dovish, investors have been provided with an opportunity to enter long positions in the pair before its multi-year trading range is broken and price likely moves quickly upward.
The information contained in the article is for informational purposes only, and must not be taken as a solicitation to purchase or sell securities. Before buying or selling any stock you must conduct due diligence and accept all responsibilities for any outcome.