You can read here a similar article written three months ago. Since then, the S&P 500 index went up about 5%.
Since February, bearish views with arguments full of common sense came back in the media. They will eventually be right one day. However, hard data show the market is still healthy. The wall of worries may change names like "North Korea," "trade war" or "OPEC" among others, but data point to the same direction as a quarter ago. Rather than wasting time debating on opinions, let's have a look at objective data with a solid track record.
Short Interest
...we find that short interest, when aggregated across firms and appropriately detrended, is a statistically and economically significant predictor of future market excess returns over our 1973:01 to 2014:12 sample period. Indeed, our short interest index is arguably the strongest known predictor of the equity risk premium.
(Short Interest and Aggregate Stock Returns - Rapach, Ringgenberg, Zhou - 2016)
The authors of this research have designed a short-interest index, beating 14 of the most famous timing indicators. They show that the average short-interest in stocks may be the best predictor of market return: the lower the value, the better the expectations. I use this concept as a part of my systemic risk indicator MTS10. Short interest went sharply up in the second half of 2015, but it has been trending down since 2016 and it has been stable for several months, close to multi-year lows.
Here is the average short-interest in S&P 500 stocks in percentage of float between 2006 and 7/1/2018: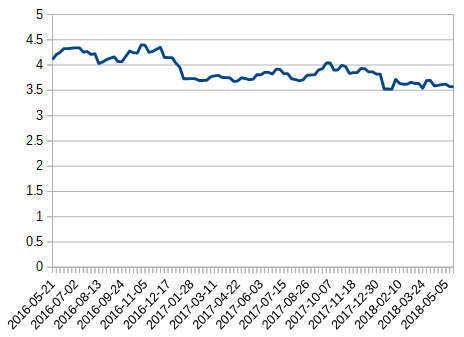 Market Breadth
Many indicators have been created on the concept of market breadth. The idea is to check the percentage of bullish stocks according to a primary indicator. As an example, the next chart plots the percentage of S&P 500 stocks above their 200-day moving averages. It is supposed to send a bearish signal when crossing below 20%. It has never gone below 50% in the last two years: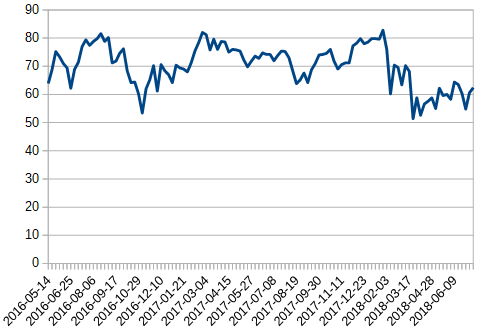 Chart: author
Aggregate EPS
The next chart plots the aggregate annual EPS of the S&P 500. After a downtrend in 2015-2016, it is at an all-time high.

Chart from gurufocus.com
Forward Estimate EPS
Now, let's have a look at the S&P 500 expected quarterly EPS. It is also bullish and at all-time highs.

Chart from ycharts.com
Margin debt
Excessive leveraging of investors may trigger a chain reaction in a market downturn. It is true that margin debt is very high relative to GDP. However, it is stable relative to total market capitalization, as the next chart shows. There is no sign of excessive greed in the market like in 2008-2009.

Chart from gurufocus.com
Economy
The unemployment rate has been in a steady downtrend since 2010. It has hit a 48-year low in May and ticked up at 4% in June.

Charts from St. Louis Fed
Housing starts have ups and downs, staying in an uptrend channel since 2010:

Retail and Food sales are in a steady uptrend started in 2009. The last recessions were preceded by a stagnation:

Yield Curve: the 10-year minus 2-year Treasury spread is going down, but still positive by a fair margin. A negative value has anticipated previous recessions by at least six months (and it is a bad timer).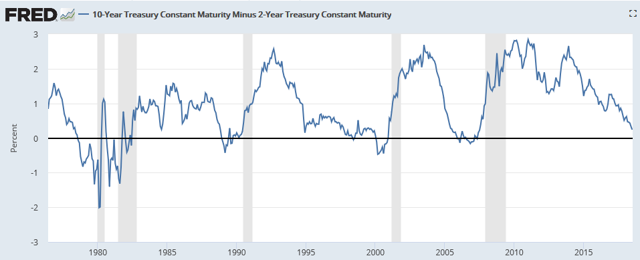 The Chemical Activity Barometer (CAB), which has anticipated all recessions since 1929, is also in a steady uptrend:

Chart from gurufocus.com
Moreover, the relative variation in AAII sentiment sent last week a bullish signal at a 6-month horizon with over 70% probability.
I don't want to downplay the risks: stocks have a median overvaluation about 30% in my metrics, black swans are unpredictable, rate-related concerns are justified, the S&P 500 has still resistance levels to overcome, and seasonality is not supportive. However, the systemic risk is low and I see a lot of reasons to stay invested in stocks. We live in a world of probability, not causation; so implementing tactics to limit risks is always a good idea. Some data discussed here are components of my systemic risk indicator MTS10, updated every week in my private Seeking Alpha service (trial is free).
Disclosure: I/we have no positions in any stocks mentioned, and no plans to initiate any positions within the next 72 hours.
I wrote this article myself, and it expresses my own opinions. I am not receiving compensation for it (other than from Seeking Alpha). I have no business relationship with any company whose stock is mentioned in this article.