Traders and investors will want to keep their eyes on three key factors in the week ahead. And looking beyond the week, as these factors evolve, so should equities. Trade policy developments will continue to weigh heavily for the stock market, and volatility will remain elevated until trade tensions are resolved or until the market grows numb to them, assuming they do not take a turn for the far worse. Economic data flow this week and beyond is key to calming market concerns about the potential for a yield curve inversion and recession, because proof of economic strength should reinforce stocks. Along the same front, corporate earnings season is upon us, and I expect the data will remind investors of the positive reality currently at play for stocks, which should outweigh worries about future fires. Penalized equity valuations should be reassessed as earnings are reported in line with expectations or better.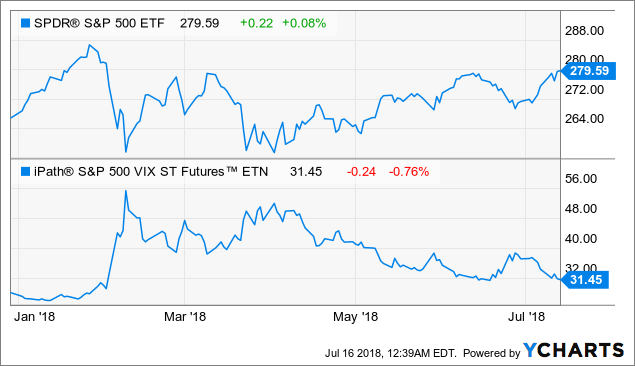 You can see in the chart here of the SPDR S&P 500 (SPY) that stocks have not really gone anywhere this year, though volatility has increased (see the iPath S&P 500 VIX Short-Term Futures ETN (VXX)). It's my view that this has everything to do with President Trump's trade war, as he picks economic fights with trading partners, allies and our enemies too.
The Trade War Still Weighs on the Week Ahead
While seeking better deals for America through the scrapping of hard earned, long tried trade and other agreements like NAFTA, the Paris Climate Accord and the Iran nuclear deal, the President has introduced uncertainty into an investment environment that had everything going for it thanks to other initiatives of the Administration.
Namely, the President's tax reform legislation should have single handedly helped the economy to two great years of full employment and burgeoning economic expansion of +3.5% in my view. Now, though, depending on developments in the trade war, the expansion could be cut to as short as six months. This correctly has investors expressing their concern, keeping equity prices from breaking out higher and leading the yield curve to flatten some.
The investment community's worst nightmare is tied to the worst-case trade scenarios where China perhaps stops fighting a reciprocal trade battle because it hasn't enough weapons to do so and begins employing other more effective tools of economic combat. I wrote about this risk in recent articles on the market, like for instance in The Red, White and Blue Stock Market.
Last week, we received a reprieve when the Administration's newest tariffs on China were only met with reciprocal tariffs. Late in the week, rumors of a ceasefire and of a backing off by China helped equities as well. Stocks rebounded on the developments, because for as long as China is not employing its weapons of mass economic destruction, we might manage through the consequences of this trade war – at least until we do not any longer. In other words, for as long as the economy is not importantly impacted by the trade war, then stocks, while volatile, might still manage to gain ground on net.
For the Week Ahead, It's the Economy Stupid
The week ahead offers an opportunity for the economy to reassert itself on the minds and hearts of investors. Federal Reserve Chairman Powell appears before Congress on Tuesday and Wednesday to provide his semiannual testimony on monetary policy. I expect he will be upbeat on the economy given strong employment and GDP realities. However, Chair Powell may deliver a warning on inflation, including in its relation to current trade policy. Still, I have noted his strong communication skill through his early days chairing the Fed, and so I expect he will do well in quelling any alarm bells rung by politicians that tend to eat up the big air time provided by this and like events.
Retail Sales data for the month of June will be reported on Monday morning at 8:30 AM EDT. Good growth is expected for a second straight month, with economists looking for the headline retail sales figure to rise 0.6% for June. That would be down from May's growth pace of 0.8%, but it is still very strong.
I would not be surprised to see even better growth in June, as a fully employed American workforce is a consumer force to be reckoned with. Growth is expected to be led by auto sales, after unit sales data showed strength earlier this month. Ex-autos, retail sales are seen rising 0.4%, against May's 0.9% pace. Less autos and gasoline, retail sales are expected to be 0.5% higher in June, and the control group, which excludes things like food services and building materials, is expected to be 0.4% higher.
All in all, expectations are strong for June's retail sales. Hitting or beating the mark is important now, as investors weigh worries about trade war effects on the economy against actual data. If retail sales come in as strong as expected or better, it should go a long way toward normalizing the yield curve and resetting investor confidence higher; that's good news for stocks. But if the data disappoints, then pundits will sound the alarm regarding potential trade war effects on consumer spending. Look for securities like the SPDR S&P Retail ETF (XRT) and Consumer Discretionary Select Sector SPDR ETF (XLY) to benefit from any good news, along with select retailers like Amazon.com (AMZN), which is dominant in a growing online market.
Besides retail sales data, the very important Leading Economic Indicators (LEI) will be reported for the month of June on Thursday at 10:00 AM EDT. Economists expect LEI to expand by 0.4% in June, better than the 0.2% expansion recorded in May. As of today, CNBC's Rapid Update shows economists' expectations for Q2 GDP set at 3.9% expansion, but their expectations for Q3 are just 3.1%. The LEI data could go a long way toward strengthening economists' confidence in the economic outlook and help forward forecasts higher. That is what I will be looking for in the months ahead. Stronger LEI data should also serve stocks, as it reinforces the fact that the economy is still humming and that trade war worries are still not impacting actual economic data.
Earnings Season Swings into Gear in the Week Ahead
Bank of America (BAC) has an opportunity to help the financial sector higher after last week's mixed results from peers. While equities in the SPDR S&P 500, SPDR Dow Jones (DIA) and the Invesco QQQ ETF (QQQ) all gained some on Friday, the big banks acted as a drag on performance. If the financial sector player reports good news Monday (it has beaten expectations each of the last four quarters), and if the yield curve begins to normalize as I expect it will on economic realities, then stocks can broadly swing higher, especially financial sector issues.
Netflix (NFLX) reports its results on Monday. One would expect the consumer dependent provider of subscription-based programming to benefit from the strong and improving labor market. United Rentals (URI) and CSX (CSX) report earnings this week, and both should be benefiting from the economic boon. URI has beaten its Wall Street numbers each of the last four quarters, and it stands to benefit again from construction activity nationally. CSX is also a cyclical company benefiting from economic demand for shipping by rail. While it has not beaten estimates each of the last four quarters, it has for the last two and never missed estimates during that span. Meanwhile, estimates for CSX's quarter to be reported this week have been trending higher all quarter, which is a good indicator.
Several industrials will report at the close of the week; this is a group that has taken a hit of late on the trade war issues, but this is their chance to set things straight with their actual results. Honeywell's (HON) chart is reflective of the entire group, as is the Industrial Select Sector SPDR ETF (XLI). A lull to the trade war rhetoric would be helpful here, but I expect earnings data will serve the same purpose. Still, we will have to contend with corporate executive commentary through earnings conference calls, which might reflect either stock price performance or operational performance, depending on the executive speaker.
On net, I expect corporate earnings season to be a positive for stocks broadly, as the data should reflect strong current economic activity. Corporate executives tend to be upbeat when their data is positive, and so I'm not looking for too much negative commentary blaming trade policy for bad news that may not appear in the numbers.
The Week Ahead on Net
Expect economic data and corporate earnings results to serve stocks if the data is reflective of strong economic expectations. The data serves the denominator of the P/E ratio, either driving up price or driving down valuation depending on whatever other factors are in play, and the weight they are given by the market this week. Trade war rhetoric and activity is still somewhat unpredictable, as is media coverage of it, but there was a smoothing of concern to close the week last week. All three points will be critical for stocks this week and moving forward and are worthy of investors' focus. I would suspect an upside bias for stocks based on my expectations for the three this week. For more of my work on equities, the economy and markets, readers are welcome to follow the column here at Seeking Alpha.
Disclosure: I am/we are long BAC.
I wrote this article myself, and it expresses my own opinions. I am not receiving compensation for it (other than from Seeking Alpha). I have no business relationship with any company whose stock is mentioned in this article.
Additional disclosure: My long position in BAC is via options and is short short-term in nature.