In early 2015 I purchased 15 of the largest (capitalization) Dividend Achievers (VIG). The Dividend Achievers Index holds larger cap companies that have increased their dividends each year for 15 years or more; those companies also have to pass proprietary dividend health screens. Of course that combination of factors makes it a smart beta fund. For more on that you can read my recent blog, What is a smart beta fund? And are they really smart?
For the rationale and background on why I would put our retirement on the line by purchasing 15 stocks "without looking" you can see the first article in the series Buying Dividend Growth Stocks Without Looking. Of course, while I did no additional evaluation, the index creators certainly looked and it takes a very successful company to reach that larger cap status and to be able to increase their dividends on a regular basis over a very significant time period. The 15 companies that I purchased are 3M (NYSE:MMM), Pepsi (NYSE:PEP), CVS Health Corporation (NYSE:CVS), Wal-Mart (NYSE:WMT), Johnson & Johnson (NYSE:JNJ), Qualcomm (NASDAQ:QCOM), United Technologies (NYSE:UTX), Lowe's (NYSE:LOW), Walgreens Boots Alliance (NASDAQ:WBA), Medtronic (NYSE:MDT), Nike (NYSE:NKE), Abbott Labs (NYSE:ABT), Colgate-Palmolive (NYSE:CL), Texas Instruments (NYSE:TXN) and Microsoft (NASDAQ:MSFT).
That collection of companies also includes 9 Dividend Aristocrats. The Aristocrats have a history of beating the cap weighted S&P 500 (IVV) with lower volatility. Of course one can access the full Aristocrat index by way of the ETF (NOBL). As you may know, these noble dividend payers are S&P 500 members who have a history of increasing their dividends every year for 25 years or more. While I purchased these 15 companies in March of 2015 we'll have a look at the index from the beginning of 2015 so that we can see and compare full year total returns and portfolio income compared to the full index ETF - VIG. Admittedly the returns are slightly less for the Achievers 15 from my March start date.
Without further ado, here's the returns history from January of 2015 to end of June 2018. The portfolio is not rebalanced, this is a buy and hold scenario. The dividends of each stock would be reinvested back to the same stock, meaning the dividends of Microsoft are reinvested back into Microsoft. The evaluation is courtesy of Portfolio Visualizer. Portfolio 1 is the 15 Dividend Achievers.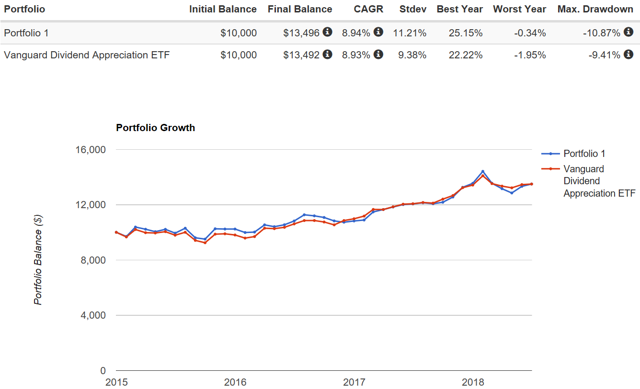 We can see that the returns are almost identical. Once again, it does not take many to replicate in an index. If we were to rebalance the Achievers 15, the portfolio the returns would be lesser. The total returns have been driven by a select few that have beat the market and index by a considerable margin. On the flipside of the performance coin, there are a few companies that have performed quite poorly. Here's the return breakdown of the individual holdings for the period. The returns of the index fund VIG for the period is 8.93% CAGR.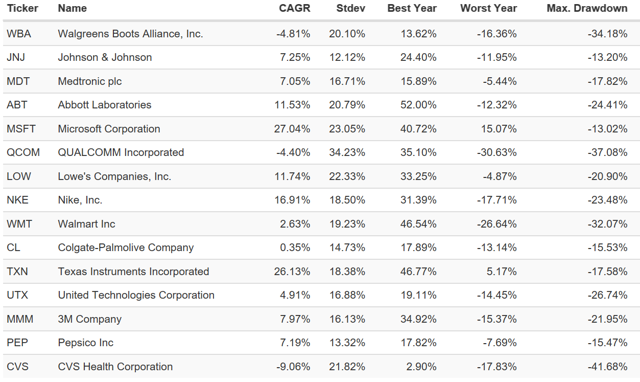 We can see that the total returns have been driven by Microsoft, Texas Instruments and Nike. CVS, Walgreens and Qualcomm have been the main drags on the portfolio. I have stuck by my laggards (losers) and have reinvested monies into those companies over the last 3-plus years. I have practised buy and hold and add. In fact, while a few of my Achievers were kicked out of the index by those dividend health screens, I have continued to hold and add to those companies. Qualcomm and Walmart were removed from the Achievers Index. Recently, Walmart found its way back into the index. The dividend health screens can be a little touchy at times. I decided to stick by the initial index evaluations from 2015. Just as an individual investor would have no idea if a company can 'turn things around' when the company begins to underperform or when the market starts to turn its back on a company, the index financial filters would have no idea of the short term or longer term prospects for each individual company and stock price. Of course the strategy of buy and hold is to trust the companies and trust the management in their ability to navigate through any troubled waters. I was rewarded at times for investing in some of the laggards when they were out of market favour.
I had added to Abbott Labs and Nike when they were under price pressure. Those stocks certainly recovered. I also stuck by Walmart and added a few times when it was greatly out of favour. Here's the performance of those 3 companies over the last 3 plus years.
Portfolio 1 is Walmart. Portfolio 2 is Nike. Portfolio 3 is Abbott Labs.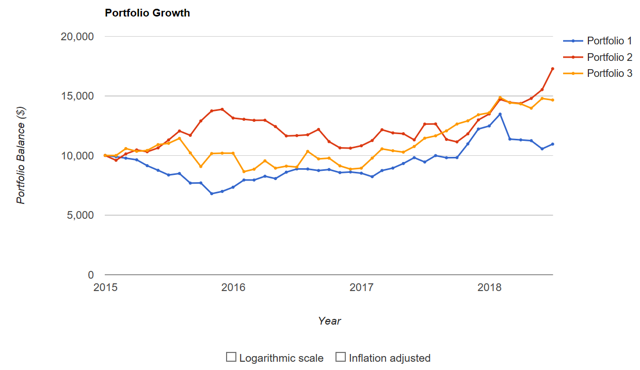 Given my commitment to Walmart I was able to turn that almost non-investment into a solid investment by grabbing shares towards the recent bottom in late 2015 and early 2016. Investments made into Walmart in that period delivered significant market outperformance.
Of course I am still waiting for my commitment to CVS, Walgreens and Qualcomm to pay off. Those companies continue to be out of market favour. Those companies are offering significant earnings yields and they show up in many of the value indices. Of course, these things can take years to play out, and it can take many years for patience to be rewarded. It is also certainly possible that those companies won't earn back the trust of the market makers.
On the portfolio income side of the ledger, and given the larger cap nature of the 15 Achievers holdings compared to the total index, the Achievers 15 has a very noticeable advantage. Portfolio 1 is the Achievers 15, Portfolio 2 is VIG. The example below is based on an initial $10,000 investment.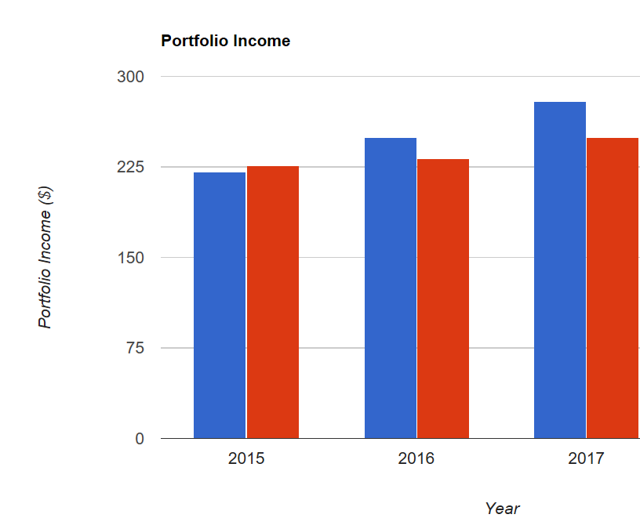 The dividend growth rate of the Achievers 15 from 2016 to 2017, with reinvested dividends, was 11.6%. The Achievers 15 bests VIG on total income and income growth.
The Key Takeaways - More Than Three Years Later.
It may be surprising to many that 15 companies can track an index over time, even over a shorter time period. The market makers can be very efficient, or at least consistent in pricing large cap companies. I had suggested in previous articles that 15 companies might not be enough, and that an investor (if they decide to index skim) might go for 20 or 25 holdings. My real life test of index skimming also shows or demonstrates that even when retail investors think they are engaging in 'active management' by way individual stock analysis, in the end they will also replicate the performance and characteristics of the underlying index or indices blend that they are replicating. I find that reality when I look into the performance of investors who publish their returns.
Once we understand What Is An Index and how it is constructed, we can then move on to shape our performance and risk adjusted returns.
I am more than satisfied with the returns, even through the many ups and downs of the individual holdings. Even though I bought 'em without looking, the process has never caused an ounce of sweat or stress. And once again, I mostly bought 'em for the potential of better risk adjusted returns through a major market correction. We have not had even a modest market correction in US stocks. In time we might get that major correction, and we'll find out if this index skimming strategy was successful. While I'd prefer to outperform the market in a bull market run, that is not Job 1 of this exercise.
Author's note: Thanks for reading. Please always know and invest within your risk tolerance level. Always know all tax implications and consequences. If you liked this article, please hit that "Like" button. If you'd like notices of future articles, click the "Follow" button.
Happy Investing.
Dale
Disclosure: I am/we are long APL, NKE, BCE, TU, ENB, TRP, CVS, WBA, MSFT, MMM, CL, JNJ, QCOM, MDT, BRK.B, ABT, PEP, TXN, WMT, UTX, LOW, BNS, TD, BLK.
I wrote this article myself, and it expresses my own opinions. I am not receiving compensation for it (other than from Seeking Alpha). I have no business relationship with any company whose stock is mentioned in this article.