Legal Weed
On June 19, the Canadian Senate passed Bill C-45, legalizing recreational cannabis nationwide. Starting October 17, dispensaries across Canada will be able to sell cannabis to non-medical users. This new recreational market is expected to grow to around $8 billion over the next 2-3 years. Anticipating these events, I started to add positions in Canadian (and a few American) cannabis companies to my portfolio.
Who Is Bay Area Kid?
I am a 28-year-old Marine veteran currently enrolled in the MBA program at the University of Nevada, Las Vegas. I've been managing my own portfolio since 2010 and purchased a rental property in 2016. My long-term investment goal is to make enough money on the stock market to allow me to buy more rental properties, with the end result of an early retirement funded by my monthly rental income.
How I Built The Portfolio
The BAK portfolio was started in March 2017, with the primary goal of capitalizing on a number of emerging industries, most notably cannabis and AI. The only rule I have for the portfolio is that no single stock can make up more than 15% of the entire portfolio. You can read more about the creation of the portfolio in my original article The BAK Portfolio: Making Money On Cannabis And Tech
The Bay Area Kid Portfolio - Q2 2018
With nationwide Canadian legalization already baked into their stock prices, I decided to take some of the profits I made on Canopy Growth (CGC), Aurora (ACBFF), and Aphria (APHQF), among others, and invest them in a few smaller producers, some ancillary cannabis companies, a newly traded producer in the United States and a Canadian company looking to become the dominant medical cannabis producer in Colombia and, eventually, all of South America.
Additions
GrowGeneration (GRWG):
GrowGeneration is looking to become the leading hydroponic retailer in the United States. They are currently operating 15 stores in 5 different states, with aggressive expansion planned for the rest of the year. Their most recent acquisition was Central Coast Gardening and Farm Supply, which operates in Salinas, California and generated $1.7 million in revenue in 2017; GrowGeneration's total revenues in 2017 were $4.4 million, so this acquisition alone is going to boost revenues by 35-40%.
The company sells its wares to both the amateur and professional grower, with 39% of sales from customers spending less than $10,000 annually, 41% from those spending $10,000-100,000 and 20% from those spending more than $100,000 annually. In Q1 2018, the company released their online shopping platform, giving commercial growers the ability to do their shopping online and have the product delivered straight to the growing facility.
Green Thumb Industries (OTCQX:GTBIF):
Green Thumb Industries commenced trading on the Canadian Stock Exchange on June 13, 2018. Despite listing in Canada, all of the company's operations are in the United States, with 7 growing facilities and 13 dispensaries spread over 7 states. Green Thumb is preparing for nationwide legalization by establishing a presence in states where medical cannabis is currently legal. Recently, the company was awarded five dispensary licenses in Ohio, the maximum number allowed under state law.
Hydropothecary (HYYDF):
Hydropothecary is a licensed producer that has secured a significant distribution deal with the Canadian province of Quebec, to the tune of 200,000 kg over five years. Thanks largely to generous electricity rates in the province, Hydropothecary is one of the lowest-cost producers in the industry; their cost per gram sold decreased by 57% since Q3 2017, to $0.66 per gram. The company is well on its way to its goal of over 1 million sq. feet of licensed growing space, with 4 out of 10 growing zones in its new 250,000 sq. foot facility now growing cannabis.
Khiron Life Sciences (OTCQX:KHRNF):
Colombia has the climate (and low wages) to be one of the top cannabis producing countries on Earth, and Khiron Life Sciences, a Canadian company that began trading on the TSX Venture Exchange on May 24, is looking to use it as a base to export cannabis all over South America and the rest of the world. The company recently received approval to be the first company to legally produce medical cannabis in Colombia. The company also recently received an endorsement by two of the largest Colombian medical associations, the Colombian Association of Internal Medicine and the Colombian Association of Neurology.
Lexaria Bioscience (LXRP):
If you've ever eaten a cannabis edible and been nonplussed by the delayed effect, you don't have to worry very much longer because Lexaria Bioscience has developed a groundbreaking technology called DehydraTECH. Essentially, DehydraTECH increases the absorption rates of fat-soluble molecules by our bodies. What this means for edibles is that the cannabinoids are absorbed faster and less are destroyed by the body's digestive system. DehydraTECH is also reported to decrease the unpleasant cannabis taste that many associate with edibles. The technology has the potential to go far beyond better edibles, though, with the company recently finding that DehydraTECH can assist with medications crossing the blood brain barrier.
Micron Waste Technologies (MICWF):
With hundreds of thousands of kilograms of cannabis slated to be produced in Canada, there is a need to process a huge amount of biological waste. Micron Waste Technologies offers an intriguing solution with their Cannabis Waste Digester. This digester uses a proprietary mix of enzymes and microbes to break down biomass, similar to composting, but much quicker and with more benefits. One of those benefits is a proposed 30% reduction in water needs, as the digester can separate the water from the biomass and recirculate it back into operations; alternatively, this water, which is scrubbed of cannabinoids, can be released into the municipal sewer system.
Micron Waste was recently awarded an Industrial Design Certificate of Registration from Canada and has a patent pending in the United States. The company delivered their first digester to Aurora's Aurora Mountain facility on June 28, with plans for digesters at each of Aurora's Canadian operations. The Aurora Mountain digester is essentially a proof of concept; if successful, look for Micron Waste to market their digester to other producers, both in Canada and the United States.
Organigram (OGRMF):
Organigram is another Canadian licensed producer with multiple distribution deals in place, including with New Brunswick and Prince Edward Island. The company also has some of the best yields in the industry; earlier this year, the company updated their projected yield at their growing facility to 113,000 kg in only 490,000 sq. feet of growing space. For comparison, Aurora is expected to yield around 100,000 kg from its 800,000 sq. foot Aurora Sky facility. The company is wisely focusing on the extracts side of the industry, with around 50% of sales coming from cannabinoid oils. The company has a market cap of C$628 million, relatively low compared to many other licensed producers of their size, making them a prime target for acquisition.
Radient Technologies (OTCPK:RDDTF):
Radient Technologies is partnering with Aurora to provide extraction services at Aurora's growing locations. The company's extraction technology is able to capture over 98% of cannabinoids (as opposed to 85% from traditional extraction methods) and has minimal effect on flavor/aroma. The company is also looking to use their technology to remove nicotine from cigarettes, a development that could drastically alter the global tobacco industry. You can read more about Radient and their impressive extraction technology in my article Get Out Your Picks And Shovels: Ancillary Plays On Cannabis.
Subtractions:
J.C. Penney (JCP) & Sears Holding Corp. (SHLD): I closed out my long-term puts on J.C. Penney and Sears and realized gains of 79% and 27%, respectively since January 2017. I still feel very strongly that both of these companies are heading for bankruptcy, but the cost to buy more puts isn't worth it to me; there are better opportunities elsewhere (see above).
Current Portfolio
I've divided the portfolio into 3 different sections, cannabis stocks, growth stocks, and dividend growth stocks. The dividend growth stocks make up the entirety of my Roth IRA, while the cannabis and growth stocks reside in my regular brokerage.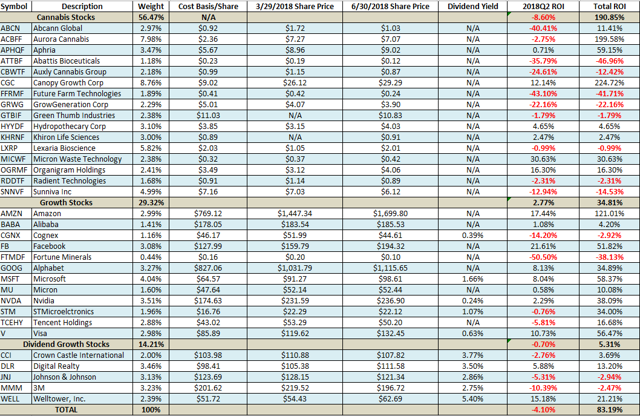 Upcoming Plans for the Portfolio
In the second half of 2018, two new cannabis producers will IPO: Tilray (TLRY) and Acreage Holdings. Founded in 2013, Tilray is one of the original Canadian producers and also has an extensive international presence, with distribution agreements in over a dozen countries. The company is planning to IPO on the Nasdaq in late July, under the symbol TLRY. You can read the company's prospectus here.
Acreage Holdings was formed in 2014 as High Street Capital Partners, a holding company invested in American medical cannabis companies. After 3 strong years of growth, the company rebranded as Acreage Holdings in 2018. The company is currently operating in 12 states, more than any other company, with ownership interests in both production and retail facilities. Acreage gained notoriety when it signed former Speaker of the House of Representatives, John Boehner, to its Board of Directors. The company is planning to IPO on the Toronto Stock Exchange.
Conclusion
Trump's trade wars and a Canadian cannabis industry that has seen a significant pullback have the BAK portfolio down for a second quarter in a row. I don't expect any major swings in the larger producers for the foreseeable future, so I'm taking profits and exploring opportunities in smaller companies and new IPOs. With Canadian recreational sales starting on October 17, Aurora completing its requisition of MedReleaf (OTCPK:MEDFF) in the next few weeks, Molson Coors (TAP) looking to find an investment partner in the industry and at least a few more states likely to legalize in the midterm elections, the second half of 2018 is going to be quite the wild ride for industry observers. As always, feedback is greatly appreciated. Thanks for reading and happy investing!
Editor's Note: This article covers one or more microcap stocks. Please be aware of the risks associated with these stocks.