At Singular Research, we focus on small to micro cap companies that lack analyst coverage and have a compelling investment story. It is only a matter of time before these companies are discovered leading to broader institutional coverage and potentially dynamic returns. We want you to be invested in these companies before the stock market and other analysts realize their true potential. Over the last 14 years, our coverage has outperformed our competition and the Russell 2000 by a wide and consistent margin. We have listed three companies below to give you an idea of our research and price targets.
Kulicke and Soffa Industries, Inc. (KLIC)
Recommendation: Buy - Long Term
12-month Price Target: $31.20
Price as of 7/9/18: $25.25
Upside: 24%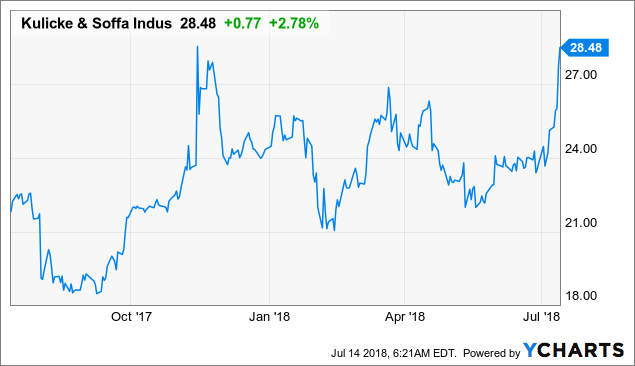 Kulicke and Soffa Industries is a global leader in the design and manufacture of semiconductor, LED, and electronic assembly equipment. In recent years, the company has expanded its product offerings through strategic acquisitions and organic development adding Advanced Packaging and a broader range of expendable tools to its core ball bonding product line. Kulicke and Soffa Industries, Inc. was founded in 1951 and is headquartered in Singapore.
Financial Highlights (Q2 2018)
The company announced Q2:18 revenues of $221.8 million, up 11.1% from Q2:17. Full quarterly results were not released due to an investigation of improper accounting for warranty costs. Management expects to restate last year's results after the investigation is complete. For fiscal 2017, the Provision for Product Warranty was $10.4 million and $2.04 million for Q1:18, while the Reserve for Product Warranty was $13.2 million at December 31st . This reserve compares to $703.1 million of trailing twelve months (estimated) equipment sales at December 31st, or 1.88% of trailing sales. We have not modified any of our forward estimates at this time, pending resolution of this uncertainty. Management guided Q3:18 revenues in the $255 - $270 million range. We are not adjusting our earnings estimates at this time pending release of further information. We have reduced our rating to BUY-Long Term reflecting the company's strong market position, but uncertain financial outlook. We maintain our price target to $31.20
Transcat, Inc. (TRNS)
Recommendation: Buy
12-month Price Target: $25.00
Price as of 7/9/18: $20.30
Upside: 23%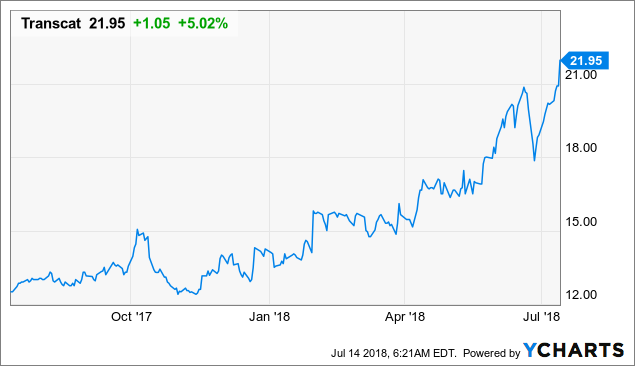 Transcat provides calibration and laboratory instrument services in North America and internationally. It operates in two segments, Service and Distribution. The Service segment offers calibration, repair, inspection, analytical qualification, preventative maintenance, consulting, and other related services. Transcat, Inc. was founded in 1964 and is headquartered in Rochester, New York.
Financial Highlights (Q4 2018)
TRNS continues to deliver record Consolidated results in both the Distribution and the Service segment. 4Q18 revenue was up 10% to a record $42.5 million while FY18 revenue was up 8% to $155.1 million, just shy of our estimates of $43.3 million and $156.0 million for 4Q18 and FY18, respectively. The Service segment experienced 36 consecutive quarters (9 years) of revenue growth with mid to high single-digit organic growth in 4Q18 and FY18. Growing market share continues in the life science market. The Distribution segment reported record annual sales of $77.7 million, up 7%. The segment experienced broad-based customer demand and an expanded rental business. Rental revenue was up $0.4 million in 4Q18 and $1.2 million in FY18. For FY19, operational initiatives are ongoing with an increased degree of sophistication in their processes and by using technology as a competitive advantage. Acquisitions will continue to be an important element of the long term growth strategy.
Emergent BioSolutions, Inc. (EBS)
Recommendation: Buy
12-month Price Target: $60.00
Price as of 7/9/18: $53.57
Upside: 12%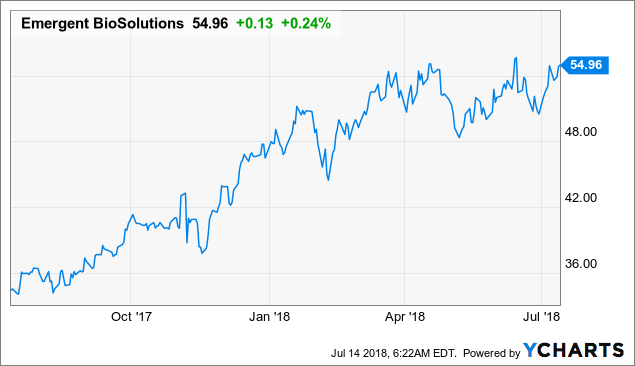 Emergent BioSolutions is a global specialty life sciences company that develops and commercializes vaccines, drugs and devices that address biodefense threats. The Company is a preferred provider of biodefense products and services to the U.S. government under multi-year contracts. Its most valuable product, BioThrax is the only FDA-approved anthrax vaccine. The Company's products are sold mainly in the U.S. as well as internationally. Emergent BioSolutions, Inc. was founded in 1998 and is headquartered in Gaithersburg, Maryland.
Financial Highlights (Q1 2018)
Product sales fell 8% due to 54% decline in BioThrax sales, partially offset by 46% gain in sales of other products. Some BioThrax and ACAM 2000 shipments were delayed and will ship in Q2. Contract manufacturing revenues improved 48% while contracts and grants revenues dropped 8%. EBS benefits from recent US government initiatives that address public health threats. The 2018 Omnibus Spending bill increased US preparedness spending by $600 million and Congress is working to reauthorize the Pandemic and All Hazards Preparedness Act, which could include five-year funding of $2.6 billion. The Company plans to file an Emergency Use Authorization submission with the FDA in 2018 for NuThrax, its next generation anthrax vaccine, thus clearing the way for NuThrax deliveries to the strategic national stockpile (SNS) beginning in 2019 under a $1.5 billion procurement contract. EBS completed a Mutual Recognition Procedure for marketing BioThrax in five additional EU countries. In addition to Germany, BioThrax will soon be available in the Netherlands, Italy, France, the UK and Poland. The Company initiated a Phase II study of its anti-influenza immunoglobulin for seriously ill and/or hospitalized patients and a Phase I study of its Zika vaccine candidate. Data from the Phase I Zika study should be available in late 2018 or early 2019. Completion of the Phase II anti-influenza study is expected in 2019. EBS ended the quarter with cash of roughly $164 million and borrowing capacity of approximately $300 million, providing plenty of capacity for M&A and share repurchases.
Author's note: Ten emerging small and micro cap growth and value companies will be presenting at our upcoming conference to show you why they are truly undervalued in the stock market. Registration for the web call for the New York conference is complimentary for qualified investors. The conference is on July 19. Please check our website for more information or email research@singularresearch.com.
Disclosure: I am/we are long KLIC.
I wrote this article myself, and it expresses my own opinions. I am not receiving compensation for it. I have no business relationship with any company whose stock is mentioned in this article.
Editor's Note: This article covers one or more microcap stocks. Please be aware of the risks associated with these stocks.