Welcome to the not a good set-up edition of Natural Gas Daily!
Housekeeping item first.
We expect a +59 Bcf change in the storage report for the week ended July 13. A storage report of +59 Bcf would compare with +27 Bcf last year and +62 Bcf for the five-year average.

Source: ICE
Not so good set-up for the natural gas bulls...
Natural gas prices are falling today with September contracts touching a low of $2.701/MMBtu. The sell-off came on the back of a bearish morning weather model update. In addition, last night's ECMWF-EPS long-range weather update was about as bearish as bearish gets.
Since April, Mother Nature (weather) has been on the side of natural gas bulls. April turned out to be cooler than normal with May and June coming in warmer than normal, just in time to push higher TDDs. And for the first half of July, the weather once again looked like it was going to be on the side of the bulls until the latest update. For the last week of July, the weather models have revised CDDs lower to the 10-year norm. And for the duration of August, the models are showing neutral weather conditions, a scenario far from being supportive for natural gas bulls.

Source: StormVistaWxModels.com
We have written repeatedly over the last two months that the set-up is not on the side of the bulls. This was especially the case after August contracts went to $3/MMBtu. It was all but downside from there. On top of that, power burn demand will soon peak along with peak cooling demand season. You can see the seasonality of power burn in the chart below: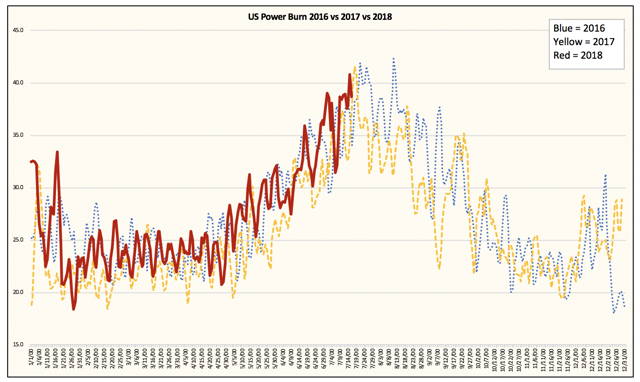 Source: HFI Research
With the latest long-range showing neutral weather conditions, natural gas prices at this low range will support elevated power burn. But without the additional cooling demand need, we think fundamental balances will worsen.
As a result, we expect the deficit to the five-year average to start trending back higher: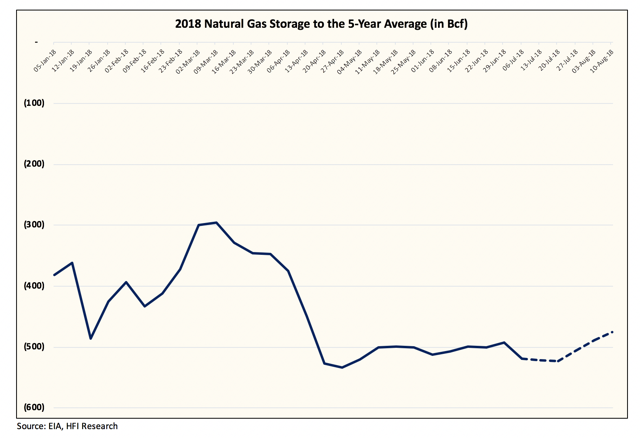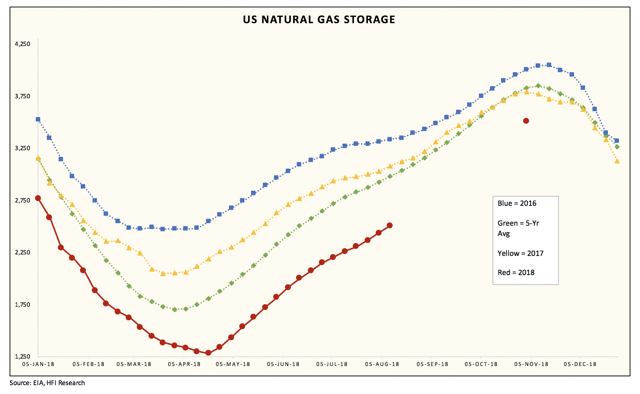 This also gives us more certainty that storage will likely finish above 3.4 Tcf and closer to our current estimate of 3.513 Tcf.
For a while now, natural gas bulls have argued that low storage levels should push natural gas prices higher. But we repeatedly warned that given the current supply and demand outlook, there should be enough gas in storage to prevent a price spike (see this article for the discussion on storage).
We think this continues to be the case unless Lower 48 production growth disappoints.
Overall, we don't find the current set-up favorable for bulls at all, and we have not initiated a long UGAZ position. If the long-range weather outlook is proven right, then we think September contracts may have more downside from here. Our target is $2.60/MMBtu.
HFI Research Natural Gas
Thank you for reading. If you have historically found our public natural gas articles insightful, you will certainly find our premium write-ups to be even better now. We have made major improvements over the last year incorporating a dedicated section on weather, trader commentary, and fundamentals. Now we are introducing what we would do with our positioning. If you are interested, you can see here more info.