Article Thesis
The market's reaction to the announcement that Broadcom (NASDAQ:AVGO) would take over CA Technologies (NASDAQ:CA) was harsh. Several writers and analysts have stated their disdain and claimed that Broadcom was getting desperate.
I view this takeover differently, the deal most likely will be accretive for shareholders in the short term and long term and diversifies Broadcom's revenue stream.
Broadcom's shares look inexpensive, which could make them an attractive pick at the current price.
The Deal And How It Will Impact Broadcom's Financials
A couple of days ago Broadcom agreed to acquire CA Technologies for $18.9 billion paid in cash. This is a 20% premium over CA's share price on the previous day, and equal to about 20% of Broadcom's market capitalization of roughly $90 billion. Let's crunch the numbers to find out how this deal will impact Broadcom's balance sheet, cash flows and profits:
In order to be able to make this cash payment Broadcom will have to issue billions in new debt, which will come with additional interest expenses. On the other hand, no equity is being issued which keeps the share count stable and prevents dilution for existing shareholders.
According to Broadcom's latest 10-Q filing, its interest expenses before this takeover were $590 million annualized, with long-term debt, including the current portion, totaling $17.6 billion. This means that Broadcom is paying a weighted average interest rate of 3.4% before the impact of taxes.
When we are conservative and assume that the new debt for the CA deal will be 100 base points more expensive, we get to a pre-tax cost of capital of 4.4%. This results in pre-tax interest expenses of $830 million for the $18.9 billion Broadcom will have to take on in new debt for this deal. Broadcom has recently moved to the US, so these $830 million in additional expenses should lower Broadcom's taxes by ~$170 million, which means net expenses of ~$660 million.
CA Technologies has generated $1.1 billion in (adjusted) net earnings during the most recent four quarters. According to CA's 10-K filing, the company produced $1.2 billion in operating cash flows during last year. With $660 million in net interest expenses for Broadcom and $1.1 billion in new earnings, the positive net impact on Broadcom's bottom line is ~$440 million. The cash flow picture is slightly more positive, net operating cash flows should be positively impacted by around $540 million.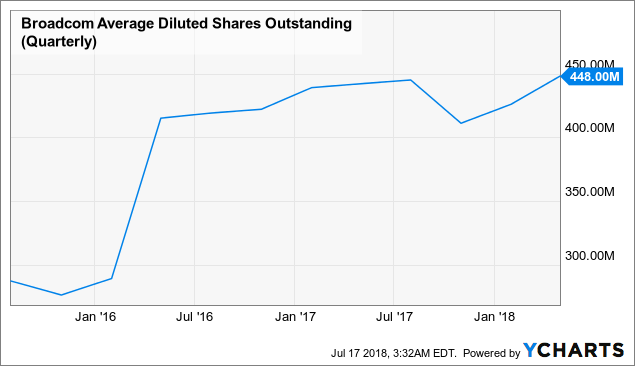 Broadcom's share count remains unchanged, so the $440 million in additional net earnings will increase Broadcom's EPS by roughly $1 annually, cash flows per share will rise by ~$1.20 annually.
Based purely on Broadcom's cost of capital and the earnings and cash flows CA generates, this deal looks highly accretive on a per-share basis. This does not include the impact of cost-cutting and higher margins in the future, so the positive impact in a couple of years most likely will be even higher. There are no significant synergies between the two companies at first sight, but Broadcom's management has been very proficient in shaving costs at acquired companies. It is opportune to assume that the same will happen at CA, which will increase the positive impact on Broadcom's EPS and cash flows per share.
When we look at Broadcom's balance sheet, things look a bit different: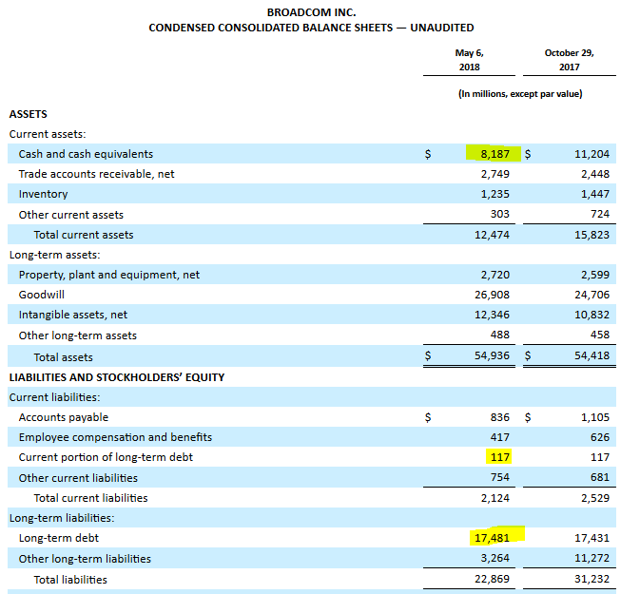 Source: Broadcom's 10-Q filing
Broadcom had a relatively clean balance sheet before this deal, net debt was quite low at only $9.4 billion. This deal adds $18.3 billion in net debt, since CA Technologies has a net cash position of $600 million that we have to subtract from the takeover price.
Broadcom's net debt going forward, therefore, will be ~$27.7 billion or roughly three times as much as before the deal. Broadcom will be substantially more leveraged in the future, but the company's balance sheet still isn't weak. Based on pro-forma net earnings of ~$9 billion, Broadcom's debt totals roughly three times its annual profits. This still easily rewards an investment grade rating, and investors don't have to worry about debt levels right here.
Since Broadcom is paying out about $3.2 billion in dividends annually, the company has substantial surplus cash flows that can be used to pay down debt over the coming years in order to get the leverage ratio even lower.
Compelling Growth And A Low Valuation
Before this deal Broadcom's shares traded at a relatively inexpensive valuation, and the market's reaction to this takeover has made shares even less expensive. This low valuation comes despite the fact that Broadcom has been growing its revenues, margins and profits successfully for years: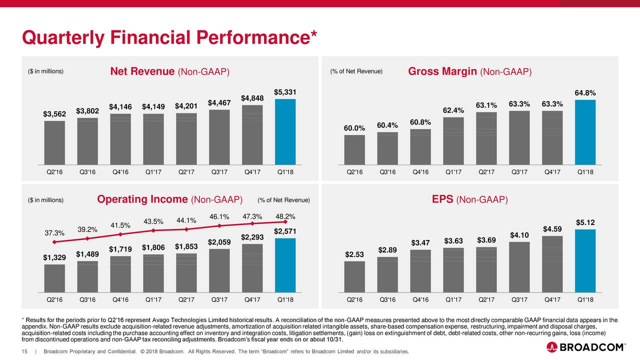 Source: Broadcom Presentation
Especially, the expansion in the company's margins has not been rewarded by the market, despite the fact that this is a key factor for rising profits and therefore for rising share prices. Broadcom's management has stated its goal of lifting the company's operating margins to 55% over the next couple of years. This alone would boost profits by another 15%, all else equal.
The hardware markets that Broadcom is targeting are all poised to grow further. Datacenters, Broadband and Wireless Connectivity will all benefit from growing data streams that consumers and enterprises generate, but the best growth outlook may exist in the Industrial segment: Automation of manufacturing processes will be a megatrend over the coming decades. Broadcom will benefit as its product portfolio, which includes optical sensing, motion control, industrial Ethernet, etc., will produce substantial sales increases in the coming years.
Even though CA Technologies has not produced immense growth rates during the last couple of years the outlook for this business is not bad, either: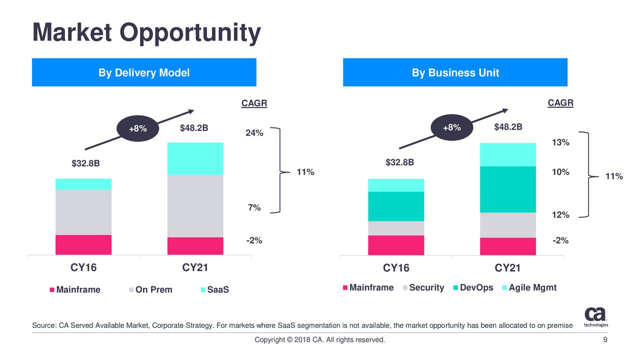 Source: CA Technologies' Presentation
CA Technologies sees a market growth rate of 8% annually through 2021, with SaaS unsurprisingly being the major growth driver. During the most recent quarter, CA Technologies has been able to accelerate its revenue growth to 7%. Therefore, Broadcom might have made this deal just in time, as CA Technologies looks like it is getting back on growth track.
Analysts currently forecast $19.99 in EPS during 2018, which means that shares trade at just 10.2 times this year's expected earnings. Compared to the broad market as well as compared to how shares of Broadcom were valued in the past, this is a very low valuation. If Broadcom's earnings multiple expanded to just 12, shares would still be inexpensive, yet they would see share price gains of close to 20%. The analyst community's average target price for Broadcom's shares is $299, which means upside of well above 40%.
Whilst waiting for the CA acquisition to pay off and for earnings and multiples to rise, investors are getting paid a generous dividend. With shares trading just above $200, the dividend yield has moved up to 3.4%. This is substantially more than what investors can get from the broad market, as well as from fixed income alternatives.
Bottom Line
The market and some writers reacted very negatively to the CA Technologies takeover, but the deal looks like it will be highly accretive for Broadcom's shareholders.
The growth outlook for Broadcom's hardware business as well as for the CA business is positive. Investors get a generous dividend while waiting for share prices to increase. Due to compelling growth rates and a low valuation, share prices have a lot of room to grow over the coming years.
Author's note: If you enjoyed this article and would like to read more from me, you can hit the "Follow" button to get informed about new articles. I am always glad to see new followers!