Investing in biotech stocks is not for the faint of heart. When positioned in the right biotech stocks, investors can be rewarded with explosive revenue growth and booming profitability from such companies, which generally means that the stock is delivering massive gains. On the other hand, the losses are also substantial if you pick the wrong stocks in the sector.
There is no infallible formula to picking winning stocks. However, quantitative indicators can be enormously valuable when making investing decisions based on objective and quantified data as opposed to subjective opinions or speculation.
Academic research has proven that stocks with rising earnings and sales expectations tend to outperform the market in the long term. The following paragraphs will introduce a quantitative system aimed at selecting biotech stocks benefiting from rising expectations in these two key variables. The system produces impressive backtested performance over the years.
You can't build a complete investment thesis for a stock based solely on rising expectations, so the main idea is not selecting biotech companies in accordance to this single factor alone. Nevertheless, the main trend in expectations is a powerful return driver for biotech stocks, and it makes a lot of sense to incorporate this data into investing decisions.
Why Expectations Drive Returns
Being a stock analyst is a challenging job, and being an analyst in the biotech sector is even more difficult than in other areas of the market. Analysts in biotech need to understand the multiple companies in the sector and how their different drugs and treatments compare against each other. Also, evaluating a company's pipeline of new and potential drugs is remarkably complex. For these reasons, it's really difficult for Wall Street analysts to accurately forecast sales and earnings for biotech stocks.
But data from Wall Street analysts can still be remarkably valuable, even if it has a large margin of error. The main trend in analysts' expectations can be an effective tool when it comes to picking stocks with vigorous momentum over the middle term.
Stock prices are not driven by fundamental performance alone, but performance in comparison to expectations can be even more important. Market prices reflect a particular set of expectations about the company's future. When the incoming information is indicating that the company's sales and earnings will perform better than previously expected, this generally has a positive impact on the stock price.
The following quantitative system is based on a ranking algorithm that ranks companies in a particular selection universe according to different variables. Once those variables are ranked individually, the system then builds a final ranking for stocks in the universe, which is an average of the rankings for the individual variables. The system then just buys the stocks with the highest average ranking in the selection universe.
This particular algorithm is basically an average of five different variables and their fluctuation over a four-week period.
The percentage increase in earnings expectations for the current quarter.

The percentage increase in earnings expectations for the current year.

The percentage increase in earnings expectations for next year.

The percentage increase in sales expectations for the current year.

The percentage increase in sales expectations for next year.
Companies in the investable universe are ranked in accordance to these five different factors, and then each company receives a final ranking which is an average of the five factor rankings considered.
Leaving the numerical details aside, the logic behind the system is actually quite simple and straightforward: It's all about measuring how expectations for earnings and sales in are evolving in order to invest in the companies benefiting from the strongest upward revisions in expectations.
Backtested Performance And Recommended Portfolio
The following backtest eliminates over-the-counter stocks, and it considers only companies with a market capitalization level above $350 million in the biotech sector to guarantee a minimum size and liquidity level.
The system then picks the 50 stocks with the highest ranking of improving expectations among such universe, and it builds an equally weighted and monthly rebalanced portfolio with those names. The portfolio is assumed to have an annual expense ratio of 1% to account for trading expenses and slippage, and the benchmark is the S&P Composite 1500 Pharmaceuticals, Biotechnology & Life Sciences Index.
Backtested performance numbers are remarkably strong. Since January 1999, the quantitative portfolio of biotech companies with rising expectations produced an average annual return of 13.44% per year, substantially outperforming the 4.27% produced by the benchmark in the same period.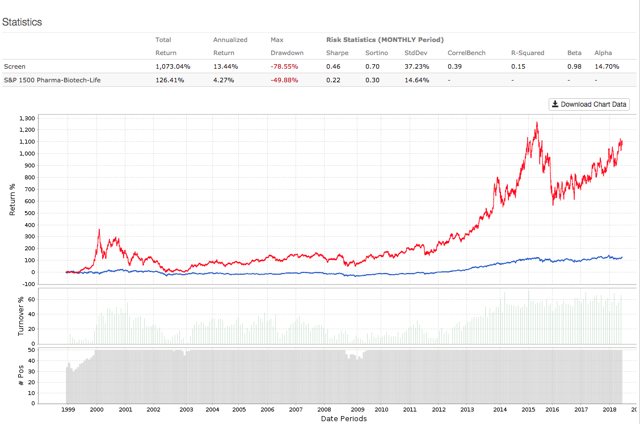 Data from S&P Global via Portfolio123
In other words, a $100,000 investment in an investing vehicle tracking the S&P Composite 1500 Pharmaceuticals, Biotechnology & Life Sciences Index in January 1999 would currently be worth around $226,400, and the same amount of capital allocated to the portfolio of biotech companies with rising sales and earnings expectations would have a much larger value of more than $1.17 million.
The system is more concentrated than the benchmark, and it also has a much larger proportion of small stocks in the portfolio. This has negative implications in terms of volatility and downside risk, which is quite evident when looking at metrics such as maximum drawdown and standard deviation. The system can materially underperform the benchmark in a bearish scenario for biotech stocks in general.
That being acknowledged, the system more than compensates for this higher downside risk with stronger returns during favorable environments, and risk-adjusted performance for the system is clearly superior. The quantitative system has a Sharpe ratio of 0.46, more than double the 0.22 Sharpe ratio produced by the benchmark.
The table below shows the 50 stocks currently recommended by the system, listed in alphabetical order. Data in the table also includes market capitalization to provide a quick reference about size for the companies listed.
| | |
| --- | --- |
| Name | Market Capitalization ($Millions) |
| Abeona Therapeutics (ABEO) | $671 |
| Acadia Pharmaceuticals (ACAD) | $2,105 |
| Acorda Therapeutics (ACOR) | $1,400 |
| Akebia Therapeutics (AKBA) | $571 |
| Amicus Therapeutics (FOLD) | $2,899 |
| AnaptysBio (ANAB) | $1,696 |
| Arena Pharmaceuticals (ARNA) | $2,165 |
| ArQule (ARQL) | $461 |
| Athenex (ATNX) | $1,195 |
| Aurinia Pharmaceuticals (AUPH) | $481 |
| BeyondSpring (BYSI) | $584 |
| Biogen (BIIB) | $74,492 |
| BioMarin Pharmaceutical (BMRN) | $18,148 |
| Calyxt (CLXT) | $487 |
| CareDx (CDNA) | $431 |
| China Biologic Products Holdings (CBPO) | $3,367 |
| CytomX Therapeutics (CTMX) | $905 |
| Denali Therapeutics (DNLI) | $1,301 |
| Dynavax Technologies (DVAX) | $912 |
| Enanta Pharmaceuticals (ENTA) | $2,331 |
| Fate Therapeutics (FATE) | $615 |
| Halozyme Therapeutics (HALO) | $2,475 |
| Incyte (INCY) | $14,855 |
| Insmed (INSM) | $1,934 |
| Intrexon (XON) | $1,882 |
| Invitae (NVTA) | $446 |
| Keryx Biopharmaceuticals (KERX) | $546 |
| Kura Oncology (KURA) | $655 |
| La Jolla Pharmaceutical (LJPC) | $794 |
| Lexicon Pharmaceuticals (LXRX) | $1,286 |
| Ligand Pharmaceuticals (LGND) | $4,683 |
| Loxo Oncology (LOXO) | $5,260 |
| MiMedx Group (MDXG) | $358 |
| Mirati Therapeutics (MRTX) | $1,421 |
| OPKO Health (OPK) | $3,385 |
| Portola Pharmaceuticals (PTLA) | $2,651 |
| Progenics Pharmaceuticals (PGNX) | $608 |
| Regeneron Pharmaceuticals (REGN) | $39,339 |
| REGENXBIO (RGNX) | $2,396 |
| Rigel Pharmaceuticals (RIGL) | $453 |
| Spectrum Pharmaceuticals (SPPI) | $2,395 |
| Stemline Therapeutics (STML) | $468 |
| TG Therapeutics (TGTX) | $956 |
| Ultragenyx Pharmaceutical (RARE) | $4,189 |
| UroGen Pharma (URGN) | $725 |
| Vanda Pharmaceuticals (VNDA) | $1,029 |
| Veracyte (VCYT) | $352 |
| Vertex Pharmaceuticals (VRTX) | $46,187 |
| Xencor (XNCR) | $2,253 |
| ZIOPHARM Oncology (ZIOP) | $447 |
Backtested performance does not guarantee future returns, and looking solely at the main trends in earnings and sales expectations is not a solid enough reason to buy a stock. Also, many of the companies currently recommended by the system are remarkably small and volatile.
That notwithstanding, the statistical evidence indicates that investors can obtain superior returns in the biotech sector when incorporating earnings and sales expectations into their decisions. Keeping this information in mind when picking biotech stocks sounds like a smart idea, to say the least.
Capitalize on the power of data and technology to take the guesswork out of your investment decisions. Statistical research has proven that stocks and ETFs showing certain quantitative attributes tend to outperform the market over the long term. A subscription to The Data Driven Investor provides you access to profitable screeners and live portfolios based on these effective and time-proven return drivers. Forget about opinions and speculation, investing decisions based on cold-hard quantitative data can provide you superior returns with lower risk. Click here to get your free trial now.
Disclosure: I/we have no positions in any stocks mentioned, and no plans to initiate any positions within the next 72 hours.
I wrote this article myself, and it expresses my own opinions. I am not receiving compensation for it (other than from Seeking Alpha). I have no business relationship with any company whose stock is mentioned in this article.