Back on April 28, I wrote something here called "Ray Dalio And The 'Pretty Stupid' Cash Holders", a reference to comments Ray made in Davos on January 23, in an interview with CNBC.
His point wasn't necessarily to malign anyone who has a cash allocation and my point wasn't necessarily to be derisive towards him (and clearly, it doesn't really matter what "my point" was, because he's Ray Dalio and I'm me, a rather stark juxtaposition to be sure).
Dalio's point was simple. He suggested that the "Goldilocks" environment of still-subdued inflation and synchronous global growth would continue in the near- and medium-term, and between late cycle stimulus in the U.S. and buybacks, markets were headed for the fabled "blowoff" top (if you watch the interview, he actually uses the term "blowoff").
He was right about the "blowoff top" part, sort of. We were actually witnessing what, in retrospect, was peak euphoria just as Ray was trudging around in snowy Davos. And while another "melt-up" may be in the cards before the next downturn, things melted down within two weeks of Dalio's remarks about cash being a poor allocation decision.
But it wasn't so much the fact that markets ran into trouble just days after Davos that made Dalio's "cash" comments easy pickings for critics ("Let he who hasn't been made to look silly by markets at one time or another cast the first stone"). Rather, it was the fact that the very same fiscal stimulus which was supposed to provide the rocket fuel for equities to make their date with the stratosphere ended up catalyzing the Q1 dollar funding squeeze. That was the irony.
Here, from a Goldman note out several months ago, are the three key drivers that sparked that squeeze:
The change to the tax treatment of foreign earnings from US companies;
Changes to the Base Erosion and Anti-Abuse tax (i.e., BEAT);
The surge in T-bill issuance.
As I noted in April, all of that is related to the tax bill and to the spending bill.
In that same piece I went on to talk about the so-called "substitution effect" that occurs when "cash" is some semblance of viable again as an asset class. Around that time, BofAML suggested that the death of TINA could weigh on demand for 10Y Treasurys (TLT) during flights to safety. Here's the chart they used to back that up: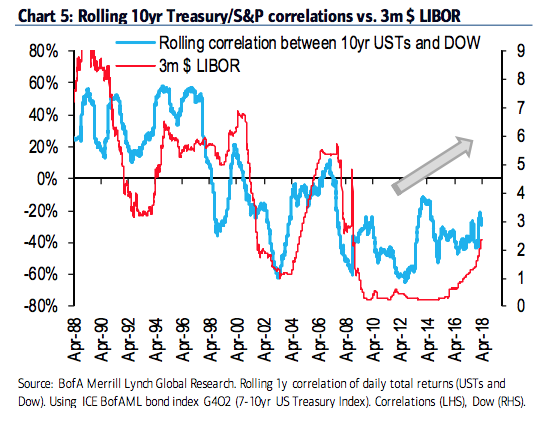 (BofAML)
The logic there is pretty simple: When returns on cash are the best they've been in a decade, the appeal of other haven assets is likely to be commensurately muted during risk-off environments.
The overarching point is that, to quote BofAML, "the rise of 'cash' as an asset class is altering the traditional allocation decisions of multi-asset investors."
This narrative has gathered momentum over the last couple of months and on Tuesday, 3-month T-bill yields rose above 2% for the first time since 2008: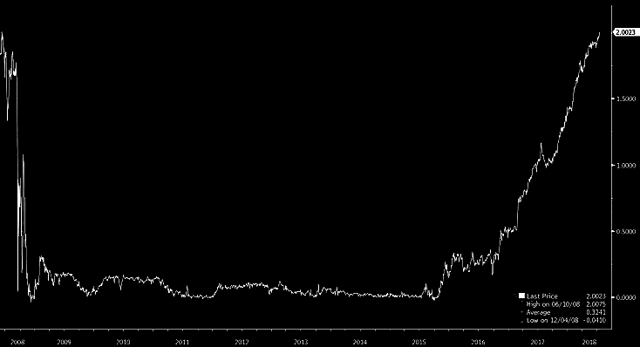 (Bloomberg)
This raises serious questions about whether investors will begin to reconsider their allocation decisions, especially at a time when myriad headline risks (e.g., trade frictions and domestic political risk in the U.S.) are clouding the outlook.
In the latest edition of their Global Opportunity Asset Locator series (out Tuesday evening), Goldman sticks with their Overweight call on cash, at least in the U.S. context. To wit, from the note:
We keep our OW cash allocation, which we introduced in our last asset allocation update at the beginning of May – we still see potential for a more volatile summer, with trade tensions likely to linger and more political risk. Low duration and little beta risk, combined with a rising cash yield, is attractive in a portfolio context: carry to vol ratios indicate USD short-duration credit has the highest risk-adjusted carry by a wide margin. Of course, this is only the case for USD fixed income, with shorter-dated rates in Europe and Japan still very low.
That, despite the bank being "pro-risk" on balance: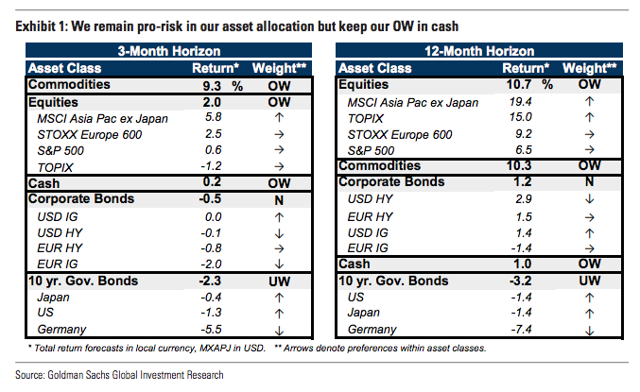 (Goldman)
Not everyone agrees that folks are just going to start piling into cash overnight. For instance, my friend Kevin Muir (a former equity derivatives trader at RBC Dominion Securities and current head of research at East West Investment Management), had the following to say on Tuesday:
Just looking at cash without taking inflation into account is disingenuous. I know we haven't had any meaningful inflation for a long time, but that doesn't mean investors should stop thinking about the real level of interest rates.

Although the Federal Reserve has been steadily raising the cost of borrowing, the real level of Fed Funds is rising nowhere near as quickly as the angst amongst investors.
Marc Chandler echoed those sentiments, writing the following in a brief post this afternoon:
Here we are, nine years since the end of the last recession, and the Federal Reserve has been lifting the Fed funds target since late 2015, and the 3-month bill yield remains negative. June headline CPI stood at 2.9%.
Those are great common sense arguments, but as I never tire of reminding folks, we're living in a world that has for years been characterized by absurd distortions across capital markets. With risk appetite waning, it's not at all unreasonable to suggest that market participants, now numb when it comes to accepting negative rates for the "privilege" of keeping their money in ostensibly safe places, would be prone to rotating out of assets that they believe are, for whatever reason, vulnerable.
As Goldman writes in the same note cited above, "with valuations across assets elevated after last year's Goldilocks scenario and growing late-cycle worries, investors reacted to this year's global growth imperfection by reducing risk." The following visuals show you the latest updates to the bank's cross-asset risk appetite indicator (left pane) and its sub components (right pane):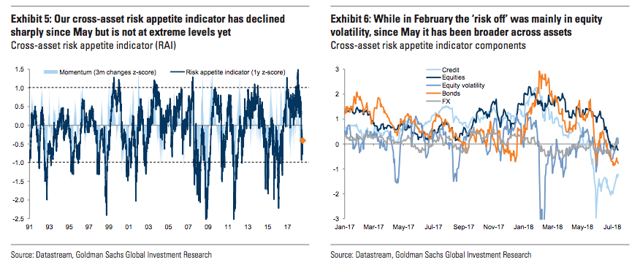 (Goldman)
For average investors, this probably isn't something that's going to be particularly relevant or at least not until the next time you go and sit down with your financial advisor.
But make no mistake, this is an important market undercurrent and one way or another, it's going to factor into the allocation decisions of folks who control large amounts of capital. Additionally, you're going to see more than a few stories about this in the mainstream financial news media over the next month, I'd imagine. The Financial Times, for instance, was out with something on Tuesday.
You can take all of the above for what it's worth (or isn't worth), but at least now you know both sides of the story.
Disclosure: I/we have no positions in any stocks mentioned, and no plans to initiate any positions within the next 72 hours. I wrote this article myself, and it expresses my own opinions. I am not receiving compensation for it (other than from Seeking Alpha). I have no business relationship with any company whose stock is mentioned in this article.