The Saudi position on oil production and prices has changed dramatically in just a few months. The most obvious and direct reason has been pressure from President Trump to cool oil prices, coupled with the U.S.'s withdrawal from the Iran nuclear deal and threat of sanctions.
In February, Saudi Energy Minister Khalid al-Falih had said:
If we have to err on over-balancing the market a little bit, so be it... Rather than quitting too early and finding out we were dealing with less reliable information... Stay the course and make sure that inventories are where the industry needs them." Three officials from Saudi Arabia told Reuters they would be happy to see oil hit $80 or $100 a barrel.
On June 30th, President Trump tweeted:
Just spoke to King Salman of Saudi Arabia and explained to him that, because of the turmoil & disfunction in Iran and Venezuela, I am asking that Saudi Arabia increase oil production, maybe up to 2,000,000 barrels, to make up the difference...Prices to high! He has agreed!"
The White House clarified that the King told Trump that KSA has 2 million barrels of spare capacity "which it will prudently use if and when necessary to ensure market balance and stability, and in coordination with its producer partners, to respond to any eventuality." Separately, it was reported that Saudi sources have said that July's production will be around 11 million barrels per day (mmbd), up about 1 million from its quota under the OPEC+ deal.
The U.S. is attempting to apply the greatest pressure possible on KSA's chief rival, Iran, while providing security to the Saudis. In March, Saudi Crown Prince Mohammed bin Salman (MbS) visited the White House on his three-week "charm tour" to London, New York, Washington and San Francisco in search of investors. His message was that it is safe to do business in Saudi Arabia, while seeking investment in KSA to transform its economy.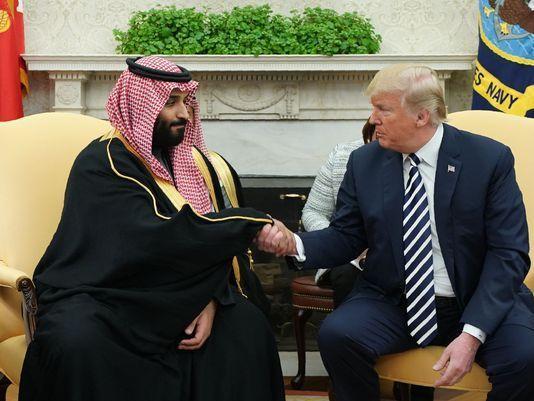 That message was not lost on President Trump. He had often said during the presidential campaign that the United States is defending Saudi Arabia practically for free, and that the kingdom "would not last a week" without U.S. protection. The kingdom is in no position to deny Trump's request to sell more oil to replace any loss from Iran due to the sanctions.
President Trump's first foreign visit in 2017 was to Saudi Arabia, where he received a "royal welcome."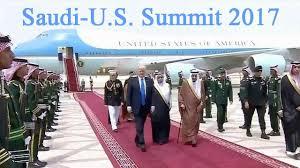 By contrast, the Saudis snubbed President Obama a year earlier, sending a small delegation to the tarmac to greet him - which did not include King Salman - because of opposition to the President's outreach to Iran and approach to the Syrian conflict.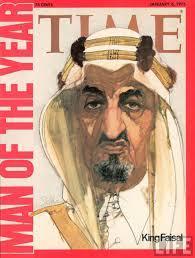 Back on October 20, 1973, King Faisal had decided to join in an oil embargo against the United States and Europe in favor of the Arab position in the Yom Kippur War. In an interview with international media, King Faisal said, "America's complete Israeli support against the Arabs makes it extremely difficult for us to continue to supply the United States with oil, or even remain friends with the United States."
The alliance between KSA and the U.S. is far more valuable to the Kingdom than its OPEC relationship with Iran. Looking forward, it is difficult to see how OPEC will reach unanimous agreements, as required by OPEC by-laws, if U.S. sanctions against Iran take hold in November as expected.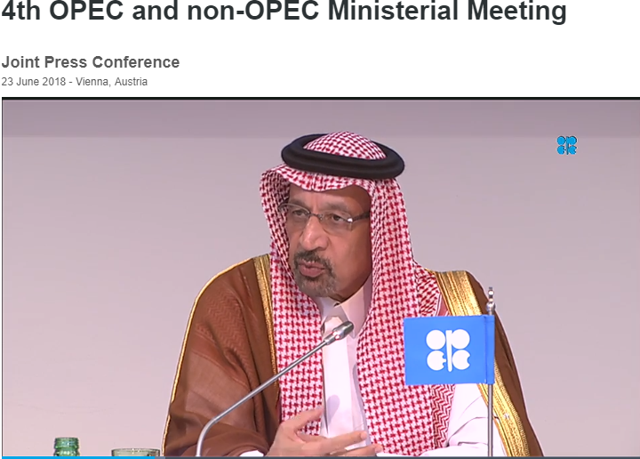 At the June 23rd press conference, Saudi energy minister Khalid al-Falih made and extraordinary statement, hinting that KSA was putting its own interests above OPEC's:
As far as I'm concerned, as the minister of Saudi Arabia, it's important to respect the decisions of the group (OPEC) and to try to stay within it. But my bigger guiding principle is to be respectful for the market needs."
Iran's oil minister Bijan Zanganeh wrote in a letter recently sent to Mr. al-Falih, "In case the OPEC member countries do not fully adhere to their commitments, the effectiveness of this organization as the only developing countries' intergovernmental organization with almost sixty years of history, will be gradually eroded."
President Trump has a longstanding abhorrence of "the OPEC monopoly." For example, in 2008, he was interviewed by Jim Cramer about OPEC. In this video (starting 5:38), Trump stated:
The biggest problem I never hear anybody talk about. I told you about it once. Every time they lower interest rates, the cartel, because I call it a cartel - the illegal monopoly - raises oil prices. So the monopoly, because that's what it is, a total illegal monopoly. If businesses ever formed OPEC, everybody would be put in jail. Every time a country hits oil, they are invited into the cartel. It's a disgrace. Now you have oil prices that are going to be over $100, and nobody in this country calls and says. 'Get that goddamn oil price down. You get it down. And you get it down fast.'"

And you can do it... In the old days, our presidents used to call. We don't call anymore... If spoken to properly, those prices would come down like you wouldn't believe."
KSA may feel the need to distance itself from the group to retain favorable relationships with the U.S. The president may also sign the "NOPEC" legislation, which would apply the 1890 Sherman Antitrust Act against trade groups in the business of collusion, as OPEC's by-laws explicitly state. The bill has received strong bipartisan support in both Houses of Congress, but Presidents Bush and Obama opposed it.
Trump has also wanted to tap the Strategic Petroleum Reserve to help reduce the national budget deficit. And a 270 million barrel release has been authorized by Congress over a 10-year period to fund various budget bills. If the Iran sanctions continue into 2019, and Iranian or Venezuelan production falls, I would expect Trump would tap the SPR. He could add 1 million barrels per day for 9 months, accelerating the authorized drawdown.
The SPR has 660 million barrels and a drawdown capacity of up to 4 million barrels per day. The drawdown could also be coordinated with the International Energy Agency. In total, there are 1.8 billion barrels in strategic reserves worldwide.
Finally, U.S. Treasury Secretary Steve Mnuchin said some oil buyers could get waivers to continue buying Iranian supplies despite American sanctions on Iran. That is a tool he can fine-tune as events develop, depending on whether Iran must cut its production and by how much, if sanctions are applied beginning in November.
Conclusions
In short, President Trump does not want high oil prices disrupting global economic growth. And I believe he has the ability to make sure they do not.
OPEC is a nearly 60-year-old cartel that is not in tune with a capitalist, competitive world. Its old-style collusion does not mesh with U.S. anti-trust law.
The sensationalist, "viral" articles about a war with Iran have not been published in a while. But the "long bull oil thesis" is still being promoted.
Those expecting higher oil prices are likely to be sorely disappointed. And long-only oil bull investors should consider revising their thesis in light of what is actually happening.
Historical Addendum
The U.S.-Saudi relationship has long been based upon co-dependency: KSA needing military protection and the U.S. needing foreign oil. This all started during World War ll.
Bilateral relations between the Kingdom of Saudi Arabia and the United States had begun in 1933. In May of that year, the California Arabian Standard Oil Company (CASCO), later called the Arab American Company (ARAMCO), started the exploration for oil in the country. It found some.
During World War ll, Italy, an Axis power, bombed a CASCO oil installation in Dhahran, crippling Saudi Arabia's oil production. And in 1940, there was a complete stoppage of the pilgrimage to Mecca. Oil and the pilgrimage were the two major sources of income for the kingdom.
Ibn Saud needed money. He turned to CASCO for advances. After the company was unwilling to do more, it asked the U.S. and British governments to help out. FDR asked his Administrator for the Federal Loan Agency, "Would you tell the British I hope that they can take care of the King of Saudi Arabia? This is a little far afield for us!"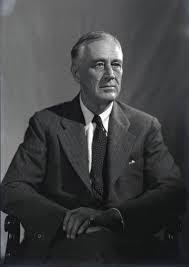 President Franklin Delano Roosevelt (FDR)
Thereafter, it became increasingly clear to the U.S. government that the British were trying to take over CASCO's oil concession in Saudi Arabia. So, FDR took the unusual step of declaring in February 1943 "to arrange for lend-lease aid to the government of Saudi Arabia, I hereby find that the defense of Saudi Arabia is vital to the defense of the United States."
Later that year, the president approved the creation of the state-owned Petroleum Reserves Corporation, with the intent that it purchase all the stock of CASCO and thus gain control of Saudi oil reserves under a veil of secrecy. Once the matter became public, the White House backed off when Congress shot it down.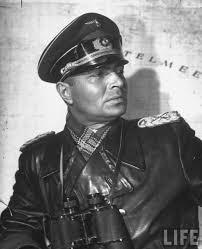 German Field Marshal Rommel
Concerns over an imminent oil shortage to prosecute the war were relieved, and German Field Marshal Rommel (the Desert Fox) was forced to retreat in Africa. He was unable to advance in the direction of the Arabian peninsula.