Introduction
You are starting to see articles about a resurgence of the MLPs, after a multi-year period that has crushed them. A combination typically of massive capex to build out needed pipelines to transport the huge volumes of shale gas produced in shale drilling, and depressed commodity prices has cut their valuations by up to 80%. There have been other issues that have hamstrung the MLPs along the way as well.
Their own bumbling in creating spills (mostly of bentonite, a form of clay that gives Fluffy, the cat a place to 'take of business').
Aboriginal protests about sacrilege to ancestral burial grounds, and the like.
Concerns about MLPs being taken over by managing partner entities.
Etc, Etc. It's just been a wall of worry.
Anyway the bottom line that's emerging is the era of the pipeline MLPs shooting themselves in the foot, and drawing tens of thousands of 'angry' aboriginal protesters... as they spend tens of billions of dollars trying to build out our energy infrastructure... seems to be drawing to a close.
Here is a nice article about this turnaround published just today by Dividend Sensei, "This Mega Merger Could Make You A Fortune..." Be sure and come back and finish this article if you leave to read the link above, please.
So with the idea in hand that a turnaround in the broader MLP space might be underway, I decided that the time might be right to look into one aspect of the natural gas story that hadn't gotten much love recently. Compression.
Every single cubic foot of gas that is produced in America needs compression. If people are commissioning pipelines to carry gas to market, and they are, then it just stands to reason they will need compression along the way.
Let's take a closer look at one company in particular, that if this thesis has any legs, should stand to benefit. CSI Compressco, LP. (NASDAQ:CCLP)

Ok, let's talk about CCLP
We haven't discussed a compression company before in the Daily Drilling Report, except in conjunction with Tetra Technologies (TTI) which owns a significant chunk of the common units and holds IDR rights in CSI Compressco. Tetra has suffered as unit distributions were cut last year to allow CCLP to survive. That period will be ending now, as CCLP's fortunes improve. When distributions increase, the unit costs will rise accordingly.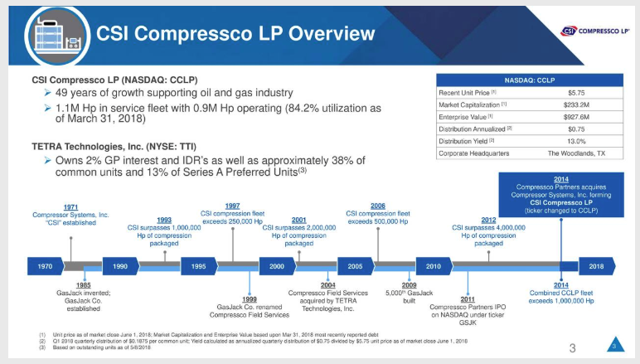 Given CCLP's low entry price, currently <$6.00 share, there is a low threshold for this one to deliver growth as business fundamentals continue to improve. The distribution yield equals 13% at current prices.
Let's look at what they are telling us.
The gas compression thesis
Shale by the nature of its accumulation is very gassy! Something we should have known (some of us did), but didn't and in the area of infrastructure to handle it all, have had to run double-time. That is CCLP's stock in trade as we will discuss.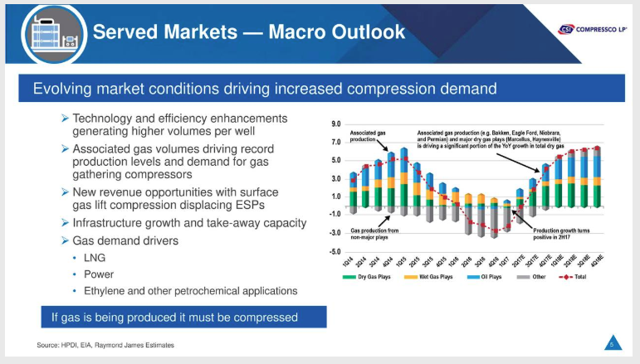 My comments. Intuitively, we know what CCLP is telling us in the slide above. There is a huge amount of gas that's being produced, and it needs compression from the wellhead to the gathering line to the trunk line.
This is what CCLP does, and it looks like a clear field to run in my view.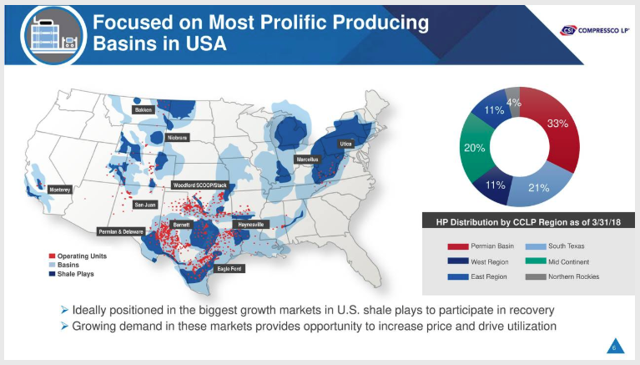 Note the national footprint of CCLP. They are in every shale basin. So, the trap that has befallen some shale players, of being hemmed in by the choke point of the Permian isn't set for CCLP.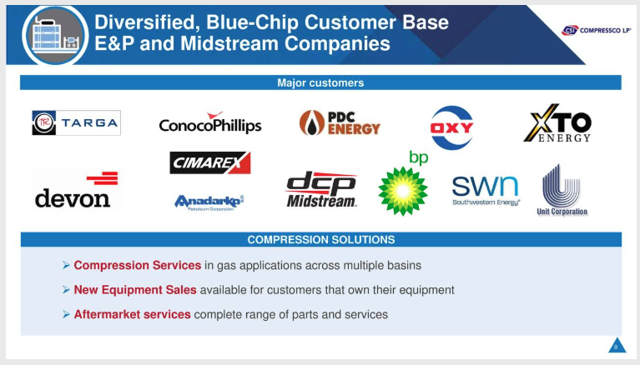 Source: A sampling of CCLP's Blue Chip Oilfield client base.
It would be fair to say CCLP is Permian heavy, that's the bulk of the activity. That doesn't mean it's Permian constrained as some Permian-centric companies are. Far from it. It has a national footprint and can shift assets around as needed.
The thesis for CSI Compressco

CCLP fell victim to the huge downdraft of 2014, bottoming in 2016 sub $5/sh. A story oft repeated in the OSV space, it's fair to say. It rallied hard along with oil over the next year, topping out in 2017. Obviously it had gotten far ahead of fundamentals, and a negative sentiment began to build around everything natty due to low HUB pricing, lack of pipelines, and... wait for it... compression!
We think this situation is starting to correct, and that CCLP is a good way to play the natty story. Here's why!
A lot has changed in the last year
Gas compression business cycle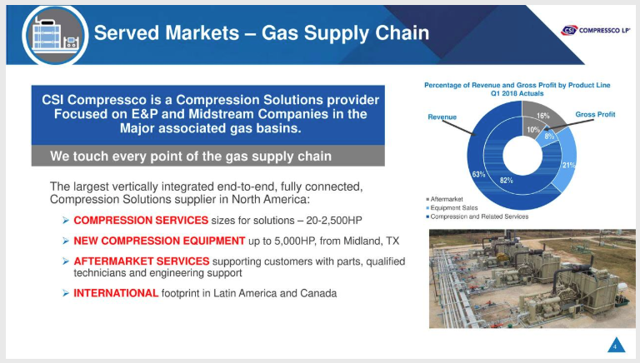 CCLP participates across the supply chain, helping it to stay ahead of competitors that lack its manufacturing and client support base. This gives CSI a chance to do a couple of things that will improve margins.
Size brings supply chain advantages in form of discounts from suppliers, preferential treatment.
Working across the supply chain provides the opportunity to take profits at a number of points, building profit at every step.
Financing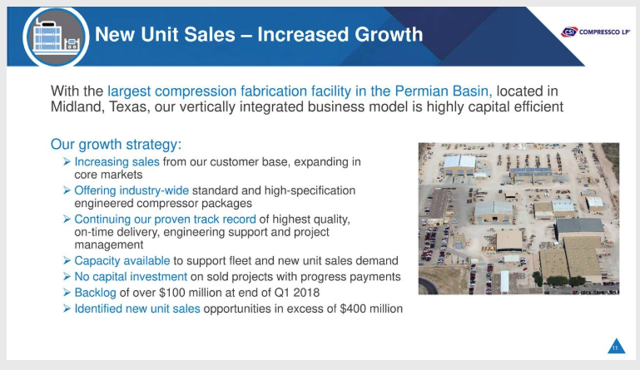 One of the things that dragged CCLP into the abyss was financing clients' purchases. As noted on bullet #5 in the slide above, that model has been updated to minimize front-end cost to CCLP. Basically, now to order a compressor, deposits are taken to start work and progress payments billed to smooth cash flow.
Technology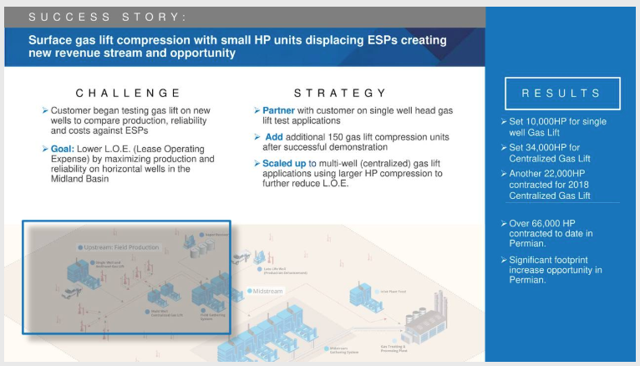 Suction is suction... right? Of course, just like 'parts is parts' for plumbers. CCLP is developing new revenue streams for compression as noted in the slide above. ESP (Electrical Submersible Pumps) are a major pain in the a** and cause lots of downtime. If you can create gas lift from the surface, you've made shutdowns and interventions much easier to carry out.
This is kind of a big deal for me conceptually. The ESP business is huge internationally. Probably billions of dollars. If the same thing can be done with gas lift from the surface as CCLP is pitching, a whole new market opens up for compressors. With CCLP gaining first mover advantage.
New management
From Tetra's Q1 CC, Stuart Brightman, Tetra's CEO, commented:
Owen Serjeant. Owen joined us in November as President of CSI Compressco. He was previously the Group Vice President of Group Vice President of Global Operational Support of Cameron, a Schlumberger Company. Owen's been 17 years at Cameron prior to the acquisition by Schlumberger in 2016. during his time at Cameron, he served in a series of operations, engineering, marketing and sales position, each with increasing levels of responsibility. One of his last positions at Cameron was as Group President of the Compression Systems Division. Owen also spent 18 years at Cooper Energy Services.
So, CCLP now has a professional manager with a strong background in compression. Management makes a difference, particularly in an already improving market.
Risks
Debt from the last expansion is the stone around CCLP's neck.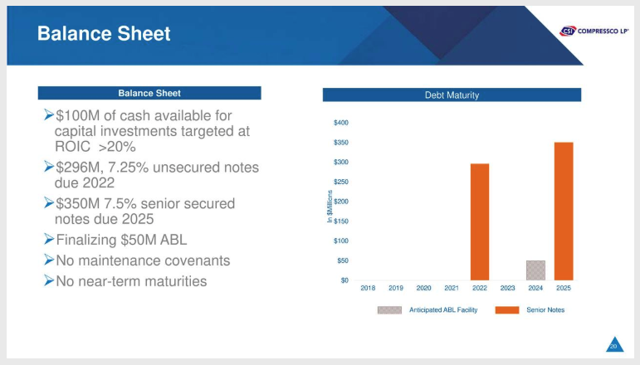 They owe a ton of money, but have a reasonable runway to ramp up earnings to cover it. Maturities are 5-7 years out and avoid any short of squeeze to meet them.
The risk is that the growth story peters out, and earnings collapse. I don't see this as being very likely or I would not be recommending the stock.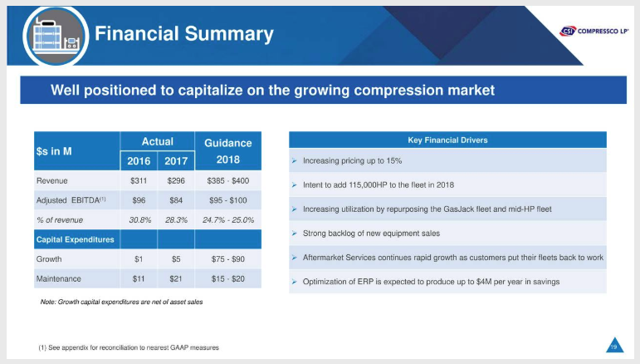 Maintenance is like an annuity. Once you set a compressor, you have to service and maintain it on a regular basis. Think Apple Music vs. iPhones, not the best analogy I know. The point, though, is an increasing stream of revenue from already sold, or leased equipment. A gift that keeps on giving...?
The Balance Sheet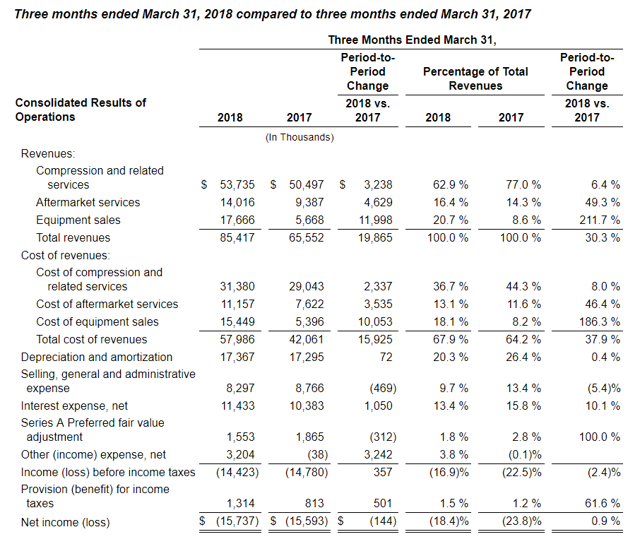 This of course is still a troubled company as the interest expense above shows. But, the signs of a turnaround across all business lines can be seen.
For example, interest expense of a percent of total revenue declined 10% YoY. Greenshoots!
Your takeaway
This is a business in the early stage of a multi-year growth spurt, that will go hand-in-hand with the resurgence of the pipeline MLPs, sort of a piggy-back trade if you will. If the pipelines do well, then a company like CCLP should also. I'll say it again, every single cubic foot of gas that goes into pipeline transmission will need compression to get there. I like CCLP is a pure play on the emerging dominance of the U.S. in the natural gas area. (I will be writing more on this later.)
The nice thing about CCLP is that it can live on DUCs for a short while if it came to that. If for some reason drilling were to slow, most of the shale players keep DUCs in inventory to meet their cash flow commitments. Not a long-term fix if market fundamentals deteriorate, but DUCs might save a quarter or two.
Bottom line. There is nothing like a business with a tailwind. There is a huge amount of gas being produced for sale to export markets that can't get there without compression. Many of our big IOC players, BP, (BP), Shell, (RDS.A, RDS.B), are leveraged to this business. As an example, BP was singled out yesterday as being in the lead for BHP's shale assets. I believe this will largely be an export story for BP, light oil and LNG.
That seems like a tailwind to me.
I think this is a good entry point if this stock meets your risk profile. It is an MLP, so the usual K-1 tax complications are present here. I am in several others, so I am just accepting this headache for superior growth.
Disclaimer: I am not an accountant or CPA or CFA. This article is intended to provide information to interested parties. As I have no knowledge of individual investor circumstances, goals, and/or portfolio concentration or diversification, readers are expected to complete their own due diligence before purchasing any stocks mentioned or recommended.
A last favor. If you enjoyed this free article, please give it a like by clicking orange 'like button that will appear just below this verbiage. And, of course please give me a 'follow'.