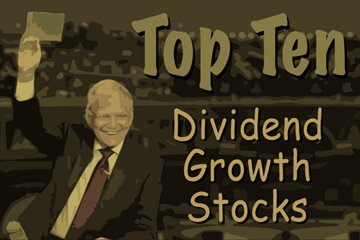 The CCC list is a valuable source for dividend growth investors.
Previously compiled by the late David Fish and now maintained by Justin Law, the CCC list contains U.S. companies with streaks of at least 5 years of higher dividend payments. The accompanying spreadsheet provides key statistics of the CCC stocks.
In my monthly 10 Dividend Growth Stocks series, I identify 10 CCC stocks for further research. To create the list, I rank a selection of the CCC stocks and assign a 7-star rating to each stock. Stocks rated 5 stars or better are worthy of further analysis.
Trimming the CCC List
The latest CCC list (dated 6/29/18) contains 891 stocks. This month, I trimmed the CCC list using screens based on the Value Line Ranking System:
Financial Strength Rating of A or better
Safety Rank of 1 or 2
Using these screens trims the CCC list to 155 candidates.
The Ranking Process
First I ranked the 155 candidates using only data available in the CCC spreadsheet. This preliminary ranking helped me to further trim the list of candidates. I selected the top 50 candidates and ranked them using data from the CCC spreadsheet and additional sources like finbox.io, Simply Safe Dividends, Morningstar, and F.A.S.T. Graphs.
Below is an analysis of the 50 candidates, courtesy of finbox.io:

Collectively, the 50 stocks have a fair value downside of about 1.1%. However, the stocks have a 1-year return of 9.6% and have outperformed the S&P 500 by about 13.5% over the last five years.
Below are the top 10 ranked stocks for July 2018. Stocks I own in my Divgro portfolio are highlighted:
Five stocks from last month's top 10 appear in this month's top 10. These stocks are identified with a subscript that represents last month's ranking. For example, CVS6 means CVS was ranked sixth last month.
Ratings and Sectors
Here are the top 10 ranked stocks by sector, along with my star ratings for each stock (out of 7 stars). The top two stocks each earned 7 stars, while the remaining stocks each earned 6-star ratings. I consider stocks with a 5-star rating or better worthy of further analysis:
1 • Lowe's (NYSE:LOW)✭✭✭✭✭✭✭ Consumer Discretionary
Dividend Champion LOW is a home improvement retailer. The company offers a complete line of products for maintenance, repair, remodeling, and home decorating. It also offers installation services through independent contractors, as well as extended protection plans and repair services. LOW was founded in 1946 and is based in Mooresville, North Carolina.
2 • CVS Health (NYSE:CVS)✭✭✭✭✭✭✭ Healthcare
CVS provides integrated pharmacy health care services. The company advises patients on medications at CVS Pharmacy locations; provides cost control programs through CVS Caremark; delivers care to patients through CVS Specialty; and provides pharmacy care for seniors through Omnicare. CVS was founded in 1892 and is headquartered in Woonsocket, Rhode Island.
3 • Ross Stores (NASDAQ:ROST)✭✭✭✭✭✭✩ Consumer Discretionary
ROST, together with its subsidiaries, operates off-price retail apparel and home fashion stores offering apparel, accessories, footwear, and home fashions. The company's stores include Ross Dress for Less stores and dd's DISCOUNTS stores. ROST was founded in 1982 and is headquartered in Dublin, California.
4 • TJX (NYSE:TJX)✭✭✭✭✭✭✩ Consumer Discretionary
Founded in 1956 and based in Framingham, Massachusetts, TJX operates as an off-price apparel and home fashions retailer in the United States and internationally. The company sells family apparel, home fashions, seasonal items, jewelry, and other merchandise. TJX operates stores under various names, including T.J. Maxx, Marshalls, and Sierra Trading.
5 • Franklin Resources (NYSE:BEN)✭✭✭✭✭✭✩ Financials
Dividend Champion BEN is a global investment management company operating as Franklin Templeton Investments. The company provides investment management and related services to retail, institutional, and high net-worth clients in jurisdictions around the world. BEN was founded in 1947 and is based in San Mateo, California with an additional office in Hyderabad, India.
6 • Texas Instruments (NYSE:TXN)✭✭✭✭✭✭✩ Information Technology
TXN designs, manufactures and sells semiconductors to electronics designers and manufacturers globally. The company operates through two segments, Analog and Embedded Processing. It markets and sells semiconductor products through a direct sales force and through distributors, as well as online. TXN was founded in 1930 and is headquartered in Dallas, Texas.
7 • Home Depot (NYSE:HD)✭✭✭✭✭✭✩ Consumer Discretionary
Founded in 1978 and based in Atlanta, Georgia, HD is a home improvement retailer that sells an assortment of building materials, home improvement products, and lawn and garden products. HD provides installation, home maintenance, and professional service programs to do-it-yourself, do-it-for-me, and professional customers.
8 • Illinois Tool Works (NYSE:ITW)✭✭✭✭✭✭✩ Industrials
Dividend Champion Founded in 1912 and headquartered in Glenview, Illinois, ITW is a diversified, global company that manufactures and sells industrial products and equipment worldwide. ITW operates through seven segments: Automotive OEM; Test & Measurement and Electronics; Food Equipment; Polymers & Fluids; Welding; Construction Products; and Specialty Products.
9 • Comcast (NASDAQ:CMCSA)✭✭✭✭✭✭✩ Consumer Discretionary
Founded in 1963 and headquartered in Philadelphia, Pennsylvania, CMCSA is a media and technology company. The company's Comcast Cable business provides video, Internet, and voice services to residential customers under the XFINITY brand. CMCSA's NBC Universal business consists of cable networks, broadcast television, filmed entertainment, and theme parks.
10 • Starbucks (NASDAQ:SBUX)✭✭✭✭✭✭✩ Consumer Discretionary
SBUX is a roaster, marketer, and retailer of specialty coffee. The company and roasts and sells coffees, and other beverages and fresh food items, through company-operated stores. It also sells a range of coffee and tea products and licenses its trademarks through other channels. SBUX was founded in 1985 and is based in Seattle, Washington.
Please note that the top 10 ranked stocks are candidates for further analysis, not recommendations.
The table below presents some key metrics as well as fair value estimates for the top 10 stocks.
In the table, Yrs are the years of consecutive dividend increases, Payout is the EPS payout ratio and Debt is the ratio of debt to equity. When available, the compound dividend growth rate over a 5-year period (5-Yr DGR) is provided. Standard & Poor's Credit Rating, as well as Value Line's Safety and financial strength (Fin. Strength) ratings also are provided. I've added the Safety score (out of 100) from Simply Safe Dividends. Finally, I present my own estimate of Fair Value.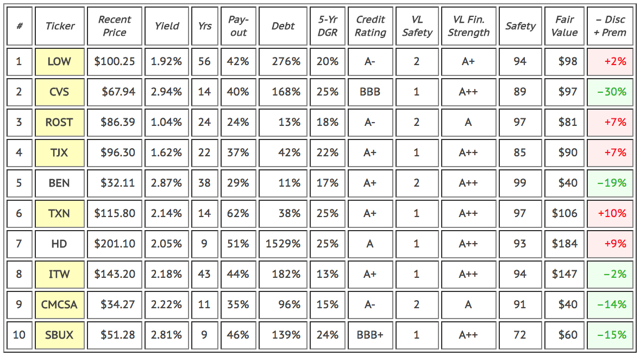 To estimate fair value, I calculate my own fair value estimates using proprietary implementations of the multi-stage Dividend Discount Model and the Gordon Growth Model. I also reference fair value estimates and target prices from other sources, including Morningstar, finbox.io, and Simply Wall St.
With up to nine estimates available, my final fair value estimate ignores the lowest and highest, then averages the median and mean of the remaining estimates.
Commentary
Four stocks are trading at discounts of at least 10% to my fair value estimates: CVS, BEN, SBUX, and CMCSA. Of these, BEN is the only stock I don't own.
As mentioned, BEN is a Dividend Champion with a dividend increase streak of 38 years. The stock yields 2.87% at $32.11 and has an impressive 5-year dividend growth rate of 17%. What also impresses me is the stock's relatively low debt levels and a payout ratio that leaves ample room for future dividend increases. I'll be taking a closer look at BEN in the near future.
Concluding Remarks
Every month, I write an article presenting a ranked selection of the CCC stocks. I use different screens to select candidates from the CCC list. This month I screened for stocks using Value Line's Ranking System.
This month's list of top 10 ranked stocks provides four candidates that are trading at least 10% below my fair value estimates. I own three of these stocks and will consider adding to my positions when cash becomes available. As for the stock I don't own, BEN, I'll be doing further research to see if the stock is worth adding to my portfolio.
Thanks for reading! If you liked this article and would like to read similar articles in future, please click the Follow link at the top of this article. And, if you're already following me, I sure would appreciate it if you click on the Like button below!
Disclosure: I am/we are long LOW, CVS, ROST, TJX, TXN, ITW, SBUX. I wrote this article myself, and it expresses my own opinions. I am not receiving compensation for it (other than from Seeking Alpha). I have no business relationship with any company whose stock is mentioned in this article.