While gold's trend has remained down throughout the last few weeks, there was at least a faint glimmer of hope that the bulls might succeed to force a short-covering rally. But after several desperate days of desperately attempting to establish an immediate-term bottom for gold, those hopes were finally disappointed on Tuesday. In today's report, we'll look at how the bears have consolidated their control gold's immediate-term trend and where the metal might be headed in the days ahead.
Gold bulls were severely pummeled on Tuesday after gold's failure to maintain support above its July 2 price low. Gold futures were 1% lower and made another new low for 2018 in the process. By breaking its previous low for the year to date on Tuesday, the bears have shown that they remain firmly in control of gold's immediate-term (1-4 week) prospects.
Testimony by Federal Reserve Chairman Jerome Powell to the U.S. Congress contributed to dollar strength and gold weakness. Powell's testimony offered an optimistic view of the U.S. economy in an appearance before the Senate Banking Committee. It also strengthened investors' expectations of two more interest rate increases this year, which further soured the mood for rate-sensitive gold.
The graph of the iShares Gold Trust ETF (IAU), my favorite gold proxy and trading vehicle for the metal, illustrates the latest damage inflicted. IAU decisively sliced through its $11.90 chart support level from July 2. This display of weakness only clearly encouraged some participants who hadn't capitulated during the June decline to sell. Stop-loss orders were also triggered, which exacerbated the decline. Now IAU finds itself back in the position it has been in for over a month, namely the search for a durable bottom.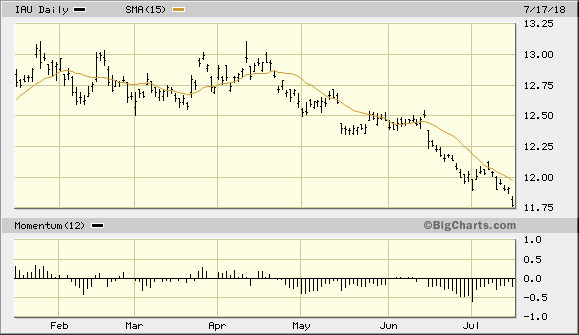 Source: BigCharts
Meanwhile, the U.S. dollar index (DXY) rose 0.50% on Tuesday, exerting a disproportionate influence on the gold price. As I've emphasized in these commentaries lately, as long as the DXY remains above its 15-day moving average – my favorite delineator of the immediate-term (1-4 week) trend – gold will remain under pressure. The dollar's strength has been the primary driver of gold weakness in recent months as global investors seek the safety of the dollar after fleeing the stocks and currencies of emerging market countries. Continued fears of a U.S.-China trade war have also served to strengthen the dollar.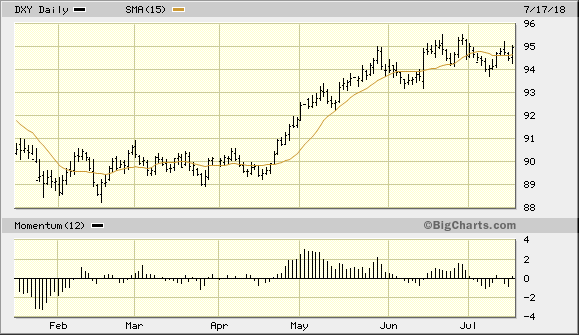 Source: BigCharts
As long as the U.S. dollar remains strong, there will be considerable pressure against the gold price. Gold and the gold ETF will face significant headwinds as long as the dollar/gold ratio remains above its rising trend, as can be seen below. This trend line has remained intact for the last three months. As I've emphasized in recent commentaries, until this uptrend line has been decisively broken – which will show that gold's currency component is no longer a weak link – then traders can expect to see the gold ETF (shown above) remaining below its 15-day moving average.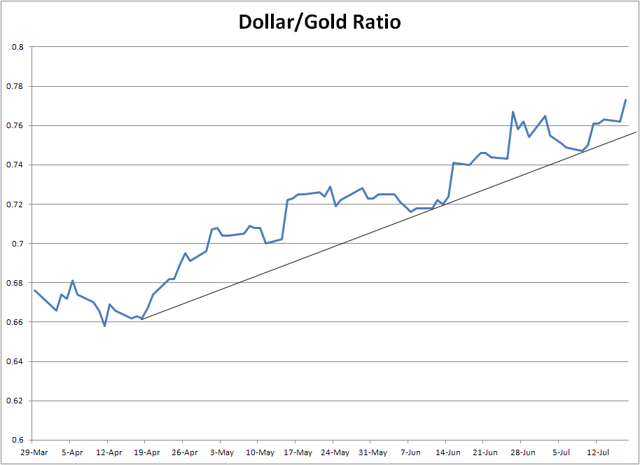 Source: Barchart
Not only gold but also silver has shown the negative effects of a strong dollar. Silver has largely traded in line with gold in recent weeks but under-performed gold in making a new low on Tuesday. Shown here is the iShares Silver Trust ETF (SLV) daily graph, which tracks the silver price. Historically, silver has usually provided a reliable leading indication of when the time is ripe for a gold bottom. At present, silver is flashing no such indication of an imminent bottom for gold. Thus, the waiting game for a confirmed bottom in both metals continues.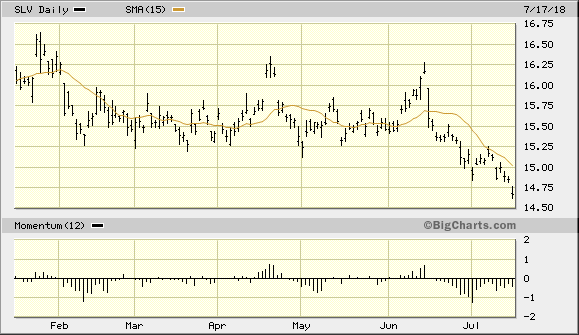 Source: BigCharts
On a strategic note, I continue to recommend that investors avoid new commitments to the iShares Gold Trust ETF. As previously mentioned, the burden remains on the gold bulls to prove the metal's immediate overhead supply problem has been resolved and that they are serious about regaining control of gold's short-term trend. Until they do, remain in cash.