The Treasury market has gotten a welcome respite from the selling pressure it suffered earlier this year. More importantly, the current state of several key foreign markets should keep the interim outlook for T-bonds buoyant. In this commentary we'll examine the most technical and fundamental factors which are influencing the intermediate-term bond market trend. Here I'll make the case that Treasuries should continue to benefit from the trade war and the emerging markets slowdown. Long-term-oriented investors should, however, remain underweight Treasuries for reasons I'll explain here.
The climate of fear and uncertainty surrounding the emerging markets in recent months has given T-bond prices a needed boost. Ever since the revival of trade war concerns this spring, Treasuries have rallied as a sell-off in Chinese and emerging market stocks catalyzed a flight-to-safety move into U.S. sovereign debt. Several factors have combined to increase the demand for U.S. Treasuries. The first is the precipitous drop in the stock market of the world's second biggest economy, China. Shown here is China's SSE Composite Index, which includes all stocks traded on the Shanghai Stock Exchange. Note the downward trajectory of China stocks throughout this year.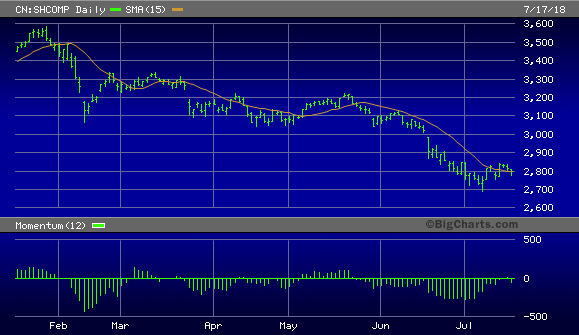 Source: BigCharts
Now compare the above graph with the following graph of the iShares 20+ Year Treasury Bond ETF (TLT), which serves as a tracking vehicle for long-term Treasuries. TLT's intermediate-term (3-6 month) trend remains up after it confirmed an interim bottom by making a series of higher highs and lows in the last two months. I would hasten to add, however, TLT is technically "overbought" on an immediate-term (1-4 week) basis as measured by its 20-day price oscillator. Moreover, the TLT price closed below its 15-day moving average on July 17. Normally when this happens it means TLT is vulnerable to additional volatility in the days ahead until it closes at least two days back above its 15-day MA. The main consideration here, though, is that TLT's more important intermediate trend remains bullish. This should outweigh any weakness that might be seen in the coming days.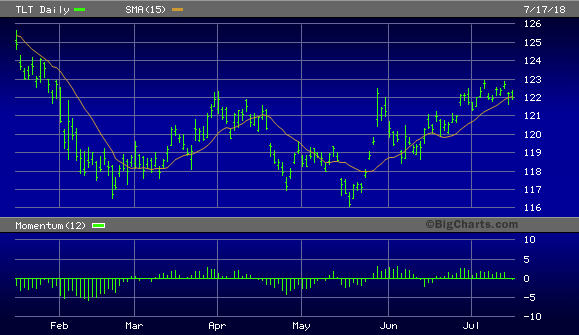 Source: BigCharts
Now let's take a look at some of the bigger contributors to the recent increased demand for U.S. Treasury bonds. It's no secret that the negative interest rate policies of both the European Central Bank (ECB) and the Bank of Japan (BOJ) have made U.S. government bonds more attractive relative to their overseas counterparts. With the official rates of both the ECB and the BOJ slightly below zero, and with 10-year government bond yields in Germany and Japan close to zero, global investors have a built-in incentive to look to the U.S. for a higher yield. Thus "hot money" inflows from overseas have helped keep the demand for U.S. T-bonds stable despite the fact that domestic investors have been selling bonds and rotating into stocks in recent years.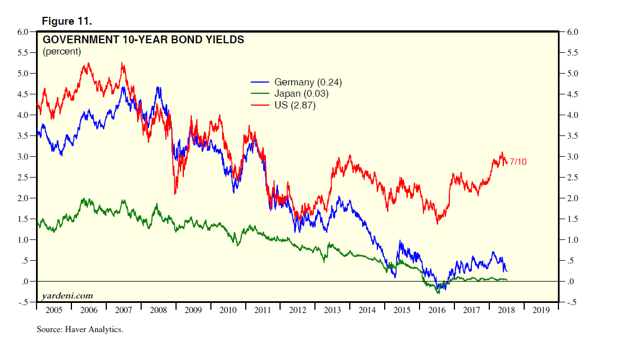 Source: Yardeni Research
The relative yield advantage of U.S. Treasury bonds versus the government bonds of many major countries is quite attractive to investors, particularly when the U.S. dollar is strengthening as it has been since April. What's more, the climate of fear which the sell-off in emerging markets has engendered among global equity investors has made T-bonds even more enticing as a safe place to park money. The iShares MSCI Emerging Markets ETF (EEM) shown below illustrates the extent of the crestfallen emerging markets since April at precisely the same time the U.S. dollar index began to rally.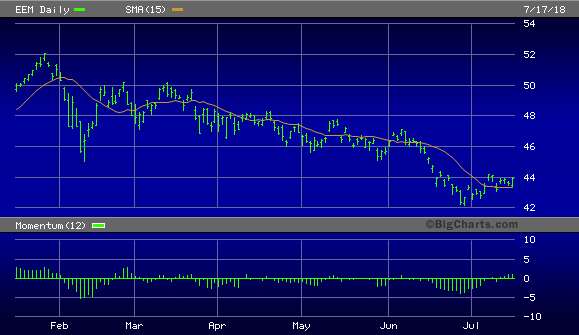 Source: BigCharts
The relationship between the U.S. dollar and the 20+ Year Treasury Bond ETF (NYSEARCA:TLT) is worth emphasizing. Typically a strong dollar and rising bond prices go hand-in-hand. While there can sometimes be a lag between the two, the overall correlation between bond prices and the dollar index (DXY) is typically a positive one. This especially holds true when investors are driven by fear and uncertainty, as they are now. In such times, the U.S. currency typically is in strong demand due to the need to raise cash as investors liquidate riskier assets. U.S. Treasuries are viewed by many investors as the ultimate safe haven asset, so naturally in times of uncertainty bond prices can be expected to rise. Thus the intermediate-term outlook for Treasuries will remain positive as long as there is any degree of uncertainty about the trade tariff war between the U.S. and China.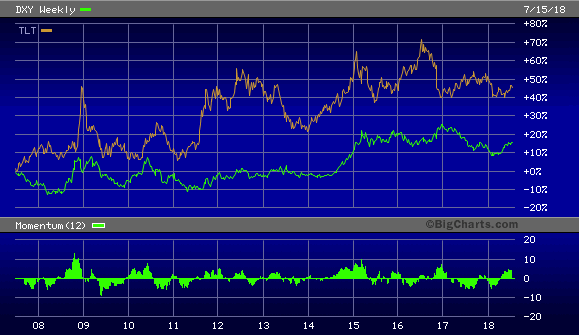 Source: BigCharts
While the short-term trend remains favorable for U.S. Treasuries, however, it should be mentioned that the investment climate isn't ideal for long-term investments in Treasury bonds. There is a close correlation between the 10-year Treasury bond yield and the growth rate of nominal GDP, on a year-over-year basis. Nominal GDP rose 4.7% during the first quarter of 2018 and is expected by many economists to rebound further in the second quarter. Despite this, however, the benchmark 10 year Treasury note yield is currently only 2.87%. As bond analysts have correctly observed, long-term ownership of T-bonds at yields below the nominal GDP growth rate has typically resulted in losses for bond investors. Now is one of those times, which is one reason why I don't recommend longer-term "buy-and-hold" T-bond positions.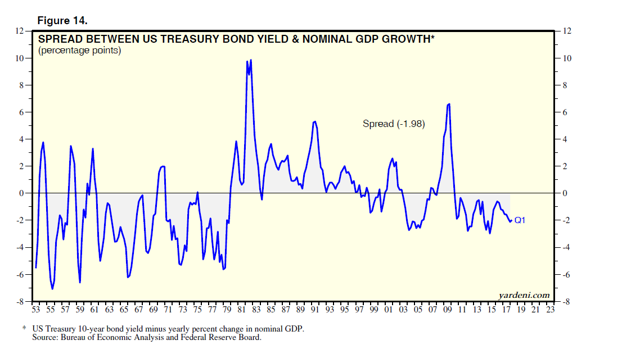 Source: Yardeni Research
For now, though, bond traders should remain long the 20+ year T-bond ETF (TLT) as long as it remains above the 120.00 level, which I consider to be the nearest pivotal support level for TLT. I also recommend that long-term investors be underweight Treasuries and allocate most of their portfolio to stocks which have more long-term upside potential than T-bonds.
Disclosure: I am/we are long XLK, IYR. I wrote this article myself, and it expresses my own opinions. I am not receiving compensation for it (other than from Seeking Alpha). I have no business relationship with any company whose stock is mentioned in this article.