Weather
The U.S. Energy Information Administration should report a slightly larger change in natural gas storage this week compared to the week prior. We anticipate an injection of 55 bcf, which is 1 bcf higher than the comparable figure in ICE's latest report for the EII-U.S. EIA Financial Weekly Index. It's also 24 bcf higher than a year ago, and 7 bcf lower than the five-year average for this time of the year.
Last week, the number of total degree days (TDDs) dropped by around 7% week over week as cooling demand subsided in most parts of the country, but still remained above the norm in most parts of the country. We estimate that total energy demand was only 1% above last year's level. Please note that heating degree days (HDDs) have reached the point where they are no longer relevant and have no effect on natural gas consumption. Cooling degree days (CDDs) now have a disproportionately stronger effect on consumption, and traders should be paying attention to changes in CDDs.
This week, the weather began to heat up again. We estimate that the number of CDDs will increase by 10.0% week over week during the week ending July 20. Cooling demand should be no less than 5% higher vs. a year ago.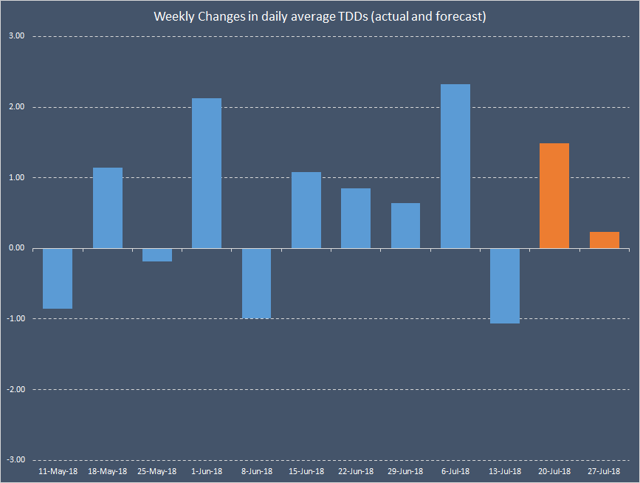 Source: Bluegold Research
The latest numerical weather prediction models are returning some bullish results (in absolute terms):
However, there is one very important factor that you need to take into account. Absolute values (such CDDs, HDDs and TDDs and their deviation from the norm) might not matter much in trading. It is assumed that absolute values determine the price regime, while the changes in absolute values determine the price direction. It is therefore further assumed that absolute values are already reflected in the current prices, whereas changes are not. As such, a trader should pay special attention to the actual changes in the forecast if he or she wants to anticipate the price direction.
Storage
Even after the extended-range ECMWF weather model issued its bearish revision, our analysis still indicates that the natural gas storage level is likely to drop below the five-year minimum by Aug. 3 (see chart below). At this moment in time, we also expect the storage "deficit" (relative to the five-year average) to remain essentially flat for the next 12 weeks. We also expect the annual storage "deficit" to remain at no less than 500 bcf by Sept. 28.
Natural Gas Storage Forecast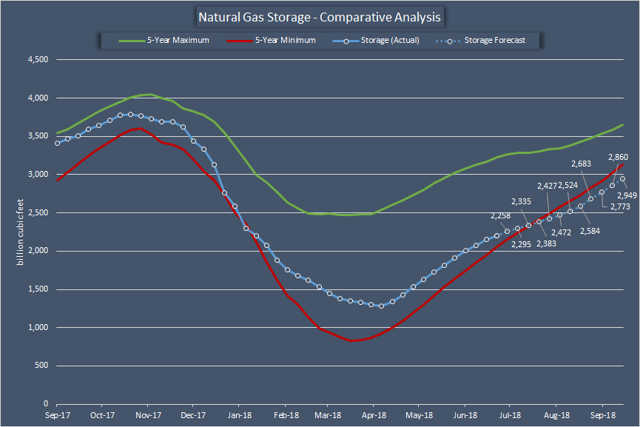 Source: Bluegold Research (this chart is updated for our subscribers on a daily basis).
However, if we look at the most recent ICE reports for financial gas futures (we use these reports as indicators for market's storage expectations), we will see that there is currently a "bullish gap" between our storage projections and what the market expects. The market currently prices in 258 bcf worth of injections over the next five reports. However, we project 224 bcf over the same period.
Furthermore, the market expects EOS storage to finish at 3,488 bcf, while our running EOS index currently stands at 3,298 bcf. Therefore, we do not see any compelling reasons to be bearish on natural gas at this point in time.
Thank you for reading our weekly report. We also write a daily update of our forecast for key natural gas variables: weather, production, consumption, exports, imports and storage. Interested in getting this daily update? Sign up for Natural Gas Fundamentals, our Marketplace service, to get the most critical natural gas data.
Our subscribers receive daily (early morning) updates on the latest weather forecasts as well as afternoon (12z model runs) updates on any additional changes. We also provide a regular update on extended-range ECMWF model (twice a week). Please consider singing up if you're interested.