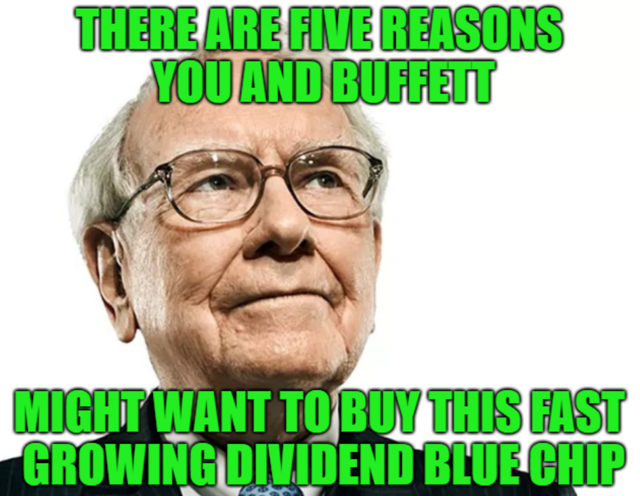 (Source: imgflip)
Berkshire Hathaway (BRK.A) (BRK.B) has a great problem right now. Mainly that it's sitting on a mountain of nearly $100 billion in investable cash. Over the past 50 years, Berkshire, under the value focused leadership of legendary value investors Warren Buffett and Charlie Munger, has managed to absolutely destroy the market, enriching countless investors over that time.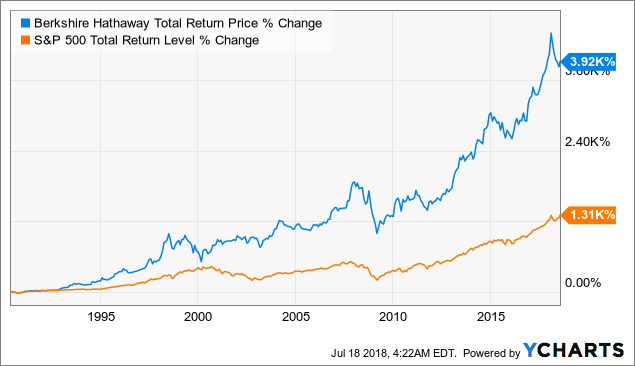 BRK.A Total Return Price data by YCharts
However, the downside is that Berkshire has now grown so large that it's preferred strategy of acquiring entire companies is making it harder to find needle moving acquisitions. That's especially true as the bull market is now in its 10th year, and Berkshire struggles to find attractively valued companies to unleash its "elephant gun" on.
That doesn't stop analysts and investors from watching the Oracle of Omaha's capital allocation decisions closely, often using the company's 13F disclosures (which tell us what Berkshire's portfolio looks like) to try to determine what companies or industries Buffett and company think might be attractive.
Personally, I'm not one to track Berkshire's buys and sells all that closely, since I realize that Buffett's goals, time frame, and risk profile does not perfectly match that of my own dividend growth retirement portfolio.
That being said, I do think it's often useful to consider what Berkshire is buying, or potentially considering buying, when coming up with possible investing ideas. That's because Buffett's focus on buying quality companies for the long-term at attractive valuations is ultimately one that history has shown is the best approach for investors to take.
In recent quarters Berkshire surprised many investors by investing heavily into airlines, including:
In fact, back in February 2018, Buffett even told CNBC that "I wouldn't rule out owning an entire airline." Soon after Wolfe Research's Hunter Keay wrote a research note telling its clients:
"We speculate on which airline Berkshire Hathaway may buy, too, using BRK's historical buying patterns as a guide through a data-driven analysis, ranking each one relative to others... Southwest screens well on those, as does DAL but to a lesser extent ….but LUV seems like the most logical candidate."
Of course, even Keay admits this is merely speculation, based on Buffett's recent purchases and his comment in Berkshire's last annual report that the company wants to "substantially increase the earnings of its non-insurance group. For that to happen, we will need to make one or more huge acquisitions."
So, let's take a look at five key facts to see if Berkshire buying Southwest makes sense in meeting its long-term stated growth goals. More importantly, find out whether Southwest represents a potentially good long-term investment for you, regardless of whether or not Buffett ends up buying it.
1. What Buffett Looks For In An Acquisition
UBS (UBS) estimates that Berkshire's cash position, combined with its massive stream of cash flow, could allow it to potentially make a $160 billion acquisition in 2018. Given that Southwest's market cap is just $31 billion right now, it's certainly plausible that the conglomerate could buy them.
But would it actually make sense for Berkshire to do that? To answer that, let's take a look at the core investment criteria Buffett uses when deciding whether or not to buy a company.
Generally, there are five criteria that Berkshire considers:
strong balance sheet
solid profitability (especially above average long-term returns on equity)
a wide moat (pricing power created by strong brand)
strong management team in place to continue running the company (he's very hands off)
needle moving potential (significant boost to top and bottom lines)
The easiest criteria to check off easily is whether or not buying Southwest would move the needle for Berkshire.
| | | | |
| --- | --- | --- | --- |
| Company | TTM Revenue | TTM Operating Income | Growth |
| Berkshire Hathaway | $227.4 billion | $16.6 billion | 9.3% |
| Southwest | $21.2 billion | $3.5 billion | 20.9% |
| Combined | $248.6 billion | $20.1 billion | |
(Source: Morningstar)
Based on both companies' trailing 12-month results, it appears it would boost Berkshire's revenue by nearly 10% and its operating income by over 20%.
What about the other criteria? Well, there, too Southwest shows itself a good potential match for the Berkshire.
2. Southwest Is A World Class Airline That Meets Most of Berkshire's Criteria
Operating for 48 years, Southwest is America's largest domestic carrier, serving over 120 million customers per year. It flies to 99 US cities, as well as 14 foreign countries with a fleet of 706 Boeing (BA) 737s. To minimize on costs and maximize profitability, Southwest flies one class cabin configurations and only operates out of secondary airports, where competition is lower and gate fees are smaller. Thanks to this focus on a lean business model, Southwest has managed to turn a profit for 45 consecutive years (and paid uninterrupted dividends for 33 straight years).
So, let's take a look at Southwest via Buffett's criteria, starting with the most obvious weakness, which is a wide moat. No airline technically has a moat, since it's ultimately a commodity business with numerous small rivals popping in and out of the market. But what Southwest does have is the best brand in the industry, which helps it to maintain and even grow its market share.
The company is well known for its customer friendly corporate philosophy, which it dubbs "transfarency". This means maintaining low prices, while not nickel and diming customers on fees, (first two bags fly free, no flight change fees). It also offers live TV and $8 all-day wifi, as well as complimentary beverages and snacks on every flight. Its dedication to good customer service is why, according to the American Customer Satisfaction Index, Southwest is America's best airline (80/100 score), for three straight years.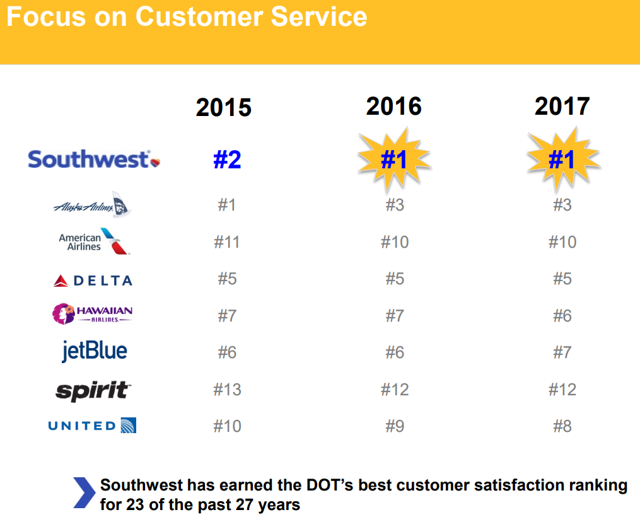 (Source: Southwest investor presentation)
Even more impressive? Southwest has been the top rated airline in customer service according to the Department of Transportation survey in 23 of the last 27 years.
Meanwhile, the company's Rapids Rewards Frequent Flier Program (started in 1987) is similarly customer friendly. It offers no blackout dates, no point expirations, and all points can be redeemed for any seat. All told, Southwest continues to receive accolades for its world-class dedication to superior customer service to build its brand loyalty (widest relative moat in the industry). In 2017 alone, it won the following awards.
Readers pick #1 reward program in the country according to Smarter Traveler.
Freddie Awards: Best Loyalty Credit Card, Best Airline Redemption Ability, and Best Customer Service.
Air Forwarders Association Domestic Carrier of the Year.
US News And World Report: one of the best airline rewards programs in the entire world.
Note that at the 2016 Freddie Awards (travel industry customer service awards), Southwest also won "best customer service" and "best travel rewards" program. The bottom line is Warren Buffett wants Berkshire to buy companies that offer services and products "where people feel like kissing you instead of slapping you." Well, in the airline industry, Southwest is definitely the leader in that regard.
Next, let's talk about management. Buffett is famous for his hands-off approach, preferring to leave management in place to keep running an acquired business. He particularly wants management to be long-term focused, meaning avoiding short-term earnings boosting efforts in order to maximize long-term value.
Southwest's management is certainly top notch. It's led by CEO Gary Kelly, who had the top job for 14 years but is a 32 year company veteran. The company has a stated policy of trying to balance numerous stakeholders, including:
employees (good pay, benefits, profit sharing).
customers (leading customer service and value).
shareholders (nearly doubled market's total return since 2010 and returned $8.7 billion via buybacks and dividends, including a 28% dividend hike for 2018 and a new $2 billion buyback authorization).
Southwest's track record of balancing these various stakeholder interests is excellent.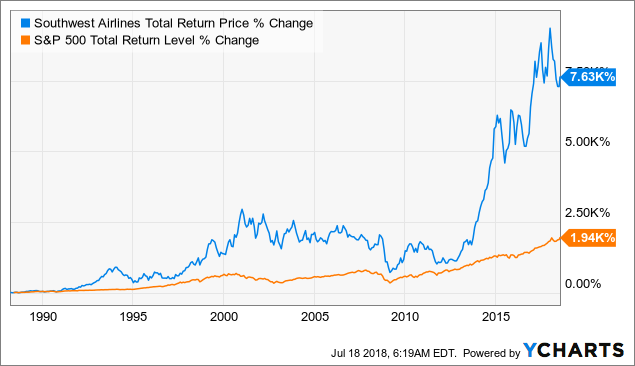 LUV Total Return Price data by YCharts
Shareholders have especially benefited from management's long-term focus, with Southwest outperforming the market by a wide margin.
As for profitability, well, in the airline business, Southwest has no long-term equals.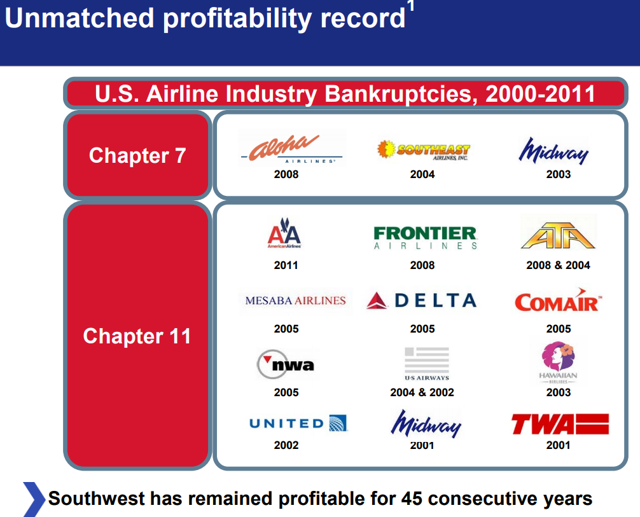 (Source: Southwest investor presentation)
Since 2000, there have been 15 airline bankruptcies, during which time Southwest has managed to grow its earnings, free cash flow, and dividends at an astonishing rate.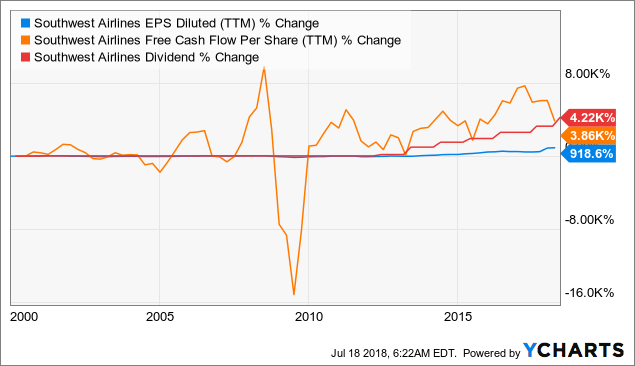 LUV EPS Diluted (TTM) data by YCharts
What's more when it comes to profitability, which Buffett cares deeply about and which over the long-term serves as a proxy for quality management, Southwest is also world class.
| | | | | | | |
| --- | --- | --- | --- | --- | --- | --- |
| Company | Gross Margin | Operating Margin | Net Margin | FCF Margin | Return On Invested Capital | 5 Year Average Return On Equity |
| Southwest | 61.9% | 12.5% | 9.4% | 4.8% | 20.8% | 22.3% |
| Industry Average | 40.2% | 9.4% | 6.3% | NA | 15.8% | 18.3% |
(Sources: Gurufocus, Morningstar, earnings release)
The company's net margin is about 50% above its industry average. More importantly, the things Buffett considers to be the best signs of good capital allocation (return on invested capital and return on equity) are similarly far better than most of its peers.
(Source: Southwest investor presentation)
What's even more impressive is that Southwest has been able to expand its profitability over time. And not just during periods of low oil prices. For example, the company's net margin increased almost 6% between 2012 and 2014, when oil prices averaged about $100 per barrel. That's thanks to the company's smart use of fuel hedging. Now, it's true that rising oil prices do represent a threat to its profitability going forward. However, the company's fuel hedges mean it's less exposed to energy prices than its rivals. For example, according to Morningstar's Chris Higgins, Southwest's fuel option calls mean that if oil prices rise about $80, its hedges will start earning money to offset its rising jet fuel costs.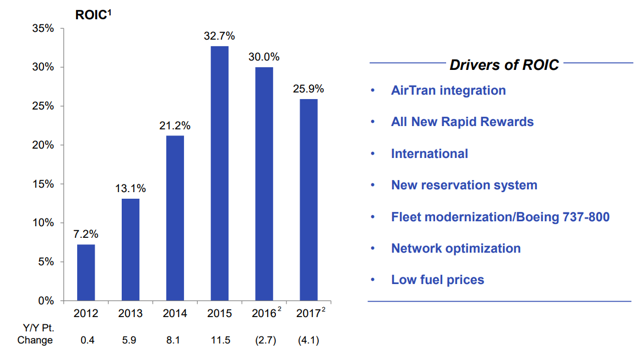 (Source: Southwest investor presentation)
The key to Southwest's impressive ability to deliver industry leading returns on capital (proxy for great management and capital allocation), is the company's proven ability to deliver on economies of scale. Specifically, that means achieving some of the best efficiencies in the industry via maintaining a modern and fuel efficient focused fleet of Boeing 737's. By limiting its airframes, it saves substantially on maintenance and operating costs.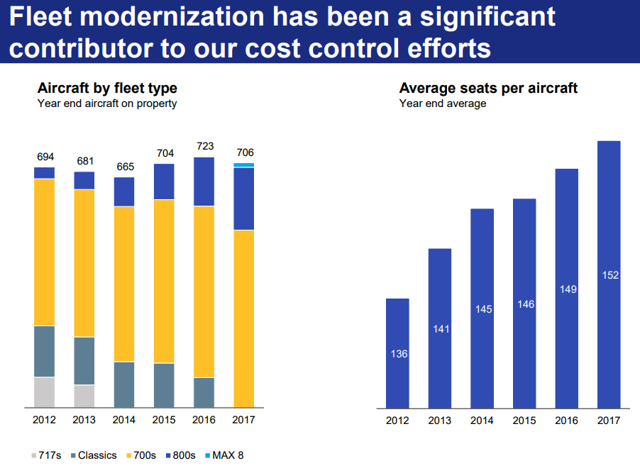 (Source: Southwest investor presentation)
In recent years, Southwest has been modernizing its fleet of Boeing's aggressively, with a focus on improved fuel economy and more seats per aircraft. For example, since 2012, the company's average seat mile or ASM per gallon has increased 8.4%, or 1.6% per year.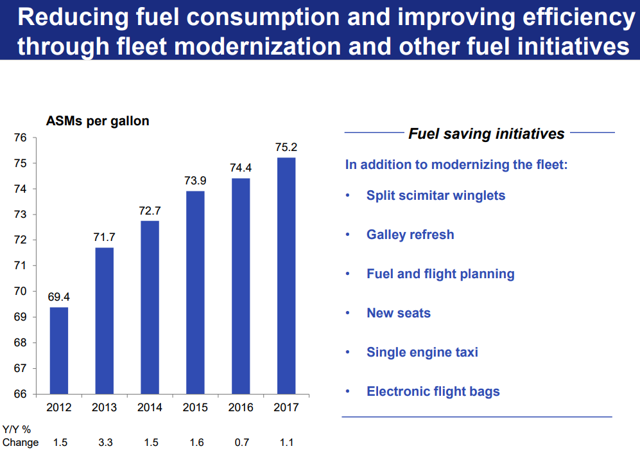 (Source: Southwest investor presentation)
This allows it to lower unit costs and maintain industry leading profitability.
Southwest Operating Costs Per Average Seat Mile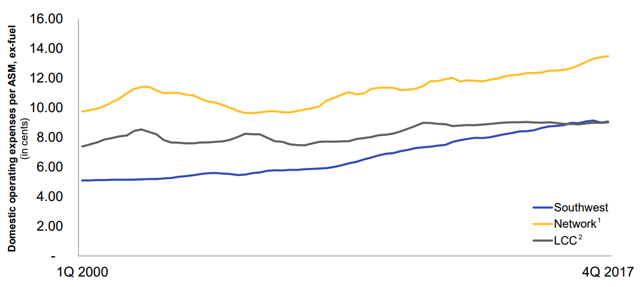 (Source: Southwest investor presentation)
And despite rapidly expanding spending in recent years to modernize its fleet and expand its service markets, Southwest has managed to maintain one of the lowest operating costs per ASM in the industry. In fact, its current cost per ASM is in line with low cost budget carriers, who don't offer nearly the level of customer service it does. Meanwhile compared to its major rivals the company's operating costs are about 30% less. Southwest also recently switched to a new superior integrated reservation system that it believes will end up boosting annual profits by $500 million per year. The system is specifically designed to allow it to execute on its future international expansion efforts (more on this in a moment).
The company is also good at strategic acquisitions such as 2010's $1.4 billion purchase of Airtran airways. Southwest bought Airtran opportunistically (low price) at a time when airlines were struggling. Buying Airtran added 21 cities to its network, including seven international markets. The company also managed to squeeze out $400 million in annual synergistic cost savings, helping drive that massive profit expansion we saw earlier.
Ok, so Southwest has the best brand in the industry, and proven long-term focused management capable of delivering superior profitability. But what about its balance sheet? After all, the airline industry is monstrously capital-intensive, and Buffett prefers to see low debt levels.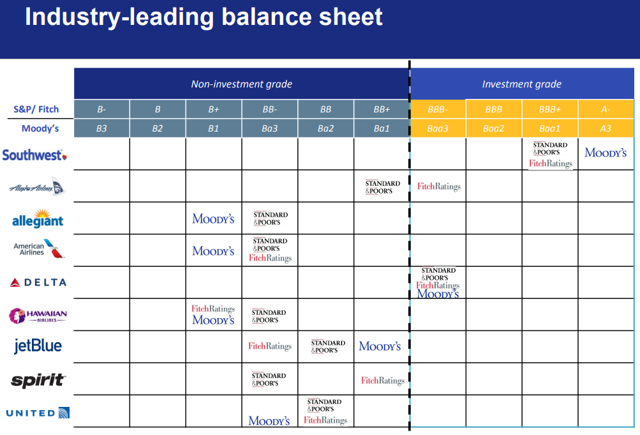 (Source: Southwest investor presentation)
Southwest has the best balance sheet in the industry by far. That's courtesy of its $3.2 billion in cash on the balance sheet, offsetting its $3.6 billion in debt (90% long-term fixed rate). This means the company's net debt position is just $400 million, generating a net debt/EBITDA ratio of just 0.08. What's more, the company's retained free cash flow or FCF (FCF minus dividends) is $734 million over the past 12 months. Since retained FCF is what pays off debt, this means that Southwest could eliminate its net debt position in about six months if it wanted to. Ultimately, this industry-leading balance sheet gives Southwest superior financial flexibility to execute on its ambitious growth efforts.
Ok, so Southwest appears to hit all of Berkshire's requirements, with its strong brand and customer loyalty making up for the non-moat nature of the industry. But there's another even bigger reason that Berkshire (and you) should consider buying Southwest. That would be the company's excellent long-term growth prospects, which for Berkshire would mean that Southwest would become an even larger needle moving acquisition over time.
3. Strong Long-Term Growth Prospects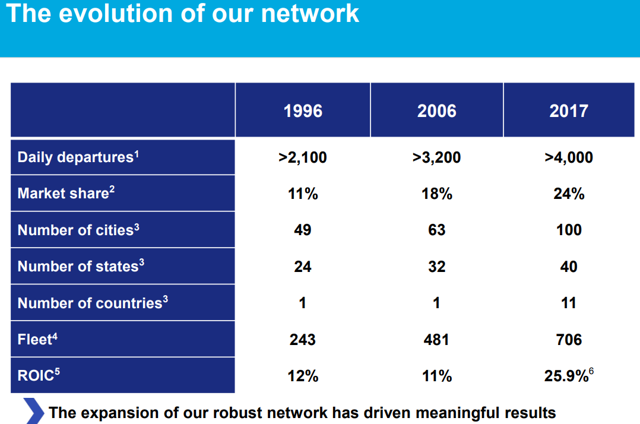 (Source: Southwest investor presentation)
Southwest's remarkable growth over the decades has been a result of three factors. First, it's continued to expand its reach, increasing the number of cities, states, and countries it flies too. Second, as it expands and achieves ever better economies of scale it can lower its unit price (operating cost per ASM), which it passes onto consumers to maintain its excellent value proposition. Finally, its ceaseless drive to maintain the best customer service in the industry and highly popular rewards program have allowed it to continually win market share (more than doubled in past 20 years).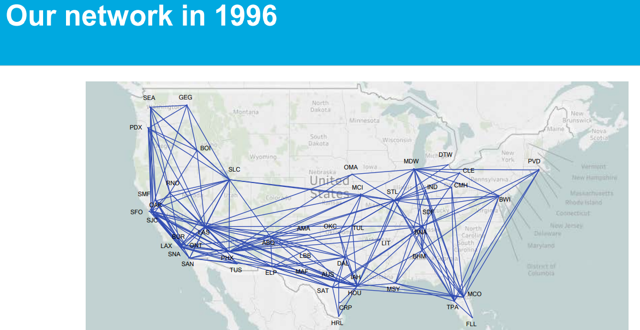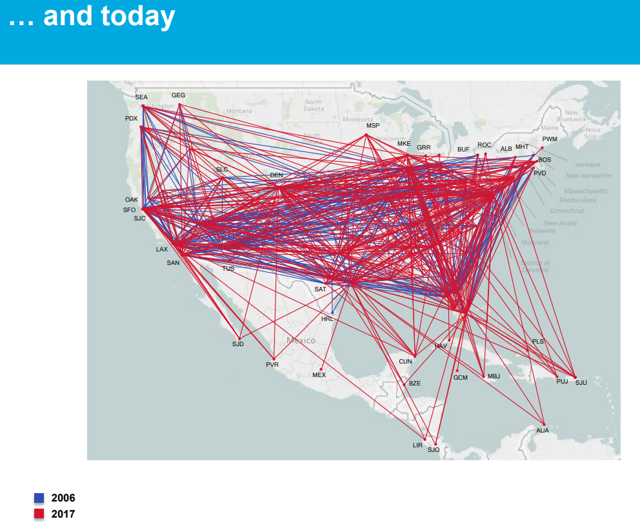 (Source: Southwest investor presentation)
These three factors have allowed Southwest's superior management to more than double its returns on invested capital over the past two decades. So, is Southwest done growing yet? Not by a long shot. The company has ambitious plans to continue modernizing and expanding its fleet so it can service ever more markets, including international ones. This involves growing the fleet at about 3% to 4% annually over the next few years (about 21 to 28 net plane additions annually).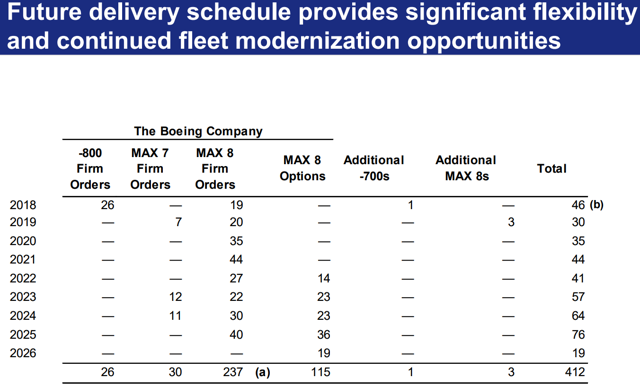 (Source: Southwest investor presentation)
Southwest's short-term growth will be fueled by launching flights to Hawaii out of: Oakland, Sacramento, San Diego, and San Jose, in late 2018 and throughout 2019. These are all cities where it's already has leading market share and a large customer base that can result in strong initial capacity. These new routes are expected to consumer about 40% of the company's fleet growth through 2019.
Over the long term, the biggest growth catalyst is international expansion. According to CEO Gary Kelly, Southwest plans to eventually increase the number of international cities it serves from 14 to 50. Most of those cities are expected to be in Latin America. This is for two reasons. First, Southwest has already broken into this market but has just barely scratched the surface of its growth potential. This means that it's building on existing market efforts (and learning what branding efforts work best) and is more likely to gain market share quickly compared to attempting to break into entirely virgin territory.
Second, Latin America is within the flight capabilities of its existing fleet, including its future 737s. Remember that one of the main reasons Southwest's profitability is so strong is because it sticks to just a handful of plane models, all based off the 737. Expanding to other continents would likely mean new airframes that would greatly increase maintenance and operational complexity and hurt profitability.
Southwest's other plan for boosting its earnings over time is through a focus on higher margin premium business travelers. Most domestic carriers have close to a 50/50 split between business and vacation travelers. Historically, Southwest has focused on the vacation side of the business (65% of revenue in last few years). However, going forward, management wants to boost business travelers to 40% (by 2022) to help increase revenue per average seat mile and thus help improve its already excellent profitability.
4. Valuation: Southwest Is A Wonderful Company Trading At A Very Attractive Price
Potentially, the biggest determinant of whether Berkshire will buy Southwest is valuation. Buffett is famous for his belief that "it's better to buy a wonderful company at a fair price than a fair company at a wonderful price". Southwest is certainly a wonderful company, but what does Buffett consider to be a fair price?
That's not necessarily easy to answer. But let's take a crack at it.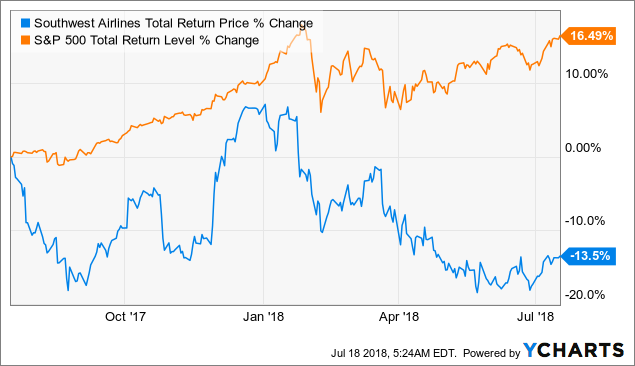 LUV Total Return Price data by YCharts
Southwest's 30% underperformance to the market over the past year is certainly a good start. However, ultimately, there are numerous ways to value a company (dozens in fact), and none is 100% objectively correct.
This is why I use a combination of valuation methods to build a robust valuation model to minimize the chance of overpaying for a company and thus maximizing overall returns.
The first is something called the Gordon Dividend Growth model, which has proven highly accurate since the 1950's. This model assumes:
starting valuation is roughly fair value
valuations are mean reverting over time (data bears this out)
total returns approximate yield + long-term dividend growth (assuming stable payout ratio so dividends grow in line with earnings and cash flow)
As I'll show in the dividend profile (coming up shortly), Southwest's EPS and FCF/share growth potential is very strong, meaning that it's total return potential is potentially around 17% per year over the next decade. Normally, I only recommend a stock if I think it has a reasonable chance to at least match the market (otherwise why own it over an index fund). To earn a place in my portfolio, I have a personal target total return target of 10% or more. On both counts, Southwest passes this first screen with flying colors. And even if analyst growth projections prove overly optimistic (certainly possible), the fact is that Southwest's current valuation is likely low, which means that multiple expansion is likely (boosting total returns).
In order to determine how likely multiple expansion is, I look at the forward PE ratio. From this, we can approximate what long-term EPS growth rate is baked into the stock. We can also compare it to the historical (20 year) PE ratio to see how high the valuation might potentially go.
| | | | | |
| --- | --- | --- | --- | --- |
| Forward PE | Implied 10 Year EPS Growth Rate | Historical PE | Yield | Historical Median Yield |
| 12.1 | 1.8% | 26.8 | 1.2% | 0.3% |
(Source: Gurufocus, Fastgraphs, Benjamin Graham)
Currently, Southwest's forward PE is less than half its historical average. Now granted, it's growth is likely to be lower than it has been in the past (see the risk section for why). However, the current valuation is pricing in about 2% long-term EPS growth which is likely a very low bar to clear for this world class management team. Thus, I'm confident that Southwest's multiple will expand in the future and thus potentially provide stronger total returns than the Gordon Dividend Growth model indicates.
Next, I compare the yield to its historical norm, both a five-year average and its 13-year median. I do this for two reasons. First, since I'm a dividend investor, this is the most relevant valuation metric to my portfolio strategy. Second, yields tend to be mean reverting over time, cycling around a relatively fixed point that can approximate fair value. The use of two time frames is to ensure that some change in the business model or industry isn't skewing the average yield.
For example, in this case, Southwest didn't start raising its dividend every year until 2012. This means that its 13-year median yield is artificially low and gives a false undervalued estimate of 75%.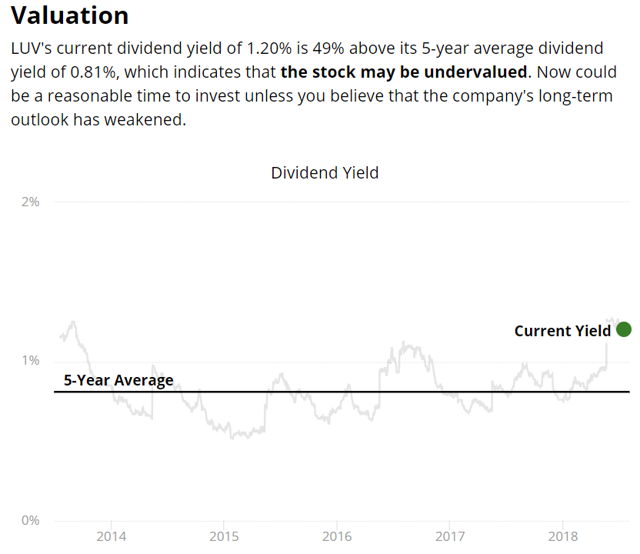 (Source: Simply Safe Dividends)
So, it's better to use the 5-year average yield which takes into account the yield since 2013, after the strong dividend growth began. The current yield is 49% above its five-year average indicating that Southwest is potentially very undervalued.
Next, let's consider a discounted cash flow analysis, which is theoretically the gold standard of valuation techniques. That's because a three-stage DCF model will estimate fair value based purely on the net present value of future cash flow. This old school technique is right up Buffett's ally, and something he is likely to do.
The trouble with a DCF model is that it requires numerous assumptions, including smoothed out growth rates for various time frames. It also involves a discount rate (your target return) which are different for each investor, including Buffett.
However, as one valuation tool among many, I consider it a useful augment to my model. For my DCF estimated intrinsic value, I usually go with Morningstar's estimate for two reasons. First, its analysts are 100% focused on long-term fundamentals, like myself and Buffett.
Second, they are notoriously conservative, often assuming growth rates not just lower than most analysts, but even below that of management guidance. This means that Morningstar fair value estimates are usually the low end of a reasonable valuation range. If they say a stock is undervalued, it's almost certainly true that the margin of safety is actually higher.
| | |
| --- | --- |
| Morningstar Fair Value Estimate | Discount To Fair Value |
| $58 | 8% |
(Source: Morningstar)
Currently, Morningstar is taking a very cautiously optimistic view on Southwest. It assumes massive competitive pressure from ultra low cost airlines will force the company to abandon its current approach of including perks like two free bags checked, and complementary food and drink. This is expected to hurt its customer service focused brand.
I consider that a very pessimistic outlook and disagree that Southwest will abandon its core principles that have led to its success for nearly 50 years. However, even with its ultra conservative view Morningstar still thinks that Southwest is at least 8% undervalued.
Putting all these valuation techniques together, I estimate that Southwest is actually 37% undervalued.
| | |
| --- | --- |
| My Estimated Fair Value | Discount To Fair Value |
| $84 | 37% |
(Source: Morningstar, Simply Safe Dividends, Gurufocus, FastGraphs, Benjamin Graham)
In my view, paying fair value for an industry leading blue chip like Southwest is a good long-term move. Buying it when its trading at such a large margin of safety is almost surely to be profitable. This is why I currently classify Southwest as a "strong buy".
But will Buffett agree and make an offer to buy Southwest? While I think he might make an offer, I don't think Berkshire will end up buying Southwest. That's not because the company isn't hands down the best airline in America. Nor is it due to failing to meet Berkshire's standard qualifications for a good acquisition. Rather it's purely due to the fact that to buy a company outright usually requires a substantial premium over the current price.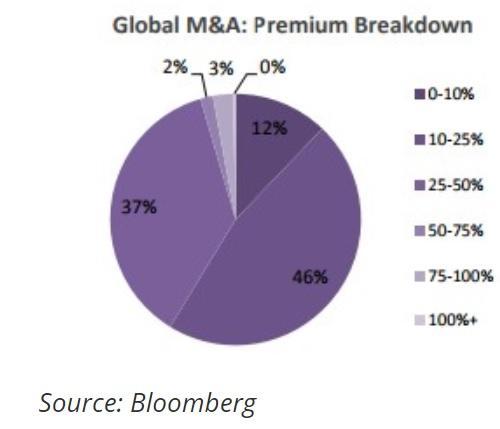 In 2016, 83% of mergers had a premium of 10% to 50%. Most fell into the range of 10% to 25%. The higher end was skewed mainly by large tech firms acquiring each other.
Let's assume that Buffett isn't as optimistic about Southwest as I am, nor as pessimistic as Morningstar. Splitting the difference, let's assume Buffett concludes the company is 23% undervalued.
Based on the historical premium data, this indicates that if Buffett offers a 23% premium to Southwest's current valuation ($38.1 billion), he would be getting it at "fair value", which he has indicated he is happy with. But would management and shareholders accept $65 per share in cash? After all, Southwest is a beloved company, just look at its ticker. It's richly rewarded investors in the past and both management and analysts think it has a bright future.
This is why I think that Berkshire is unlikely to end up actually acquiring Southwest. It might end up making an offer (of about $38 billion or so), but I don't think that management or shareholders would actually take it, on account of the company being so undervalued. Buffett is famous for making a "fair" offer, and then it's take it or leave it. He doesn't raise his offer, as we saw when he ultimately lost the bid for Texas utility Oncor to a higher one from utility Sempra Energy (SRE).
The upside of Berkshire likely buying Southwest is that it means that long-term dividend growth investors can. Which brings me to the biggest reason to own this company. That would be its safe and very fast dividend growth, which is likely to continue for many years to come.
5. Dividend Profile: Good Long-Term Investment Prospects
| | | | | | | |
| --- | --- | --- | --- | --- | --- | --- |
| Stock | Yield | TTM FCF Payout Ratio | Simply Safe Dividend Safety Score (Out Of 100) | Simply Safe Dividend Growth Score (Out Of 100) | Projected 10 Year Dividend Growth | 10 Year Annual Total Return Potential |
| Southwest | 1.2% | 28% | 96 (Very Safe) | 91 (Very Fast) | 16% to 17% | 17.2% to 18.2% |
| S&P 500 | 1.8% | 40% | | | 6.2% | 4% to 8% |
(Sources: Gurufocus, Morningstar, Fastgraphs, Multipl, Yardeni Research, Simply Safe Dividends, John Bogle)
The most important aspect of any income investment is the dividend profile which consists of three parts: yield, safety, and long-term growth prospects.
Now, I'll be the first to admit that Southwest's paltry dividend isn't something that instantly grabs the attention of income investors. However, what it lacks in initial yield it more than makes up for in safety and long-term growth potential.
For example, in the past 12 months, Southwest paid out a very modest 28% of its free cash flow in dividends. This allowed it to retain over $700 million in free cash to fund its aggressive buyback program (average of 4.5% shares repurchased over last five years). It also means that the payout ratio likely has a lot more room to expand because in cyclical and capital intensive industries such as this, a safe payout ratio is usually 45% to 55%.
Of course, there's more to a good dividend growth stock than just a low payout ratio. You also need a strong balance sheet to ensure dividend safety during downturns, as well as allow the company to invest in future growth.
| | | | | |
| --- | --- | --- | --- | --- |
| Company | Debt/EBITDA | Interest Coverage Ratio | Debt/Capital | S&P Credit Rating |
| Southwest | 0.8 | 66.9 | 23% | BBB+ |
| Industry Average | 2.5 | 8.9 | 58% | NA |
(Sources: Gurufocus, Morningstar, Fastgraphs, CSImarketing)
As we've seen Southwest has the best credit rating in the industry. That's thanks to its rock-bottom leverage ratio and sky-high interest coverage ratio. And remember that, on a net debt basis, Southwest's $400 million in net debt means its leverage ratio is just 0.08.
Which brings us to the most important part of Southwest's investment thesis, the likely long-term dividend growth rate. Currently, analysts are expecting Southwest's dividend to grow about 16.5% annually through 2028. Now, of course, all long-term forecasts must be taken with a grain of salt since they are educated guesstimates.
However, thanks to Southwest's low payout ratio, strong growth catalysts, and very impressive dividend growth track record, I actually think it has a reasonable chance of achieving those projections.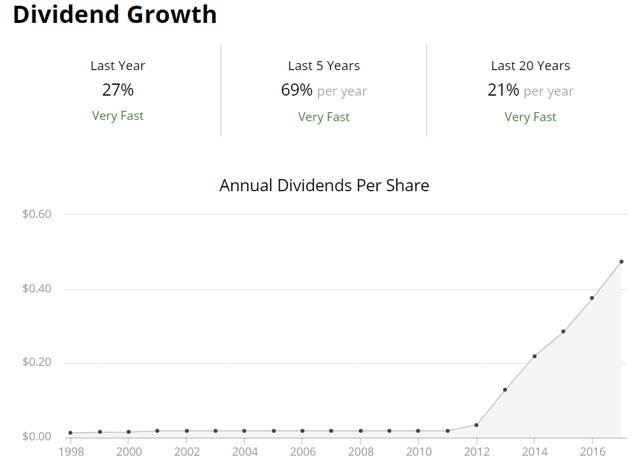 (Source: Simply Safe Dividends)
Southwest has been paying uninterrupted dividends for at least 33 years. Given that numerous rivals have gone bankrupt over that time (sometimes more than once), this alone is an impressive feat. Then, starting in 2012, Southwest became a world class dividend growth stock, hiking its payout at a prodigious rate (including 28% for 2018). The analyst consensus for the company's EPS growth over the next three years is currently:
2018-2019: 18% (tax cuts)
2019-2020: 7%
2020-2021: 34% (international expansion)
Assuming that free cash flow grows at a similar rate, I would expect Southwest's dividend to continue growing at least as fast as its bottom line, if not slightly faster due to payout ratio expansion.
Even assuming no multiple expansion from today's low levels, if Southwest is able to achieve these long-term growth forecasts, then it's likely to generate very strong total returns of around 17.5% over the next decade. That would not just more than quadruple your investment over the next decade, but likely crush the 4% to 8% annualized total returns the S&P 500 is likely to generate off today's valuations.
Combined with its highly attractive valuation this is why I consider Southwest a strong buy for any dividend growth portfolio. Assuming, of course, that you're comfortable with its risk profile.
Risks To Consider
While Southwest is a low risk dividend stock and the lowest risk investment in the airline industry, that doesn't mean that the core business model doesn't have its challenges.

(Source: Simply Safe Dividends)
For one thing, the airline industry is closely tied to the health of the economy. As you can see, during the financial crisis, Southwest's revenue took a hit (in 2009), and EPS fell off a cliff.
One of the reasons for this volatile nature of earnings is due to the variable nature of input costs. While Southwest does a great job in hedging fuel costs, there is ultimately only so much management can do to control costs, which can rise and fall in any given quarter. For example, management is guiding for operating costs per ASM to rise 1% to 2% in the Q2 2018.
Meanwhile, free cash flow (what pays the dividends) can be volatile at times as well. This is due to the lumpy nature of aircraft deliveries. In the coming years, a rising number of 737 deliveries could result in lower FCF, especially if a recession strikes in 2020 and causes revenues to decline. While Southwest's dividend is extremely safe, to maintain that safety means that management might need to cap the payout ratio at 45% to 55% to ensure a large enough FCF volatility buffer. This means that within a few years, Southwest's dividend will have to grow in line with EPS and FCF/share. While the long-term forecast is for fast growth over time, in this cyclical industry that growth isn't going to come steadily and every year.
This means in the future Southwest may be able to grow the payout very slowly or even have to freeze it in certain years. That could lead to some nasty price shocks due to Wall Street's focus on the short-term. For example, in the past year, LUV shares have been 41% more volatile than the S&P 500.
Next, we have to consider that while Southwest's brand is the best in the business, and its highly popular rewards program creates stronger than average consumer loyalty, that still doesn't mean Southwest won't face margin pressure in the future. That's because increased price transparency via online travel sites means that budget airlines can still steal market share by carving off its more price sensitive clientele. This is a potentially growing threat due to ultra low cost carriers like Spirit Airlines (SAVE) who have operating costs that are about 15% lower than Southwest's. Thus, the reason for a larger focus on business travelers whose tickets are paid for by companies, and where comfort and premium service create more brand loyalty. However, during a recession even business travelers might get stingy and so Southwest might face significant margin pressure during a recession.
Then of course we can't forget headline risk, specifically accidents that can temporarily tarnish the company's brand. I'm referring to the Flight 1380 incident, where a mid-air engine explosion caused debris to break a window and ended up killing 43-year old Jennifer Riordan. The event caused Southwest to briefly cancel its marketing campaigns, and management says there has been a small decrease in customer bookings as a result.
On May 2nd, 2018, flight 957 out of Chicago reported a crack in the window and was diverted and landed safely, with no loss of cabin pressure. However, while all such accidents are tragic, we need to keep in mind that Mrs. Riordan was the first fatality the company has ever suffered. In other words, Southwest has a stellar long-term safety record, and thus these events are unlikely to permanently impair Southwest's industry leading brand power. But they could result in temporary decreases in the top and bottom line (maintenance review now underway across the fleet).
Also, be aware that the airline industry does pose some legal and regulatory risks. For example, Southwest and Delta have been locked in a legal battle over gate space at Dallas' Love Field since 2015. Delta is accusing Southwest of monopolizing this highly lucrative market where American and Southwest command the vast majority of market share. While Southwest is likely to win this legal fight, these kinds of battles can slow growth in key markets, including those Southwest is attempting to expand into.
In addition, some analysts are worried that Southwest might be trying to expand too quickly. Specifically, that it might grow its fleet too fast, and attempting to win market share in new cities might actually cause its revenue per average seat mile to decline. Overcapacity is definitely not a new thing in the airline industry. In fact, overcapacity has frequently led to costly price wars that were the leading cause of so many bankruptcies over the past few decades.
Fortunately, given management's proven track record of long-term strategic thinking, I am not very worried that Southwest is going to attempt empire building that will lower its overall profitability. In fact, management has clearly stated that ensuring industry leading profitability is a key goal for the company.
Bottom Line: Buffett Likely Won't End Up Buying Southwest But You Should Consider It For Your Dividend Growth Portfolio
Don't get me wrong, I can see why Buffett likes Southwest enough to own 8.2% of the company. And given the fact that it's hands down the best airline in America and has pretty much everything Berkshire is looking for in large acquisition, I wouldn't be surprised if Buffett made an offer for the company within the next year.
However, I think that Buffett's bid would likely be too low for management or Southwest shareholders to accept. Thus, I think the company will remain independent, which creates a great long-term buying opportunity for those looking for a safe source of fast long-term dividend growth.