We recently came across a problem for a client that might be similar to something other investors, especially those who like to use ETFs or mutual funds as opposed to individual stocks, have encountered. One of the clients has a job that prevents them from directly investing in a significant list of individual stocks. Included in the list of proscribed stocks are many fast-growing, highly profitable technology companies with great economic moats and high returns on capital. Since we couldn't include some companies directly, we decided a technology-centric ETF was the next best choice. The question was, which ETF would give our client the best exposure to the types of companies we wanted in our portfolio?
S&P Technology Sector Fund?
At first you might think that this article is rather pointless. The S&P 500 already has a technology sector so just include a fund based on that such as the SPDR Technology Sector ETF (NYSEARCA:XLK). Well, take a look at the fund's top holdings.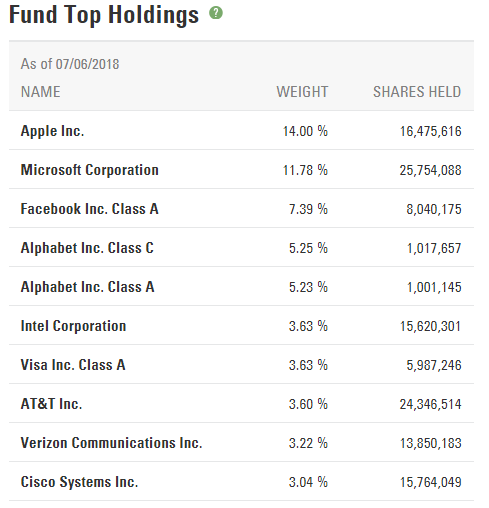 There are some big problems. Amazon (NASDAQ:AMZN) isn't included in the sector. We also have almost 7% of the fund in telecommunications stocks via AT&T (NYSE:T) and Verizon (NYSE:VZ). Not only that, other attractive, fast-growing, high return-on-capital companies like Booking Holdings (NASDAQ:BKNG) and video game publishers are not part of the sector. Instead, those companies and Amazon are part of the consumer discretionary sector.
S&P Consumer Discretionary Fund?
We could just invest in a consumer discretionary sector fund as well such as the Consumer Discretionary Select Sector SPDR ETF (NYSEARCA:XLY). Here are that fund's top holdings.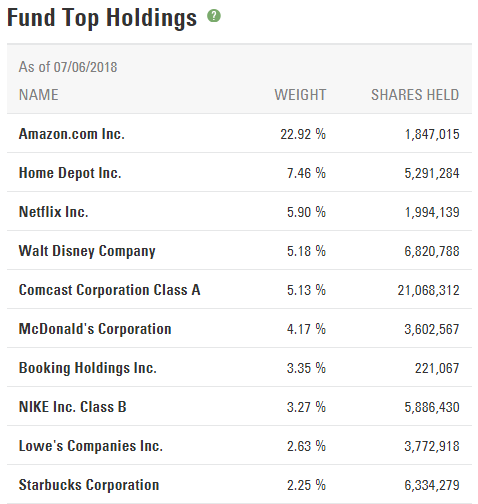 If we included this, we'd get our allocation to stocks like Amazon, Booking Holdings and other technology-type stocks such as video game publishers. However, we would also get substantial allocations to various media, retailers, and consumer goods-type stocks.
NASDAQ ETF
Another option is an ETF based on the NASDAQ stock index such as the Invesco QQQ ETF (NASDAQ:QQQ). The NASDAQ is very tech-heavy while also including many technology-like stocks that are part of the consumer discretionary sector. Below are the top 20 holdings (we count both share classes of Alphabet (NASDAQ:GOOG) (NASDAQ:GOOGL) as one holding) for the NASDAQ QQQ index.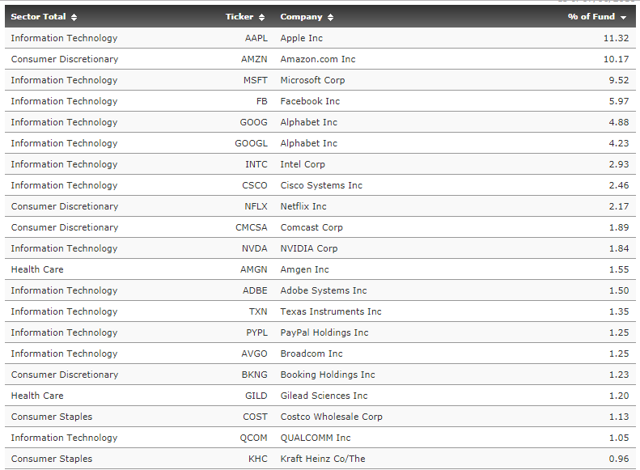 We get pretty close to market cap type weights amongst the major tech heavyweights, along with investments in companies like Booking Holdings and video game publishers (they fall outside the top 20). Below is the sector breakdown for QQQ.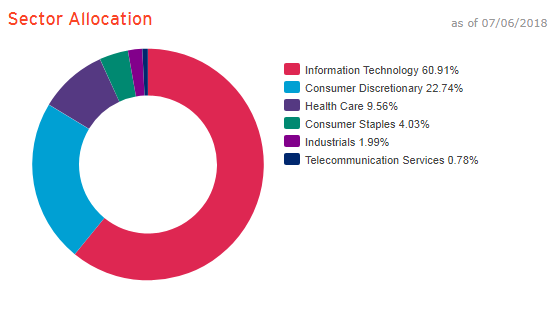 We also get some substantial investments in healthcare, which we aren't opposed to (we generally use index funds for our healthcare allocation anyway, so we can simply adjust the client's weighting to compensate for the healthcare holdings in QQQ).
The technology sector versus consumer discretionary sector breakdown in QQQ is roughly 75% to 25% if we excluded all other sectors. If we used a similar weighting to buy the XLK and XLY funds we would end up with approximately a 6% weighting in Amazon compared to an almost 11% weighting for Apple (NASDAQ:AAPL). We'd also end up with substantial holdings in stocks like Home Depot (NYSE:HD) (1.8% weighting), Disney (NYSE:DIS) (1.3% weighting), Lowe's (NYSE:LOW), Nike (NYSE:NKE), and McDonald's (NYSE:MCD). Not necessarily bad companies, just not quite what we are looking for in this particular investment.
Other Options
There are also some other smaller index based ETFs out there that focus on technology stocks. There is the First Trust Dow Jones Internet Index ETF (NYSEARCA:FDN). Expenses for an ETF that tracks an index are quite high at .53% and it's not very diversified. You don't get exposure to companies like Microsoft (NASDAQ:MSFT) or Adobe (NASDAQ:ADBE). It also lacks any allocation to video game companies or semiconductor companies.
The iShares North American Tech-Software ETF (BATS:IGV) is another option, again with higher fees with a .48% expense ratio. However, you don't get any exposure to Amazon which is curiously excluded despite having a substantial technology business in AWS. In addition, you have a huge weighting for Oracle (NYSE:ORCL) which we aren't a big fan of (but that's a subjective criticism). Returns for the ETF have been phenomenal as you might expect since software companies in general are characterized by very high returns on capital and nice profit margins. But for our purposes, the fund lacks diversification such as investments in semiconductor companies.
Summary
We found that using the NASDAQ was the best way to accomplish what we wanted for this client's portfolio – adding a diversified technology-centric fund. For investors looking to accomplish a similar goal, we think that using the NASDAQ as opposed to a combination of the technology and consumer discretionary sectors gives investors a more well-balanced portfolio. While QQQ is slightly more expensive with a .2% expense ratio compared to .13% for XLK and XLY, we think paying seven basis points to get a more suitable portfolio is worth it. Yes, you are "forced" into taking at 10% weighting in healthcare, which may or may not be a bad thing depending on your goals.
We think that provided an investor is okay with taking on some allocation to healthcare stocks, the NASDAQ makes the most sense for a well-diversified technology-focused ETF. If you want to overweight certain tech companies or certain types of tech companies, then the other index funds might be right for you.
Disclosure: I am/we are long QQQ, MSFT, AMAZN, GOOGL, FB, BKNG, EA, TTWO, ATVI.
I wrote this article myself, and it expresses my own opinions. I am not receiving compensation for it (other than from Seeking Alpha). I have no business relationship with any company whose stock is mentioned in this article.
Additional disclosure: We are disclosing all holding of any ETFs or stocks mentioned specifically by name in the article but are not disclosing any holdings we may or may not have in stocks that show up in the holdings of of each index/ETF.