By Jerry Wagner
In the summertime, it's always the same here. You ask a friend or colleague what they're doing on the weekend, and inevitably the answer is the same: "Going up north."
Michiganders love the fact that we are the Great Lakes State. But it's not just the Great Lakes that make us a "Water Wonderland." It's also the thousands of lakes that are within an easy drive of most residents' homes. Getting to the waterside is everything in the summer months.
I think the same phenomenon goes on in many states of the upper Midwest and East. While the specific destination differs widely, "going up north" is, I'm sure, a familiar summer phrase in Minnesota, Wisconsin, Pennsylvania, and New York.
July is also a time when investors receive their second-quarter reports on their investment performance. Most investors want to see that their investments have also "gone up north" - north of the applicable benchmark, that is.
This raises an important question: What is the applicable benchmark that investors need to be north of?
Like so many questions in life, the answer is an individual one.
Market commentators like to focus on a small number of indexes to fill this need. They do this because they have a general audience, and it's frankly easier to narrow their focus. One should never expect an investor's individual situation to be addressed in the opinions of the national media.
Instead, individuals should work with an advisor who focuses on their individual state of affairs and needs. That's why the entire industry of financial advisors and registered investment advisors was established and flourishes today.
In all of the states where "going up north" is popular in the summertime, heading that direction in the winter is not nearly as popular. More residents of these states and others would rather "go south" at that time of the year.
Similarly, while it may be appropriate to compare the aggressive profile of a particular investment strategy to the S&P 500, it's not appropriate to compare a conservative, moderate, or balanced investment strategy to such an index.
In such cases, the S&P 500 is not a benchmark but is instead an indicator of the market environment. It can help answer how that strategy did in a stock-friendly environment or, alternatively, in a volatile, sidewise regime. But since a conservative investor would never put their investments solely into the stock market, the S&P 500 should never be the benchmark for success of a conservative investment strategy.
What makes benchmarks valuable is their ability to trigger necessary action - to let the investor know when it's time to take another look at their investment strategy. Yet, in the media, benchmarks are often thought of, instead, as competitive steeds in a horse race and that you as an investor always need to be riding the winning horse.
Benchmarking should be like a travel search for a summer getaway. If you are looking for a rustic cottage on a lake, you shouldn't be searching under multi-faceted resorts. Your investing benchmark should be individualized to the goals you are trying to achieve.
"Going up north" is one of summer's great pleasures, but knowing where north is relative to what counts is essential. After all, the Arctic Circle is north of everything! If you go, take snowshoes not a bathing suit.
Market update
All of the domestic stock market indexes were "up north" last week - at least, they posted gains above zero. In fact, they were nicely above breakeven, with returns ranging from 1.5% to 2.30%. The latter return was for the staid, large-cap Dow Jones Industrial Average, which ran counter to the recent trend of top performance by small-cap stocks.
Despite this recent small-cap tendency, the difference last week between small-cap and large-cap performance (the Dow) was so great by week's end that the large-cap indexes had outrun all of the small-cap indexes in year-to-date performance. And this all occurred in the first full week with tariffs, which, of course, are supposed to favor small-cap company stocks over large-cap company stocks!
Earnings season started, and the results have so far continued the strongly positive tendency to outperform that we have seen demonstrated in the last two reporting periods. Most reports were for the mega-banks, and all but Wells Fargo (NYSE:WFC) exceeded expectations. In all, 86% of reporting companies beat estimates in both earnings per share and revenues for the second quarter. The pace quickens this week.
Economic reports also came down on the positive side of the ledger last week. Of the 14 reports, eight were better than economists had projected.
There were a number of inflation measures in last week's reports. They did nothing to dissuade us from believing that inflation is accelerating. Not only did four out of six reports measure inflation as running hotter, but two measures that seek to predict inflationary prices for the future showed the price gauges accelerating higher. In a survey of the inflation measures of 23 countries, Bespoke Investment Group found that only four (Mexico, India, South Africa, and Brazil) had a higher inflation rate than the U.S.!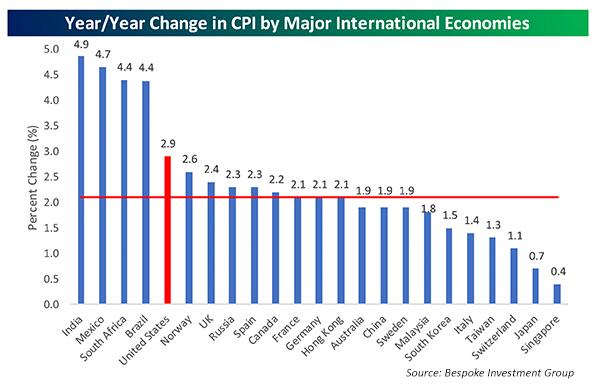 Of course, such upward movement in inflation means that it is likely that the Federal Reserve will continue to move interest rates higher. That not only hurts bond prices but could kill off the July rally in stocks.
Seasonality suggests there is more to come of July's rally. AAII Investor sentiment joined the party last week as well. We had a 15.2% increase in bullish sentiment, the biggest advance since the week after President Trump's election in 2016. Fortunately, the jump in confidence occurred from relatively low levels, so we are not at overconfident readings … yet.
We did move solidly "up north" on the NASDAQ Index last week. A new all-time high was registered on Friday. The S&P 500 continues to lag, but look at its cumulative advance-decline (A/D) line, which tracks its net number of gains over advancing issues. While the S&P 500 has not hit a single new high since it topped the charts on January 26, 2018, the A/D line has scored 17 new highs!
Like uninvited guests to a month-long summer cottage rental, such good performance brings with it the risk of overbought readings and a short-term market top. The 10-day-average chart of the A/D measure appears to be signaling this. As the record demonstrates (the red dot shows the peaks in the indicator superimposed on a chart of the S&P), a peak here could mean a 1% to 3% dip.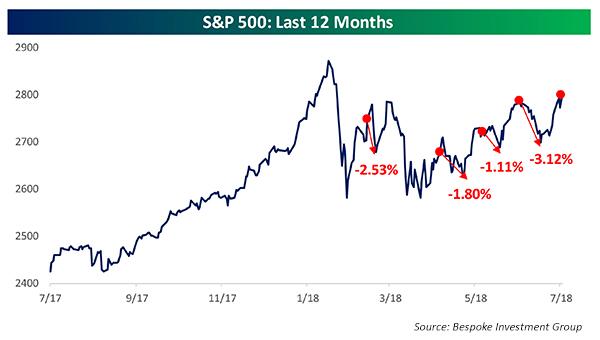 Regardless of whether this will occur this time around, I hope you and your families are enjoying a wonderful summer, no matter where your personal "up north" happens to be.