Which is the better investment: Gold or Stocks?
It's a battle as old as markets.
Gold Bugs and Stock Market Bulls are equally fervent about their investment of choice, often with complete disdain for the other side.
The story (since the gold standard was completely abandoned in 1971) goes something like this…
1972-1980
Gold Return: +1256%
S&P 500 Return: +97%
Narrative: Gold is the best investment in the world, and will continue to be so forever. There is hyperinflation in the U.S. and a secular stagnation in real growth. The only way to protect yourself is with gold. And by the way: no one should own stocks.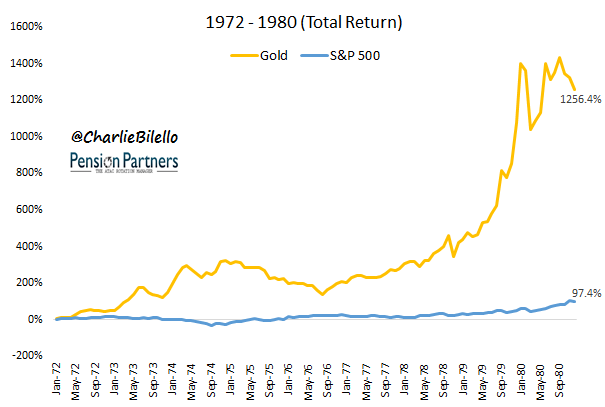 Data sources for all charts/tables herein: Stockcharts.com, Bloomberg.
1981-1999
Gold Return: -51%
S&P 500 Return: +1915%
Narrative: Stocks are the greatest investment the world has ever known, and will continue to be so. The internet age has forever changed investing returns and valuations; there is no upward limit to the growth in stocks in the coming years. The only way to participate in this new golden age is to be long and strong. And by the way: no one should ever own gold.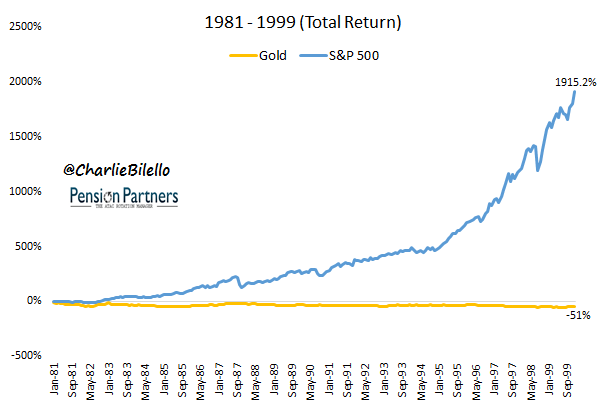 2000-2011
Gold Return: +443%
S&P 500 Return: +7%
Narrative: Stock investors have suffered through two 50% bear markets while gold has more than quintupled. These are deflationary, depression-like conditions and only gold can protect investors from what's to come. This is especially true given the endless "money printing" by central banks. And by the way: stocks are terrible investments.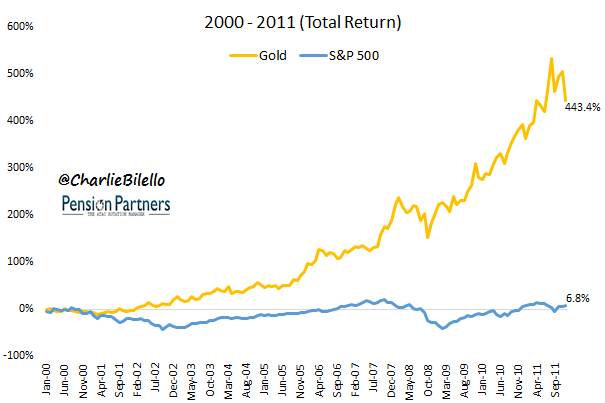 2012-2018
Gold Return: -22%
S&P 500 Return: +157%
Narrative: We're in a Goldilocks period of low inflation and easy money. This is unbelievably bullish for stocks and very bad for gold. This environment will continue forever. And by the way: Gold is just a pet rock.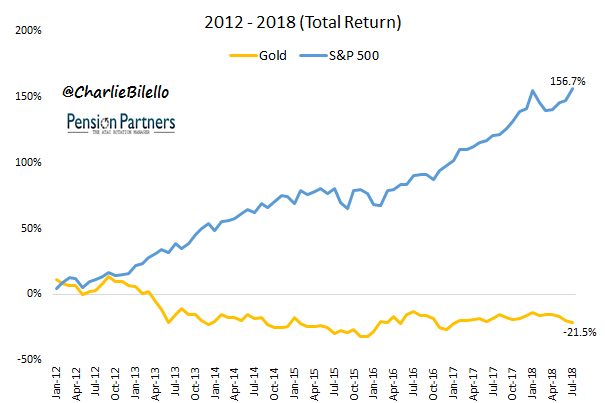 So who wins the battle?
As we have seen in the above charts, it depends largely on the time frame you choose. In 1980, gold was Mohammed Ali. In 1999, the S&P 500 was Rocky Marciano.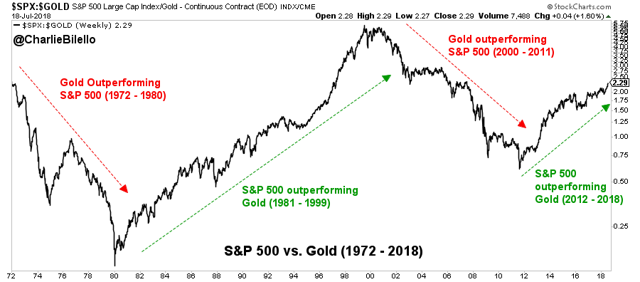 By changing the start and end date, you can frame almost any argument you want in this business.
Overall, since 1972, the S&P 500 has had a higher return (10.6% vs. 7.4% for gold) with lower annualized volatility (15.0% vs. 19.8% for gold).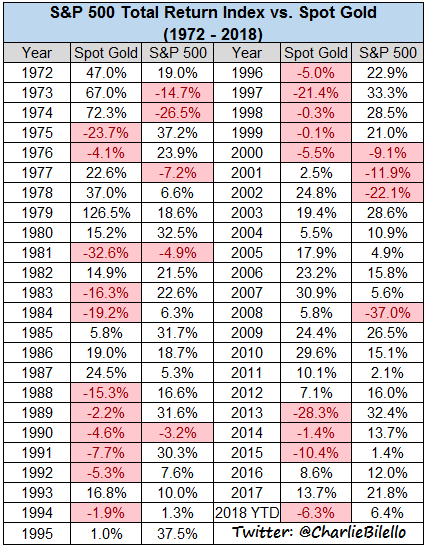 Note: 2018 year-to-date as of July 18, 2018.
On this basis, Stock Market Bulls would say equities are the better long-term investment. Agreed, but how many equity investors would be willing to sit through an 11-year period (2000-11) with essentially no return and two 50+% drawdowns in between? Very few, just as there are very few Gold Bugs who would sit through a 19-year period (1980-1999) where their investment was cut in half.
Which is why the real winner is neither Stock Bulls nor Gold Bugs. It is the investor who can actually remain invested through tough times in a single asset class by maintaining a diversified portfolio of multiple assets: stocks, bonds, real estate, commodities, and alternative investments. Combining uncorrelated assets has been shown to reduce overall portfolio volatility and improve risk-adjusted returns.
Don't bother trying to explain that to the Gold Bugs or the Stock Market Bulls. They both seem to have perfect foresight at all times, with the Bugs predicting another 1972-1980 and the Bulls forecasting another 1981-1999. Anything that doesn't confirm their existing bias falls on deaf ears, especially if it means something as simple as diversifying because no one can predict the future.