Autonomous vehicle definitions
Wikipedia defines an autonomous vehicle (also known as a driverless car, self-driving car and robotic car) as "a vehicle that is capable of sensing its environment and navigating without human input." It can be any vehicle - a car, a truck, a bus, a bike, a train, a ship or even a plane. Or it could be a drone or military vehicle. Furthermore "autonomous cars combine a variety of techniques to perceive their surroundings, including radar, laser light, GPS, odometry and computer vision. Advanced control systems interpret sensory information to identify appropriate navigation paths, as well as obstacles and relevant signage." You can read a list of benefits and problems here, as well as the five levels of autonomous driving (Level 1 - "hands on", Level 2 - "hands off", Level 3 - "eyes off", Level 4 - "mind off", Level 5 - "steering wheel optional" (no human needed in the car).
An autonomous vehicle may or may not be connected online. Current autonomous vehicles have onboard computing power and various cameras, sensors, Lidar/radar, but are not all connected online. Going forward as the 5G network develops it is likely that all autonomous vehicles will be connected. "Connected" vehicles are in touch with cellular networks, the cloud and/or cloud-based service offerings, including diagnostics, maps, infotainment and roadside assistance.
Almost all car companies and most large technology companies are in a race now to develop fully-autonomous vehicles. Many say that the technology will be perfected not long after 2020 and perhaps before, with many companies currently in test mode. Legislation is also embracing autonomous vehicles in many regions, but still has some way to go.
A look at the inside of a fully autonomous car of the future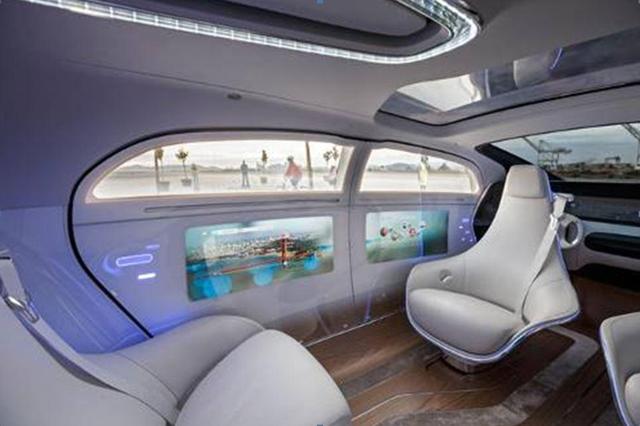 Autonomous vehicles timeline
1977 - The first autonomous intelligent car created by the Tsukuba Mechanical Engineering Lab in Japan.
1984 - Carnegie Mellon University's Navlab and ALV autonomous prototype cars.
1987 - Mercedes-Benz and Bundeswehr University Munich's EUREKA Prometheus Project.
1993 - The internet became widely available.
2015 - The US states of Nevada, Florida, California, Virginia, and Michigan, together with Washington, D.C. allowed the testing of autonomous cars on public roads.
2015 - Current - Most auto manufacturers, many tech companies (Alphabet Google (GOOG) (GOOGL), Apple (AAPL)), and ride sharing companies have been increasingly investing in autonomous vehicles.
Autonomous vehicle growth forecasts
Global self-driving car market forecast to grow at CAGR 25.7%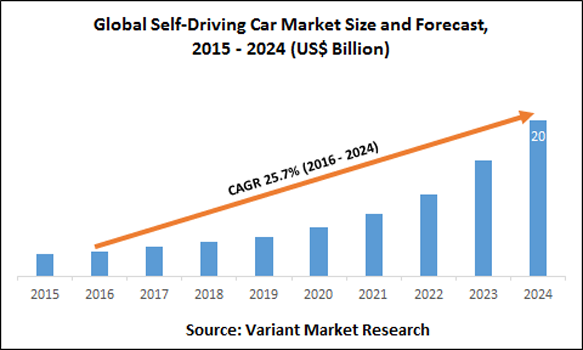 Autonomous vehicle forecasts by various research groups
An autonomous vehicle is able to analyze its surroundings and react

The leaders in autonomous vehicle testing
The graph below gives a good guide as to the main players and in particular how many miles have been tested as of 2016. Google (via their self driving car subsidiary Waymo) are the clear leader. Note Delphi Automotive is now Aptiv (APTV).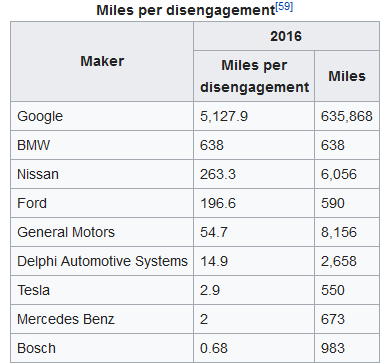 Automobiles Review reported the following in 2016:
Volkswagen's (OTCPK:VLKAY) experts say that driver-less cars will hit the market by 2019, while General Motors (GM) and Ford (F) predicts this to happen around 2020 ('or sooner'). Daimler-Mercedes (OTCPK:DDAIF) is being more safe in their predictions, saying autonomous vehicles would appear no sooner than 2025.
Note: GM has recently surprised the market with a large-scale launch of self-driving cars in U.S. cities in 2019. I discuss more on that below.
Alphabet Google via their subsidiary Waymo is leading the autonomous car race
Brian Collie, head of Boston Consulting Group's U.S. automotive practice states - "Waymo (Google) has developed a phenomenal system and is ahead of the pack... But that's very different from being able to manufacture an autonomous vehicle. You have to look at GM. In Europe, Daimler is leading the pack."
Waymo has teamed up with ride hailing app Lyft (NASDAQ:LYFT) for a future taxi business it seems, and are using Intel (INTC) chips to run their onboard computer systems.
Top 5 companies by number of autonomous vehicles currently testing on the roads
| | |
| --- | --- |
| Company | Number of autonomous cars on the road |
| GM | 104 |
| Apple | 55 |
| Google/Waymo | 51 |
| Tesla (NASDAQ:TSLA) | 39 |
| Drive.AI | 14 |
Note: The Chinese companies such as Baidu (BIDU), Tencent (OTCPK:TCEHY), and more recently Alibaba (BABA), are also advancing rapidly in autonomous driving.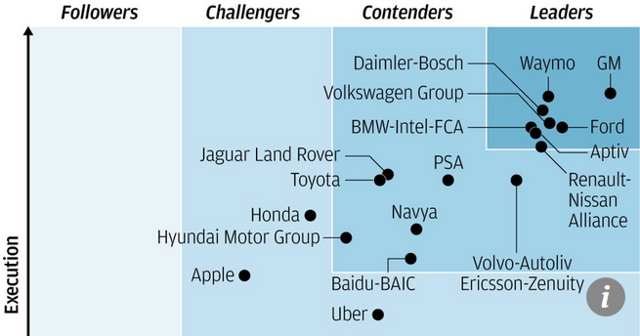 Source: South China Morning Post
How to benefit from the autonomous vehicles trend
The chart below, despite being a bit outdated, gives a good breakdown of the sectors likely to benefit from the autonomous vehicle boom. Below I look at some of the key players for most sectors.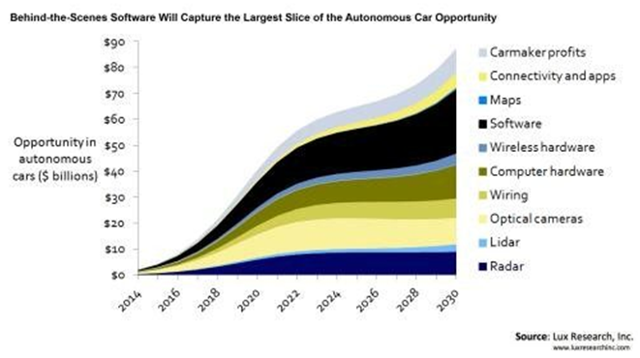 Car makers
The car makers that can team up with the ride sharing apps and that can master level 5 autonomy probably have the best chance to profit from the autonomous vehicle boom. Also those that can expand to other vehicles and be first to market to gain market share.
General Motors (and Lyft) recently announced that they plan a large-scale launch of self-driving cars in U.S. cities in 2019. GM will soon release "fully autonomous robo-taxis." They will be a modified fully electric Chevy Bolt with no steering wheel or pedals. You can read more here.
Tesla - Tesla is perhaps the best known due to its efforts to push forward with autonomous vehicles. Tesla is mostly a play on electric vehicles and energy storage with an autonomous vehicles potential upside. Elon Musk sees a future where people will share their autonomous vehicle to earn them some money. Tesla also may launch their own autonomous-ride sharing program in the future.
In 2017, Ford announced a $1 billion investment over the course of the next five years in artificial intelligence company Argo AI. Argo was founded by former Google and Uber (NYSE:UBER) leaders in artificial intelligence [AI].
Connectivity and data (and data centers)
Connectivity of vehicles ("smart connected cars") is just beginning now but it is more for the purpose of onboard entertainment and internet access. This is a separate trend that I discuss here. For now, autonomous cars don't need to be connected online; however it is expected that as 5G is developed autonomous cars will increasingly connect online. Other short range Vehicle-To-Vehicle [V2V] communications systems are also starting to be developed to enhance safety.
Google states: "Our cars communicate with the outside world only when they need to, so there isn't a continuous line that's able to be hacked, going into the car."
Autonomous cars produce a lot of data as shown by the picture below. Depending on the systems used data is typically processed by the vehicles onboard computer (with Intel or Nvidia chip). However, as 5G networks improve more data will most likely be sent and received via the internet to data centers for processing. I discuss the chip makers below under software.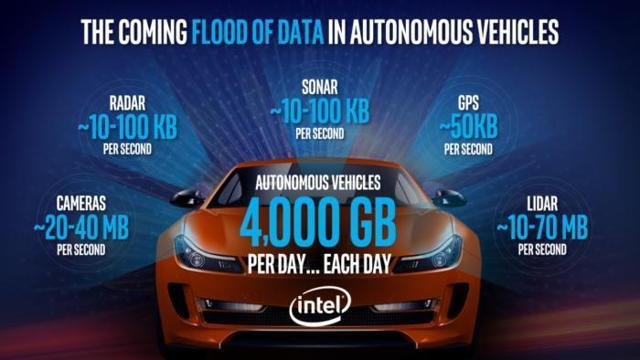 Source: Intel
Future 5G providers Verizon (VZ) and AT&T (T) stand to benefit as semi and fully autonomous cars become connected to the internet. A 5G network will be needed to handle the massive data flow.
Micron Technology (MU) has started supplying memory chips to autonomous car makers and is working on high-bandwidth memory products based on the graphics memory (GDDR) platform. The Company says it is "actively engaged" with automotive players to further advance GDDR technology.
Ford is investing $200 million in a new data center to support its driverless car program. Toyota (TM) is working with NTT (the parent of RagingWire Data Centers) to create a global infrastructure for its autonomous vehicles.
Also Cyber security companies stand to benefit. Investors could buy into the Cyber Security ETF (HACK).
Ride-sharing apps
Currently, all of these app companies (Uber, Lyft, Didi Chuxing, Grab Taxi, Ola, Gett, Mytaxi, and DriveNow) are private companies, and are not accessible to most investors. Alphabet Google and Toyota own stakes in Uber, SoftBank and GM have invested in Lyft, Apple and others (SoftBank, Alibaba, Tencent) have invested in Didi Chuxing.
Softbank has also invested in Grab Taxi (SE Asia) and Ola (India). Volkswagen has invested in Gett, Daimler in myTaxi, and BMW (OTCPK:BMWYY) has invested in DriveNow.
Payment services companies such as Visa (V), Mastercard (MA), and American Express (AXP), as well as some other payment providers such as Samsung Pay, Apple Pay, and Alipay (BABA) can do well.
Maps and GPS
Alphabet Google is easily the current leader in maps. In China, Baidu and Alibaba own two of the 3 major HD mapping companies. Nokia (NYSE:NOK), Uber and GM have also invested in map systems.
For more investors can read: "Nobody wants to let Google win the war for maps all over again", or "Baidu sees maps for self-driving cars as bigger business than web search."
Software
Nvidia is a leading chip supplier to the autonomous car industry and is also leading in the software development side. Nvidia's Xavier technology can process up to 30 trillion deep learning operations a second while drawing just 30 watts of power. CEO Huang states - "While cars on the road now are capable of detecting vehicles in front of them and braking when needed, the requirements for autonomous driving are dramatically more demanding. Instead, deep learning can enable us to train a car to drive, and ultimately perform far better — and more safely — than any human could do behind the wheel. We've really supercharged our roadmap to autonomous vehicles. We've dedicated ourselves to build an end-to-end deep learning solution. Nearly everyone using deep learning is using our platform."
Intel paid USD 15b in 2017 to acquire Mobileye, and launch themselves into the autonomous vehicles space. Mobileye is the No. 1 supplier of computer vision chips, which are used in advanced driver assistance systems (ADAS). Clearly ADAS has a huge growth runway ahead. Mobileye's technology is used by nearly two dozen automakers, including Audi, BMW, General Motors, and Ford. Intel also supplies chips for Waymo (Google).
Qualcomm (QCOM) is still looking to buy NXP Semiconductors (NXPI), with the deal currently on hold. NXP is a semiconductor company with a strong automotive focus, and a strong rival to STM, with their broad portfolio of automotive microcontrollers and processors. Qualcomm are also testing self-driving technology in California. The Company recently announced a chipset that lets cars communicate with other cars, as well as with infrastructure like traffic lights. The Company stated - "we certainly expect to be a key player in the autonomous space."
ON semiconductor (ON) is another with a strong auto focus.
Hardware and Wiring (and onboard computers)
Aptiv (formerly Delphi Automotive) is a global automotive parts technology company headquartered in Gillingham, Kent, UK. Aptiv provides complete vehicle electrical systems, integrating wiring and cable assemblies, electrical centers and connection systems. The company also makes electronic safety equipment for autos, and has developed autonomous vehicle technology. The company has become one of the top purer play stocks on the autonomous vehicle trend. They have partnerships with other important players in the sector such as Lyft and Intel.
Bosch (OTC:BSWQY) is a global leading automotive supplier. The Company has dedicated more than 2,000 engineers to driver-assistance systems.
Samsung Electronics (OTC:SSNLF) recently introduced an autonomous driving platform called DRVLINE, a hardware and software platform that will allow car makers to create customized, technologically advanced autonomous vehicles. Samsung is working closely with their subsidiary Harman. Samsung began testing autonomous vehicles in 2017, following their $8B purchase of Harman, a leading supplier of in-car technology and connected vehicle systems. Other car-focused tech products include the industry's first 5G-ready antenna to allow for fast data connections.
STMicroelectronics (STM) currently supplies 35 components on average for each new car produced, and is typically ranked as the leading auto smart technology provider.
ON semiconductor and IBM (IBM) are others in this area.
Nvidia has moved to make complete autonomous car systems including the onboard computers, using their own chips.
Optical cameras and sensors
Most cars are now being fitted with rear view cameras, and most autonomous vehicles will use 360% surround view cameras.
Sony Corp [JP:6758] (SNE) is the global leader for cameras, and is also continually improving their autonomous vehicle cameras.
Panasonic Corp. [JP:6752] (OTCPK:PCRFY) and Valeo [FR:FP] (OTCPK:VLEEY) are also leading auto camera manufacturers.
Mobileye (now owned by Intel) is a leader in supplying autonomous vehicle cameras.
Fabrinet (FN) manufactures auto products such as lasers, sensors, and cameras for OEMs.
ON semiconductor is another auto camera manufacturer.
Others include Sensata Technologies (ST) and Omnivision (private).
You can read more here.
Lidar/Radar
Lidar stands for "LIght Detection And Ranging." It is similar to radar but uses light laser pulse. On a self-driving car, the Lidar sensor is a spinning cylinder that usually sits on the roof.
The Lidar market is forecast to be worth $US 5.2 billion by 2022, with a forecast CAGR of 25.8 percent between 2017 and 2022. The chart below forecasts the Lidar market to be worth US$ 4.4b by 2027.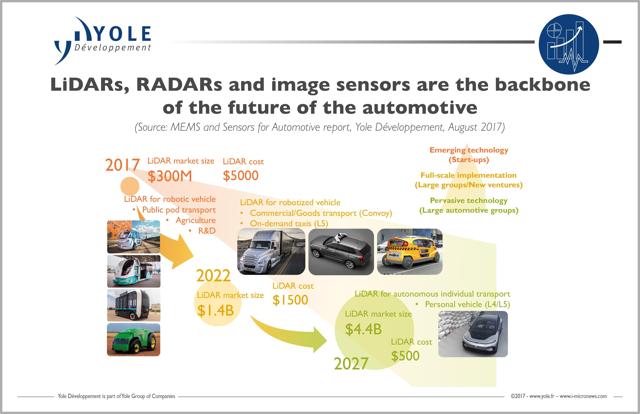 Velodyne Lidar Inc. (private) is a global leading Lidar manufacturer. Velodyne has emerged as the leading developer, manufacturer, and supplier of 3D real-time perception systems used in a variety of commercial applications including autonomous vehicles, vehicle safety systems, 3D mobile mapping, 3D aerial mapping, and security. Ford and Baidu have already invested in the company.
Others include Sanborn, TriLumina, Innoviz, Leosphere and Princeton Lightwave all of whom are private companies. There are also many Chinese Lidar manufacturers.
The only concern with investing in a Lidar company is most of them are private, Chinese competition will likely be cheaper, and companies like Google are developing their own Lidar. On the positive side, the sector should experience very strong growth.
Radar stands for RAdio Detection And Ranging. Generally radar is used for close objects that are in the blind spot for Lidar. The chart below shows some other uses.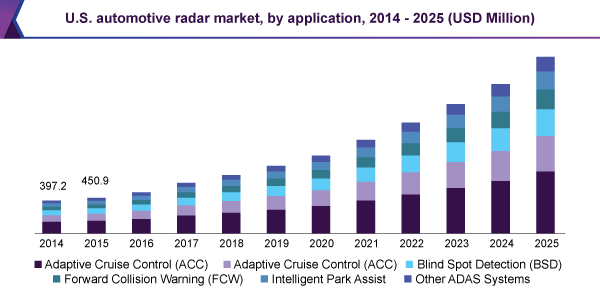 Global top sellers of radar systems include Lockheed Martin (LMT), Northrop Grumman (NOC), Raytheon (RTN), Reutech Radar Systems, and Rockwell Collins (COL).
A Google/Waymo autonomous car - Lidar and camera on the roof, radar near the bumper bar (front fender)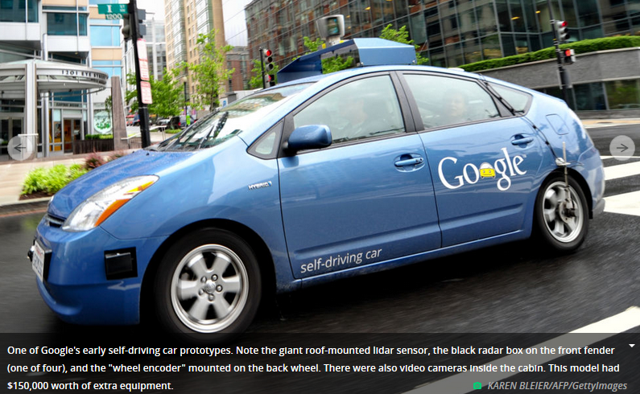 Onboard entertainment/advertising
If we reach full autonomy then the driver will be free to enjoy the ride, meaning onboard entertainment becomes a key ingredient. Consumers will expect internet access, and may use the time to work or to relax.
Clearly hardware (Apple, Samsung) and internet providers stand to benefit, as do content providers such as Netflix (NFLX), Amazon (AMZN), Apple, Facebook (FB) and Tencent [HK:700]. For now Alphabet Android Auto and Apple Car Play are some of the leaders on the hardware side.
Note: To learn more about how to benefit from the "connected" ("smart" car) boom where cars will be connected to the internet you can read my article in the further reading section.
An overview chart of various car part suppliers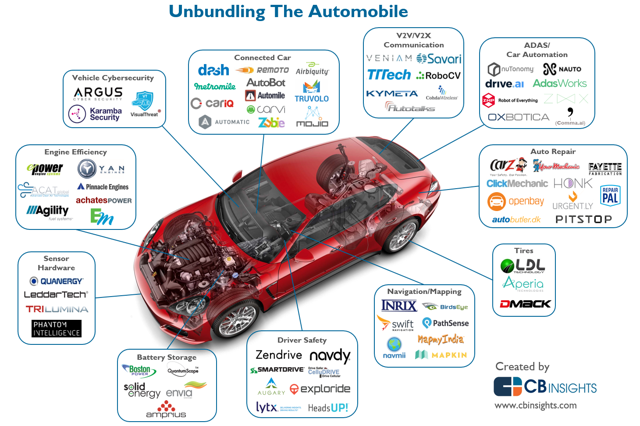 A fully autonomous all-electric Chevy Bolt - Planned for 2019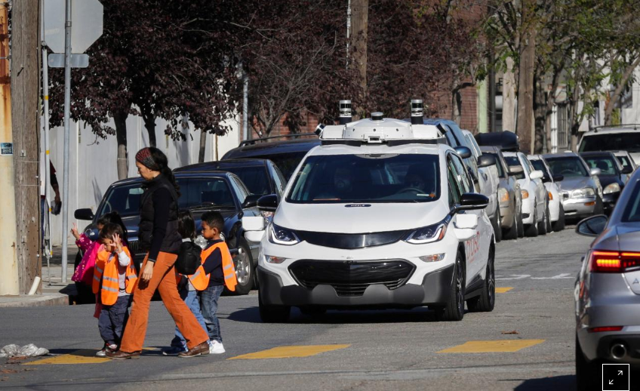 Chinese autonomous vehicle companies
I have not really covered the Chinese autonomous vehicle companies however, the Chinese are also very active in this area. The graphic below gives a nice summary of China's main players. Baidu is clearly the leader, at least for now. DiDi and Tencent are also very involved in the autonomous vehicle sector. Chinese bus manufacturer Yutong has been researching driverless buses since 2012, as is also a leader.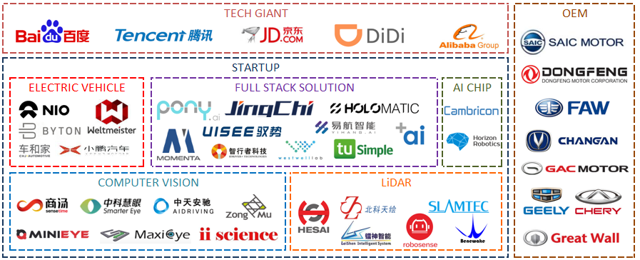 Other non-car companies involved in autonomous vehicles
SoftBank Technology Corp. [JP:4726], Apple, Uber (private), and Huawei (private).
Risks
Fully-autonomous cars may not end up mainstream due to many possible factors (accidents, insurance claims, legislation, fear etc). The public may backlash against autonomous cars.
The technology is still developing and may not make it to the point of acceptance.
Further reading
Conclusion
Step by step we are moving closer and closer to an autonomous world, with autonomous vehicles appearing already on our roads. In fact, GM plans to have fully autonomous robo-taxis on US roads in 2019.
The big prize is that of robo-taxis wherein consumers can just grab a cheap taxi with no driver, and perhaps even ride share. By using an electric vehicle and no driver most of the ongoing costs are removed leading to a cheaper service and a much more widely used service. Intel sees this as a $7 trillion industry by 2050. Logistics and military applications are also very appealing.
As far as how to best invest in the autonomous vehicle boom that is the billion dollar question. The answer will be that there will be many areas with good potential, but investors will most likely do best investing in those companies that have a competitive advantage (wide moat). This will mean selecting the leaders of each sector that are developing the leading edge technologies.
Opportunities exist in the vehicle supply chain particularly in sensors (cameras, Lidar, radar, GPS), and computer hardware and software. For now, the sector that stands out to me is software and connectivity. In those sectors, my choice would be Nvidia and perhaps Intel and/or Qualcomm. As a purer play autonomous vehicle company, Aptiv has appeal. Beyond that, I would look to invest in those companies that have the brand name, the technology, and the ability to disrupt markets.
Another approach can be to invest in the companies that are the most advanced in the autonomous vehicle space such as Alphabet Google, GM, Daimler, Aptiv, Ford, Volkswagen, Renault (RNLSY, Nissan (OTCPK:NSANY), and BMW. Or in China Baidu and perhaps Tencent. Alphabet Google is a clear leader with investments across several key areas. GM will most likely be the first auto company to have fully autonomous vehicles on the road by late 2019. Also both Apple and Tesla are well down the road towards full autonomy.
I will most likely follow this article with an article on my top 5 autonomous vehicle stocks to buy.
As usual all comments are welcome.
Trend Investing
Thanks for reading the article. If you want to go to the next level, sign up for Trend Investing, my Marketplace service. I share my best investing ideas and latest articles on the latest trends. You will also get access to exclusive CEO interviews and chat room access to me, and to other sophisticated investors. You can benefit from the hundreds of hours of work I've done to analyze the best opportunities in emerging industries, especially the electric vehicle and EV metals sector. You can learn more by reading "The Trend Investing Difference", "Recent Subscriber Feedback On Trend Investing", or sign up here.
My latest related Trend Investing articles are:
Disclosure: I am/we are long GOOG, FB, SAMSUNG ELECTRONICS (XLON:SMSN), BABA, MU. I wrote this article myself, and it expresses my own opinions. I am not receiving compensation for it (other than from Seeking Alpha). I have no business relationship with any company whose stock is mentioned in this article.
Additional disclosure: The information in this article is general in nature and should not be relied upon as personal financial advice.
Editor's Note: This article discusses one or more securities that do not trade on a major U.S. exchange. Please be aware of the risks associated with these stocks.