Overview
We spent the first half of the summer digging through opportunities in the Online Travel Agencies (OTA) space. We traveled from matured markets, the EU and US, to high growth ones in India, China and Latin America. In this report, we present our findings.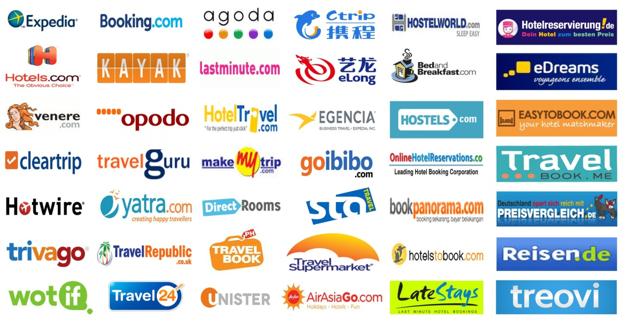 OTA business model
The list of OTAs above represents a small subset of companies operating in the industry. It may make you think the market is crowded, but in fact, it is fragmented and highly localized. Booking Holdings (BKNG) is the largest OTA by revenue, and Expedia (EXPE) is the second largest. This two combined command only around 14% of the total worldwide travel spending, which is estimated to be at $1.6 trillion in 2018.
OTA growth started in the early 2000s. Over the years, agencies learned that consumers purchasing behavior are increasingly complex. They check out several agencies, read reviews and also visit direct suppliers before making a purchase. As a result, you see an abundance of companies above. However, a closer look shows that many operate under a bigger umbrella, who either run several websites or localized them to fit in with the targeted demographic.
To generate money, OTAs operate several models. We will go through four models. The first is the Agency model. Here, the OTA earns a flat commission for bringing the travelers to the hotels, airlines or car rentals providers. Booking.com adopts this model. The second is the Merchant model. Here, the OTA buys hotel rooms or air tickets in bulk and sells it to travelers at a markup price. The advantage of this model is that the OTA shares the risk with the hotels and airlines.
Thus, it brings mutual benefits to both parties. On the other hand, the Agency model is more straightforward and requires less effort to win new suppliers. As we go through individual companies, you will see that an OTA would utilize a blend of both models depending on the product or region. The third and fourth models are Subscription and Referral. These two are less popular, but you will find that HomeAway runs a subscription holiday rent platform and Trivago (NASDAQ:TRVG) generates income through referrals.
In the long run, all these models need little investment to operate and are scalable. But to start, an OTA needs to build up a stock of air tickets, hotel rooms, and car rentals. It then requires a website to sell these products to the end users (travelers). These first two steps are the costliest of setting up an OTA. After which, they can turn the focus into maximizing traffic conversion. This later stage of the operation is low cost and highly scalable as the network effect grows.
Due to this attractiveness, the sector is competitive. Setting up a website now is not as expensive as before. The good news is the network of suppliers and users can act as a fantastic moat for the business. When reaching certain economies of scale, an OTA enjoys from a 10% net margin [Expedia] to even 35% net margin [Booking Holdings].
Macro trends and where to invest
Most of our investments are in the US, so when looking around the world, we are surprised to see the disparity in stock valuations. Some of the fast-growing economies are producing 6-8% growth each year. Their domestic demand is strong, and importantly are increasingly decoupling from the US. Perhaps, the disparity could be due to the fear of the trade war and geopolitical uncertainties? However, the depressed valuations we witness are very puzzling.
In the travel market, recent passenger traffic data shows 7.6% global growth. Meanwhile, the emerging markets recorded over 15% growth with India leading the way at 18%.
The bullish trend is unlikely to slow down as we see a lot more room to grow. Travelers in these countries still have to put up with exhausting bus and train journeys over air travel. Poor aviation infrastructure has been the main reason why this air travel penetration has been so low. In Argentina notably, for a developed country, it ranks 114 out of 141 countries in air transport infrastructure. But this is about to change as aviation restriction are heading for a facelift.
Market valuation of OTAs
So opportunities are plenty but where do we start? Which OTA has the right fundamentals and will enjoy this macro trend? Is there a case for chasing higher growth or sticking with more stable players?
The following chart goes directly to the market valuations and presents key metrics: P/S, P/E, P/OCF, and P/FCF. The wide ranges of these metrics are explained by various stages of growth, margins, debt profile and some cases geopolitical risks:
| | | | | | | |
| --- | --- | --- | --- | --- | --- | --- |
| Name | Ticker | Market Cap ($M) | P/S | P/E | P/OCF | P/FCF |
| Yatra Online | | 155 | 0.94 | - | - | - |
| MakeMyTrip | | 3,347 | 4.96 | - | - | - |
| Despegar | | 1,415 | 2.58 | 32.91 | 24.82 | 40.43 |
| Trivago | TRVG | 1,617 | 1.35 | - | - | - |
| Ctrip | | 25,687 | 6.20 | 54.07 | 24.09 | 25.90 |
| Expedia | EXPE | 18,261 | 1.76 | 55.84 | 10.22 | 17.36 |
| Booking Holdings | BKNG | 100,125 | 7.59 | 40.18 | 20.34 | 21.89 |
Source: Data collected by the author on 4th July 2018
A cursory view of OTAs
There are two distinct groups, in the mature corner, we have Expedia, Booking Holdings (formerly Priceline) and Ctrip.
In the smaller cap higher growth corner, we have MakeMyTrip, Yatra Online, Despegar.com. And somewhere in the middle, we have Trivago.
Booking Holdings - Europe
Our first stop is Booking Holdings, the undisputed leader and most efficient player in the OTA world. It operates predominantly in Europe and generates TTM revenue of $13 billion, $3 billion more than the second largest player, Expedia. With increasing competition, even from the likes of Google (NASDAQ:GOOG) (GOOGL), Apple (NASDAQ:AAPL), Alibaba (BABA), Tencent (OTCPK:TCEHY) and Facebook (FB), Booking has been more than able to stake its turf and even expand its bottom line.
Over the recent years, it has been busy acquiring a variety of travel sites (Kayak) and also a restaurant platform, OpenTable. Recognizing growth in Asia, it has acquired Agoda of South East Asia and partnered with Ctrip.com to get exposure in China.
But, the CEO Glenn Fogel's main focus is still on accommodation, as it is the highest margin segment. Additionally, he sees a definite threat from Airbnb (AIRB), particularly in alternative accommodations.
For us, Booking is a prototype of a successful business, and it deserves a separate report. Even at a $100 billion market valuation, it still recorded average revenue growth of 14.5% in the last three years. With no sign of slowing down, last year it registered 18% growth.

Source: Booking's 10-K FY 2017.
The high growth for a company of Booking's size indicates how vital macro trends can support growth. Yet, the core to its success is its discipline cost management. Despite all the effort on expansion, last year, its CAPEX remains tiny at 2.6% of sales. Impressively, its margin was maintained at a rate of 35%. As a result, Booking's FCF yield was at an astonishing level of 34.7%.
As such, we think the company deserves a hefty valuation of 7.6x sales and 22x FCF. If we look at its FCF growth in the past few years, at 20%, it even surpasses the three-year average of 14.5% revenue growth. Economies of scale work magic here. It is incredible to think that an OTA can generate 22 cents of pure cash for every dollar of sales! No surprise, it is also almost at a net debt position.
Expedia - America
Now, flying across the Atlantic, we have Expedia. At first glance, it seems like a value opportunity. For the second biggest player in the industry, it is trading at 1.76x sales and P/FCF of 17x, a discount compared to Booking. Yet, Expedia might be more of a value trap than opportunity.
There are two aspects why we don't rate Expedia. First, its business model and service line are less efficient ones compared to Bookings. It follows a merchant model, and it also relies far more on the air travel and car rental segments than Booking. These are lower margin business model and service lines relative to the Agency model and hotels. Secondly, Expedia is also slower in regards to expanding to higher growth geographies. These factors limit the margin and top-line expansion.
For example, Expedia acquired HomeAway in 2015 to add to its 590,000 properties and 1.5 million online bookable vacation rental listings. This number looks mediocre compared to Booking's 1,600,000 properties and 673 million room nights sold last year.
As a result, Expedia faces an uphill battle to improve its bottom line. The problem it has is that as it revenue increases, its margin drops, from 10% to now 5.3%. Unfortunately, the inferior margin pushed the FCF yield down to 10%. This is a respectable rate, but during the same period, Booking has been enjoying a 35% operating margin and 34.7% FCF yield. The 8th wonder of the world, 'compounding', tells us that Booking deserves to trade at higher valuations here.
One positive we can see in Expedia is that since 2005, it has seen its revenue from outside of the US increasing from 21% to 45%. Its goal is to eventually generate 60% of the revenue from these higher growth markets. To date, it has commercial agreements with most of the names in this report (Ctrip, Decolar - part of Despegar, Trivago - as a majority holding).
In summary, unless Expedia can navigate its business to higher margin segments and geographies, the company will continue to trade at depressed valuation compared to Booking. The only good thing to see here is that Expedia still has a very healthy balance sheet, with cash at $2.9 billion and long-term debt at $3.7 billion.
Ctrip - China
Now crossing the Pacific Ocean, we land on China, a region dominated by one player, Ctrip.com. It is another mature OTA, where it commands around 35% of the Chinese market. Compared to Booking and Expedia, Ctrip is by far the fastest-growing OTA (53% in the last three years), benefiting from a higher growth market. However, what stands out with Ctrip is its extremely asset-light business. The chart below shows just how efficient Ctrip is at reinvesting.
| | | | | |
| --- | --- | --- | --- | --- |
| Name | Ticker | Capex / Sales (TTM) | Net margin (TTM) | Last 3yr growth |
| Ctrip | CTRP | 1.8% | 11.4% | 53% |
| Expedia | EXPE | 7.1% | 5.3% | 20% |
| Booking | BKNG | 2.6% | 35.7% | 14.5% |
Source: Data collected by the author on 4th July 2018
But, upon looking at its valuation, we are not as excited. The market is pricing in too much of the growth to our liking. It values Ctrip at 6x P/S and 54x P/E. A closer look shows that its operating margin is also depressed, similarly to Expedia. This is because Ctrip also leans towards the agency model, which means more sales effort is required to acquire new suppliers. Consequently, Ctrip and Expedia have seen their net margin chopped in half over the last ten years.
Ctrip's position in the market is strong, and it has the size and efficiency to sustain its domination in the local market for the foreseeable future. But the price isn't appealing for us.
Trivago - Europe
Flying back to Europe, we have a well-known small-cap player. Trivago is 62% owned by Expedia, so investors who want to invest in the name could also invest through the exposure in Expedia.
The company earns its business by directing travelers to relevant booking sites such as Booking.com and Expedia. In exchange for this service, it receives a referral fee.
Of late, Trivago looks cheap, its price chart is exactly what a deep value investor would want to dig further. It is currently trading at around $4.50/share.

In fact, it is currently at its cheapest since the IPO back in 2016. Said another way, investors can buy a more established OTA today for a third of the price. So, despite the growth, why is it at such a discount?
The core reason here is that investors were expecting Trivago to be an ultra-growth stock. Investors were hoping Trivago to continue growing at 50% each year. When FY2017 results came at 'just' 37% top-line annual growth or 13% below investors' expectation, investors turned sour and dumped 30% after the latest Q1 results.
The other dire issue is the headwinds of the referral model. Its referral fees will be squeezed as booking sites cut out the middlemen like Trivago to attract travelers directly. Secondly, despite operating for a decade now, economies of scale are yet to be seen. Its expenses are not retracting as fast as revenue is growing. The last Q1 results showed that costs increased by 13% compared to a 3% decrease in revenue YoY. Additionally, cash has been on a steady decline as the operation is burning cash at an accelerated pace.
Unless Trivago can turn around some of these metrics, investors will keep hitting the exit doors. SA's authors are rightly bearish on the stock at the moment.
Despegar - Argentina
After touring all the mature markets, finally, we travel afar. Landing in Latin America, we have a recent IPO OTA in Despegar.com. The company operates across Latin America. Under Despegar.com in Argentina, it generated 40% of its revenue, and under Decolar.com in Brazil, it generated 25% of its revenue. The remaining revenue is spread across the region.

Source: Despegar 20-F FY2017
Since 1999, Despegar is one of the earliest OTA. It has climbed to the top in the region as the most recognized brand and the largest in revenue. It also generated positive FCF last year, at 6.4% FCF yield. Moreover, it registered a respectable gross margin of 71% and a net margin of 13% last year. With zero debt, Despegar is a pretty safe 'OTA' to dive deeper.
As previously suggested, Latin America is still very much in its early inning of growth in travel. Lying somewhere in between the economic prowess of India and China, Despegar is also about to benefit from increasing mobile penetration (40%) and relaxed aviation regulations.
Despite, our concerns are two-fold. First, Despegar's valuations at 2.5x Sales, 32x Earnings and 40x FCF are not screaming cheap. Its total revenue growth over the last two years is only 15%, even slower than some of the more mature ones.
Second, the economic situation in Brazil and Argentina is not reversing quickly enough. Currencies' depreciation may entice more foreign tourism, but local travel will be negatively affected. If the situation deteriorates, Despegar's stock will be a victim of the overall market turmoil from here. Investors wishing to investigate deeper should check out Ian's bullish case for a $41-58 target price and Edgar Torres's bear case.
Yatra - India
In our final leg of the journey, we land on the fastest growing travel market, India. Here, the airline ticket market is growing at around 18% per year. Investors will find two dominant players in MakeMyTrip.com and Yatra Online. Both listed on the US market.
A quick screening shows MakeMyTrip is a volatile stock. As the number one OTA in India, the market puts a lot of hope in the valuation of the stock. Current valuation metrics confirm it's not at the right range for us to look further. Trading at 4.7x Sales, almost four times more than Yatra yet the growth rate is at 31% compared to 47% at Yatra. After a cursory look, we are more interested in Yatra.
Yatra has not had a long history of performance; it's challenging to guesstimate earnings and free cash flow at this point. Despite, we find Yatra to be a promising investment as the upside potential is massive. First, the company is growing three times the market growth. That means, as the Indian market grows, Yatra is taking more businesses from competitors. Secondly, we like that Yatra's strategy focuses on corporate customers.
We feel this is the right market entry approach in a country like India. The average salary is still under $2000 per person per year. The low level of disposable income means that leisure travel remains a low priority. Consequently, the majority of the population's first experience of traveling comes from a business trip. If Yatra can gain its foothold in the corporate market, it will have a free ticket to the family and leisure market in the future.
The most significant risk to investing in Yatra is that it is unproven. We have concern for its liquidity position, which may end up in further shareholders' dilution. The most recent one was three weeks ago at an offering price of $5.50. Yatra expects to raise $50M from this share issue.
First looks at Yatra imply that it's cheap, but the price will be capped by the recent equity raise. A few of the high-performing funds have been buying and value it at $15+. We may publish a dedicated report on this name.
Conclusion
This concludes our journey around the OTA world. We hope it has been fruitful. There is a lot to like here. It takes OTAs many years to build an efficient platform before generating free cash flow and paying dividends. But, the latter stage of the business is asset-light coupled with a favorable macro trend guarantee that some of these companies will do well going forward.
Of course, OTAs are not immune to investment risks. Early stage OTAs are prone to dilution and execution failure. More established ones are susceptible to model inertia and overpaying for acquisitions. And none are exempt from geopolitical risks. Latin America stood out at the moment.
Finding investments in the space was not straightforward. We failed to find a no-brainer. Exciting businesses equated to unexciting prices such as Ctrip and Booking. However, we now got a list of quality businesses that we would want to invest when their prices are at a discount. We need to be patient until that moment comes.
Thank you for traveling with us! We welcome further discussion, and we will also be publishing more in-depth analyses of some of these names. Follow us to get a timely alert. Do not hesitate to comment and happy globe trotting.
Disclosure: I/we have no positions in any stocks mentioned, and no plans to initiate any positions within the next 72 hours. I wrote this article myself, and it expresses my own opinions. I am not receiving compensation for it (other than from Seeking Alpha). I have no business relationship with any company whose stock is mentioned in this article.
Editor's Note: This article discusses one or more securities that do not trade on a major U.S. exchange. Please be aware of the risks associated with these stocks.