It seems every month for CEFs, there is a new round of distribution cuts at funds. This shouldn't be any surprise as many funds pay out simply unsustainable distributions over the long run. Investors in CEFs know that this is just a part of everyday life, sacrificing distribution growth for the sake of high current income. This doesn't necessarily have to be the case, though, as there are some funds that have a history of increasing distributions for their shareholders. These gems are few and far between, and I would even venture to say they are breaking the mold of what is expected.
I think it's really simple. CEFs typically pay out 8% or more, and most investors realize that they shouldn't expect much growth. The high payouts work very well for investors that are retired and searching for income to pay for their retirement. There are also the investors that are drawn to the high distributions that utilize a little different strategy. They will take these monthly or quarterly cash distributions and reinvest the distributions in other funds. This kind of provides "distribution increases" in an indirect way, as these investors that don't need the cash can then reinvest and increase their next month's income.
Some of the funds covered today have a long history of increasing their distributions from inception. Some have only short histories of increases of the past few years. This isn't a list on sustainability of the distribution so I would encourage any potential investor to dig further into the funds and do their own due diligence. The list is also in no particular order, so don't focus on where the fund falls on the list. In addition, I do think that all the funds listed have the potential to fit in an investor's portfolio, and I didn't include any that I would personally avoid.
Pimco Dynamic Income Fund (PDI)
PDI is quite a popular CEF here on Seeking Alpha, Pimco, in general, is a popular fund sponsor. PDI has a primary investment objective of seeking current income, with a secondary objective of capital appreciation. The fund has a pretty flexible investment strategy of investing in fixed income. The fund will invest anywhere that the managers believe will provide the best returns for their investors.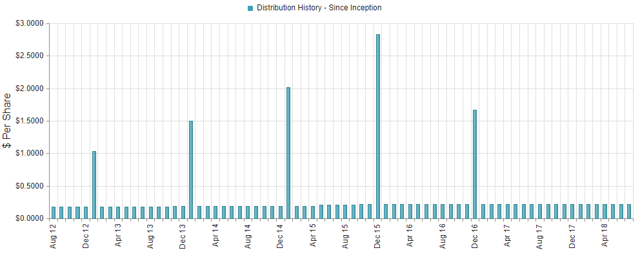 Source - CEFconnect
With an inception date of 5/25/2012, this fund avoided the 2008-09 financial meltdown. This is worth noting as during that period many funds struggled and had to cut their distributions.
The fund started with a monthly payout of $0.1770 at inception and has grown to the current $0.2205 monthly payout, with three increases in its almost 6 years of existence. Investors may do well in this fund with Pimco seen as fixed income experts.
Reaves Utility Income Fund (UTG)
UTG is one of my favorite funds. I never get sick of touting this fund around Seeking Alpha. That's because I believe the fund is a great fit for many investors.
The fund invests primarily in utilities that can provide protection during times of uncertainty, with an investment objective to provide a high level of after-tax total return. The fund invests in dividend-paying common stocks, preferred securities, and debt instruments related to the utility industry.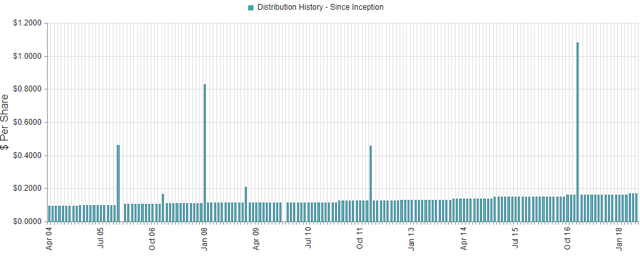 Source - CEFconnect
This fund has a long history of distribution increases since its inception, not having to cut its distribution once. The fund started with a distribution on a monthly basis of $0.0967, to its current payout of $0.17 today. Over the course of its history, there have been 10 increases. The real kicker too is that investors can pick shares of UTG up at a discount of -8.05% to its NAV per share.
Cohen & Steers Infrastructure Fund (UTF)
Another one of my favorites is UTF, the fund has a similar history to the above UTG. UTF invests in consistent dividend payers as well, through infrastructure companies. These companies provide the physical assets that are used on a daily basis whether it's through; utilities, roads, airports, railroads, marine ports, and telecommunication companies.
The fund also similarly to UTG has an investment objective of providing total return.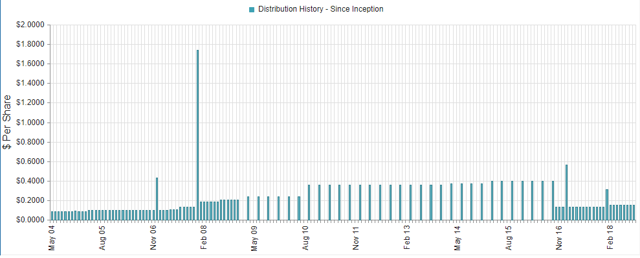 Source - CEFconnect
Worthy of noting is the fact that this fund did cut its distribution in 2009 when the company switched from a monthly to a quarterly distribution. They then switched back to the more attractive monthly payout. Some funds will switch from a quarterly pay to a monthly pay and try and mask a distribution cut. This is not the case with UTF, as the fund managers switched from quarterly to monthly and kept a level rate.
UTF started with a distribution of $0.085 and increased over its history to the current monthly rate of $0.1550. While the fund did cut in its history through 2008-09, this fund still deserves a good look for income investors.
John Hancock Tax-Advantaged Dividend Income Fund (HTD)
This is a fund I've written on in the past and believe it warrants a look from other investors. HTD has an investment objective of a high level of after-tax total return. The fund attempts to achieve this through investing the majority of its assets in dividend-paying securities, with an emphasis on tax advantages. The fund does have a large exposure at the moment to the utility sector, making up approximately 51% of its holdings.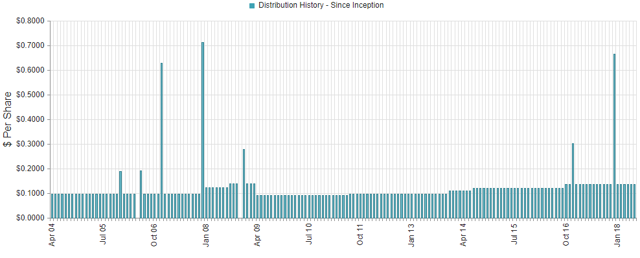 Source - CEFconnect
The fund started out with a monthly distribution at a rate of $0.0967 per share. The fund then hit a high distribution mark of $0.14 in 2009. The fund subsequently had to cut the distribution through after that period. While the fund hasn't recovered to its high mark, with the current payout at $0.1380, several increases since then have started the recovery towards that mark.
Calamos Strategic Total Return Fund (CSQ)
This could be put down as one of my favorites as well. I've covered CSQ a couple of times in the last few months as I believe it is a fund worth a look.
CSQ has an investment objective of total return through a combination of capital appreciation and current income. The fund will invest in a flexible strategy of equities, convertible securities, and high yield corporate bonds. This gives the managers plenty of options to move around holding to try and achieve enhanced returns.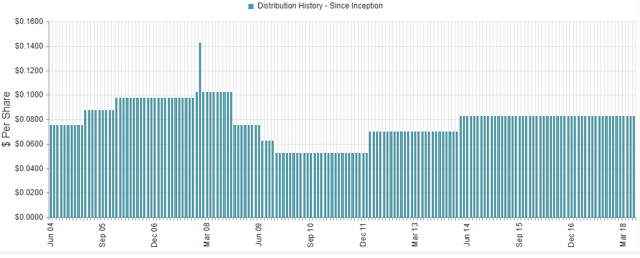 Source - CEFconnect
This fund is a little different than the above funds in the fact that it doesn't have the same length of history for distribution increases. However, I believe it is still pertinent to this article for its increases since 2008. If anything, this chart can show that the managers are always looking for the best balance for its distribution. The fund not being afraid to cut a distribution can be seen as a positive to the sustainability of the fund.
CSQ started with a monthly distribution of $0.0750 and made it to the high mark in 2008 of $0.1025, and after decreases and increases, the fund has a current payout of $0.0825.
Other Funds Worth Noting
The above funds are, of course, not the only funds that have had increases over the years but ones that I believe are a good starting point. However, there are a few more funds that I wanted to include but are a little bit unique than the above funds.
Guggenheim Strategic Opportunities Fund (GOF) may be enticing for some investors. The current distribution for GOF is at 9.87% and paid out monthly at a rate of $0.1821. One of the reasons I didn't want to include this fund in the list above is the fact that the fund trades at a sharp premium above its NAV per share.
GOF invests in primarily the fixed income sectors, with a large portfolio concentration currently of bank loans. The fund also has an investment objective of total return.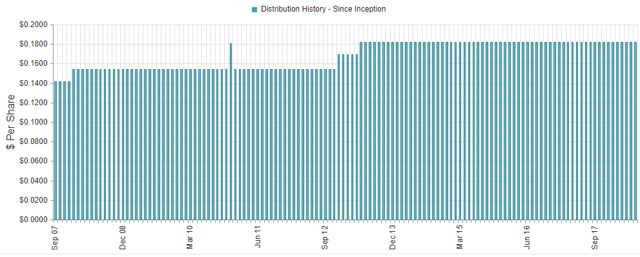 Source - CEFconnect
GOF has only had distribution increases in its history, even if just a few times. The real perk of this fund is the almost 10% distribution yield, and also worthy of noting is the fact the fund kept intact its distribution through the 2008-09 financial crisis.
Another fund worthy of mentioning is Pimco Dynamic Credit and Mortgage Income Fund (PCI), another popular Pimco fund here on Seeking Alpha. PCI has a slightly shorter history than the above-mentioned PDI fund, with an inception date of 1/29/2013. PCI has an investment objective of seeking current income. In the past, PCI had a different fixed income strategy compared to its sister fund, PDI. This has now been changed to potentially follow the same success that PDI has previously had over PCI.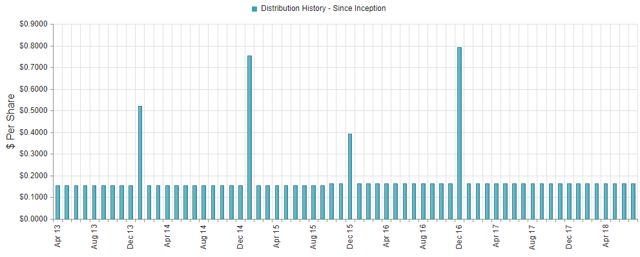 Source - CEFconnect
With only one increase in PCI's history, I decided to keep this fund off the above focus list due to better candidates mentioned above. This doesn't necessarily mean that it is not worth taking a look at now, though. I even own some PCI in my personal portfolio.
Conclusion
The normal CEF investor can expect distribution cuts in the future, but this doesn't necessarily have to be the case as some funds have had history of increases. This isn't as common for most CEFs because of their already large payouts. This list can potentially provide a good starting point for investors that are looking for funds with growing distributions, although, just because a fund has increased in the past doesn't mean they are guaranteed to perform the same way in the future. So please, always do your own due diligence and find the right fit for yourself!
All information was current as of July 4, 2018.
Please feel free to leave any questions or comments below in the comments section! If you like this article, please consider clicking the "Follow" button above to stay up-to-date on future articles.
CEF/ETF Income Laboratory: Premium Income and Arbitrage Strategies
Nick Ackerman's select work is being featured first on CEF/ETF Income Laboratory, a Marketplace service on Seeking Alpha by Stanford Chemist focused on income and arbitrage strategies for closed-end fund (CEF) and exchange-traded fund (ETF) portfolios. Members receive exclusive subscriber articles and an early look at public content with more actionable recommendations and ideas.
To find out why one subscriber calls us a "one-stop shop for CEF research," join us by clicking on the following link: CEF/ETF Income Laboratory.