Summary
A look into a low correlation portfolio with an emphasis on dividends.
How specific stocks are driving market performance this year.
How this portfolio has lowered my beta while still yielding solid returns.
Investment Thesis:
I created a new kind of portfolio in 2018 that attempted to reduce risk without the use of fixed income. My portfolio is made out of entirely common stock with a focus on REITs. With this strategy, I've been able to so far outpace the S&P 500 in 2018. But I have been able to cut down on a lot of volatility. I have chosen to try to reduce risk and volatility through diversification through low correlation between assets. I have used fundamental analysis to pick specific stocks I felt were oversold. I feel choosing specific stocks instead of ETFs can be a good strategy in a market that is being driven by a low number of stocks.
S&P 500 is being Driven by few Stocks:
As can be seen from the image above lots of the gains this year for the S&P 500 have been due to tech and consumer discretionary. 10% of the 13.9% gain from consumer discretionary is due to Amazon (AMZN). The tech sector is also dominated by a couple key standouts like FAANG and Microsoft (MSFT). The S&P 500 is up, but that is only from a few standouts. Most of the stock market has struggled. The benefit of picking specific stocks has been extremely important in today's market.
Portfolio Summary:
I started my portfolio on 2/22/2018. These are the results so far.
| | |
| --- | --- |
| Portfolio Performance | 4.91% |
| SPY Performance | 4.81% |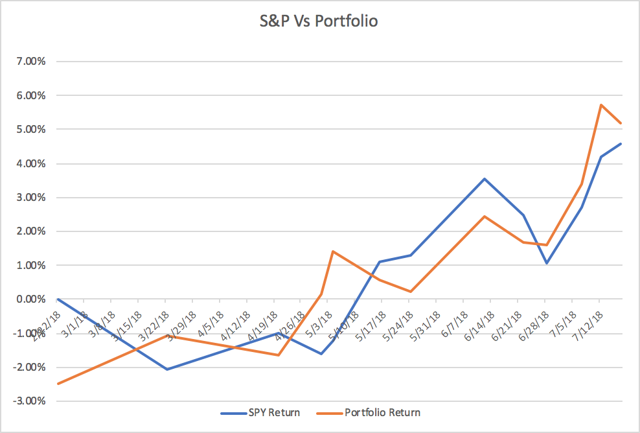 As can be seen, not much loss or gain has been generated from the S&P 500, but a 1% gain will be realized at the end of July from dividends from Physicians Realty Trust (DOC), Annaly Capital Management (NLY), New Residential Investment Corp (NRZ), and Disney (DIS).
| | | | |
| --- | --- | --- | --- |
| Type | Return | SPY | Alpha |
| Healthcare REIT | 13.64% | 4.81% | 8.83% |
| mREIT | 4.40% | 4.81% | -0.41% |
| Tech | 0.79% | 4.81% | -4.02% |
| Financials | 1.42% | 4.81% | -3.39% |
| Materials | 3.15% | 4.81% | -1.65% |
| Consumer Discretionary | 8.28% | 4.81% | 3.47% |
All sectors in my portfolio have generated a return, but the healthcare REIT sector specifically has generated lots of alpha. Consumer discretionary has also been a bright spot.
Majority of my portfolio targets REITs with a dividend yield of 6-12%. This sector specifically seemed oversold. Many REITs were in a position to give shareholder returns regardless of rising interest rates. I also target stocks a felt represented value with potential future growth opportunities such as Disney, Citigroup, and GM.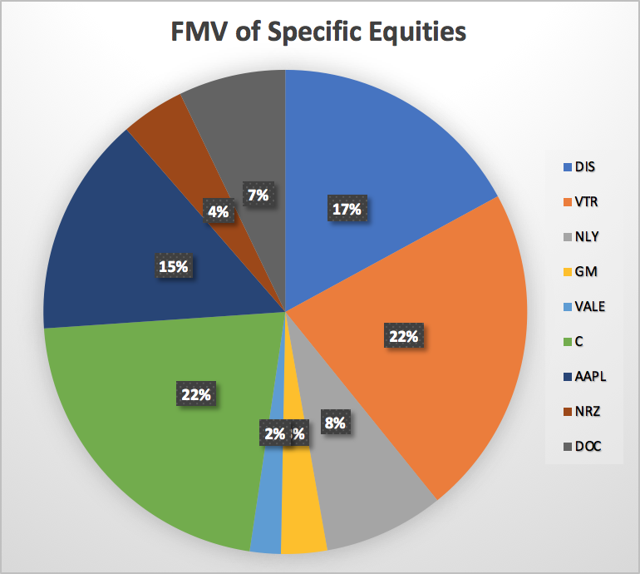 If you are familiar with the stocks above you will notice that my portfolio has some winners and some losers. Ventas or VTR has yielded returns of over 17% for me this year and Disney has yielded me around 8%. These bright spots are counterbalanced by underperforming stocks, like Citigroup which has only yielded 1.46% in total return.
Low Volatility:
The main highlight of my portfolio so far has been lower volatility. I've been able to achieve this through my unique portfolio composition. Correlation to the S&P 500 has been volatile but low overall.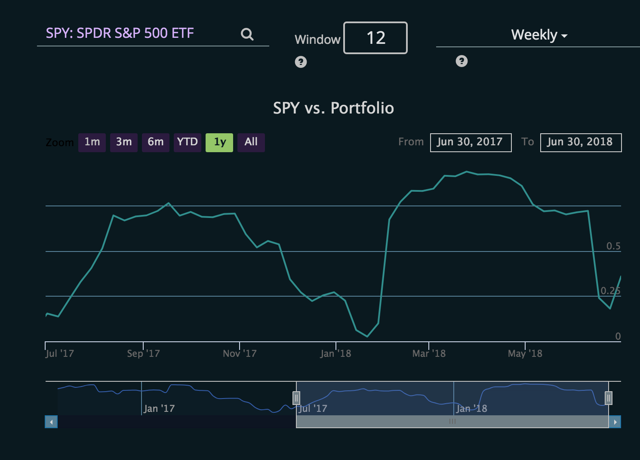 Source:Tiingo Correlation Calculation
Not only that, but the correlation between individual equities in my portfolio has also been low.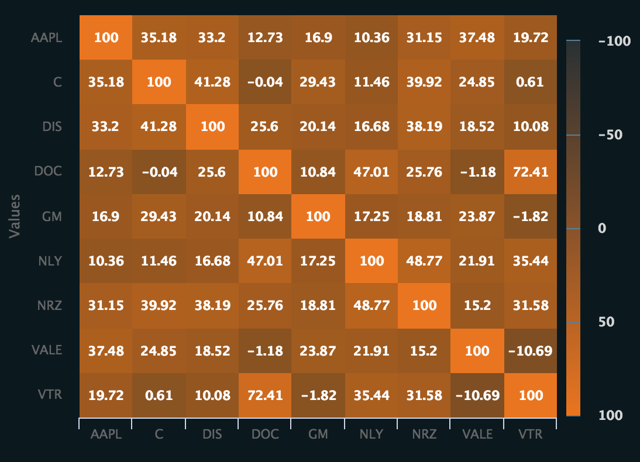 Source:Tiingo Correlation Calculation
These lower correlations have allowed my portfolio, as of right now, to have a lower beta while still outperforming the S&P 500.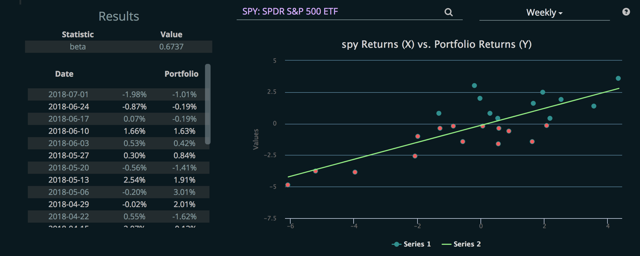 Source: Tiingo Beta Calculation
Conclusion:
Although my data is fairly new and limited, I feel this data gives some insight into portfolio composition. A good level of diversification can exist through low correlation rather than a large number of different types of assets. While many investors choose ETFs to limit risk, choosing specific stocks through good research might serve as an alternative especially in a time where very specific stocks are driving most market gains.
Disclosure: I am/we are long NRZ. I wrote this article myself, and it expresses my own opinions. I am not receiving compensation for it (other than from Seeking Alpha). I have no business relationship with any company whose stock is mentioned in this article.