Why is the treasury yield curve important?
As a value investor, I do not care that much about macro factors like GDP growth, interest rate, inflation rate, income growth, etc. However, one macro factor stands out from the crowd is the yield curve for treasuries. Because treasuries have no credit risk, the yield curve gives a baseline about what a company can earn if its primary business model is to "borrow short, lend long." In my opinion, the most susceptible industry is mortgage REITs. As you can see, from 2013 to 2016, the difference between 10-yr treasury yield and 2-yr treasury yield dropped from around 2.5% to around 1%, and the mortgage REITs which have a high concentration of agency debts performed poorly: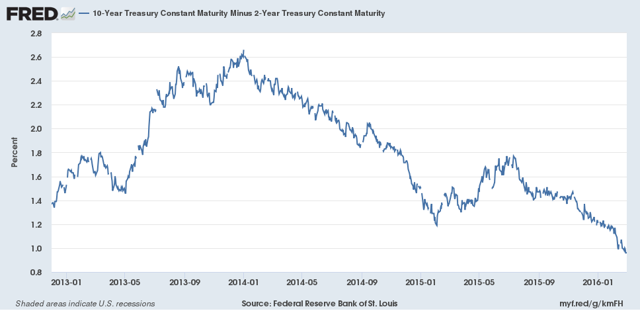 (Source: Federal Reserve Bank of St Louis)

(Source: Yahoo Finance)
Since 2013, the yield curve had been flattening. What noticeable is that in the current year, thanks to interest rate hikes by the Fed, increasing the short-term interest rate, and low growth expectation of the US economy that keeps the long-term interest rate stable, the yield curve became really flat: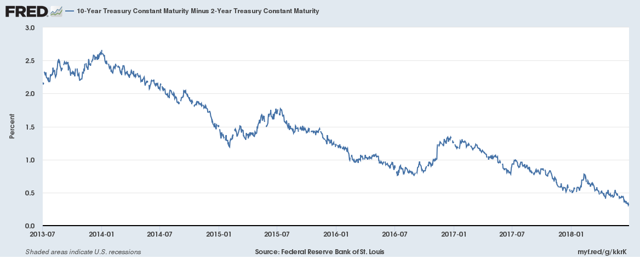 (Source: Federal Reserve Bank of St Louis)
The difference between 10-yr treasury yield and 2-yr treasury yield is now less than 50 basis points. Let that sink in for a moment: increasing the maturity that you lend to the US government by eight years only gives you less than 50 basis points in yield. That is pretty much zero after tax, so essentially you are not getting paid to lend long.
(Minorly) Impacted industry 1: Banks
The obvious industry that is being impacted is the banking industry. The business model of banks is to gather deposits (borrow short) and use them to make mortgages and loans (lend long). As you can see, the net interest margin (NIM) had been decreasing since 2010: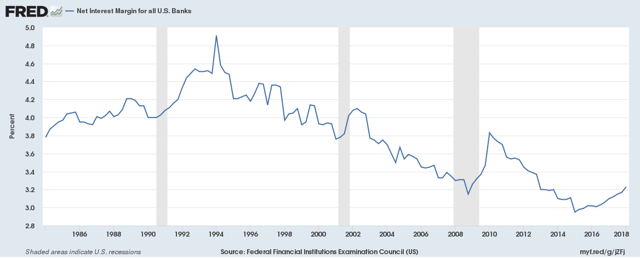 (Source: Federal Reserve Bank of St Louis)
Interestingly, there was an uptake in NIM since 2015. Why? Part of the reason is that a substantial portion of banks' deposits is non-interest bearing, so while the short-term rate increases, banks do not bear 100% of the funding cost increase. Another part of the reason is that banks can make variable-interest loans which peg the interest rate of a loan to a short-term rate benchmark like HIBOR. That protects the NIM.
You can think of net interest margin being the gross margin of loans produced by banks. When the gross margin of a bank decreases, one may expect the net profit margin to decrease, but this is not the case now, why? It is because banks can make up smaller gross margin with volume. As shown below, consumer and commerce loans volume had been increasing since 2010, due to a growing US economy, in addition to US fiscal policies like tax cuts: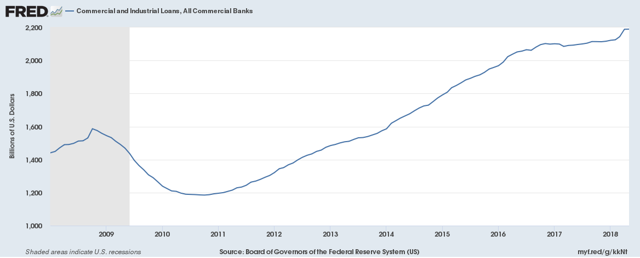 (Source: Federal Reserve Bank of St Louis)
(Source: Federal Reserve Bank of St Louis)
No wonder banks are having a good time despite the flattening of the yield curve. Look at the stock chart for KBE: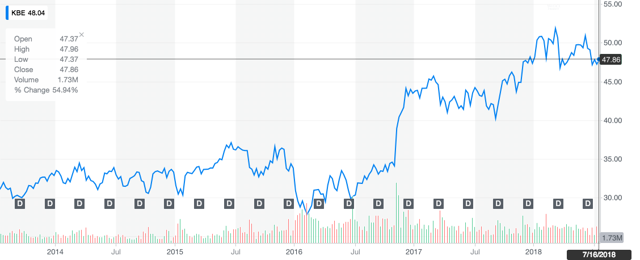 (Source: Yahoo Finance)
I would be cautious in banks, though. Investors should look for the trend of loans volume growth. If we see that the loans volume growth hit a plateau, the decrease in NIM will hit the bottom line of banks.
Impacted industry 2: Mortgage REITs
As mentioned at the beginning of this article, mortgage REITs are impacted by a flattened yield curve. Mortgage REITs are shadow banks which borrow money from repo (borrow short) and invest in loans and mortgages (lend long). Not all mortgage REITs are alike. The mortgage REITs which are impacted the most are those with a high concentration of low-credit-risk fixed-income securities, like agency debt or triple-A CMBS, in their holdings. Mortgage REITs with this characteristic can only earn net interest margin close to what the treasury yield curve shows, anemic. That means NLY, AGNC, CYS, and ARR are the most negatively impacted. From the stock chart, I don't see the price has reflected this fact, yet. I believe the market is wrong and I recommend trimming them from your portfolio if you have them: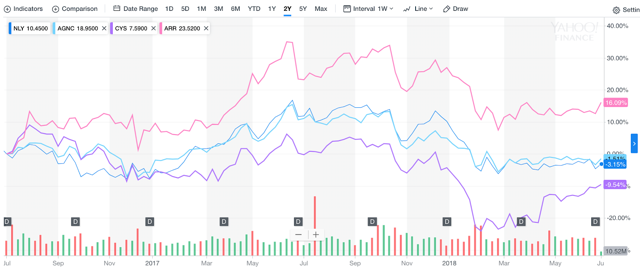 A lot of leveraged closed-end income funds (CEFs) use this strategy, but I am not familiar with any particular names. CEFs investors should take a look at the funds' holdings and avoid the ones with a high proportion of the portfolio in fixed-income securities with low credit risk, because those securities are the most interest-sensitive and most susceptible to a flattened yield curve.
Impacted industry 3: Triple-net REITs
Triple-net REITs engage in acquiring properties and lease them to tenants without taking the responsibility of operating expenses, often from sales and leaseback transactions. You can think of this as a kind of shadow banking activity because it basically provides financing for the tenants. Triple-net REITs do not borrow short. They usually borrow from mortgages (with maturity around ten years) and unsecured bonds (with maturity around five to ten years). Having said that, I believe triple-net REITs will be impacted as well because their cost of debt is creeping up as shown from the 10-year treasury yield: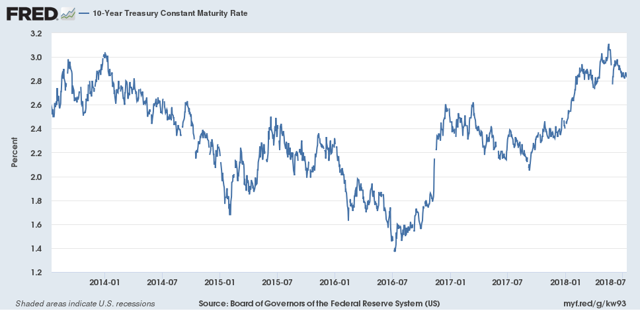 (Source: Federal Reserve Bank of St Louis)
At the same time, the cap rates (the net rental yield) of their acquisition pipelines do not have a sign of increasing. That will squeeze their profit margin going forward.
Take a look at the short exchange between an analyst and a STORE Capital (NYSE:STOR) executive during the 2018 Q1 earnings conference call:
Kevin Egan

Okay. And then so just in terms of just cap rates on acquisitions, have you seen any movement there, I know a lot of your peers have said they stayed pretty flat, but are you seeing anything just maybe when you look at?

Mary Fedewa (Executive Vice President of Acquisitions)

Yes. Same, very stable and not seeing maybe a little upward pressure out in the auction marketplace just because interest rates are rising, but we haven't seen it really come through, but they are very stable.
This is what an executive from Realty Income (NYSE:O) said in the 2018 Q1 earnings conference call:
Sumit Roy (President and Chief Operating Officer)

As to pricing cap rates, we're essentially unchanged in the first quarter. Investment grade properties trading from around 5% to high 6% cap rate range and non-investment grade properties trading from high 5% to low 8% cap rate range.
Executives from National Retail Properties (NYSE:NNN) agree (2018 Q1 earnings conference call):
Kevin Habicht (Executive Vice President, Chief Financial Officer, and Treasurer)

Nick, cap rates have not moved upward at all for the types of properties that we are pursuing. So it's still what we think of is a low cap rate environment out there for large regional and national non-investment grade operators with good you know good business and good real estate.
W.P. Carey's (NYSE:WPC) executives also have the same view (2018 Q1 earnings conference call):
Jason Fox (Chief Executive Officer)

Market volume, especially for sale leasebacks, remained healthy, despite continued pressure on cap rates. And we are yet to see any direct evidence of cap rates reacting to the backup in 10-years treasury yields.
I don't see this trend of subdued investment properties cap rates will change any time, soon. They closely track the U.S. real estate market. As we all know, the US housing boom is here: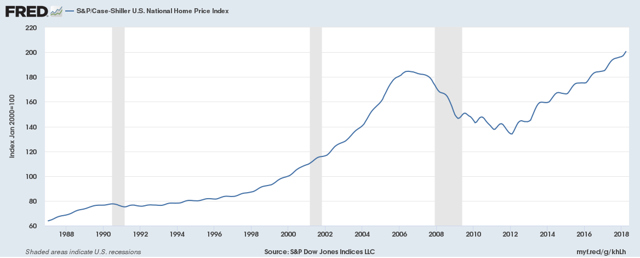 (Source: Federal Reserve Bank of St Louis)
While we see that triple-net REITs were down from two years ago, it was more a reflection of the retail apocalypse instead of pricing in the flattening yield curve as you can see that their stock prices follow the same trend as retail stocks like Macy's (NYSE:M) and Nordstrom (NYSE:JWN).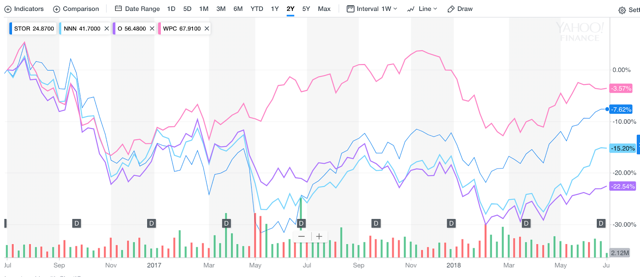 (Source: Yahoo Finance)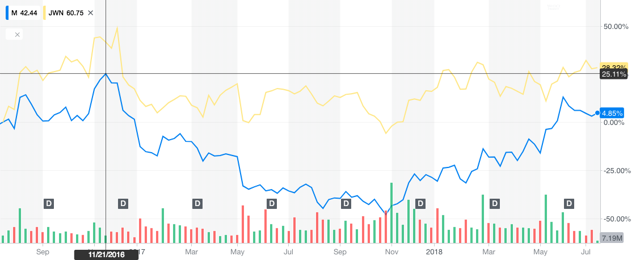 (Source: Yahoo Finance)
With favorable GDP growth and tax cuts, investors have not priced in the impact from the yield curve for now. I believe it will change. The triple-net REITs are trading at higher than P/FFO multiple of 15, which expects 5-10% growth, but we are going to see only around 5% for STOR and NNN, and sub-5% for O and WPC.
Conclusion
The flattening treasury yield curve negatively impacts the fundamentals of the banking industry, mortgage REITs, and triple-net REITs by reducing their "gross profit margin" of their business. This fact was not apparent and not reflected in their stock prices because of the strong U.S. economic growth and generally positive market sentiment. However, I believe this will change very soon with the yield curve being virtually flat now. I suggest investors start trimming their positions in mortgage REITs and triple-net REITs, while being cautious on their positions in banks.
Disclosure: I am/we are long STOR.
I wrote this article myself, and it expresses my own opinions. I am not receiving compensation for it (other than from Seeking Alpha). I have no business relationship with any company whose stock is mentioned in this article.