Market Intro

CNBC: 2:55PM EST
With the exception of the Russell 2000 (IWM), US stocks (SPY, DIA, QQQ) took to the back foot in Thursday's session. Spot VIX got some reprieve, with a healthy but unremarkable boost allowing it to reclaim a twelve-handle. The "damage" from today's price action is highly contained.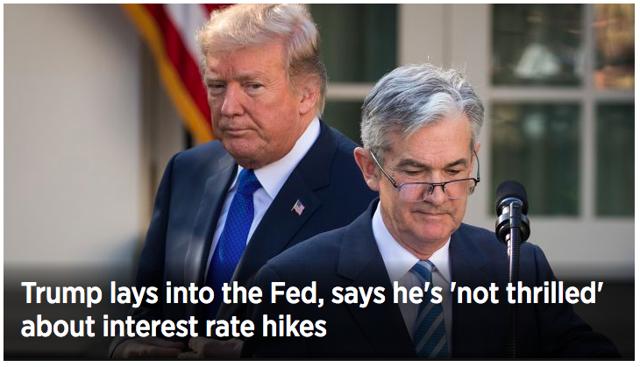 Political spats seem to have taken center stage today, though perhaps simple "profit taking" acts as a better explanation for the day's activity after the S&P 500 hit five-month highs earlier in the week.

By and large the Dollar (UUP) lost some ground on President Trump's comments suggesting that a slower pace of interest rate hikes would be more economically desirable. Dollar volatility, however, remains low.
Thoughts on Volatility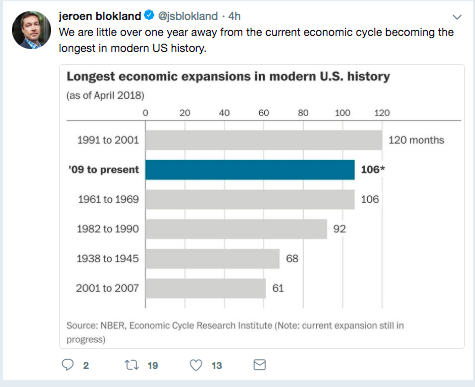 The current expansion is set to tie that of 1961 through 1969. The US stands a mere 15 months from overtaking the "Great Moderation" of 1991-2001, where GDP growth charged strongly on the back of globalization, the fall of Communism, and the explosion of the internet; all that with very manageable levels of inflation…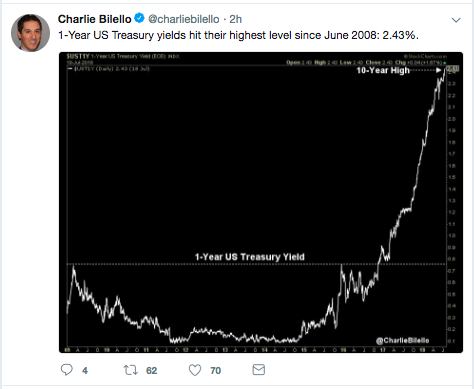 Not only did stocks eventually become "priced to perfection" during that last extended economic expansion, but both the US economy and equity markets surged on reasonably high interest rates. This economic recovery and stock rebound was largely the architectural brainchild of sustained negative real interest rates. That is not to say that the entire recovery was some kind of mirage, but it does mean that rising rates may throw some new twists into the narrative, even if (maybe especially if?) the expansion continues and rates price in the new reality. I suggest that the low-vol environment is very much with us today, but there are so many narratives that would indicate a higher range for volatility, even if it remains fairly well behaved.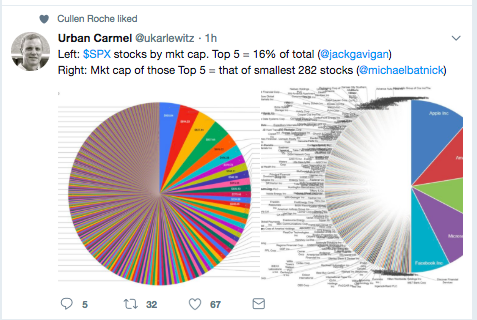 The big names in today's S&P make up 16% of the total market cap. That is not so much a call for alarm, but it is cause for awareness. Especially given that most of these names are affiliated with Tech (XLK), the fact is that it provides an avenue for volatility to flare up on extremely little notice. All that needs to happen is something that springs the emotional triggers on these related names to take a large move in one direction to produce an upsurge. Forewarned is forearmed.
Term Structure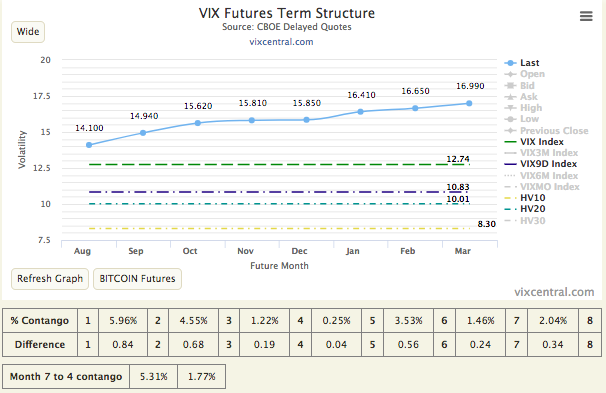 M1-M2 contango favors the shorts for no other major reason other than that the spot and historical vols rest soundly below the M2. Note that the HV10 sits near 8, still well above the June lows (below 5 at one point), and acts as anchor to the other metrics.
In the grand scheme of things, the absolute gap between M1 and M2, or M1 and spot for that matter, are quite easily reversed. What you really need for this to happen however is a sudden sentiment shift. For the time being, this does not look to be in the cards, with even today's S&P drawdown soon finding support near 2800.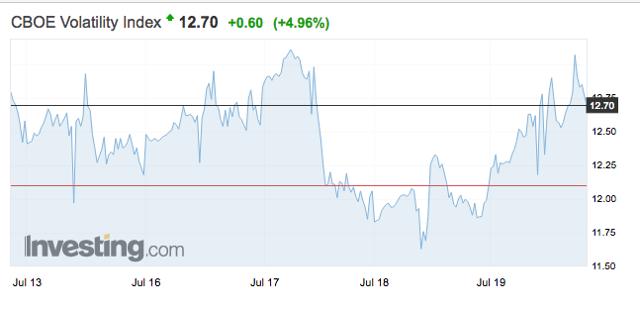 Yesterday's meanderings of spot VIX below a twelve-handle may more constructively be thought of as testing out a support region rather than firmly pushing into "new" low territory. I suspect that markets will give that area another go, which argues to the ill for those long volatility here. I never claim to know what's going to happen, but I will say that this move in spot cannot at this time be thought of as "overdone" or due for some kind of reversal.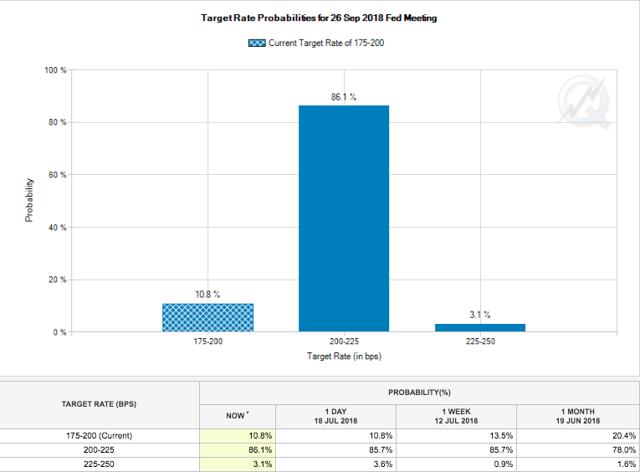 FX Street, 2:52PM EST
Political to-and-fro may eventually take its toll on equities, as it hinted earlier in the morning session. To be clear, the FedWatch Tool above shows September probabilities, while the attendant headline speaks to December.
This is the kind of disruption that effectively jostled markets as recently as two weeks ago. For the time being, calm reigns, and that at a time when roll decay favors shorts.
Conclusion
If this is your first time reading Market Volatility Bulletin, thanks for giving it a try. If you're a regular, we thank you for your ongoing contributions in the comments section.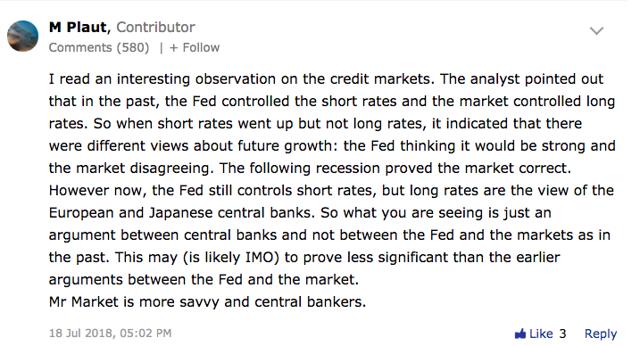 The last MVB had excellent commentary on a variety of topics. One discussion centered on the idea of whether the long bond had too low a yield given the general dynamics of today's US economy. SA contributor M Plaut put forth the view that the long end of the yield curve is influenced by the QE behavior of other central banks.
Personally, I see the impact of such buying as limited, though I do not profess to be an authority on the matter. We got some good follow-up commentary from others, and I invite you to read up and/or contribute your views in this comment section.
Thank you for reading.
Please consider following us.
Disclosure: I/we have no positions in any stocks mentioned, and no plans to initiate any positions within the next 72 hours. I wrote this article myself, and it expresses my own opinions. I am not receiving compensation for it (other than from Seeking Alpha). I have no business relationship with any company whose stock is mentioned in this article.
Additional disclosure: I actively trade the futures and options markets, potentially taking multiple positions on any given day, both long and short. I also hold a more traditional portfolio of stocks and bonds that I do not "trade". I do believe the S&P 500 is priced for poor forward-looking returns over a long timeframe, and so my trading activity centers around a negative delta for hedging purposes.