Investment Thesis
June marks the fourth month that I have tracked Jane's dividend income from her Traditional and Roth IRAs. Unlike the taxable account, we did not start making significant changes to her retirement accounts until after the first of the year. Because of this, there were a number of stocks in her retirement accounts that didn't register their first dividend until April or May. Now that the majority of companies are seasoned, we are seeing a steady stream of dividend income rolling in for Jane.
I've decided to write Jane's retirement review as a separate series than the taxable account because the approach we are using is slightly different than the approach used in developing the taxable account. The goal of this series is still to develop a database that allows for month-over-month and, eventually, year-over-year (YoY) comparisons that demonstrate the power and simplicity of dividend investing. In addition to documenting the past, I also like to forecast the upcoming month of dividends because I believe it helps keep expectations in check. Those who have read this series previously should be pleasantly surprised by the updated tables that provide information as requested by many in the comment section. I will always do my best to incorporate feedback provided since I typically benefit from many of the great suggestions I have received so far.
The primary difference between the retirement accounts and the taxable account is that there will be active trading done within Jane's retirement accounts. (I provide examples and explain this part of the strategy more clearly later in the article). Active trading in the retirement accounts will help shield her from capital gains.
Although this may sound repetitive, I would like to include a disclaimer that this article is based on an actual portfolio for clients of mine. The goal is to build a portfolio of dividend-paying stocks, bonds, etc., that will continue to produce a growing and long-lasting income stream and preservation of capital. Capital appreciation is the least important characteristic of this portfolio. It is important that you do your own research when creating a portfolio that meets your needs!
Dividend And Distribution Increases
Companies that increased their dividend or paid a special dividend include:
Travelers Insurance - With an extremely low payout ratio and strong cash flows, TRV is one insurance company that I believe is worth holding for the long run. Even though it missed earnings back in April, the overall performance was solid in that net written premiums were up 5% YoY, and earnings came in at $2.46/share compared with $2.16/share during the same period in 2017. Keep an eye on the upcoming earnings on 7/19 as any positive news should cause the stock to move higher.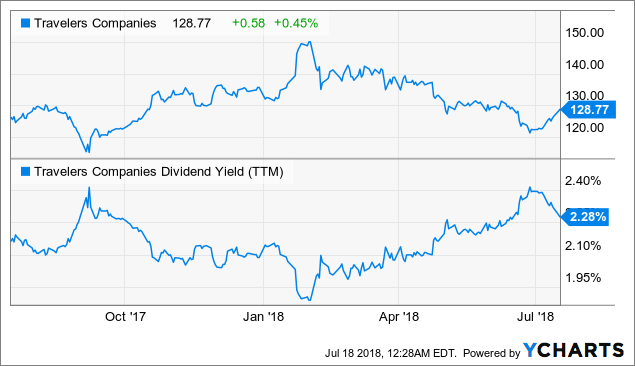 TRV's dividend was increased from $.72/share per quarter to $.77/share per quarter. This represents an increase of 6.9% and a new full-year payout of $3.08/share compared with the previous $2.88/share. This results in a current yield of 2.40% based on a share price of $128.19.
International Business Machines - We recently added another 25 shares of IBM to Jane's Traditional IRA as shares continue to experience significant weakness. Shares recently bounced off their 52-week low of $137.45, and I believe this represents the new bottom for shares. The most recent earnings will be announced on 7/18. IBM looks attractive at these prices, and, as you can see from the 10-year chart below, it is uncharacteristic for shares to offer a nearly 4.5% yield.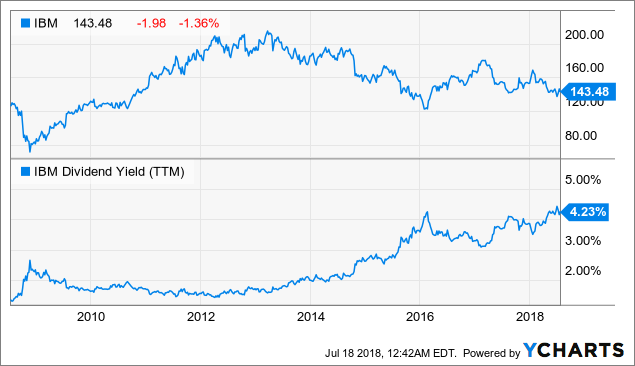 IBM's dividend was increased from $1.50/share per quarter to $1.57/share per quarter. This represents an increase of 4.7%% and a new full-year payout of $6.28/share compared with the previous $6.00/share. This results in a current yield of 4.32% based on a share price of $143.49.
Johnson & Johnson - Putting the recent $4.7 billion judgment aside, JNJ's most recent earnings announcement this morning was exceptionally strong from the perspective of almost every metric. Double-digit revenue and EPS growth, combined with an AAA S&P credit rating, make JNJ one of the best stocks to hold as we head into uncertain times.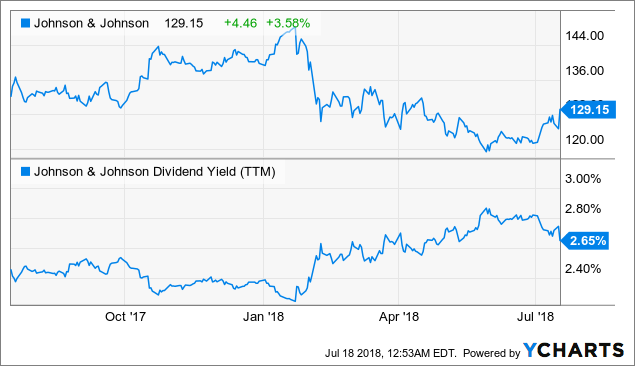 JNJ's dividend was increased from $.84/share per quarter to $.90/share per quarter. This represents an increase of 7.1% and a new full-year payout of $3.60/share compared with the previous $3.36/share. This results in a current yield of 2.89% based on a share price of $129.11.
Main Street Capital - Although MAIN didn't increase its monthly dividend, it did pay a whopping $.275/share supplemental dividend on top of its current $.19/month normal dividend payment. I appreciate management in that it has taken a conservative approach to dividend increases (which prevents a dividend cut) while simultaneously rewarding shareholders by paying out extra earnings. Assuming MAIN pays another supplemental dividend of $.275 in December, this should put the annualized payout at $2.83/share, and based on the current price of $39.09/share, generating a yield of 7.24%. Recent moves to pay off 6.25% notes due in 2023 and improved flexibility on its credit line suggest a bright future for MAIN going forward.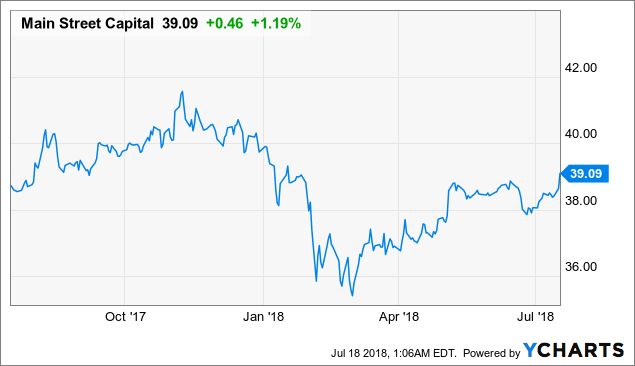 Active Trading Log
I want to dispel all assumptions from the beginning by emphasizing that my trades within the retirement account are not initiated in some crazy day-trading ploy to make Jane wealthier by subjecting her to increased risk. My trading philosophy is based on a couple of key rules:
Worthy of being held on a long-term basis - Some of the trades that I make can play out over a very short period of time, while others can take months, depending on various events. Because of the risk associated with regular trades, I will only purchase companies that I deem worthy of being held on a long-term basis (in the event that they do not reach my sellable price target). By purchasing only high-quality stocks, we are able to mitigate much of the risk associated with the process.
Pays a dividend - Stocks that make my list almost always pay a dividend, which is important because this means that even while they are being temporarily held, they are fitting in perfectly with my dividend strategy - which, at its core, is focused on consistent dividend income.
Here are some examples of trades I made in the month of June that utilize this strategy:
Piper Jaffray (PJC) - I bought PJC in two separate trades starting back in April. Unfortunately, we purchase shares too quickly in April but were able to redeem the situation by purchasing shares a month later for almost $6.5 less per share. As you can see from the chart below, PJC has experienced quite a bit of volatility over the last three months, which is why we chose to exploit the stock in a buy/sell transaction (we also did the same in John's retirement account).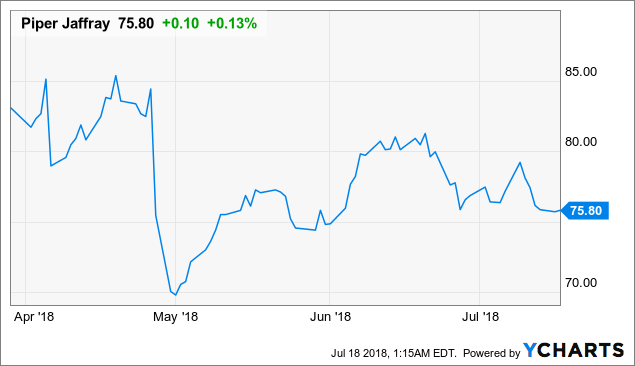 Due to the fact that the stock struggles over $80/share, we decide to set this as the price to sell shares because there was a limited chance of additional upside. At current prices of $75.55/share, PJC is back on the radar as a potential swing trade. I believe the safest way to play the upcoming earnings report is by purchasing half a position at current prices and potentially purchasing another half position if earnings disappoint and send the stock lower.
Overall, the trade played out well as a resulted in realized gains of $402.61. In addition to this, Jane also received the bonus of $37.50 dividend payment.

Source: Charles Schwab
Preferred Bank (PFBC) - I have been trading PFBC on a fairly regular basis as the price tends to move between $60-65 per share on a regular basis.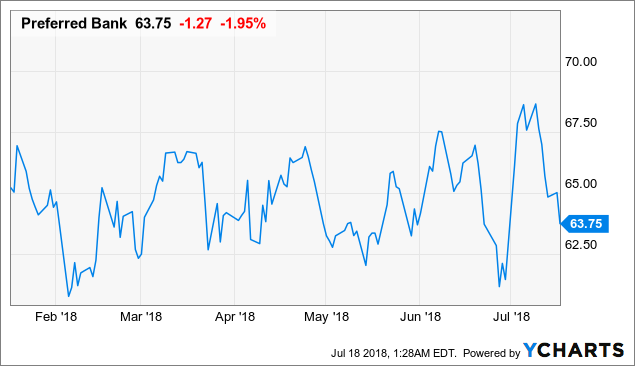 What's funny about this sale was that it quickly moved to $66.50/share when my sale price was chosen to be $66/share. With a cost basis of $63.56/share, I decided to sell all shares in the Traditional IRA while continuing to hold 150 shares in Jane's Roth IRA. The main reason for selling one group while continuing to hold the other was because the Roth IRA has a lower cost basis at $62.57/share. With share prices back down to $63.72/share, PFBC is back on the potential buy list (The purchase on 6/27 was sold in July after its share price jumped when PFBC was added to the S&P SmallCap 600).

Source: Charles Schwab
It took one month for this trade to play out, and it netted capital gains of $222.15 during that time.
As the conclusion to the trades section of Jane's retirement portfolio, I want to emphasize that it is absolutely imperative for investors to consider the risks associated with this type of active trading. I have chosen this strategy because I am choosing to buy and sell high-quality names that are regular long-term holds in Jane's portfolio. In order for an investor to be successful with the strategy, it is critical that you focus on high-quality, dividend-paying stocks because this acts as your safety net in the event that the trade doesn't play out in the time frame you expected. It is also important to familiarize yourself with the trends of select companies and to "test" new companies that you haven't invested in yet.
For the month of June, Jane realized a gain of $2008.93 in capital gains between her Roth and Traditional IRAs.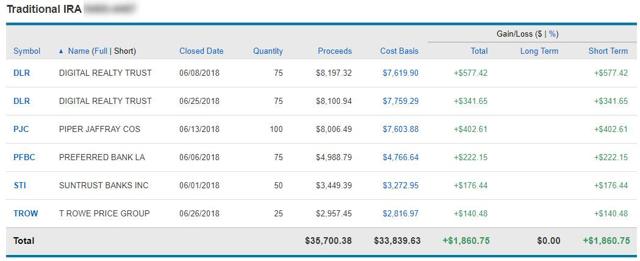 Source: Consistent Dividend Investor, LLC
Since February 1st, 2018, to June 30th, 2018, Jane's Traditional and Roth IRAs have benefited from realized capital gains totaling $5,974.05 or an average of roughly $1,194.81/month.
June Income Chart and July Estimates
I have created the following charts to assist with keeping track of Jane's retirement portfolios, with the intention of maintaining a database that can be compared on a month-to-month and YoY basis. Green is used to show when dividends were actually received, while yellow represents dividend estimates that haven't occurred yet (estimates). The color red in the smaller secondary table indicates a position that no longer held.
Jane's Traditional IRA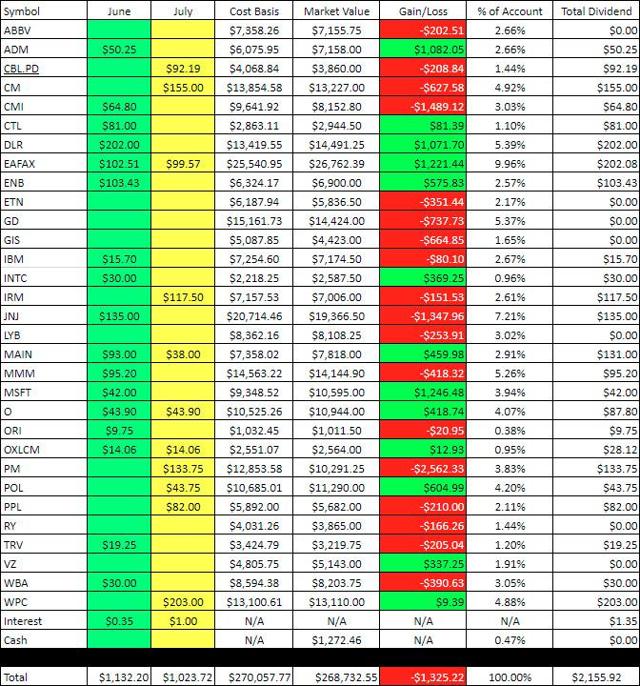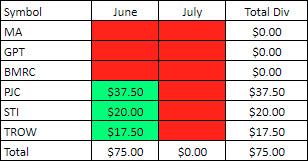 Source: Consistent Dividend Investor, LLC.
Jane's Roth IRA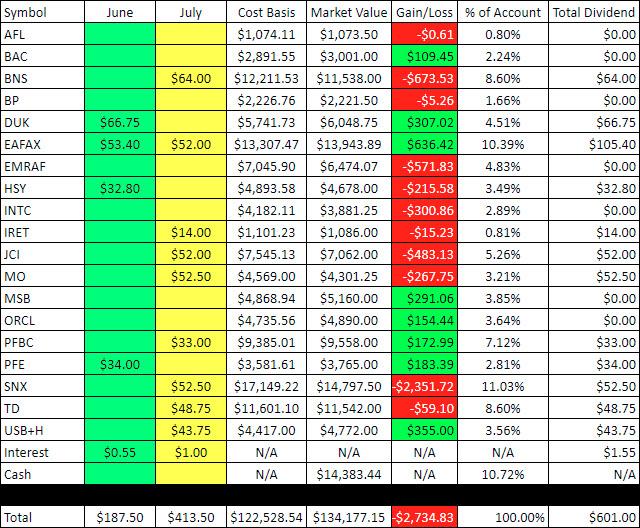 Source: Consistent Dividend Investor, LLC.
Below are four tables that show the total dividends received in the Traditional and Roth IRA accounts (smaller secondary charts are dividends received for stocks no longer held), respectively, for the first six months of the year.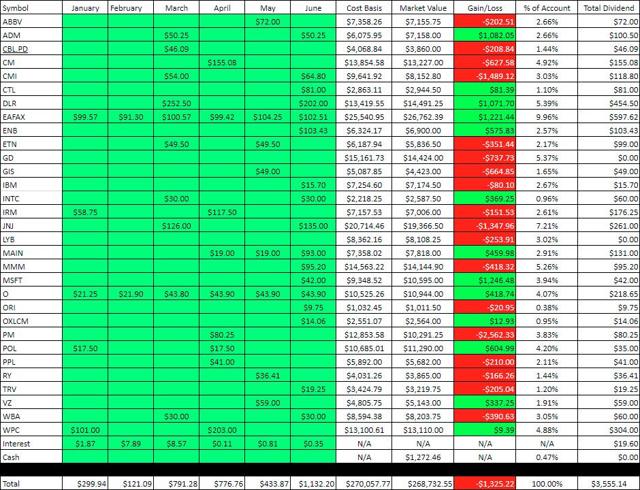 In total, Jane's Traditional IRA has produced $3,851.64 of dividend income from January to the end of June.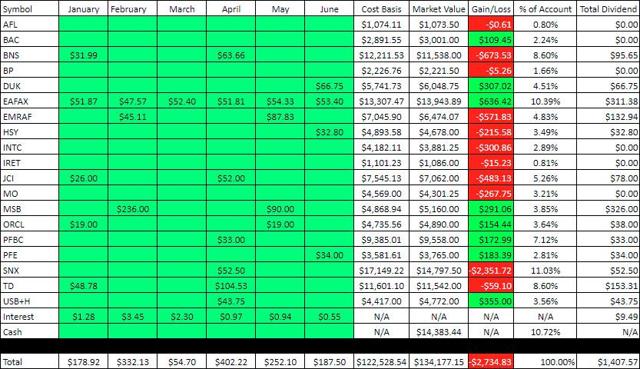 In total, Jane's Roth IRA has produced $1,564.32 of dividend income from January to the end of June.
In total, Jane has received total earnings (dividends and capital gains) in the amount of $11,390.01 over the course of six months (January through June), resulting in an average monthly income of $1,898.34.
The Market - Events Create A Conflicting Narrative
Lately, it seems that it is all the rage to point out that a recession is on its way with bears continually pointing out problematic signs like Caterpillar (CAT) "Death Cross" that snapped a 566 session bullish streak. While there is room for skepticism about the market, there is a significant amount of positive developments (specifically in the US economy) that suggest continued growth in the months/years to come. Here are some of the developments I find to be the most encouraging:
Of the Fed's 12 districts, only St. Louis reported "slight" growth while the remaining 11 regions reported "modest" growth or faster. (Marketwatch)
Jerome Powell, Fed Chairman, emphasized that the continued improvement in the US economy means that interest rates will continue to go up every three months "for now." (Marketwatch)
Oil prices have retreated and stabilized around $70/barrel. Although there remains substantial risk from a decline in output from Iran.
All things considered, I remain cautiously optimistic about the outlook of the economy as a whole from both a domestic and international perspective. As someone who works in the mortgage industry, one thing I am pessimistic about is the US mortgage market and the same type of lending that led to the financial crisis in 2008. Currently, mortgages are being offered to individuals that are only qualified because the government says that their paystub and W-2 are sufficient in proving that they are capable of repaying a mortgage (even though they qualify under the rules of Dodd-Frank). Many borrowers are entering into contracts with a little to no money down (many of these programs are funded by taxpayers), and these borrowers typically do not have the funds to pay for basic house maintenance or emergencies. Due to the fact that employment is high, we've not seen the strain created by loans like these and the poor saving habits of the average American. My position on the economy is likely to turn much more bearish as we begin to see an increase in unemployment followed by an increase in delinquencies/defaults. Fortunately, practically, all banks do their best to sell these types of loans so that they are neither responsible for the loan and/or servicing. The typical loans that are part of a bank's portfolio are of the highest credit quality (low loan-to-value, high assets/reserves, strong relationship) and are adjustable rate (ARMs).
Conclusion
Jane's retirement accounts are starting to churn out consistent dividends and our trading method has boosted the average income generated by more than $1,000/month. Although the Traditional IRA currently has low cash reserves, we have been focusing on increasing the cash reserves in the retirement accounts as a whole.
I believe that Jane should be receiving a total of $1,437.22 of dividend income between the Traditional and ROTH IRA accounts during the month of July.
Over the last several months I have received feedback from readers with suggestions of how to adjust the charts for tracking dividend income. With many of the changes now in place, I would appreciate additional feedback to see if this new format resolves the problems created by my previous charts. As always, I welcome all forms of constructive feedback and appreciate those who take the time to do so.
Final Note: If you enjoy my articles, please take the time to follow me. While I enjoy performing analysis, following me is the best method for showing me that SA subscribers are finding my work useful. I welcome all meaningful feedback, and I enjoy using the Seeking Alpha platform to enhance and improve my own knowledge as well. My promise to readers is to be as open and transparent as I can be. The numbers presented are accurate as of the time I wrote this article.
In Jane's Traditional and Roth IRAs, she is currently long the following mentioned in this article: AbbVie (ABBV), Archer Daniels Midland (NYSE:ADM), Bank of Nova Scotia (NYSE:BNS), CBL Properties (NYSE:CBL.PD), CLX, Canadian Imperial Bank of Commerce (NYSE:CM), Cummins (NYSE:CMI), CenturyLink (NYSE:CTL), Digital Realty (DLR), Duke Energy (NYSE:DUK), Eaton Vance Floating-Rate Advantage Fund A (MUTF:EAFAX), Enbridge (NYSE:ENB), Eaton Corporation (NYSE:ETN), Emera Inc. (OTCPK:EMRAF), General Dynamics (NYSE:GD), General Mills (NYSE:GIS), Hershey's (NYSE:HSY), International Business Machines (NYSE:IBM), Intel (NASDAQ:INTC), Investors Real Estate Trust (NASDAQ:IRET), Iron Mountain (NYSE:IRM), Johnson Controls (NYSE:JCI), Johnson & Johnson (NYSE:JNJ), LyondellBasell (NYSE:LYB), Main Street Capital (NYSE:MAIN), 3M (NYSE:MMM), Mesabi Trust (NYSE:MSB), Microsoft (NASDAQ:MSFT), Altria (NYSE:MO), Realty Income (NYSE:O), Old Republic International (NYSE:ORI), Oxford Lane Capital Corp 6.75% Cum Red Pdf Shs Series 2024 (NASDAQ:OXLCM), Preferred Bank (NASDAQ:PFBC), Pfizer (NYSE:PFE), Philip Morris (NYSE:PM), PolyOne Corp. (NYSE:POL), PPL Corporation (NYSE:PPL), Royal Bank of Canada (NYSE:RY), Stepan Co. (NYSE:SCL), Synnex Corp. (NYSE:SNX), Toronto-Dominion Bank (NYSE:TD), T. Rowe Price Group (NASDAQ:TROW), Travelers Co. (NYSE:TRV), US Bank Preferred H-Series (USB.PH), Verizon (NYSE:VZ), Walgreens (NASDAQ:WBA), W.P. Carey (NYSE:WPC).
Disclosure: I am/we are long SCL, CTL, GD, GIS, SNX.
I wrote this article myself, and it expresses my own opinions. I am not receiving compensation for it (other than from Seeking Alpha). I have no business relationship with any company whose stock is mentioned in this article.
Additional disclosure: This article reflects my own personal views and is not meant to be taken as investment advice. It is recommended that you do your own research. This article was written on my own and does not reflect the views or opinions of my employer.
Editor's Note: This article discusses one or more securities that do not trade on a major U.S. exchange. Please be aware of the risks associated with these stocks.