I believe that Bank of America (BAC) and Wells Fargo (WFC) are the best bank plays in today's market. The good news is that you don't have to choose between them. They have two different investment themes and are, therefore, highly complementary.
Bank of America is the ultimate earnings growth play. Despite lackluster revenue growth in the past quarter, BAC was able to generate a whopping 6.3$ billion in net income, up 33 percent compared to the second quarter of 2017. Boosted by some aggressive share buybacks, earnings per share peaked at 63 cents, up 43 percent compared to the same period last year. Notably, the first half of 2018 was the most profitable period in the history of BAC, generating an amazingly high total net income of 13.7$ billion.
One Success, Two Pillars
The impressive growth in profitability at BAC is based on two success pillars - the first pillar is the bank's efficiency plan and the second pillar is a massive share buyback program. The first pillar is the ongoing operational strategic cost-cutting plan, named "New BAC". This plan is on track to transform BAC into a highly digital bank. Fewer employees, fewer physical branches, to be compensated by a higher digital engagement via web and mobile app. For example, in the past quarter alone, BAC has closed 131 financial centers across the U.S., while displaying a record 25.3 million monthly active users of its mobile banking services, up 11 percent compared to the second quarter of 2017.

This operational transformation has been well demonstrated in BAC's efficiency ratio (expenses as a percentage of revenue) which stood at 59 percent as of June 30, 2018, compared to 61 in the second quarter of 2017. Many investors might not remember that, but BAC's efficiency ratio was a staggeringly high 70 percent when we first recommended the stock to investors. So much has been accomplished at BAC since then. BAC is definitely back.
The second success pillar is the share buyback program. You see, BAC rewards its shareholders handsomely. In the past quarter alone, BAC has distributed a total of 6.2$ billion back to the rightful hands of its owners, about 70 percent of which was invested in share buybacks while the remaining 30 percent was paid out in dividends.
This capital return program isn't going to stop anytime soon. In the most recent CCAR test results, BAC received the approvals by regulators to return a total of 26.3$ billion back to the hands of its shareholders in the upcoming twelve months. Specifically, 20.6$ billion of that capital will be invested in share buybacks and the rest in dividend payments. This buyback alone will support a 10 percent increase in earnings per share one year down the road. If you add in a conservative 3 percent revenue growth and 4 percent cost efficiency, you will get a robust financial machine with a 17 percent EPS growth, and that's not even counting any tax benefits.
The Income Story
Whereas BAC is an impressive growth story, Wells Fargo represents the other side of the coin - the income story. Now, I am well aware of the fact that most investors and clients alike aren't big fans of the bank, to say the least.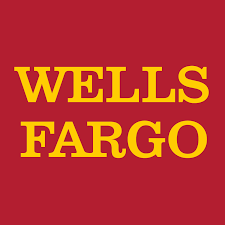 Wells Fargo has disappointed its clients. Over the past two years, the bank has been involved in a few highly notorious consumer scandals, the more notable of which was the unauthorized opening of more than 3 million fake accounts. As a result of this mischief, Wells received an Order Consent from regulators earlier this year, prohibiting the bank from increasing its balance sheet over and above the total asset cap recorded on December 31, 2017.
Wells has also disappointed its investors. The recent scandals, as well as the Order Consent the bank had received, were the main reasons for the underperformance of WFC shares which are now in a negative 7 percent territory this year versus a 6 percent rise in the S&P 500 (SPY).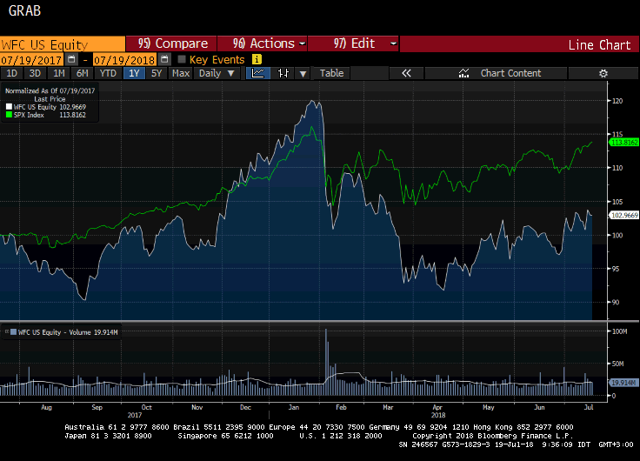 Not All Is Lost
But from the depth of pessimism, hope reemerges. There are two main reasons why you should buy shares of Wells Fargo, and neither one of them has to do with earnings growth, which is the main investment thesis behind Bank of America.
The first reason to own shares of Wells Fargo is the enormous capital return story of Wells. In the most recent CCAR test results, regulators had approved Wells Fargo's capital plan in its entirety. Following the approval, Wells is destined to return a staggering 32.6$ billion back to its shareholders in the following twelve months, up 70 percent compared to the bank's capital return program last year. Note that Wells Fargo was able to pass the CCAR test with flying colors despite the recent scandals it was involved in. In fact, it was, by far, the most successful bank in the CCAR tests.
The second reason to buy shares is the bank's ongoing cost-cutting program. Wells Fargo intends to close 300 branches during 2018, as part of a general strategic plan to cut 4$ billion in operating expenses until the end of 2019. And the plan seems to be working very well. Back in the fourth quarter of 2017, the efficiency ratio stood at a paltry 76.2 percent, while at the end of the second quarter of 2018, Wells was able to reduce it back to a reasonable 64.9 percent. I believe that Wells can demonstrate an efficiency ratio lower than 60 percent by the end of 2018.
The Elephant In The Room
Without a doubt, the most urging concern we hear from investors relates to the Consent Order Wells has received from regulators back in April. Specifically, the asset cap limitation prevents the bank from growing its balance sheet. If the bank isn't allowed to grow revenues, investors claim, then why should we buy the shares?
It's a good question, but Wells Fargo has the answer. You see, Wells has long ago stated that it intends to reshuffle its loan portfolio. Specifically, anyone following Wells Fargo for a long time is fully aware of the bank's intention to trim its commercial real-estate loan book as well as reduce its exposure to auto and student loans in its retail loan portfolio. For example, in the past quarter alone, Wells has trimmed its exposure to real estate and auto by 13.1$ billion. And that trend will continue.
In that sense, the asset cap isn't such terrible news as the media makes it appear. The bank simply follows its strategy in trimming its exposure to certain loan portfolios while increasing its exposure to other, less risky and more attractive fields. At the end of the day, Wells is in perfect compliance with the asset cap regulation while optimizing its loan mix. In fact, Wells has been playing a game of musical chairs with its loan portfolio, and that's just fine by me.
The only real implication of this is that we won't be seeing Wells grow its revenues until the year end. I'm positive that will change once the bank regains its authorization from regulators to grow revenues again. Of course, by the time this happens, you won't be able to purchase shares of Wells at today's price.
The Bottom Line
Bank of America and Wells Fargo are two fantastic bank plays with different investment thesis - the first is about earnings growth, while the second is an income play. You should buy them both while you can.
Disclosure: I am/we are long WFC.
I wrote this article myself, and it expresses my own opinions. I am not receiving compensation for it (other than from Seeking Alpha). I have no business relationship with any company whose stock is mentioned in this article.