A few days ago I wrote an article titled 10 Wannabe SWANs To Own For The Next 10 Years, and in that article I explained,
"One of the most important reasons to invest in REITs is for the dividends they payout…One of the reasons that I pay close attention to REIT dividends is because the declaration of the dividend has a specific and predictable effect on market prices. When you think about, psychology plays a big role in the investing process – it's the underlying belief about a company's profitability that impacts the stock price the most."
It's true, market psychology plays a big role in the investing process as fluctuations in the stock market are largely dictated by psychology. If an investor thinks the future is bright, investors are more likely to own shares. Alternatively, if a company cuts its dividend, investors generally scramble to hit the sell button.
Simply put, optimism drive shares up, and pessimism drives shares down. Although some may disagree with me, I don't think a stock that is likely to cut its dividend is ever priced-in.
Why?
Because dividends speak louder than words. When a company raises its dividend it's a signal of encouragement, because that's indicative that the company is profitable. (Note: Some companies also financially engineer the dividend to create an illusion of profitability, but that's an exception).
However, when a company cuts its dividend it's a sign of failure, and investors generally panic because it suggests that the company isn't financially stable/
That's why companies with consistent divided growth records are attractive. As more investors buy shares in these successful dividend growth stocks, the price naturally increases because sentiment is strongest.
One of the telltale signs that a company is likely to boost its dividend is the company's payout ratio. When a company has a low payout ratio it suggests that there is a greater chance of a healthy dividend boost. In turn, this could boost the dividend yield and create the self-fulfilling result of better total returns.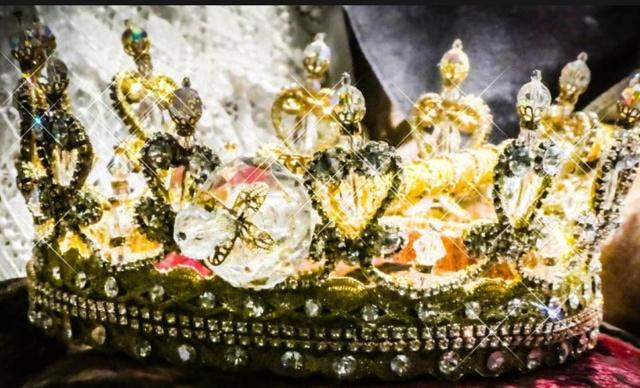 Photo Source
7 REITs That May Rise Higher On Rich Payouts
We decided to screen for 7 REITs that have the lowest payout ratios and the list includes CareTrust (CTRE), Tanger Outlets (SKT), Brixmor (BRX), Getty Realty (GTY), STORE Capital (STOR), Equinix, Inc. (EQIX) , and American Tower (AMT).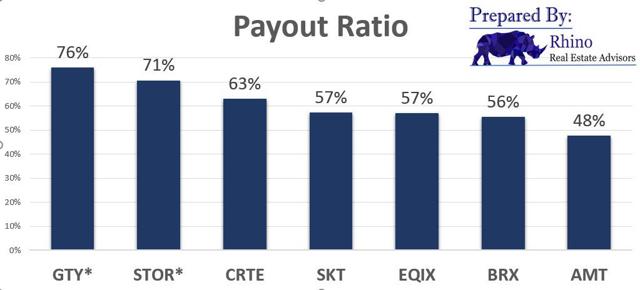 Note: GTY and STOR use AFFO and the rest are FFO.
We have written on all of these REITs and as you can see below, EQIX and AMT are the top growers, based on FFO per share. I recently wrote on EQIX HERE.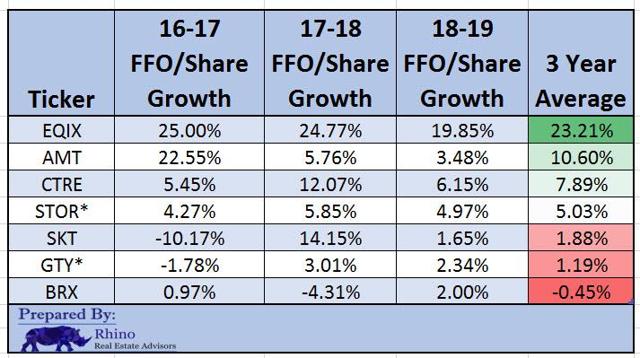 CTRE and STOR have also generated steady earnings growth, while SKT, GTY, and BRX are forecasted to generate less robust FFO per share. CTRE has the highest dividend growth forecasted of all healthcare REITs and the lowest payout ratio. STOR has one of the lowest payout ratios in the Net Lease sector. Now let's examine the dividend growth: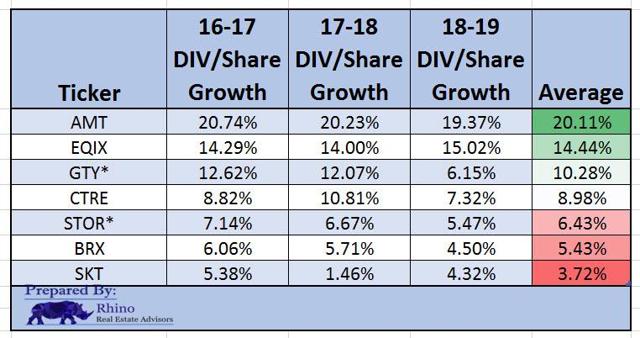 As we would suspect, AMT and EQIX are the top dividend growers, followed by GTY and CTRE. STOR has also maintained steady dividend growth and BRX and SKT are generating modest growth (albeit growth). Now let's take a look at a few valuation metrics, starting with the dividend yield: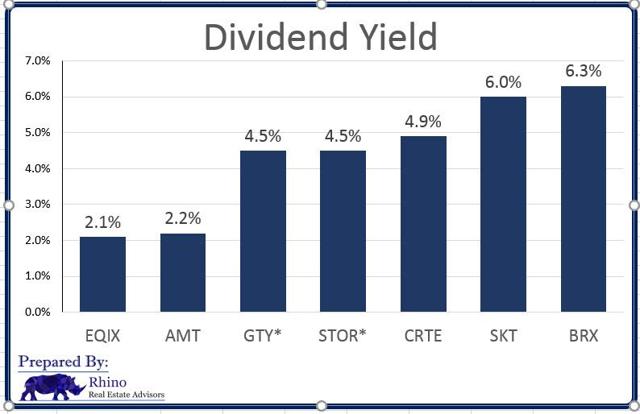 Now as you can see, the top dividend growers, EQIX and AMT, are also generating the puniest yields. However, the remaining companies – GTY, STOR, CTRE, SKT, and BRX – all have mouthwatering yields (with low payout ratios). I recently began covering GTY and I initiated a SPEC, in an article I explained that "I also like GTY's necessity-based model that offers upside when there are downturns. The next time I pump my gas, I will remember Getty is also pumping out dividends."
Now let's take a look at the P/FFO multiples: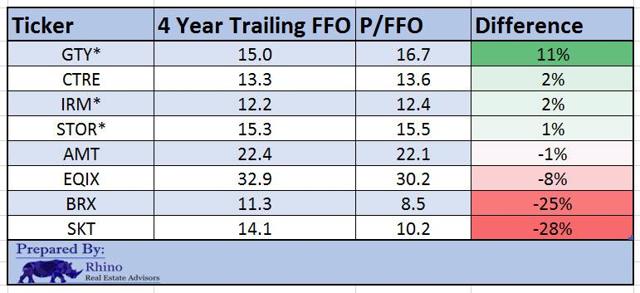 As you can see, SKT is the cheapest name, based on current vs. historical (4-year) P/FFO multiples and BRX is a closest second. In terms of valuation, we like SKT and BRX the best because they enjoy a nice margin of safety in share price as well as their payout ratio. Now let's see how these REITs have performed year-to-date: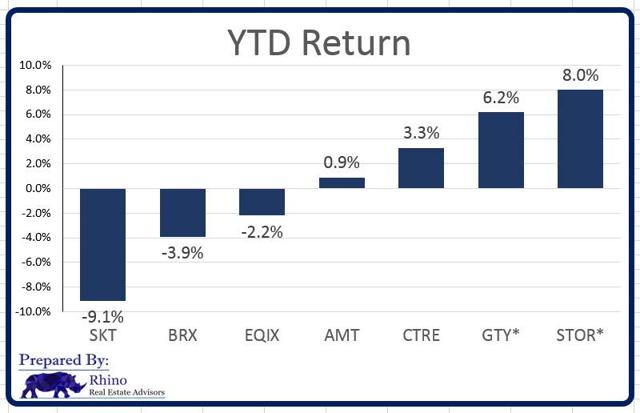 Finally, we consider dividend safety an important metric in our value investor screening process. When companies enjoy a wide margin of safety in the dividend payout AND a margin of safety with the stock price, we get excited. Our screening suggests that SKT and BRX are the most compelling REITs to purchase today and we are maintaining STRONG BUYs on both.
Note: Brad Thomas is a Wall Street writer, and that means he is not always right with his predictions or recommendations. That also applies to his grammar. Please excuse any typos, and be assured that he will do his best to correct any errors, if they are overlooked.
Finally, this article is free, and the sole purpose for writing it is to assist with research, while also providing a forum for second-level thinking. If you have not followed him, please take five seconds and click his name above (top of the page).
Traveling: I am traveling today and I will not be able to respond until later today.
Disclosure: I am/we are long ACC, AVB, BHR, BPY, BRX, BXMT, CCI, CHCT, CIO, CLDT, CONE, CORR, CTRE, CUBE, DEA, DLR, DOC, EPR, EQIX, EXR, FRT, GEO, GMRE, GPT, HASI, HT, HTA, INN, IRET, IRM, JCAP, KIM, KREF, KRG, LADR, LAND, LMRK, LTC, MNR, NNN, NXRT, O, OFC, OHI, OUT, PEB, PEI, PK, PSB, PTTTS, QTS, REG, RHP, ROIC, SBRA, SKT, SPG, STAG, STOR, TCO, TRTX, UBA, UMH, UNIT, VER, VNO, VNQ, VTR, WPC. I wrote this article myself, and it expresses my own opinions. I am not receiving compensation for it (other than from Seeking Alpha). I have no business relationship with any company whose stock is mentioned in this article.