A new 10-year TIPS, CUSIP 912828Y38, auctioned today with a real yield to maturity of 0.762%, resulting in a coupon rate of 0.750%, the highest for any 9- to 10-year TIPS auction since May 2011.
The yield to maturity was actually slightly lower than the Treasury's estimate of 0.79% for a full-term 10-year TIPS at Wednesday's market close. A half hour before the auction closed at 1 p.m. EDT, the most recent 10-year TIPS, with 9 1/2 years remaining to maturity, was trading on the secondary market with a real yield of 0.77%. So it looks like today's auction was met with reasonable demand.
The real yield of 0.762% was below yields in two recent auctions of this 9- to 10-year term: 0.934% in May and 0.764% in March. But no 10-year TIPS had carried a coupon rate of 0.750% or higher through 42 consecutive auctions of this term, dating back to May 2011 when a 9-year, 8-month TIPS carried a coupon rate of 1.125%. This was just one month before the Federal Reserve began aggressive quantitative easing. By January 2012, real yields were auctioning negative to inflation.
While TIPS investors tend to focus on the real yield to maturity, the actual coupon rate of the TIPS - which is set at the originating auctions in January and July - is important because it sets the cash flow for the investment. The coupon rate is paid biannually, while the inflation adjustment is simply added to the principal balance until the TIPS is sold or matures.
Because today's coupon rate was so close to the real yield to maturity, buyers at today's auction had to pay an adjusted price of about $100.01 for about $100.21 in principal. (This TIPS will have an inflation index of 1.00214 on the settlement date of July 31.)
Here is the year-to-date trend for 10-year real yields, showing the downward pattern since late May:
Inflation breakeven rate
With a nominal 10-year Treasury trading right now with a yield of 2.84%, this new TIPS gets an inflation breakeven rate of 2.08%, down from very recent trends but in line with expectations. That rate means this TIPS will outperform a nominal 10-year Treasury if inflation averages higher than 2.08% over the next 10 years. It's a very reasonable number - inflation is currently running at 2.9%.
Here is the year-to-date trend in the 10-year inflation breakeven rate:
Reaction to the auction
The TIP ETF had been trading slightly higher all morning, indicating lower yields, and didn't budge much after the auction results were announced.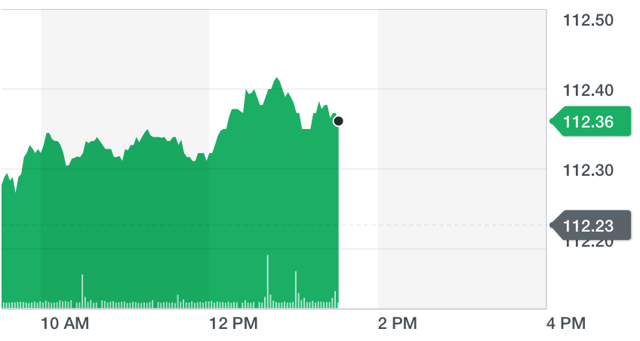 As I noted, today's auction yield came in slightly lower than expected, with a real yield dropping below the secondary market for a shorter-term TIPS. That indicates good demand. On the other hand, the inflation breakeven rate also drifted slightly lower, which indicates weaker demand. I'd call it a wash.
However, small-money investors in today's auction got a reasonably strong real yield of 0.762% and the cash-flow bonus of a 0.75% coupon rate.
Here are the TIPS auctions for 2018 so far:

Disclosure: I/we have no positions in any stocks mentioned, and no plans to initiate any positions within the next 72 hours. I wrote this article myself, and it expresses my own opinions. I am not receiving compensation for it (other than from Seeking Alpha). I have no business relationship with any company whose stock is mentioned in this article.