C'mon… you didn't really think streaming video giant Netflix (NASDAQ:NASDAQ:NFLX) could keep adding subscribers at a breakneck pace, did you?
Thing is, that's not the core problem for Netflix in and of itself. Netflix is still the world's biggest and arguably the best on-demand video platform, and isn't about to be dethroned. It could move sideways on the member growth front for years and still not be eclipsed by a rival. If we're being intellectually honest with ourselves though, it was the strong user growth rates that allowed a slew of investors to overlook some glaring balance sheet concerns.
Those pitfalls can't be ignored any longer.
Here Comes Consequence
On the off-chance you're reading this and don't already know, last quarter, Netflix added 5.15 million new users. Progress is progress, but for the record, that was the lowest subscriber growth figure seen in over a year, and fell short of the 6.2 million Netflix had modeled, and the 6.3 million Wall Street expected.
Most everything else was… ok. Revenue of $3.91 billion was $30 million short of expectations, but that's a tough figure to handicap, and sales were still up 40% year-over-year. Earnings of 85 cents per share more than doubled from the Q2-2017 figure of 32 cents, and topped the market's estimate of 79 cents.
The disappointing subscriber growth figure, however, was just a little too alarming to some.
MoffettNathanson Research's Michael Nathanson is one of the concerned observers, noting of the company's quarterly report:
We maintain our view that Netflix's cash flow does not support today's valuation because we assume that it will be more expensive for them to produce and market content than the Bulls think and the economics of the next 75 million international subscribers will be less efficient than the first 75 million international subscribers.
It's a stance that cuts right to the heart of red flag fans and followers of Netflix have worked diligently to ignore.
The short version of a long story: Netflix is up to its eyeballs in debt and content liabilities, taking on those obligations on the assumption (and "on the assumption" is the key phrase here) that future subscriber growth would justify current content spending. Netflix continues to grow its spending in its quest for more and better content, but subscriber growth may or may not be what it's needed to be.
Last quarter's subscriber growth rates weren't disastrous, but all big trends start out as small ones.
This is a liability/obligation story though. So, to that end, a visual perspective on Netflix's ever-changing balance sheet, cash flow statement and income statement is the only way to fully appreciate the hole the company is digging itself into. Read 'em and weep.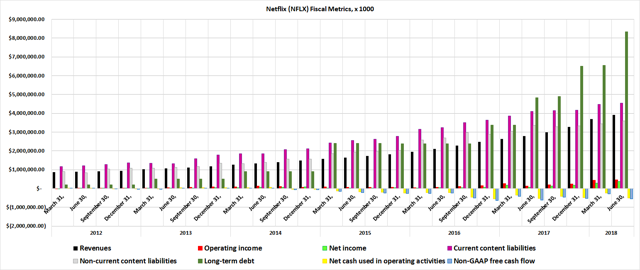 Source: Thomson Reuters, MacroTrends, Netflix
Revenues are getting bigger but not growing as quickly as content liabilities, which aren't growing as quickly as the company's long-term debt is. Operating income and net income are positive and limping higher. Somehow neither feels as healthy as they should though. That may be because free cash flow is not only negative but also increasingly negative. Cash used in operations remain negative too, and is worsening rather than improving despite the company's revenue growth.
This isn't the Netflix we were led to look for just a few years ago. Indeed, it was only two years ago CEO Reed Hastings started talking "material profits." This isn't "material." It's barely a "profit," and then only from a certain perspective.
Debt and content costs haven't been self-funding, plain and simple.
Cue the criticisms now/see the comments section below.
Headwinds
It's a reality Netflix loyalists will reject. They'll cite revenue growth - and even decisive subscriber growth - as evidence that all is fine. And, they may be right. Sooner or later though, there will come a time when Netflix runs out of people to add to their roster. It's those additions, rather than higher prices, necessary to keep the top line growing in earnest.
And as the on-demand video market matures and newcomers enter it and get better, Netflix's pricing power will only diminish. Subscriber additions may be hitting that headwind right now.
That's not decisively been the case yet. Netflix is still tapped in 75% of households in the United States; the next-nearest standalone option is Google's (GOOG) (GOOGL) YouTube, but it's a distant second, only regularly viewed by 54% of United States households. Hulu, which is arguably the best-equipped threat to Netflix, is only accessed by 23% of U.S. consumers (many of which may also be Netflix subscribers).
The headwinds are brewing though.
Yes, Walt Disney (NYSE:DIS) is one of them. Not only is it a one-third owner of Hulu, with Comcast (NASDAQ:CMCSA) bowing out of the race to acquire 21st Century Fox (FOX) (FOXA), but it will also soon own a controlling two-thirds of Hulu. It will finally have every incentive to unleash that platform's full potential.
Then there's Amazon.com (NASDAQ:AMZN). Its Prime service includes access to a wide array of on-demand digital video. Despite the company's e-commerce dominance, Prime hasn't proven terribly disruptive for Netflix yet. It's slowly but surely being taken more seriously as a video venue and an alternative to Netflix. Amazon's license to broadcast Thursday Night NFL games this season isn't game-changing, but it's worth noting as another feather in the company's cap.
Then there's Walmart (NYSE:WMT), which is stepping up its on-demand video presence.
Walmart's foray into the business is almost laughable, at first. Better and more familiar competitors are already years ahead of Walmart, and though the retailer is willing to spend generously to break into the market, it doesn't look like it's ever going to be a real contender.
The headache for Netflix's pricing power isn't Walmart or Amazon or Hulu or Disney's upcoming streaming service though. It's Walmart and Amazon and Hulu and Disney, and the armada of startups that want a piece of the market that Netflix almost single-handedly developed.
None of those other providers has to "win" at streaming video, together or individually, to cause Netflix to lose. Just ask Amazon. It up-ended the entire brick-and-mortal retail industry being willing just to break even.
Now all of a sudden that $16.4 billion worth of debt and content obligations sitting on Netflix's balance sheet is alarming. It was piled up on the anticipation that Netflix would be able to grow its subscriber base in the future as well as it has in the past.
Bottom Line
One bad quarter doesn't make or break a trend. As was noted though, all big trends start out small. Two or three more tepid quarters of subscriber growth will only augment the massive risks parked on the company's balance sheet. Those bills have to be paid sometime. And, with competitors (even poor competitors) making their way into the market at a time when Netflix's home-grown content being a hit-and-miss effort, the streaming giant could be just vulnerable enough to hit a wall.
And the company's plan to lower content expenses by making its own movies and shows isn't panning out quite as well as hoped. As William Blair analyst Ralph Schackart noted early this year:
Quality, as measured by both consumers' and critics' review scores, has become more variable for Netflix, with the averages settling near the middle of the pack.
In that light, the advantage of the old business model - spending a lot on content made by someone else - comes to light. At least when it was using other providers' movies and shows, it could pick and choose the proven winners.
So, now Netflix appears to be headed towards a trap in something of a no-man's land. It's neither the clear quality proposition nor the value proposition it needs to be to fend off all the competitors - collectively - who've been specifically targeting Netflix. The company can't afford slowing revenue growth, but it can't afford to stop spending so much on content either. In the meantime, Netflix is on the hook for content it's already acquired that may or may not pay for itself.
We all had to know this day was coming sooner or later.