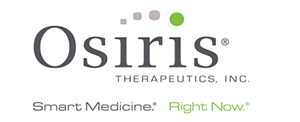 Picture source: Osiris Therapeutics
Osiris Therapeutics (OSIR) addresses unmet medical needs in the area of wound care, orthopedics, and sports medicine utilizing regenerative medicine. The company doesn't talk much and no analyst currently covers the company, but it is quietly advancing medical science and quality of lives through innovative products. In addition, revenue growth continues and it is working on relisting on the NASDAQ. As a result, I believe this makes Osiris a valuable but not well understood company by investors.
My prior three SA articles describe Osiris' growing revenues, product lines, restoration of reporting compliance, and progress resolving litigation, so this is an update on current events and the quiet but significant progress being made.
Osiris Is Not Well Understood
While Osiris discloses required information to investors, Osiris is cautious going beyond that point. At the last shareholders meeting, Peter Friedli, Chairman of the Board, clearly stated that forward-looking guidance will be avoided. He is a firm believer in letting the company's actions speak for itself. I believe this position to be very smart and necessary in today's litigious society. Further, I offer that this strategy is reflective of the intention to create and deliver true value and not hype which we see leaders, at other companies, do on occasion. I respect Peter Friedli's stance and his disciplined leadership to maintain that stance. So, this means we may hear less from Osiris than some other firms, yet I believe this to be a smart stance.
Currently, no analysts follow Osiris. As a result, there is a gap in the normal system of information that connects investors with companies such as Osiris. My articles on Osiris are intended to help close that gap. I believe Osiris' future to be very bright.
Scientific Leadership
Osiris continues to maintain a strong R&D function. While they don't tell us what is going into the lab or what is occurring in the lab, rather Osiris tells us what comes out of the lab and proves it with rigorous science. Two recent examples:
On April 25, 2018, Osiris published "Effectiveness of viable cryopreserved placental membranes for management of diabetic foot ulcers in a real-world setting" in the Wound Repair and Regeneration. This retrospective study demonstrated the effectiveness of Grafix for the management of Diabetic Foot Ulcers utilizing the Net Health's WoundExpert® electronic health records database. Of 441 wounds treated with Grafix, the probability of wound closure at week 12 as calculated by Kaplan-Meier method was 71%. This continues to expand the portfolio of evidence that Grafix consistently delivers the expected results.
These types of studies are important for telling the clinical story to practitioners as well as obtaining support from third-party payers. While I am not a scientist or a physician, my review of the literature leads me to conclude that Osiris' efficacy is impressive. If one of my family members had a chronic Diabetic Foot Ulcer, I would ask the physician for Grafix by name.
June 4, 2018, Osiris announced implementation of Prestige Lyotechnology (PL) for manufacturing. PL is a novel preservation technique for ambient storage of living tissues which will allow for storage and shipment of living tissue (Osiris products or other potential uses) at room temperature. Testing of Prestige Lyotechnology for manufacturing of products at scale has been validated. GrafixPL PRIME™ is the first commercially available product from the new PL method. The structural matrix, growth factors, and cell viability of GrafixPL PRIME are equivalent to Grafix PRIME® (which is cryopreserved) but does not require low temperature storage. Grafix® (cryopreserved) and GrafixPL® (lyopreserved) are both placental membranes that retain extracellular matrix, growth factors, endogenous cells, neonatal mesenchymal stem cells, and fibroblasts of native tissue that are beneficial in supporting wound repair. Both are for acute and chronic wounds including: diabetic foot ulcers, venous leg ulcers, and thermal burns.
The implementation of Prestige Lyotechnology should not be overlooked. Osiris also told us it was a material event. The ability to forego cryopreservation should dramatically change the cost profile of Grafix, other existing Osiris products, and future products. From the healthcare industry perspective, removing a cumbersome element of the product only makes it easier to store and use, which should eliminate buying resistance and open new opportunities. This new technology will help transform and reduce the supply chain cost and improve the profitability of Grafix and other Osiris products. Grafix PL Prime, Grafix PL Core, and Stravix PL are now all listed on the 3356 HCT/P Registration Form, so these products are ready to go to market. Q codes to bill Medicare Administrative Contractors (MACs) for services provided to Medicare beneficiaries are already authorized for Grafix PL Core and Grafix PL Prime. PL is also technology that can be licensed by other companies to generate royalty income or partnership opportunities. Osiris has a strong history of connecting cutting-edge technologies with other firms.
Vision, Financial Strength And Expansion Into New Markets
It takes thoughtful strategic planning, resources, and commitment to invest in rigorous science to improve the standard of care.
On July 11, 2018, Osiris announced a new "Multicenter, Prospective, Randomized, Open-Label Study with a Crossover Extension Option to Evaluate the Safety and Efficacy of GrafixPL PRIME™ in the Treatment of Chronic Venous Leg Ulcers." This study enrolls up to 200 patients at 30 clinical sites. CPC Clinical Research will be responsible for clinical site monitoring, data management, and pharmacovigilance and biostatistical services.
Venous Leg Ulcers (VLUs) constitute more than half of lower leg ulcerations. The prognosis of ulcers is not good. VLUs can remain open after years of treatment, 20% of ulcers remained open after two years. Treatment of chronic VLU is an unmet medical need until now. Chronic VLUs seriously impact the quality of life and are associated with more than $18B of annual costs.
Update On Prochymal
In May 2012, Osiris received marketing clearance from Health Canada for the world's first approved stem cell drug (Prochymal). In October 2013, Osiris smartly avoided the huge cost of commercializing Prochymal by selling it to Mesoblast (MESO) while preserving value through a series of milestone and royalty payments. Mesoblast now refers to Prochymal as remestemcel-L MSC-100-IV.
July 1, 2018, Mesoblast announced a $50 million financing for the continued development and commercialization of its allogeneic product candidate remestemcel-L (MSC-100-IV) for children with steroid-refractory acute Graft versus Host Disease (aGVHD). Based on interactions with the FDA, Mesoblast believes that successful results from a completed Phase 3 trial, together with Day 180 results, should support accelerated approval of remestemcel-L in the US for aGVHD where there are currently no approved products. Since the 100-day results were reporting in June, it is reasonable to expect the 180-day results within the next 2 months.
Marketing authorization in the US will initiate a $20 million milestone from Mesoblast to Osiris. Assuming the Europeans follow the FDA's lead, European approval will result in an additional $10 million milestone payment to Osiris from Mesoblast. Mesoblasts financing plans are a very strong signal of their expectations. Sales will also bring royalty revenue to Osiris. Given that the market currently lacks an approved solution for aGVHD, the opportunity is significant.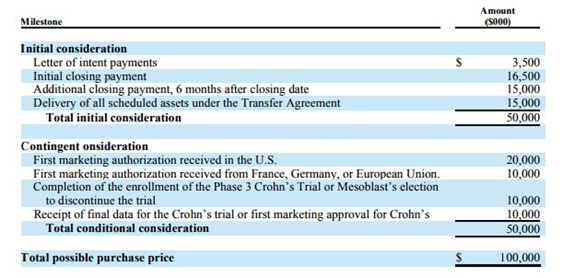 Source: Mesoblast financial statement.
Relisting On NASDAQ
At the annual shareholders meeting, investors received rare forward guidance that the firm would "get relisting done", but a timeframe was not provided. Nor was the NASDAQ tier targeted mentioned.
While I am as anxious as any investor for relisting to occur, I believe it will occur.
Institutional Ownership
While institutional ownership plummeted after delisting, institutional ownership is slowly starting to return.
| | | | |
| --- | --- | --- | --- |
| Fund | Shares Owned | Change | Date |
| RM Smart Strategy Fund | 1,130,000 | - | March 31, 2018 |
| HealthInvest MicroCap Fund | 631,977 | - | June 30, 2018 |
| John Hancock Small Cap Core A | 426,215 | 256,877 | May 31, 2018 |
| Gabelli Health & Wellness | 80,000 | 80,000 | March 31, 2018 |
| Gabelli Asset AAA | 50,000 | 50,000 | March 31, 2018 |
Risks
There are various risks to consider with any biotechnology firm. Osiris is not immune from industry risks.
While relisting on the NASDAQ should be a straightforward process, there is no assurance when relisting will occur.
While changes in drug pricing rules could be a concern, reimbursement for Grafix has been limited under the bundle for several years.
Looking Forward
My perspective comes from my due diligence that Osiris is a very valuable company which trades at a fraction of its value. Osiris currently has no debt and is teetering on the edge of profitability and has a portfolio of strong scientifically based products. Osiris traded in the $12-$27 range before delisting.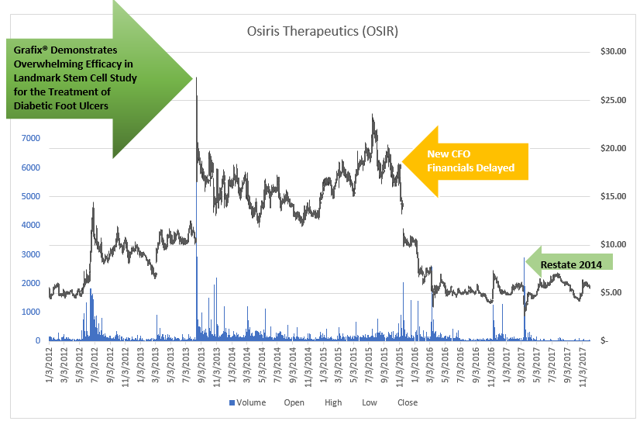 Since 2016, revenues have continued to grow. Revenues have grown from $7.1 million in 2012 to $118.5 million in 2017.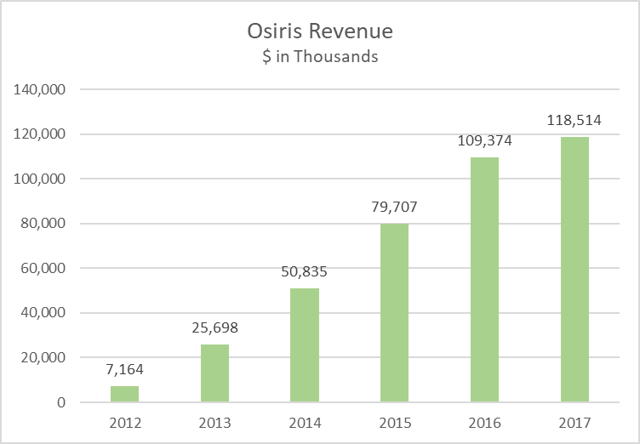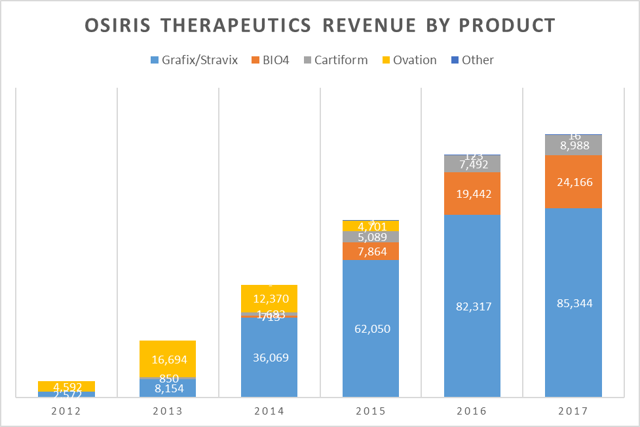 2016 and 2017 display amazing growth during a very challenging period of time for the company. See my April 2018 Seeking Alpha article: Osiris Therapeutics: Regenerated, for Osiris' suit against MiMedx for breach of contract and an update on resolution of litigation and SEC and SDNY investigations.
We now see Osiris working to continue growth. One visible example is the 15 positions currently being recruited on the Osiris job board: 3 Regional Sales Specialists, 1 Associate Regional Sales Specialist, 1 Human Resource Assistant3 Logistic Associates, 1 Senior Scientist - Discovery, 1 Research Associate - Biosurgery Development, 1 Scientist - Discovery, 2 Financial Collection Specialists, 2 Medical Science Liaison - West Coast or Mid West. I believe Osiris seeks to understand how current operations can fund increased costs before taking them on. So not only are these positions favorable for impacting future results, they also suggest that current financial strength is increasing to be able to increase staffing.
The industry average for Price/Sales of biotechnology companies is 7.0, but only 2.8 for Osiris. Osiris currently trades at $10 per share, but a multiple of 7 would suggest a price of $25. Of course, relisting on the NASDAQ is needed before we will see a major advance in the share price. Yet we also understand more about new products such as PL as well as monetization of Prochymal by Mesoblast, but these are difficult to value thus are not included in the basic revenue multiple above.
There are also several serious questions being raised about another company in this space, MiMedx.
Osiris' focus now is on relisting, continued revenue growth, and new product development.
Conclusion
Based on my analysis summarized in this article and my April 2018 Seeking Alpha article: Osiris Therapeutics: Regenerated, I believe Osiris to have above average potential. Given the quiet nature of Osiris and its lack of analyst coverage, investors have a rare opportunity. Osiris actions speak louder than words.
Disclosure: I am/we are long OSIR.
I wrote this article myself, and it expresses my own opinions. I am not receiving compensation for it (other than from Seeking Alpha). I have no business relationship with any company whose stock is mentioned in this article.