Mid-Continent and Rockies refineries have benefited from increasing domestic oil supply as well as steady Canadian supply. For this report, the Mid-Continent is defined as Petroleum Administration for Defense District (PADD) II and the Rockies as PADD IV. A map below shows the states.
At the same time, because they are subject to a variety of regulations, refiners must continually adapt to new product specifications, a changing supply slate, and in one of the biggest financial hits, paying for a certain level of renewable fuel, whether or not they can technically blend it into gasoline. These renewable identification number (RIN) costs and credits can run into the hundreds of millions of dollars.
So a review of seven companies that are significant Mid-Continent and Rockies refiners gives a flavor for these offsetting factors. The public companies compared each have a non-trivial refining market share, and with one exception, similarly find their Mid-Continent/Rockies refining profitability to be material in their overall profitability.
The companies reviewed are Andeavor (ANDV), BP (BP), HollyFrontier (HFC), Marathon Petroleum (MPC), PBF Energy (PBF), Phillips 66 (PSX), and Valero (VLO). BP is included in this group because it owns and operates the biggest refinery in the region at Whiting, Indiana, with a capacity of 430,000 barrels per day (BPD).
Investors should be aware that a) Marathon Petroleum has made a takeover bid for Andeavor, so the stock prices of both can be expected to fluctuate in response to how the bid progresses and b) since the beginning of this year Warren Buffett's Berkshire Hathaway (BRK.A) (NYSE:BRK.B) has sold well over half of the 15% it owned of Phillips 66.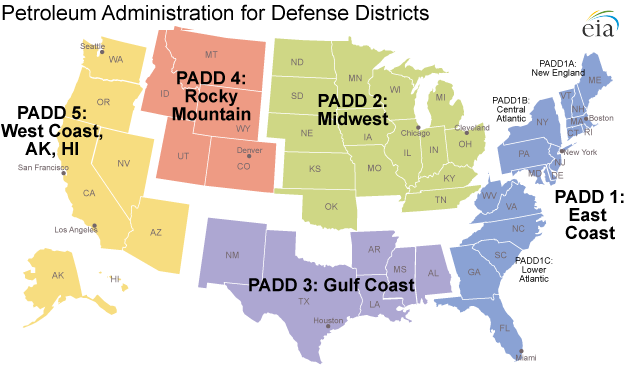 Capacities, Market Share, And Competitors
The most recent U.S. refinery report delineates overall U.S. refining capacity as 18,566,897 BPD. The Gulf Coast, PADD III, has the most capacity, about half. PADD II is significant at 4,070,000 BPD while PADD IV is small in area, only five states, and in capacity of 673,130 BPD. However, PADD IV refiners are often able to use oil supply that otherwise might be stranded and to fill special niches. An example of a company doing so is Par Petroleum (NYSE:PARR) with its growing 18,000 BPD refinery.
Chevron (NYSE:CVX) and Exxon Mobil (NYSE:XOM) each have a Rockies-area refinery, but they are not material to those companies' results or to the region. By contrast, among the seven companies noted above, the percentages of PADDs II and IV refining capacity are:
Andeavor: 3%
BP: 12% (the largest refinery in the region, at Whiting, Indiana, and a joint venture with Husky at Toledo, Ohio)
HollyFrontier: 8%
Marathon Petroleum: 18%
PBF Energy: 4%
Phillips 66: 13%
Valero: 6%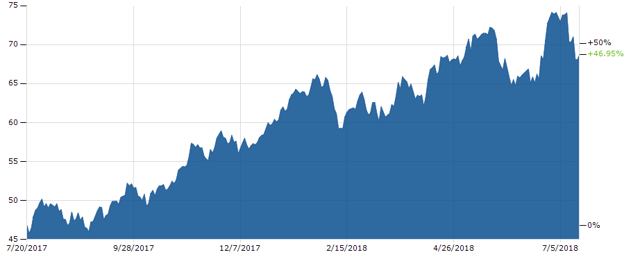 WTI Crude Oil, axis is $/barrel. Source: markets.businessinsider.com.
Oil Prices, Oil Supply, And Crack Spread
The July 19th closing oil price was $69.97 per barrel for West Texas Intermediate (WTI) crude oil at Cushing. A large number of factors, from weekly storage to a now-2-million BPD loss of supply from Venezuela and uncertainly around Libyan and Iranian supply have caused prices to rise, drop back, then recover somewhat in the last few weeks.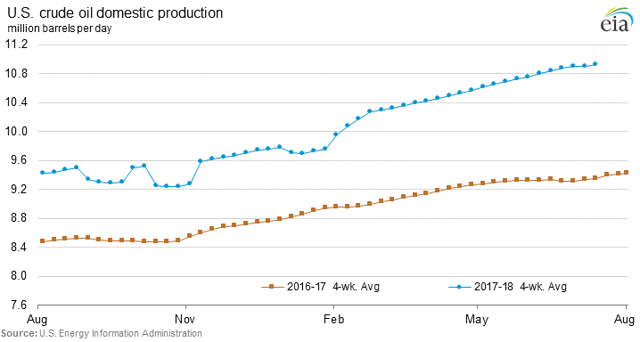 Amidst the global oil supply-demand uncertainty, the U.S. has come to the fore. The Energy Information Administration (EIA) expects U.S. production will hit an all-time annual high of 10.8 million BPD in 2018 and 11.8 million BPD in 2019. As recently as 2005, U.S. oil production had fallen as low as 5 million BPD.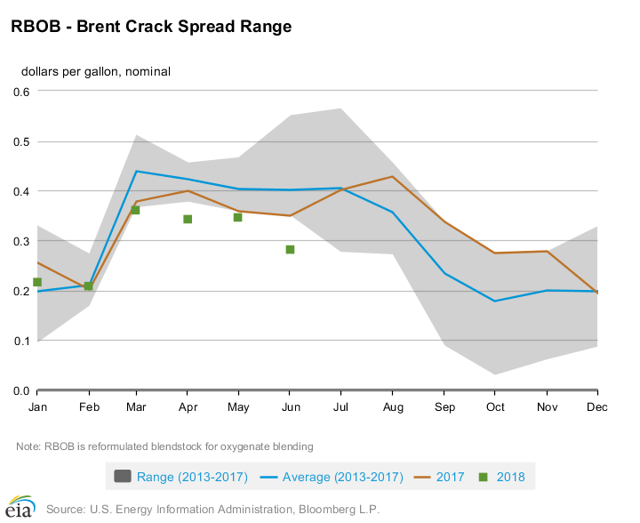 The crack spread, or the margin for making petroleum products from oil, can be defined in a variety of ways. The graph above illustrates one definition, where Brent is the price of oil similar in quality to WTI and RBOB is "base gasoline" or technically, reformulated blendstock for oxygenate blending. Note that so far this year, the RBOB-Brent crack spread is falling below the five-year range, which appears directly attributable to the ramp-up in oil prices.
A Note About BioFuel Waivers
While these seven are large, stable companies, they operate in a regulatory environment that can change drastically and unexpectedly. All preparing for the change in marine bunker sulfur specs in 2020. However, a notable uncertainty was the early-June decision, and continuing discussion, about the annual biofuels blending requirements. RIN costs, essentially corn ethanol subsidies, are quite high for the large refiners, and enough of a financial burden that companies with refineries smaller than 75,000 BPD are allowed to apply for waivers.
Because the company identities were kept secret, it is not known who precisely applied for and received waivers, but those receiving them are believed to include Par Petroleum, Andeavor for its three small refineries, HollyFrontier, Delek (DK), and CVR Refining (CVRR). Moreover, because Phillips 66, Exxon Mobil, and Chevron each have a Rockies refinery smaller than 75,000 BPD, they applied for RIN waivers for those individual refineries.
The big wrench that still may land in the income statements of the larger of these companies - Valero, for instance, estimated its own RIN payments for 2018 would be $500-$600 million - is that ethanol producers are asking large refiners to pay extra to make up the cost of small-refiner waivers. In this group, the companies that benefit are Andeavor and HollyFrontier, while the other five typically have refineries larger than 75,000 BPD and so would bear an even more RIN costs, if the small-refiner waiver costs are reassigned to them.
Capitalization And Stock Price Vs. One-Year Target
The market capitalizations of these companies vary widely with the low and high points as distinct anomalies. Based on Thursday, July 19th, stock prices, PBF has a market cap of $4.8 billion and English giant BP has a market cap of $151 billion. The other five cluster in between with HollyFrontier at $12.6 billion, and the remaining four at between $21 billion and $52 billion.
One useful consideration for potential upside is the ratio of the current stock price to the one-year target price. As the table shows, Marathon Petroleum, PBF Energy, and Valero show the most upside potential.
| | | | |
| --- | --- | --- | --- |
| | 7/19 | One-Year | Current |
| Symbol | Price | Target* | Vs. One-Year Target |
| ANDV Andeavor | 137.49 | 152.31 | 90% |
| BP BP | 44.44 | 49.49 | 90% |
| HFC HollyFrontier | 71.81 | 75.67 | 95% |
| MPC Marathon Petro | 72.86 | 97.08 | 75% |
| PBF PBF Energy | 42.85 | 51.54 | 83% |
| PSX Phillips 66 | 110.90 | 124.50 | 89% |
| VLO Valero | 107.00 | 131.40 | 81% |
Current Ratio, Dividend Yield, and Price-to-Earnings Ratios
The current ratio is the ratio of a company's current assets to its current liabilities. A ratio of 1.0 is a minimum desired level. All of the companies meet this standard, with current ratios from 1.1 for BP to 2.3 for HollyFrontier.
BP has been hit hard by its financial and other responsibilities for the Macondo disaster. Its 5.4% dividend yield and 100%+ projected earnings per share upside suggest residual skepticism but that the company could be turning around. The remaining stocks have a range of dividend yields: from lows of 1.7% and 1.8% for Andeavor and HollyFrontier, respectively, to Marathon Petroleum at 2.5%, PBF Energy at 2.8%, Phillips 66 at 2.9%, and Valero at 3.0%.
In reviewing the price-to-earnings ratios, BP is an outlier at 33, again reflective of expected upside and the fact that BP is a giant, integrated company rather than simply a refiner. The remaining six are tightly clustered at P/E ratios of 10.1 to 12.6.
Short And Liability-To-Asset Ratios
While no listing is given for BP, the remaining six companies have ratios of short-to-floated shares of between 1% for Phillips 66 to 8% for HollyFrontier.
HollyFrontier has the lowest liability-to-asset ratio of 44%; the rest are grouped between 53% for Phillips 66 to 65% for PBF Energy.
EV/EBITDA And Return Ratios
EV/EBITDA ratio is the ratio of a company's enterprise value divided by its earnings before interest, taxes, depreciation, and amortization. A ratio below 10 suggests a prospective investment.
Returns on equity (ROE) were mostly strong. BP had the smallest at 4.5%, then a jump to Andeavor at 16.9%, Marathon at 19.4%, and the rest at 20.1%-22.0%.
Betas
Each of these seven is a large company, so one would expect betas - a measure of volatility relative to the overall market-to be tightly clustered around 1.0. While this is in fact true for four of the companies, BP has a somewhat more stable beta of 0.83 while PBF Energy's beta is 1.28 and Marathon's is a sizable-for-its-size 1.52.
Recommendations
Based on the results here, I recommend investors consider BP for its 5% dividend and Valero for its nearly 20% potential stock price upside.
I also suggest monitoring the progress of the Marathon Petroleum-Andeavor merger. Once the outcome is known and settled, either the two companies individually or the completed merger are worth considering for investment.
Finally, investors should be cognizant of biofuel regulatory changes that could assign more RIN costs to the larger refiners.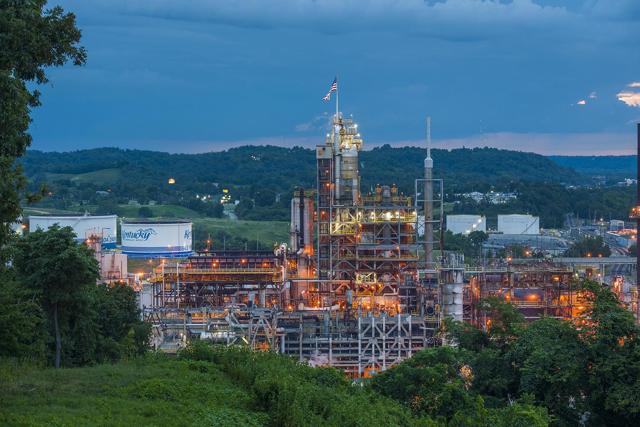 Source: marathonpetroleum.com.
While you're here, consider subscribing to Econ-Based Energy Investing, a Seeking Alpha Marketplace platform. Weekly in-depth articles provide you with recommendations for long energy investments.
Subscribers get actionable ideas, make decisions with larger industry context, and save time on research. My service focuses on publicly traded small- and mid-cap oil producers (by basin) and refiners (by area) drawing from a public energy space spanning more than 400 companies.
I'm an industry insider with more than 30 years' experience working for and investing in energy companies. As you plan your research and investing strategies for the year, consider Econ-Based Energy Investing.
Disclosure: I am/we are long ANDX, MPC,VLO. I wrote this article myself, and it expresses my own opinions. I am not receiving compensation for it (other than from Seeking Alpha). I have no business relationship with any company whose stock is mentioned in this article.