Summary
China has pegged gold within a range of USD values using SDR open market operations.
China has, by being part of the SDR basket of currencies, also locked the USD into a trading range with the yuan as a result of their gold/SDR peg.
China can buy gold within its desired range, while also preventing the Fed from devaluing the USD enough to alleviate America's current account deficit with China.
In a brilliantly devious plan, China has taken away control of the world currency markets, and USD/China trade, by using SDR's against western central banks.
Trump's tariff plans aren't likely to work against China as long as they control these gold and currency valuations within their desired ranges.
In a recent Seeking Alpha article, Viking Analytics asks whether China has pegged the price of gold to SDRs after reviewing a piece written by Jim Rickards. Viking Analytics posted the following chart for gold to SDR ratio in his analysis.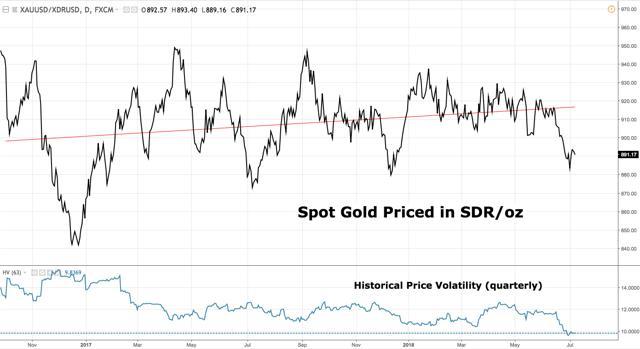 Source: Viking Analytics / TradingView
This is the chart Mr. Rickards posted in the source article, as reproduced on the Goldcore site.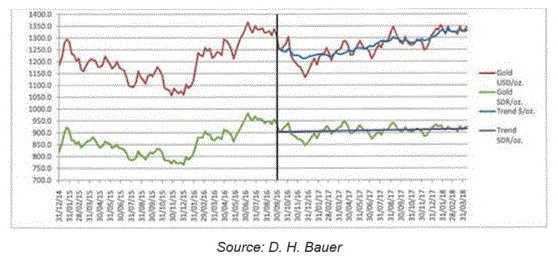 Source: Jim Rickards/Goldcore/D.H. Bauer
Both charts show that the SDR and gold have followed a very similar path of late and the correlation, while not causative proof, does suggest statistically that gold and SDR have basically been pegged.
The biggest implication from this from Mr. Rickards point of view is that SDRs will be traded in gold. If you have followed Mr. Rickards over the years, as I have including seeing him speak at industry conferences, you will know that he believes SDRs will be the new global reserve currency when the U.S. dollar fails, as he believes it will during the next crash.
Jim states in the article:
Why did SDR/GLD go from normal volatility to no volatility overnight? The straight-line behavior of SDR/GLD after the Chinese yuan joined the SDR is impossible without some kind of intervention or manipulation. The odds of this happening randomly are infinitesimal.

...

To peg a cross-rate, in this case SDR/GLD, you need a large floating supply of both components or a printing press to make as much as you need. Basically you conduct open market operations.

...

There are only four parties in the world who could conduct such a manipulation: the U.S. Treasury, the ECB, the Chinese State Administration of Foreign Exchange (SAFE) and the IMF itself. These are the only entities with enough gold and SDRs to be able to conduct the open market operations needed to peg the price.
Mr. Rickards believes it is most likely the Chinese performing the manipulation, as you can validate by reading through his analysis.
The bombshell that Mr. Rickards drops is equating the gold market price manipulations with Chinese interventions and not the US Federal Reserve or certain global banks, as has been posited by many gold industry analysts and pundits (me being one of them). While causation is not proven, it is an interesting theory.
In his article, Viking Analytics asks the following question:
If China has indeed pegged the value of gold to some currency, is it possible that it has pegged the value to its own currency? The regression line for gold priced in yuan is more flat than the regression line for gold priced in SDRs. And the volatility of gold priced in yuan is lower. Wouldn't it be easier for China to peg the price gold to its own currency rather than a basket of currencies?
The answers might have come from a recent article by David Brady and Sprott News (emphasis mine):
More importantly, based on the goalposts for these ranges, Gold is limited on the upside at 1387 and on the downside at 1131. It's no coincidence that the peak and trough in Gold since mid-2016 and now were 1377 and 1124, and that supports Jim's thesis that Gold is pegged in SDR terms. This means China, in coordination the IMF, is controlling Gold prices. It also means that Gold is unlikely to go higher or lower than these values unless the SDR breaks out of its range.
David's article clearly outlines a thesis, using charts and tables, for how China has pegged the their currency to SDRs and gold using open market operations and potentially market manipulation in spot gold prices.
In the following video, I will analyze David Brady's data linking the Yuan, gold, and SDR and show how the ranges band the currencies and gold together. Further I will analyze what this means to China and the U.S. in terms of their current trade war and the U.S. tariffs which will largely be made ineffective in their original purpose.
China is controlling their own destiny in both U.S. trade and currency valuations and may have just broken the back of the western central banks' plans to ultimately drive the world monetary system.
Disclosure: I/we have no positions in any stocks mentioned, and no plans to initiate any positions within the next 72 hours. I wrote this article myself, and it expresses my own opinions. I am not receiving compensation for it. I have no business relationship with any company whose stock is mentioned in this article.