A Hawkish Fed and a Vulnerable RBA
Jerome Powell- Since I last testified here in February, the job market has continued to strengthen and inflation has moved up. In the most recent data, inflation was a little above 2 percent, the level that the Federal Open Market Committee, or FOMC, thinks will best achieve our price stability and employment objectives over the longer run. The latest figure was boosted by a significant increase in gasoline and other energy prices. (Source: Semiannual Monetary Policy Report to the Congress)
An average of 215,000 net new jobs were created in the US each month in the first half of this year, which is higher than the monthly average for 2017, causing unemployment to fall to 4.0 percent in June, near the lowest level of the past two decades. The labor force participation rate has significantly changed since 2013, indicating that an increased strength in wage growth is likely. This is in stark contrast to the record-low wage growth occurring in Australia: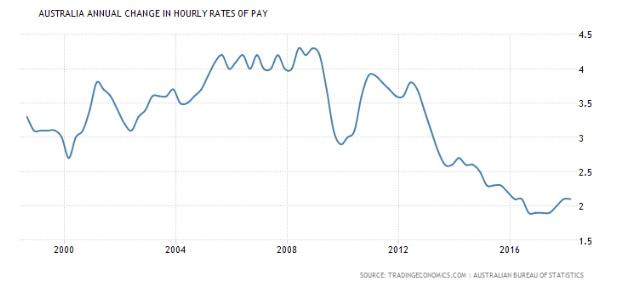 (Source: Trading Economics)
Australia's stagnant wage growth is hampering inflation, and has not displayed any signs of a sustainable turnaround. Meanwhile, the US price index for personal consumption expenditures (an overall measure of prices paid by consumers), increased 2.3% over the 12 months ending in May, a significant increase from the 1.5% reading a year ago. Core inflation was 2% for the 12 months ending in May, again a significant increase from the 1.5% reading from a year ago.
With a strong job market, inflation close to our objective, and the risks to the outlook roughly balanced, the FOMC believes that--for now--the best way forward is to keep gradually raising the federal funds rate. We are aware that, on the one hand, raising interest rates too slowly may lead to high inflation or financial market excesses. (Source: Semiannual Monetary Policy Report to the Congress)
The market is forecast 4 rate hikes from the Fed throughout 2018, and 0 from the RBA. As time goes on and Australian data becomes increasingly shaky, the RBA will continue to turn more dovish. This is due to a vulnerable housing sector, which has been driven by a debt-fueled investment housing binge over the past 10 years, despite household income growing so slowly: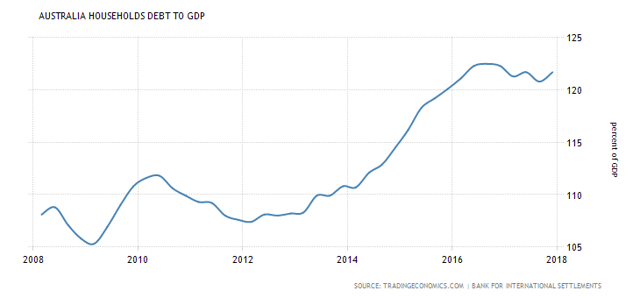 (Source: Trading Economics)
Mortgage serviceability, credit supply and house price expectations are all now falling, causing the majority of market participants to forecast falls for Australian housing over the short term:
We expect values in Sydney to fall between 5 to 10 per cent over an 18 to 24 month period. Tighter credit policies have hurt Sydney more than other markets because it is more exposed to investors. At one point Sydney had more than 60 per cent investors. (Source: Australian Financial Review)
Morgan Stanley's forward-looking housing model has reached a new historical low at -1.0 for the June quarter: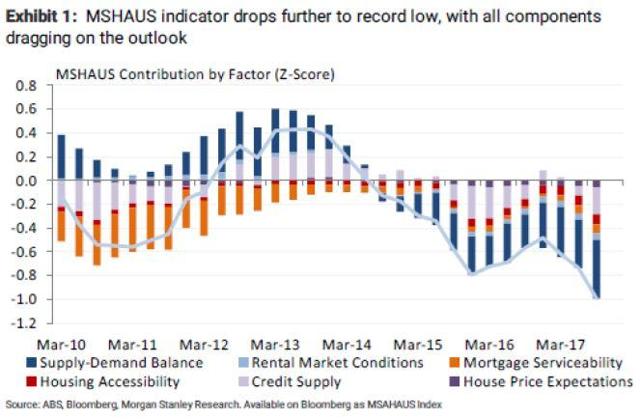 (Source: MacroBusiness Australia)
The bank is warning that prices could slump by another 10 per cent as all six key indicators in its housing model, including demand/supply balance to credit availability and house price expectations turn negative.
It is the latest in a string of pessimistic predictions from banks, brokers and investment analysts about prospects for the nation's property market as it rapidly descends from record price growth and unprecedented local and overseas' demand. (Source: Australian Financial Review)
As Australian households are so highly leveraged with investment in the housing sector, in my opinion a 10% fall would only be the beginning as the sector is at high risk of entering a negative feedback loop as investors are forced to sell properties at loss, and interest-only loan holders are unable to refinance as their properties enter negative equity: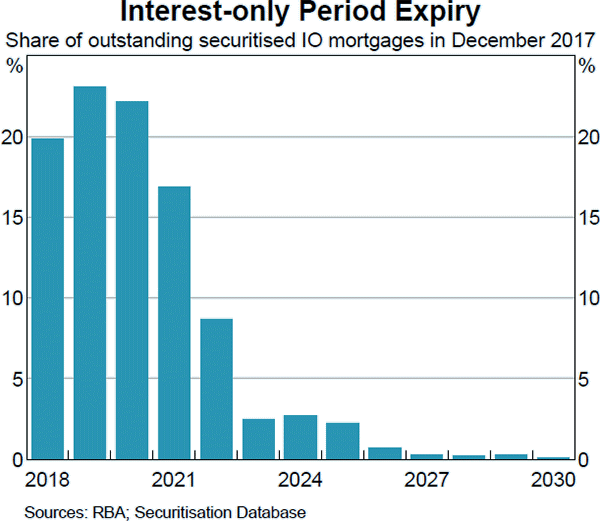 (Source: RBA May 2018 Statement of Monetary Policy)
The rise in scheduled payments amounts to about $7,000 per year for the typical IO loan in the Securitisation Database (of around $400,000). For such households, this is a non-trivial sum. The effect on their consumption though will depend on the extent to which they have planned and provisioned for this predictable step-up in payments. (Source: RBA May 2018 Statement of Monetary Policy)
The number of investor interest only mortgages that have been approved in Australia since 2008 is ridiculous considering the lessons that should have been learned from the 2007-08 GFC in the USA. Although I am not forecasting an outcome as severe as the GFC when IO loans transfer to principal and interest repayments (significantly increasing pressure on these investors and owners), an economic downturn is inevitable.
Trade Wars
Adding further to the AUD's woes are the continually worsening international trade conflict, weakening the AUD due to Australia's reliance on exports to China. Since China announced retaliations to Trump's tariffs, Australian business confidence (and subsequently investment) has tanked, resulting in Australia's already sluggish growth rate looking increasingly vulnerable: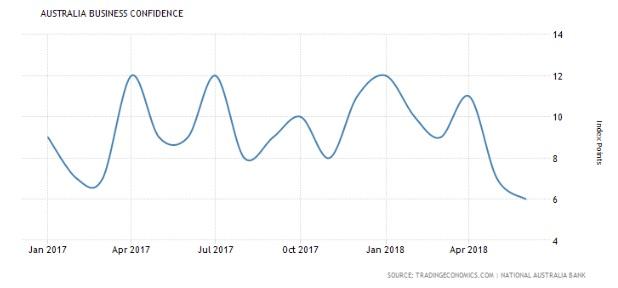 (Source: Trading Economics)

(Source: DFAT)
While a trade war will certainly impact the US to an extent, Australia is far more exposed to a slowdown in the Chinese economy.
Technical Analysis/Charting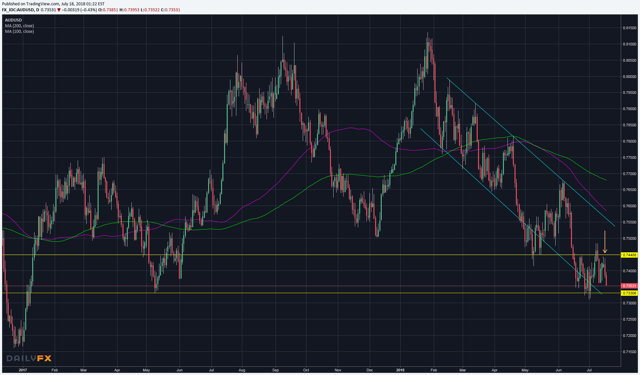 (Source: DailyFX/My own TA)
A clear long-term downtrend on the daily charts is heavily weighing on the pair, and is likely to push price below the near term support level at 0.7330. As price push below this level, investors with long positions will be forced to close their positions as price makes a run on stops, with a fall to 0.700 likely in the near-term, and the multi-year lows at 0.6500 in sight over the long term. Strong selling interest at 0.7500 is likely to cap any upside potential, providing sellers with a clear resistance level to work with.
Conclusion
Emerging risks to the Australian economy including a falling housing sector and a slowdown in the Chinese economy are beginning to cause the RBA to diverge from its current stance of normalizing policy over time towards the prospect of cutting rates. This is in stark contrast to the United States where a booming economy and tightening Federal Reserve has caused the two nation's 10 year yields to converge. This will cause severe weakness in the AUD/USD exchange rate, creating an opportunity for investors.
All investors must conduct their own due diligence on all investments and must take full responsibility for their own portfolio.