Summary
"If you don't find a way to make money while you sleep, you will work until you die." - Warren Buffett.
Recent pullbacks in Starbucks, JM Smucker, and JD.com offer attractive entry points.
This will track my Making Money While I Sleep Portfolio which I'll be building each month, primarily investing in "Stalwarts" and "High Growth Picks."
Editor's note: Seeking Alpha is proud to welcome Theory of Living Investments as a new contributor. It's easy to become a Seeking Alpha contributor and earn money for your best investment ideas. Active contributors also get free access to the SA PRO archive. Click here to find out more »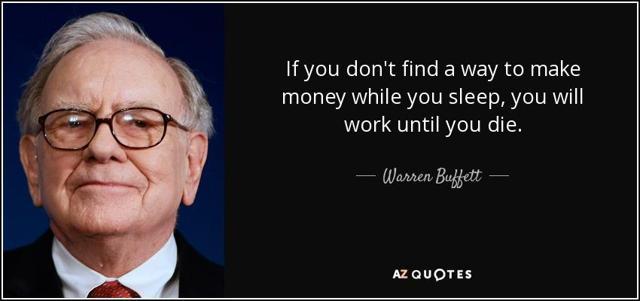 I'm not planning to work until I die.
In fact, I'm not planning to work all that much longer.
Another ten years give or take, maybe with some sort of part time situation for a handful of years after.
Yeah.
That's more like what I'm thinking.
Thus, given the immortal words of Mr. Buffett, I had better figure out a way to make money in my sleep.
And a lot of it.
Enter my Making Money While I Sleep Portfolio, the compounding force upon which I will rise to financial independence. I will build the portfolio initially via $1,000 monthly investments spread over up to 30 companies and will be following it here in real time with monthly updates.
PS: I'm not crazy. $1,000 a month will not get me where I want to be in ten years. I will be polishing off my student debt over the next 12 months after which I will scale up the portfolio contributions.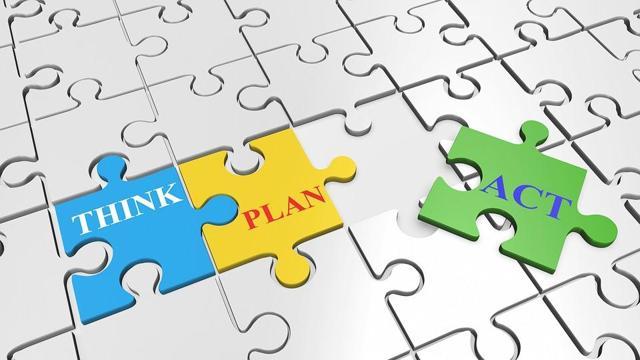 The Plan
The plan has a couple of key rules.
1.) Buy and Hold
I'm planning to hold these ~30 companies forever.
I find myself somewhat enchanted by investors like Buyandhold 2012 who never, ever sell. Realistically, I'll have to approach this on a case by case basis if an investment thesis suffers a truly catastrophic blow, but my plan from the outset is to very, very firmly avoid selling. Not only that, but...
I will never, ever sell a stock for going up.
2.) No Expensive Hobbies (aka, keeping track of relative performance)
In five years, if I have failed to beat the market, I will switch gears and invest in ETFs such as VTI, VIG, or SCHD. The fun of stock picking is not worth the compounded opportunity cost of 1-2% annually over thirty plus years.
That's a heck of an expensive hobby, and expensive hobbies don't get you closer to financial independence.
3.) The Golden Rule of Stock Selection: Outperformance
Every single time I evaluate a company for inclusion in this portfolio, I will ask myself a critical question:
Do I reasonably expect this stock to outperform the S&P500 over the next 10-20 years?
If after looking at all of the available data the answer is anything less than "yes," I'll go ahead and move right along with my life.
3.) Two Groups of Stocks
The first group consists of Stalwarts. These companies have a strong history of outperforming the market and are expected to in the future. Think Apple (AAPL), Sherwin Williams (SHW), or Disney (DIS). In Buffett's words, I will be buying wonderful businesses at fair prices.
Those of you in the DGI crowd may feel like a few big names are missing from that Stalwart list, but we'll circle back to that in a future article.
The second group consists of High Growth Picks, companies I see riding massive growth runway for a long time. Think JD.com (JD), Baidu (BIDU), or Facebook (FB). Within this group, I do plan to take on a small number of "risk on" investments. This segment will aim to drive significant outperformance, particularly if I manage to land several multibaggers without too many duds. That said, I do expect that I'll have a few misses in this group.
My "risk on" segment will be at least semi-reasonable. You won't find me investing in something truly ridiculous like Tesla (TSLA).
4.) Monthly Valuation Assessments
Of the 20-30 companies I am targeting, I will allocate amongst them on a monthly basis according to my perception of their relative valuations with a range of between 0-10% of the monthly $1,000 contribution.
For example, you might find me loading up on Apple (AAPL) after a pullback but avoiding Visa after a big run-up.
5.) Monitoring the Macro Situation
The last part of my plan will be to monitor the macro situation through long term technical analysis and economic indicators. Should the macro situation decay, I will consider holding my monthly investment until such time as the macro situation improves. I will discuss these indicators and how I plan to use them in a future article.
The Portfolio
I made the first round of purchases on 7/19. Below you can find my chosen investments and their relative allocations.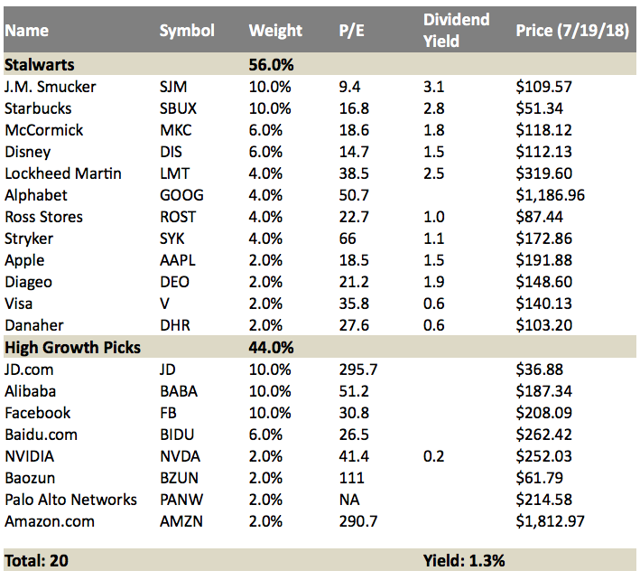 Big picture considerations include a 1.3% dividend yield on the whole portfolio and a close to 50/50 distribution between Stalwarts and High Growth picks. I expect it to lean more heavily towards Stalwarts in the future.
It's also interesting to note that all but one of my Stalwarts pays a dividend, while only two of my High Growth Picks do.
With each round of purchases, I'll plan to discuss a handful of companies I find particularly attractive (or unattractive) at present prices.
Starbucks
I see a big opportunity in Starbucks (SBUX) right now. Starbucks has been a massive winner for anyone lucky or smart enough to buy it and forget about it back in the early 90s, having returned over 15,000%.
That said, Starbucks has actually underperformed the market over the last several years due to concerns regarding slowing growth.
Those concerns are real. Make no mistake: Starbucks will never grow at the downright silly rate it did over the past 20 years. Ever.
Growth is slowing.
And that's okay.
Starbucks is transitioning from a high growth company to a moderate growth company, and it has an investor base in transition. Aggressive growth investors are jumping ship, but it doesn't quite have the long term track record to entice more conservative investors.
This company is between investing homes, and I'm more than happy to take advantage. It is being unduly punished for slowing growth, an issue I see as somewhat overblown anyway.
Starbucks isn't done growing, even if growth will be more moderate in the future. Starbucks has opportunities for expansion abroad, particularly in China. It's also going to continue to expand in the US and maximize margins by aggressively closing underperforming stores while opening stores in better markets.
I see a solid growth runway for Starbucks. In fact, with a PE ratio close to 17, I'd consider it downright cheap.
I like Starbucks at fair value, but at this price, I'm going to load up.
JM Smucker
JM Smucker (SJM) is one of my Stalwarts. It's a Consumer Staples play, a sector that has been left out in the cold in the recent rally.
This is a company built on strong brands, and it has outperformed the S&P 500 over the last 20 years (CAGR 10.5% vs 7.1%).
Even if the relative underperformance continues in the near future, Smucker pays investors to wait with a dividend yield ~3% and a payout that has increased annually for the last 20 years.
Some transient concerns regarding margins have given us a nice entry point, with a PE ratio under 10, so I'm weighting it heavily this month.
Remember: we're supposed to buy when others are fearful.
JD.com
JD.com (JD) is one of my High Growth Picks. JD is one of the biggest names in the Chinese eCommerce space, and the growth they've been putting up is staggering.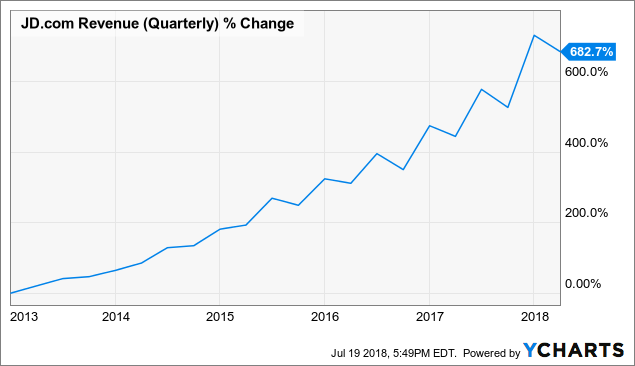 Not only have they been growing like crazy, but some big time tech companies have taken notice; JD has inked partnerships with both Alibaba (NYSE:BABA) and Google (NASDAQ:GOOG).
This company isn't going away. It's going to continue to grow, and its growth will be the beneficiary of the fastest growing middle class in the world.
I think JD has the potential to be a massive winner.
Recently, JD's stock price has been punched in the mouth due to margin concerns as JD continues to aggressively invest in growth and expansion.
That's just silly.
JD is playing the long game, and I'm happy to take advantage of the pullback and load up here.
Facebook
Facebook (FB) is lumped in with my High Growth Picks, but I feel like it is almost a Stalwart.
That's because (as an investment) Facebook is amazing.
Despite being worth almost 600 billion dollars in market cap, Facebook is consistently putting up 40-50% year over year revenue growth. It's not just revenue, as Facebook has been able to bring the money all the way down to the bottom line, scoring nice profits.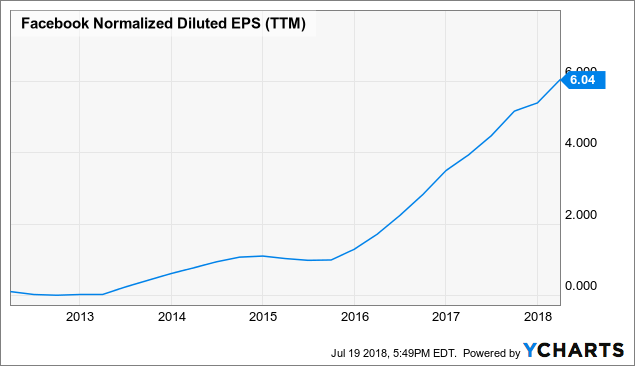 Despite that insane growth, Facebook trades at a reasonable valuation, with its PE ratio hovering around 30, and its forward PE ratio a very reasonable ~21. For a company putting up this kind of growth, I'm thrilled to pay that price.
My only regret is that I wasn't able to load up on shares during the Cambridge Analytics Data scandal.
Facebook has at this point entrenched itself with other tech stars like Apple or Google. It has the reach, cash, human resources, and size to guarantee its role in the global technological future. I'll put my money on that.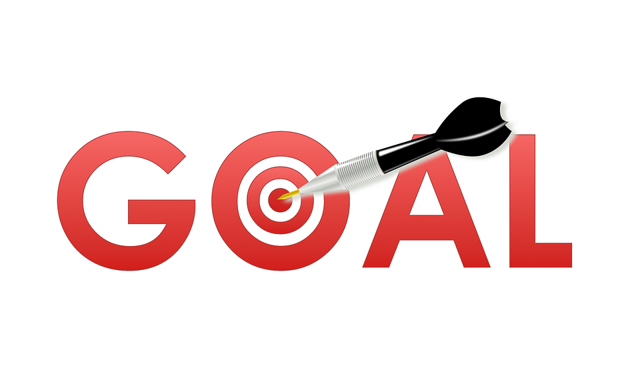 The Goal
I'm writing this so that you and I can help each other.
Financial independence is hard. The research shows time and again that Americans are not saving enough for retirement. It's even more ambitious to try to retire very early.
It was a portfolio blog that inspired me to start on this path years ago.
After school, working my way through most of my student debt, and getting a raise or two, I finally find myself in a position to go for it.
Maybe you're already on this path. Or maybe reading this will help push you there. Maybe it'll help you reach early retirement or maybe just a safe retirement right on schedule.
Maybe it will inspire someone.
Our investing styles may differ. You may hate some of my picks and I yours. Our investment decisions may share no common ground.
But either way, we both benefit. We will benefit from the sharing of knowledge, and we will benefit from the commonality in our goal.
Stay tuned.
Disclosure: I am/we are long ALL STOCKS IN PORTFOLIO AS NOTED ABOVE. I wrote this article myself, and it expresses my own opinions. I am not receiving compensation for it (other than from Seeking Alpha). I have no business relationship with any company whose stock is mentioned in this article.