September natural gas futures ("NGU9") have traded in a range between $2.70 and $3.00/mmBtu for most of 2018. After falling to new contract lows of $2.67 yesterday, the price recovered nicely and appears to be ready to swing higher from here.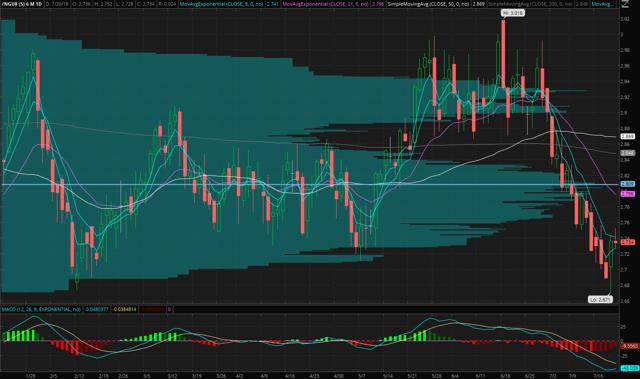 The MACD indictor could get a bullish cross early next week. And the Point of control for the 2018 year is near $2.81, quite a few ticks higher. NGU9 is currently trading in between the 4- and 8-day exponential moving averages.
On the 2-hour 20-day chart, we can see that NGU9 is at a critical decision point. Price is right at the monthly point of control (where most contracts have traded over the past 20 trading days).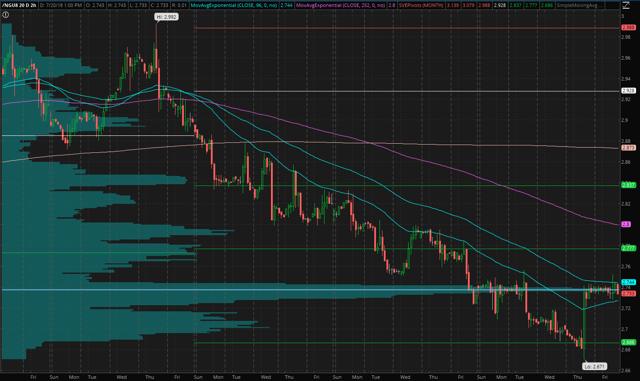 I would like to see natgas rise above this level and successfully back-test it before establishing a long position.
OPEX Price Magnets
The upcoming option expiration for NYMEX natural gas is July 26 th. We developed a Price Magnet trading indicator that we use to supplement other trading tools for select markets. Since June 2017 and among ten different commodities, we have seen mean reversion between the futures price and the Price Magnet about 75% of the time.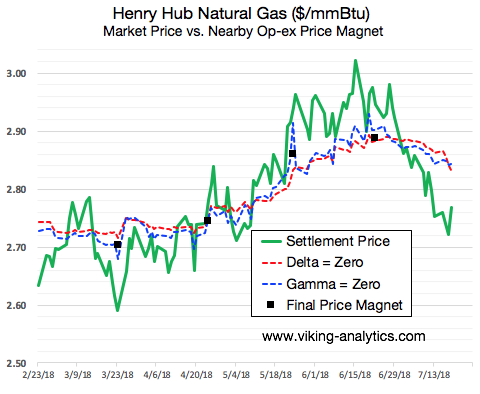 Source: Viking Analytics
The Price Magnet indicator for natural gas is unique to other Price Magnets in that it has had very high mean-reversion after the option expiration occurs and not always before. This is why we are more inclined at this juncture to go long the September futures contract than the August contract. The options market for the next three months has priced in a rise in contract values .

Source: Viking Analytics
If you are interested to learn more about this indicator, please click this link.
Final Notes
The NYMEX futures contracts include exposure to 10,000 mmBtu of energy, so at $2.70/mmBtu, the nominal exposure is $27,000. I always consider my nominal exposure to be my investment. If I go long, then I might sell covered calls to benefit from the sale of volatility and reduce my downside risk.
Disclaimer and Notes
All charts above were taken from Thinkorswim unless otherwise indicated, and all tables were created by Viking Analytics unless otherwise indicated.
This article was written for information purposes, and is not a recommendation to buy or sell any securities. All my articles are subject to the disclaimer found here.
Commodity Conquest
In my Commodity Conquest service, I publish a daily commodity report for gold, crude oil, natural gas, and agriculture. I also do in-depth coverage of eight energy firms.
My verifiable trading record from on all completed trades through July 18 th includes a win rate of 88% on my stock coverage trades, with an average return of 9.2% on an average hold period of 33 days.

Disclosure: I/we have no positions in any stocks mentioned, and no plans to initiate any positions within the next 72 hours. I wrote this article myself, and it expresses my own opinions. I am not receiving compensation for it (other than from Seeking Alpha). I have no business relationship with any company whose stock is mentioned in this article.