"Psychology is probably the most important factor in the market, and one that is least understood." - David Dreman
The early part of July has historically been a positive time for equities, and they have followed the script so far this year. The month started off quiet enough, but since July 4th, the S&P 500 has done almost nothing but go higher, gaining over 3+%. During that time the index also traded to its highest closing level since February 2nd. The major indices have put more space between their respective February lows, and the Nasdaq made yet another new high this week.
The Nasdaq 100 is leading U.S. indices month to date and year to date with gains of 4+% and 15+%, respectively. Growth ETFs continue to outperform Value strategies. Eventually Value will come back into favor, but it's been a rough stretch for followers of that strategy. Foreign equities have seen a much more uneven performance in July continuing the trend that has been in place all year. Mexico (EWW) and Brazil (EWZ) are leading on a month-to-date basis with gains of over 5%, while China (ASHR) and Japan (EWJ) are down.

2017 has been compared to another period of time in a former secular bull market, 1995. Both just continued to grind higher, with only a small 3% correction. Adding to those comparisons was the fact that many of the all-time positive bull market streaks that occurred in 1995 were in fact eclipsed in 2017. Ironically 2018 started similar to 1996. A 9% gain in January compared to the 7% gain in 2018. In 1996 the market then dipped and remained in a trading range for 30 weeks, before breaking out to a new high in August. The S&P tacked on another 13+% to year end.
So far 2018 has played out very similar. The S&P is now in its 25th week of consolidation, and we could start to make the argument with the recent break above the trading range that consolidation may now be over. One has to wonder with the 1996/2018 correlation so strong, if the 1996 pattern will continue this year, and usher in market highs.
Not everyone is following those ideas. There is an overwhelming feeling among market participants that this Bull Market is about to end any day now. I keep hearing the same phrases over and over: "We are obviously late in the economic cycle" and the Bull Market is in its "late stages". One thing I've learned from my investment experience is that trends/moves in the market can go on MUCH longer than most people expect. Those that are telling us to be careful are missing some very important facts.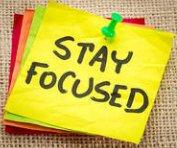 Let's start with earnings. I have never seen a bear market start when earnings just rose by 20+% and are forecast to do the same for the remainder of 2018, then increase by double digits in 2019.
Then there is market sentiment/investor psychology. Far too many are still cautious; far too many have themselves positioned for a big drawdown.
Many fund managers are overweight cash. It seems not many believe earnings will indeed improve.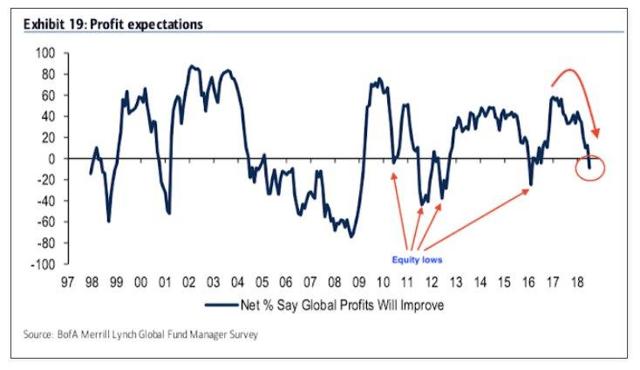 Profit expectations are at lows last seen since 2016. Negative profit expectations also marked equity bottoms in mid-2010, late-2011 and mid-2012.
For those that still want to tell us how everyone is in love with the economy and stocks here is yet another survey showing quite the opposite.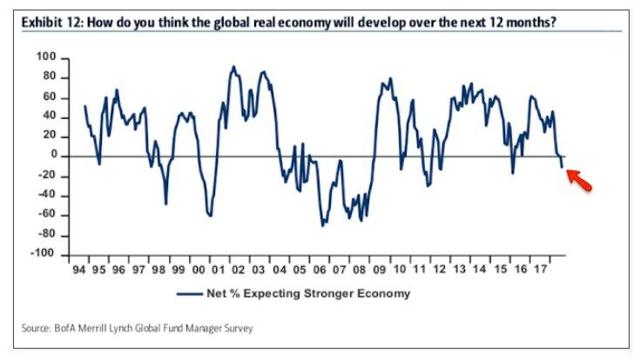 AAII sentiment reports have set weekly records for bullish sentiment under 50%, yet some continue to argue everyone is enamored with stocks. All of this is evidence telling us that with overall sentiment at these levels (more indicative of a market bottom), this market has NOT made a significant TOP.
Finally, the economic cycle is not showing signs of weakening despite its age. During the past 8 or so years, the economy was never in an explosive growth stage. We have simply been growing GDP at 1.5-2.5% per year. This can continue for a while, far longer than an investor can keep their expensive hedges in place waiting for a market crash. There is a good chance with the business incentives now in place that the economy can accelerate to 3% or higher.
On the last two points, the economy never overheated, and stock market bullishness has never approached extremes. When these do change and excesses are built in, the stock market will have a way of correcting that situation. We are not close to that point yet.

Economy
Urban Carmel sent out this tweet last week, noting a little known index that signaled the economy is doing just fine.

The Freight Transportation Services Index peaked in January 2005 or more than two years before the S&P 500's major top in October 2007.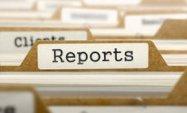 Another week of good economic data here in the U.S.
The Empire State manufacturing headline slipped by less than expected to 22.6 in July from an 8-month high of 25.0 in June but a lower 20.1 in May, though the ISM-adjusted Empire State fell more sharply to 54.6 from a 12-year high of 57.9 in June and 56.9 in May.
Industrial Production bounced 0.6% in June, after falling 0.5% in May and rising 1.1% in April (revised from 0.9%). That boosted capacity utilization to 78.0% from 77.7% (revised from 77.9%).
Philly Fed manufacturing index bounced 5.8 points to 25.7 in July after tumbling 14.5 points to 19.9 in June. The latter was the lowest since the 10.0 reading in November 2016. It was 23.2 a year ago.
Retail sales posted firm June gains of 0.5% for the headline and 0.4% ex-autos, but with a net upside mostly via big upward May retail sales revisions that narrowed the gap to the tax-related Q1-Q2 disposable income surge. The big June sales surprise reflected an expected 1.0% rise for gasoline service station sales that beat a 0.5% CPI gasoline price increase, a 0.9% rise in auto dealer sales that chased a 3.2% bounce in unit vehicle sales, and a 0.8% building sales rise that extended an upwardly revised May gain.

Chart courtesy of Urban Carmel, Data Source: Federal Reserve Database
Real retail sales +3.7% in June. A new all-time high.
Business inventories rose 04% in May, with sales up 1.4%, as forecast. April inventories were up 0.3%, while sales were revised higher to 0.6% from 0.4% previously. Retailer inventories increased 0.4% in May, after the 0.4% April gain (revised from 0.5%), while manufacturers' inventories were 0.2% higher from 0.4% (revised from 0.3%), with wholesalers' up 0.6% from 0.1%.

Initial jobless claims drop to a new 48-year low of 207k.

NAHB housing market index was unchanged at 68 in July after dipping 2 points to that level in June. The index was at 64 last year. And, it was as high as 74 in December,.
June housing starts report was weak with a 12.3% plunge for starts and a 2.2% decline in permits. The weakness in housing starts was led by multi- family units, but a big drop for single-family units as well. The solid Q4-Q1 stretch for starts and permits weakened sharply in Q2, with a 15.7% decline in starts and a 12% decline in permits.
A data point that now bears watching.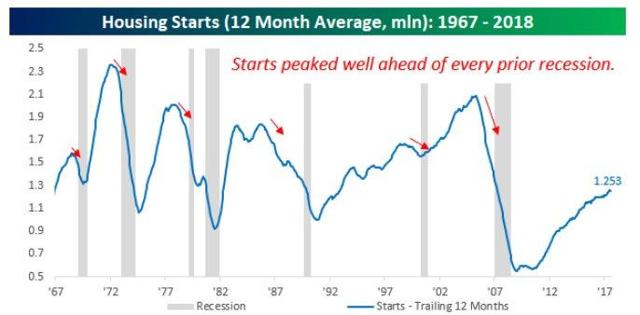 Source: Bespoke
The question now becomes, have we seen the peak?

Global Economy

ACEA showed new passenger car registrations for the Eurozone made a new cycle high up 5.2% in June and up 2.9% for the year.

Overall recent economic data was relatively quiet.
Chinese GDP growth was as expected, coming in at 6.7% year over year.

Industrial production came in lower than expected with a 6% increase, down from the 6.8% gain recorded in May.

Retail sales improved with a 9% sales increase in June. That is up from the 8.5% increase in the prior month.

Another strong employment report from the U.K. keeps a Bank of England rate hike on the table. Retail sales increased by 2.1%, the largest monthly increase since 2015.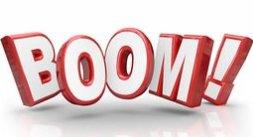 Earnings Observations
The pace of reports picked up this week as 135 companies in the S&P 1500 were slated to report. The peak period of earnings season will be in the two weeks that follow as more than 950 companies will release results.
The busiest day during that period will be on 7/26 when 193 companies in the S&P 1500 are expected to report in a single day, while the second busiest day of earnings season is one week later on 8/2 when another 175 companies will report.
FactSet Research weekly report:
For Q2 2018:
With 17% of the companies in the S&P 500 reporting actual results for the quarter, 87% of S&P 500 companies have reported a positive EPS surprise and 77% have reported a positive sales surprise.

The blended earnings growth rate for the S&P 500 is 20.8%. If 20.8% is the actual growth rate for the quarter, it will mark the second highest earnings growth since Q3 2010 (34.1%).

Valuation: The forward 12-month P/E ratio for the S&P 500 is 16.5. This P/E ratio is above the 5-year average (16.2) and above the 10-year average (14.4).

The Political Scene
The trade tariff scuffle. Ok, if it makes you feel better, go ahead call it a trade war. It's semantics and won't matter as much as investors are being told, and the stock market agrees.

A headline that sent chills up and down the spines of investors. After that, more tariffs announced, and yet another round of tariffs are proposed. Now all of Chinese imports may be included. While there may be no winners or losers, one only has to look at where the S&P is trading today versus the Chinese stock market to come away with a sense of how this is all going.
The S&P closed at 2,677 when that original headline came out, the Shanghai composite was at 3,273. Fast forward to today, the S&P is higher, while the Shanghai composite has dropped into bear market territory. The folks that said this announcement would not bode well for the markets got the direction right, but they got the location of the market wrong. The markets are telling us who has more to worry about over this entire trade issue.
Global trade has underpinned both margin expansion and top-line growth for U.S. firms over the last few decades, and interlaced global supply chains have benefited businesses, consumers and countries all over the world. Of course, trade is a big deal, but tariffs were here before March 1st 2018. They will be here long after the leaders that are groping with these negotiations are gone. Companies and consumers are also still here; they haven't gone the way of the dinosaurs as most are projecting.
Capital Economics guesses if every country imposed blanket 25% tariffs on all imports, world GDP would decline 2-3%. Yes it's a guess, probably a worst-case scenario, what are the probabilities of that actually taking place? Right now, China tariffs are only 10%. And China doesn't have enough counter-imports to impose reciprocal tariffs. Hence the negative reaction in its stock market.
UBS fears the corresponding decline in earnings and P/E multiple compression could spark a 20%+ correction. Some might want to argue a correction that is long overdue with or without tariff issues. Strategas Research looks at it differently as it believes negative press coverage is leading to faulty analyses.
"Current and proposed tariffs remain quite small, with the worst case only about a seventh of the $800+billion of fiscal stimulus from tax cuts and spending increases already in place."
Dudack Research agrees trade-driven recession fears are overdone. Might this then be the best time to play the strong hand we have in front of us, or do we wait to even the playing field on trade when we are in a weaker economic environment?
Investors are faced with all of these opposing arguments. My take on the entire situation remains the same. Watch the price action, not the headlines. Right now, the S&P is higher than when all of this talk first started. Might this entire trade issue be a significant issue down the road? Maybe, please tell me when.

The Fed and Interest Rates
Fed Chairman Powell testified in front of Congress this past week. He spoke of the good news on the economy in his prepared testimony before the Senate Banking Committee. Those factors supporting his upbeat testimony include robust conditions in the labor market, rising after-tax incomes, and optimism among households, all of which have lifted consumer spending.
Business investment has grown at a healthy rate too, while overseas gains have supported U.S. exports and manufacturing. And looking ahead, the FOMC expects the job market to remain strong while inflation stays near 2%. He mentioned the uncertainties with respect to trade, and he sees the risks of the economy weakening unexpectedly as roughly balance with the potential the economy growing faster than expected. Powell reiterated that the best way forward is to "keep gradually rising the federal funds rate."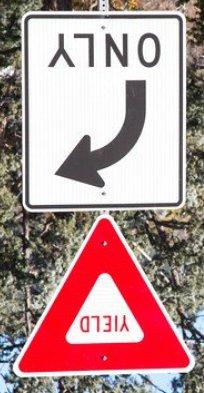 We aren't there yet, but we just can't escape the incessant talk of the inverted yield curve.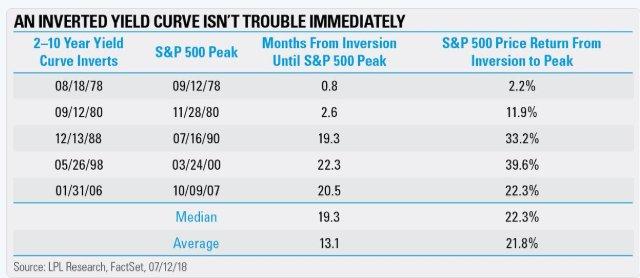 As mentioned last week, a flat yield curve can last for months on end before inverting.
JPMorgan:
"It is hard to get too worried about the flattening yield curve as long as inflation-adjusted policy rates remain negative, as they are now. In the past eight cycles, one didn't see an economic slowdown until real policy rates reached 2%, which doesn't seem likely anytime soon barring a dramatic shift in Fed policy or breakout in inflation.

Sentiment
According to the weekly survey from AAII, bullish sentiment declined from 43% down to 34.6%, erasing just over half of the prior week's increase. No matter how much individual investors want to like the market, they just can't bring themselves to stay positive.
Bearish sentiment also declined, falling from 29.1% down to 24.9%. With these declines, it was only the third time since 2009 that both bullish and bearish sentiment in the AAII survey fell four percentage points or more in the same week.

Crude Oil
The price of oil slumped on a headline out of Saudi Arabia that it was about to add more supply to the equation. That was followed by the notion that the Trump administration is also actively considering tapping into the nation's 660M-barrel Strategic Petroleum Reserve as political pressure grows to rein in rising gas prices before November elections.
More gasoline was added to the fire with the announcement that despite the sanctions, Iranian oil may hit the market.
The EIA weekly inventory report showed a 5.8 million barrel build vs. consensus of a 3.4 million draw. Gasoline inventories saw a 3.2 million draw vs. consensus of a 395 thousand barrel draw.
Absolute levels of crude inventories continue to trend below their five-year average. All of the headlines didn't matter much. WTI closed on Friday at $70.31, down $0.27 for the week.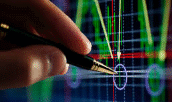 The Technical Picture
Earlier I spoke to the fundamental story that many are dismissing in favor of their counter arguments. The entire technical picture being presented to investors is also being missed. From a technical standpoint, there is NOTHING to suggest that this bull market is weakening.
Even more impressive than the rally in stock prices has been the underlying breadth, specifically in the S&P 500's cumulative A/D line.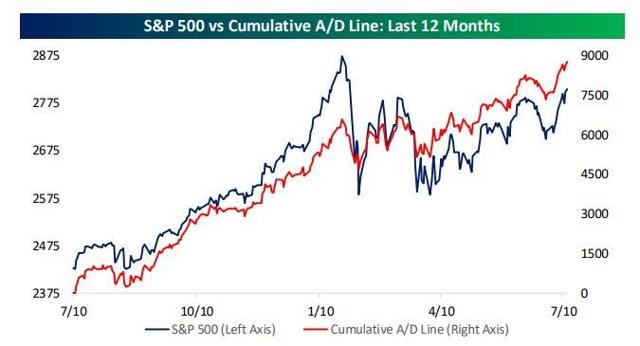 Source: Bespoke
While the S&P 500 hasn't closed at a new all-time high since January 26th, the cumulative A/D line has made 17 new highs. Equities have a pretty good foundation.
This week, it's the WEEKLY chart of the S&P that is displayed.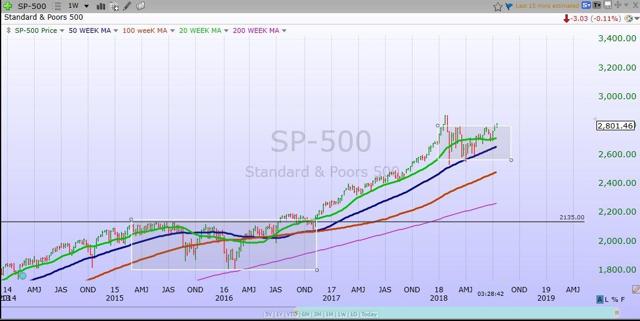 Chart courtesy of FreeStockCharts.com
A much better view of the longer-term dominant trend in place. It blows away the mere idea that we are in the midst of any market weakness. There is no sign of any longer-term trend line starting to flatten out, rolling over. Therefore, no sign of any weakness creeping into the macro picture. The short-, intermediate-, and long-term moving averages are all rising. The S&P has broken above the consolidation box that contained the index for 164 days. How far the S&P rises after this break is anyone's guess.
What usually occurs next is once this latest rally is exhausted, look for a retest right back to the upper end of that consolidation box at S&P 2,790-2,800 as first support. A failure to hold the retest level with a decisive break below the underlying moving averages at 2,750-2,760 would indicate a false breakout and a move back into the trading range.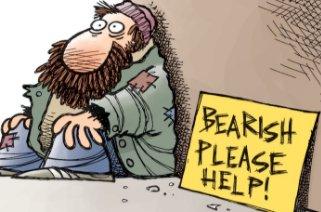 Market Skeptics
Oh my, the current price to sales ratio is higher than it was during the tech bubble in 2000. It currently stands at 2.2.

Source Standard & Poor's
Surely, stocks are overvalued and expensive. I would just ask this question. Where would an investor be if they listened to the P/S ratio warnings back in 2016? After all the ratio was also 2.2 back then as well.
This falls into the category of OK, that's nice, but exactly when will this become an issue? So do I worry and sell now? Wait, I can't do that, I already sold in May of 2016 with the S&P at 2,050 when they told me the Price to Sales ratio was saying that stocks were overvalued.
Get the point? It is ONE metric.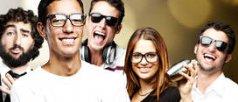 I've created a subsection in the "skeptic" category. It's called:
"You must be joking"
In the middle of an economic expansion, big money with a good track record will for some reason bet against the trend. The S&P is up 30% since this was published.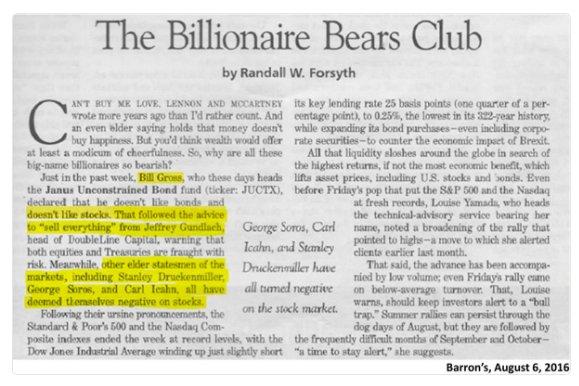 Anyone out there still want to listen to the whales in the investment world? I have repeatedly said that their commentary often comes with an agenda, and that agenda is not in the interest of the average investor.

Individual Stocks and Sectors
The rush to stay with domestic companies that are left out of the tariff squabbles have pushed the Russell 2000 small-cap index higher. Overall small caps have outperformed their large-cap peers. Not so with technology. Large-cap tech is outperforming the S&P 500 by over 16%, while small-cap tech is underperforming the S&P 600 by 6%.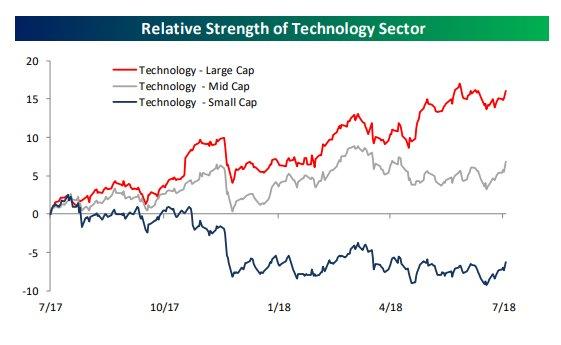 Source: Bespoke

It is July 2018 and this bull market is over nine years old. There are a number of scenarios that any analyst can hide behind to make a case for being cautious or leaving the stock market now. However, last week I declared "Stocks Are Inexpensive And There Is No Evidence This Bull Market Is About To End Soon". What was I thinking? How far can stocks go? It is obvious the economic cycle is far beyond "old". It is on borrowed time and so is this bull market.
It really is very simple why I chose this route. The preponderance of evidence is suggesting that is the correct way to proceed.

Anyone suggesting otherwise is probably conjuring up a scenario where one or all of the issues that present themselves now to investors will morph into a dire situation. Relying on facts and leaving conjecture and speculation to others is a far better way to approach investing.
It is quite tiring and irritating to some, but I have to continue to ask, WHEN exactly is this projected dire situation supposed to occur? It has been shown over and over that plenty can happen in the interim, easily offsetting all of the concern over something that in reality may never happen.
Alternative investment strategies are the buzzwords now, from Long/Short funds to raising cash and receiving 2% in a CD. Many pundits believe that is the way to go now, and it's not the talk we usually hear at market tops. For those arguing that this will be yet another issue why stocks can't go higher, think again. In July 1996 the one-year CD rate was 5%, and the S&P rose 20%.
Since January, most market averages have been very volatile, leading investors to the conclusion the equity market has made no progress because it is old and tired. That is not the case at all. Since early February, record highs were posted by the S&P Mid-Cap, S&P Small-Cap, the Russell 2000, the Nasdaq Composite, and Value Line. The Advance-Decline Line has recorded record high after record high.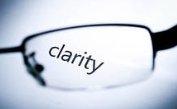 Now the cries are for clarity. Many want to have the answers to all of the issues before they are content investing in equities. From tariffs to the geopolitical scene, interest rates, etc. Newsflash; those out there that are waiting for some sort of sign that all is well have already "missed the boat".
History tells us that the TOP that everyone is looking for will be in when the investment scene is rosy and all seems just peachy. The exact scenario that many are waiting for, which to them will sound the all clear. It has played out that way for a long, long time, and this time won't be any different. Most jump on board late in the game, and then overstay their welcome not recognizing the change taking place.
As for now, it is the same warning story. When markets consolidate and money rotates from sector to sector after large gains, it is an issue; the market hasn't gone anywhere. When the major averages hit new highs, the complaint becomes "the market is too high" or it is overvalued.
So, while there is plenty to worry about right now, I continue to defer to the price action. Like with many potential landmines within a secular bull market, I am content to wait for stocks to show their concern before I try to think myself smarter than the market. Keep it simple, stay the course!

I would also like to take a moment and remind all of the readers of an important issue. In these types of forums readers bring a host of situations and variables to the table when visiting these articles. Therefore, it is impossible to pinpoint what may be right for each situation. Please keep that in mind when forming your investment strategy.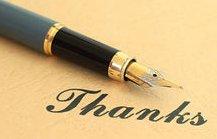 to all of the readers that contribute to this forum to make these articles a better experience for all.
Best of Luck to All!